2nd India Fixed Income Summit 2020
December 16 – 17, 2020
5.00 - 8.00 .pm.

Hosted by CFA Society India
The second edition of the India Fixed Income Summit (#IFIS2020) will address topics of interest for the next decade. And given the tectonic shifts in the fixed income market – credit issues, central bank policies, falling rates – there are six sessions planned to delve into key topics. We have a great list of speakers and moderators – with India and global expertise – to share data and perspective.
The first 100 CFA Society India members who register will receive a copy of  Dr Viral Acharya's book – Quest for Restoring Financial Stability in India (e-book). The book is a collection of his speeches, research and comments as a member of the RBI's Monetary Policy Committee.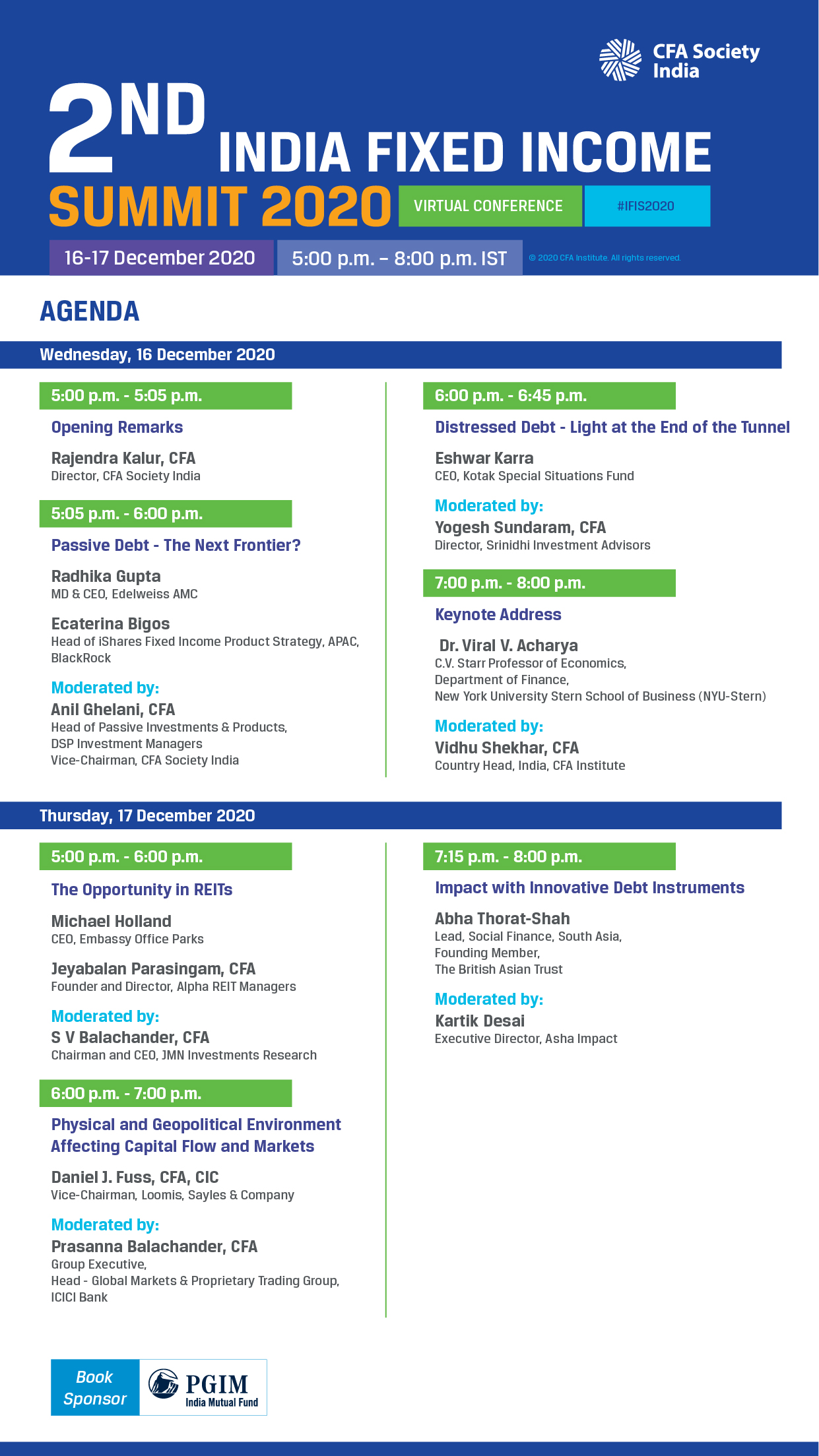 Cancellation Policy: No refunds will be issued for any cancellations received within 48 hours of program starts. Substitutions from the same company are accepted with fee adjustment, if appropriate. Sharing of registrations is not permitted.
5 PL

CFA Institute members can claim PL credit by providing their CFA Institute ID number when registering.

Global Passport Accredited Programme

Allows members of participating CFA societies to attend each other's society events at the local member price
2020-12-16 5:00 pm
2020-12-17 8:00 pm
Asia/Kolkata
2nd India Fixed Income Summit 2020
The second edition of the India Fixed Income Summit (#IFIS2020) will address topics of interest for the next decade. And given the tectonic shifts in the fixed income market – credit issues, central bank policies, falling rates – there are six sessions planned to delve into key topics. We have a great list of speakers
Virtual Conference
Save Event to Calendar