3rd Corporate Governance in Investing summit 2021
November 19, 2021 - November 20, 2021
5.00 pm - 7.30 pm

3rd Corporate governance in investing Summit 
Through the 'Corporate Governance in Investing' summit, we attempt to evaluate the state of Corporate Governance in India.
Independent Directors, especially in publicly listed companies, are entrusted with protecting minority shareholders by upholding good Corporate Governance practices in companies. They play a crucial role in monitoring and guiding the company management.
In recent times, the role and effectiveness of Independent Directors have come under scrutiny after multiple cases of corporate frauds and mismanagement came into light.
Our 3rd edition of the 'Corporate Governance in Investing' summit will focus on the Independent Directors in Indian companies. The conference will provide perspectives of Independent Directors, promoters, and investment community on roles, responsibilities, and effectiveness of Independent Directors in improving Corporate Governance in India.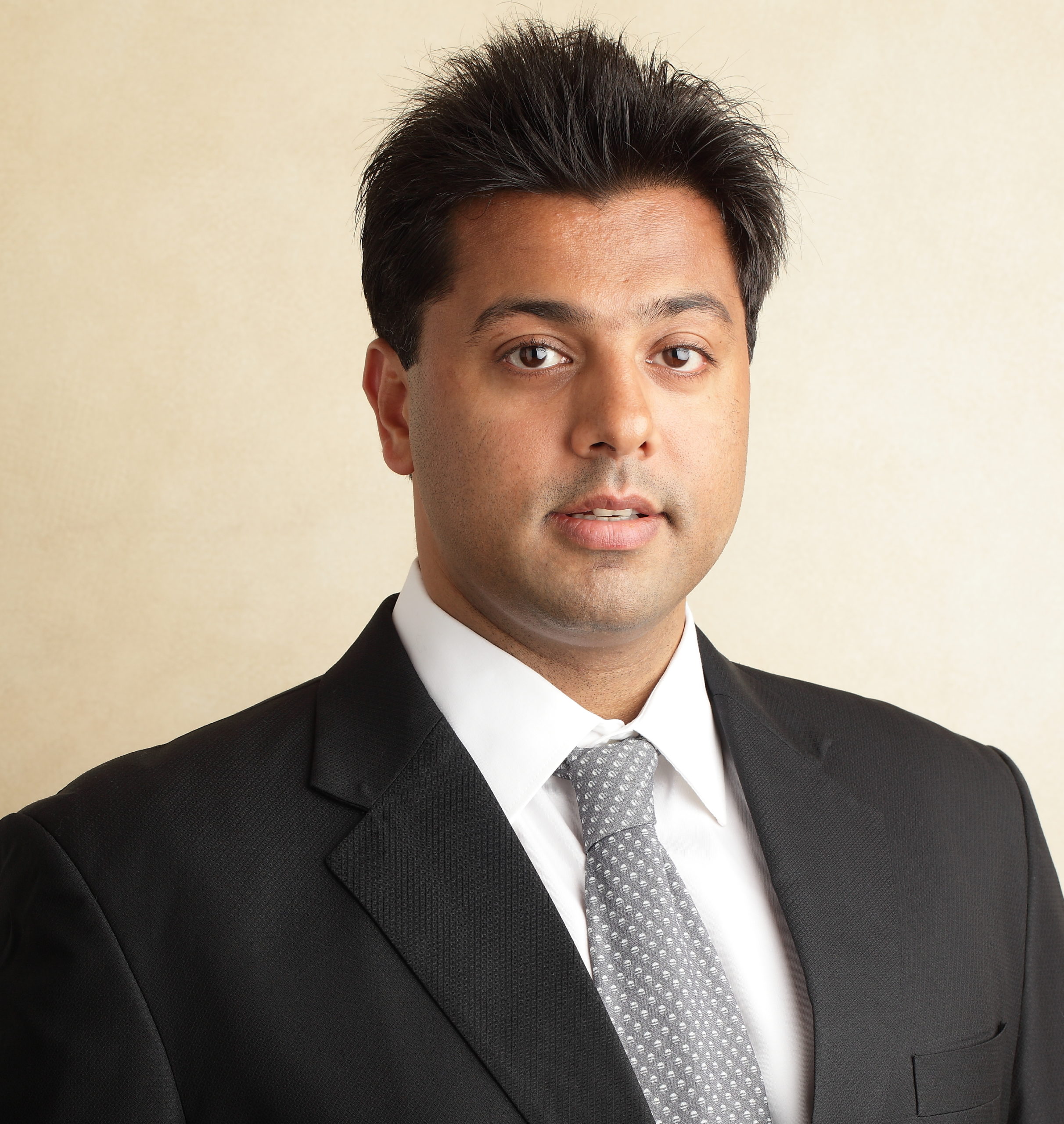 Akshay Mansukhani
Managing Partner of Malabar with a focus on investment analysis / risk management and business development. Akshay joined Malabar in 2009. Akshay has 5 years of prior experience at UBS focused on equity (ECM) capital markets and infrastructure M&A. Within ECM he worked as part of Alterative Capital Markets group co-invested in transactions in which UBS was advisor, and also raised capital for the same. The team invested $450mm and raised little less than $5bn through pre-IPO deals and PIPE's.
Akshay received his BSE and MBA from the Wharton School of the University of Pennsylvania, where he was selected as a Joseph Wharton Scholar. He is a former member of Chartered Alternative Investment Analyst ("CAIA") and has completed all 3 levels of examinations of the Chartered Financial Analyst ("CFA")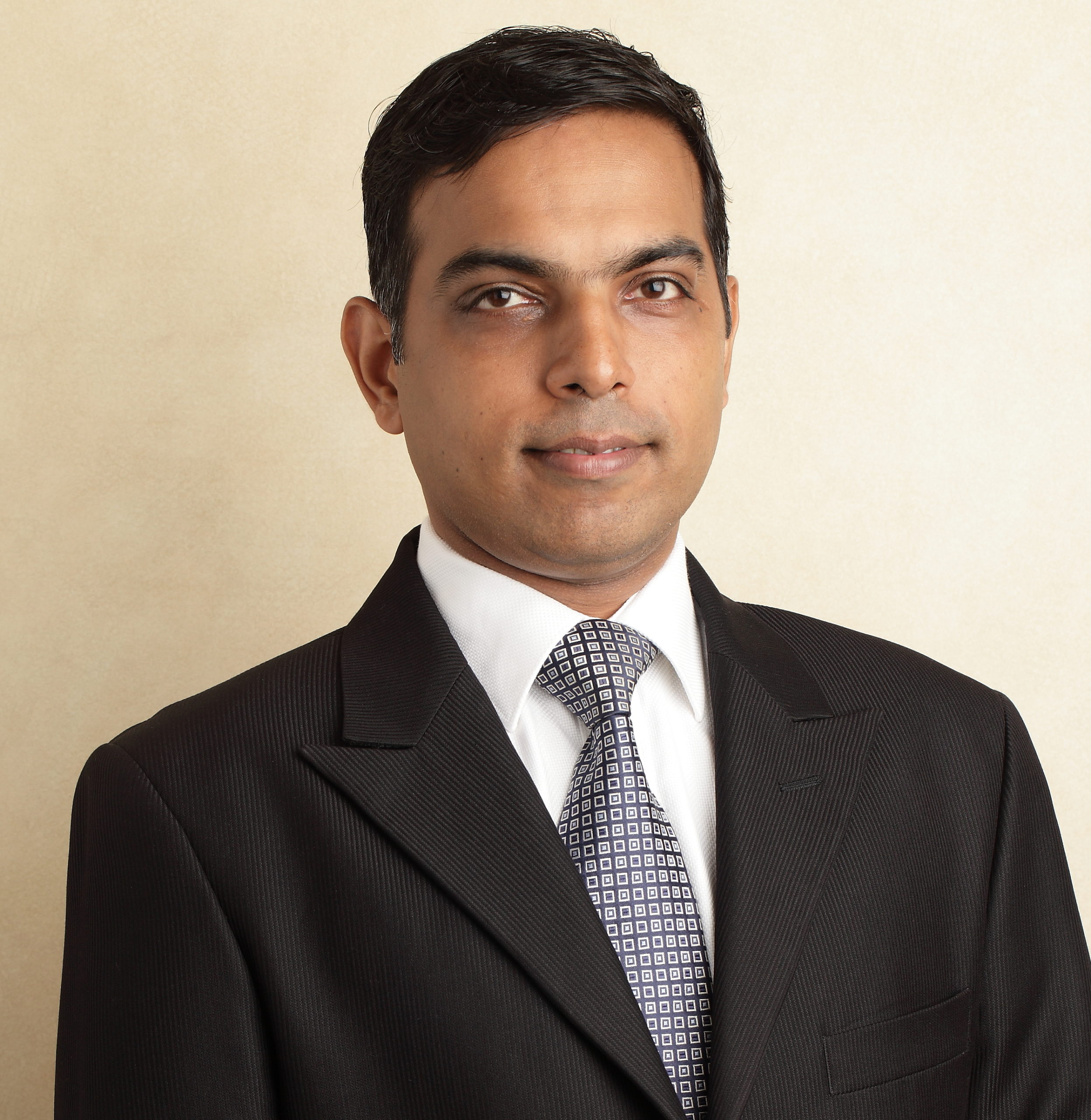 Ashish Gulati
Ashish has been with Malabar since inception in 2008 and is a senior most member of the Investment Analysis team. He has over 2 years of prior experience in analyzing investment opportunities at SBI Capital Markets Ltd, where he was part of the proprietary investment group that oversaw an equity portfolio of approximately $100 million. Prior to that, Mr. Gulati worked for the Securities Services group of the Standard Chartered Bank and Corporate Finance Department of IDBI Ltd.
Ashish graduated from the Mumbai University with a degree in engineering and earned a Post Graduate Diploma in Management from the Indian Institute of Technology, Kharagpur. He is the primary contact for interacting with local brokers for trading and provides any clarifications required.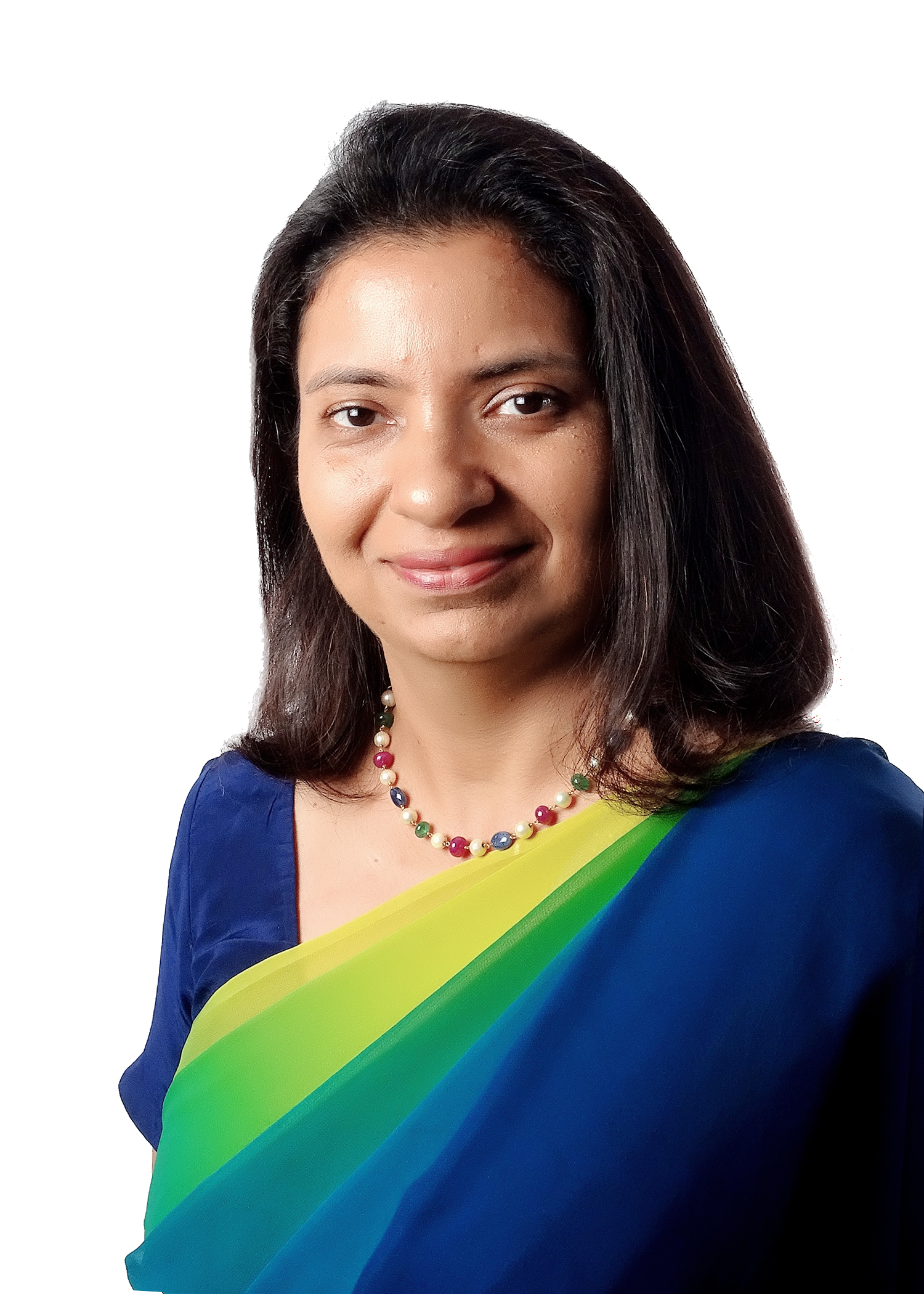 Hetal Dalal
Hetal is the President & Chief Operating Officer of Institutional Investor Advisory Services India Limited (IiAS), a SEBI-registered India-based proxy advisory firm. She is responsible overall business execution. IiAS publishes voting recommendations annually on about 900 listed companies that aggregate over 95% of the total market capitalization on Indian exchanges. IiAS worked with International Finance Corporation (of the World Bank Group) and BSE Limited on the Indian Corporate Governance Scorecard, which assesses Indian companies on their corporate governance practices. IiAS is also the first domestic agency to develop an ESG scorecard and conducts assessments of companies on these parameters. Hetal's role also includes the oversight of the governance research published under IiAS' 'Institutional EYE' sub-brand, and the development of IiAS' data products (IiAS Adrian and IiAS ComPAYre) that enhance market participants' understanding of best practices.
Prior to joining IiAS, Hetal worked with CRISIL Limited – a Standard & Poor's company, and India's largest rating agency. During her 13 years at CRISIL, Hetal held positions across several verticals of the ratings business.
Hetal is a Chartered Accountant and holds a management degree with a specialization in finance from NMIMS Mumbai, which is affiliated to the Mumbai University.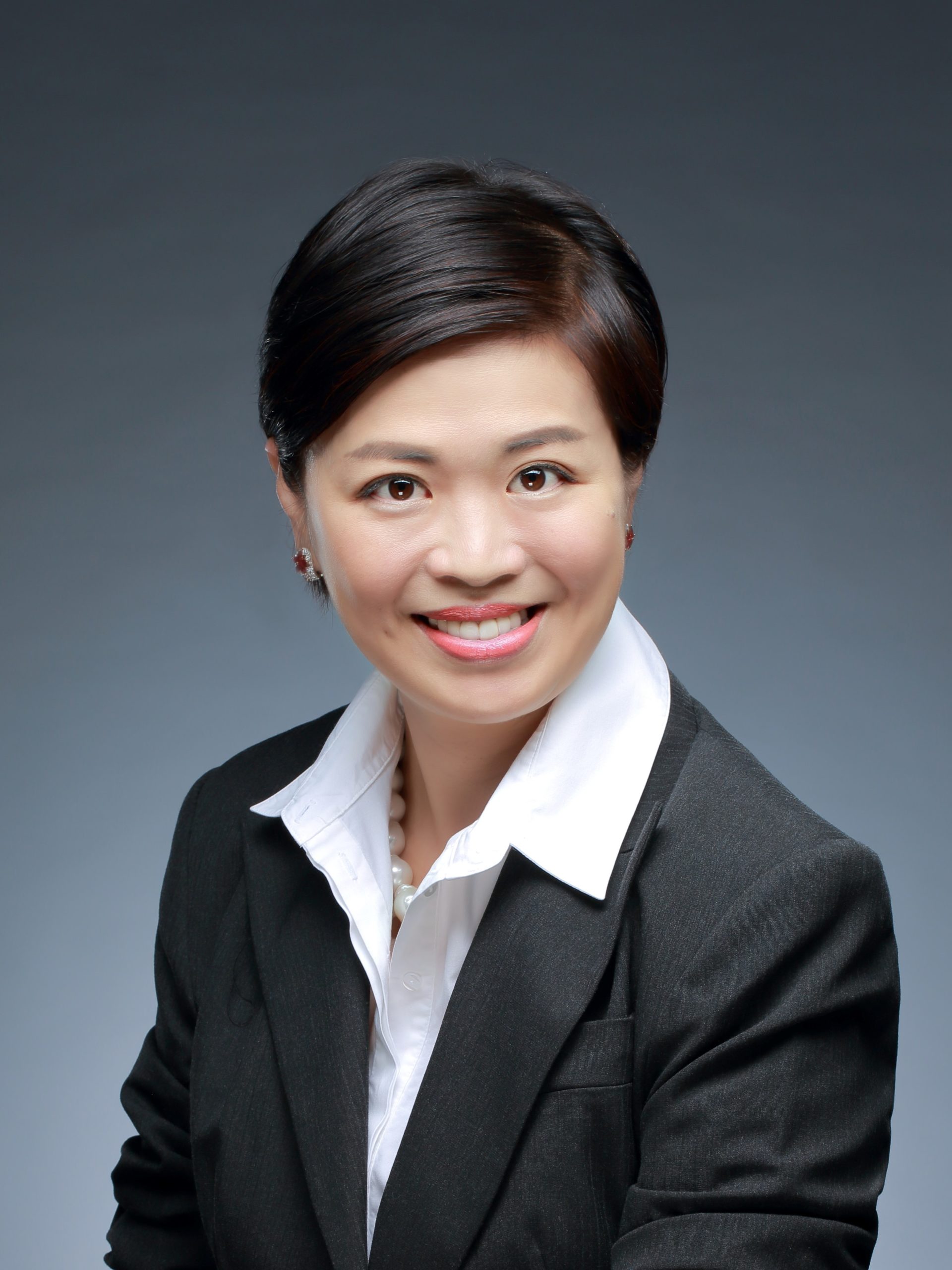 Mary Leung
Mary is the Head, Advocacy, Asia Pacific at CFA Institute. She leads the team that is responsible for building market integrity in APAC by developing and advocating capital markets policy positions that raises investor protection and fosters sustainable industry growth. She also oversees the promotion and development of Asia-Pacific Research Exchange (ARX), a research hub through which we engage with societies, members, governments, regulators, academia and other industry stakeholders 6o advance the wider CFA Institute mission.
Mary has over 20 years of experience in the global financial industry, having worked in corporate finance, wealth management advisory, and fund management. She joined Coutts & Co, where she was director of Business Development and Management for North Asia. Prior to that she was executive director at UBS AG, where she led the Corporate Advisory Group in Hong Kong. With experience in both the buy- and sell-sides, Mary has a strong understanding of the drivers and dynamics of different investor groups, including institutional investors, corporates, family offices, asset owners, and high-net-worth individuals.
Mary graduated from Peterhouse, Cambridge with a degree in Engineering. She is a CFA charterholder and speaks English, Putonghua, and Cantonese.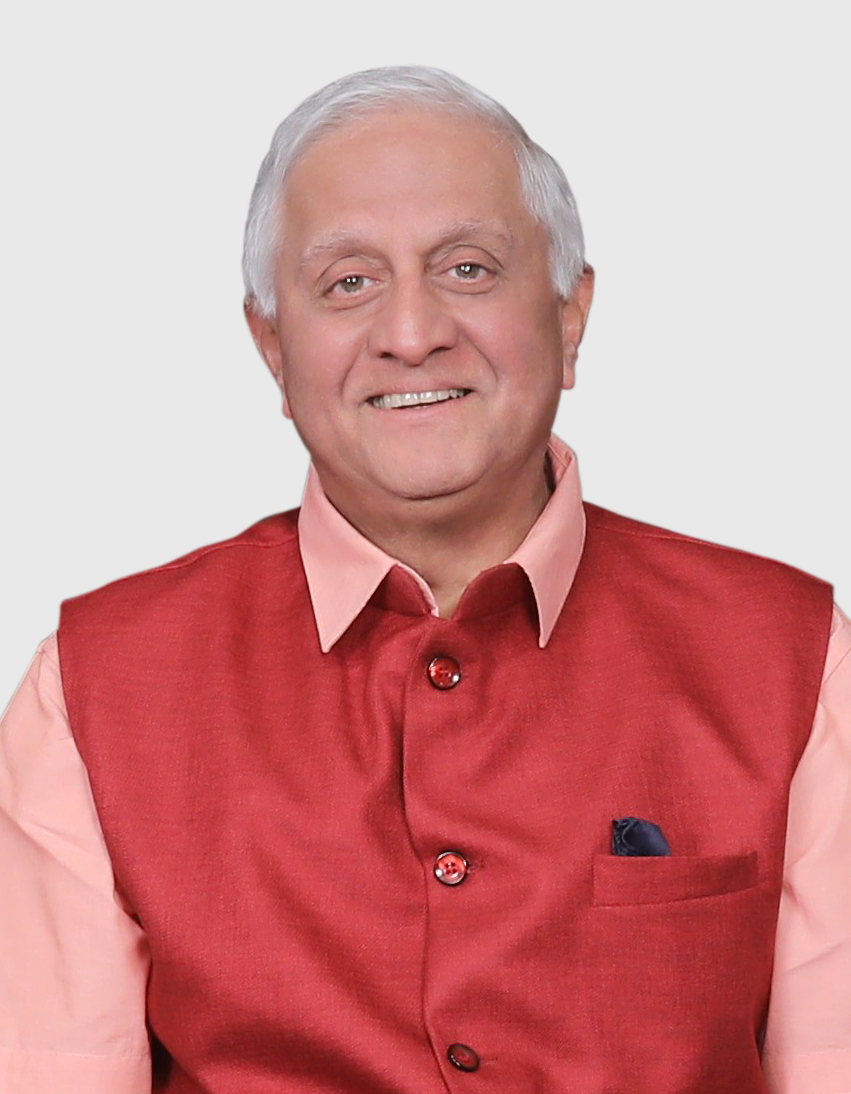 R. Gopalakrishnan
R Gopalakrishnan studied physics at Kolkata University, engineering at IIT Kharagpur and attended the Advanced Management Program at Harvard Business School. He has been a professional manager from 1967. He has served as Chairman of Unilever Arabia, as MD of Brooke Bond Lipton and Vice Chairman of Hindustan Lever, as director of Tata Sons and several Tata companies. He serves as an independent director and non – executive chairman of Castrol India and also as an independent director of Press Trust of India (PTI).
He is actively engaged in both instructional and inspirational speaking. He has authored sixteen books. Gopal has been a newspaper columnist and continues to write every month for financial papers. He has also authored sixteen books since 2007.
Gopal has been a corporate leader for 53 years: 31 years in Unilever and 17 years in Tata. He served in Jeddah as chairman of Unilever Arabia, in Bangalore as Managing Director of Brooke Bond Lipton and Vice Chairman of Hindustan Lever, and as director of Tata Sons. Apart from serving as a director on the TATA parent board, Tata Sons, and he serves as an independent director and non – executive chairman of Castrol India and also as an independent director of Press Trust of India (PTI). Gopal mentors few start-ups. He is actively engaged in both instructional and inspirational speaking.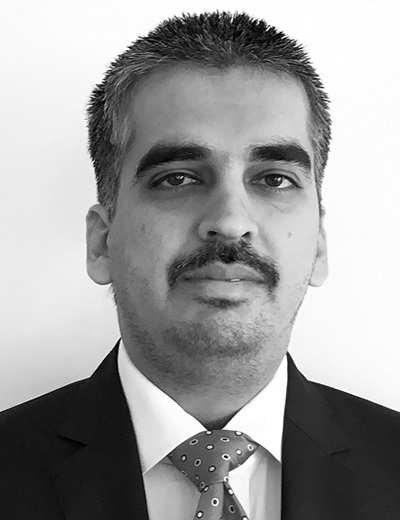 Tarun Bhatia
Tarun Bhatia is a managing director and head of South Asia in the Forensic Investigations and Intelligence practice of Kroll, based in the Mumbai office. Tarun has extensive experience in evaluating, measuring, and monitoring risks across corporate India over the past 15 years and is a well-regarded industry expert for financial services and structured finance. Tarun advises clients on investments, partnerships, mergers, and acquisitions, and also helps them manage their litigation and dispute resolution process by providing investigative services. He has analyzed and evaluated over 1,000 listed and private companies in India, and his diverse client roster includes large conglomerates, banks, financial institutions, and corporations across power, oil and gas, aviation, steel, cement, auto, FMCG, infrastructure, and real estate sectors.
Prior to joining Kroll, Tarun was Senior Director at CRISIL, a subsidiary of Standard & Poor's, where he played a critical role in the transformation of the company from a domestic rating agency to a global analytical company.
Tarun has published a number of articles on the Indian banking industry and capital markets which have been featured in Indian and international journals. He is a member of the FICCI Capital Markets Committee, India's largest and oldest apex business organization.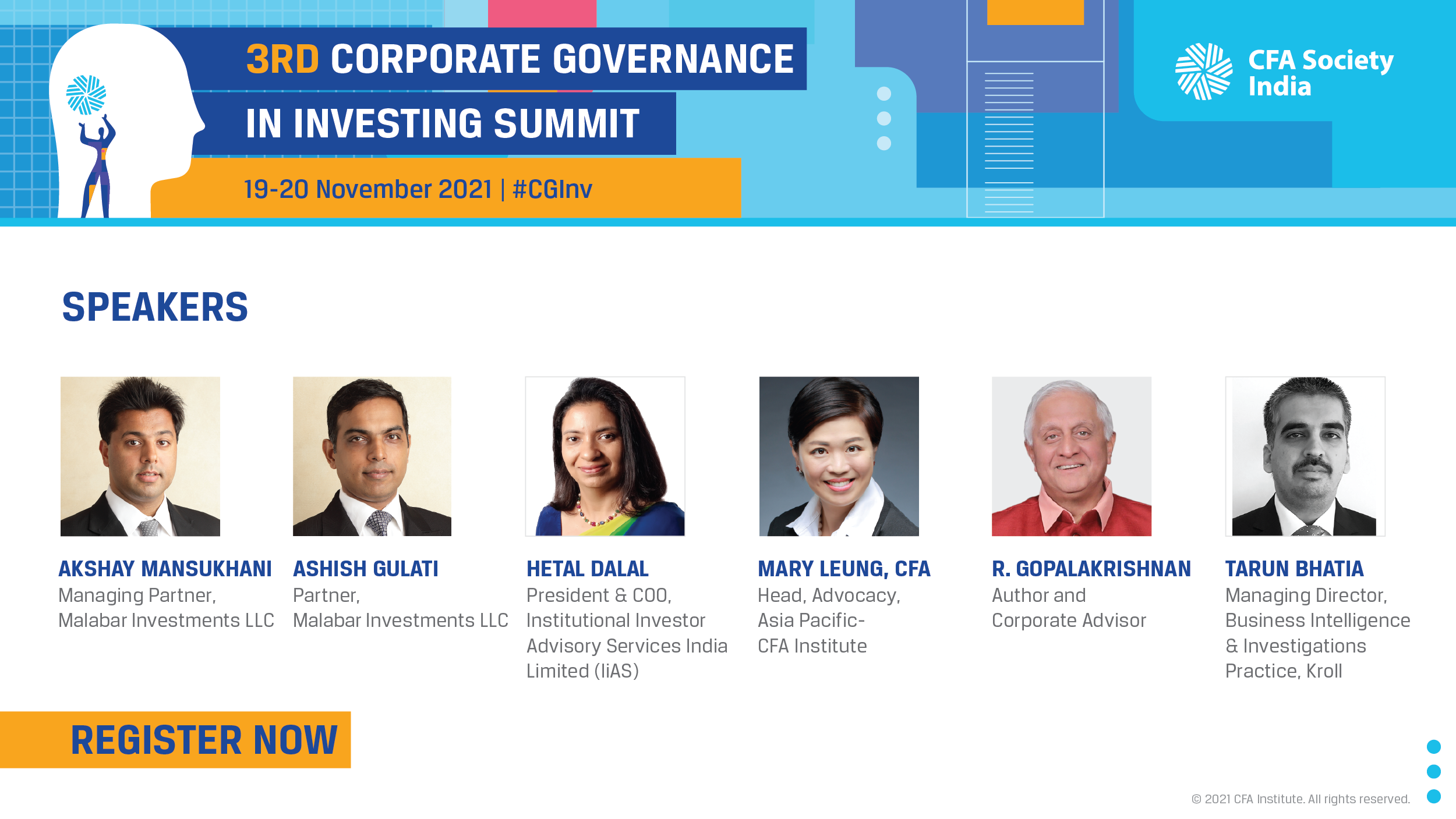 .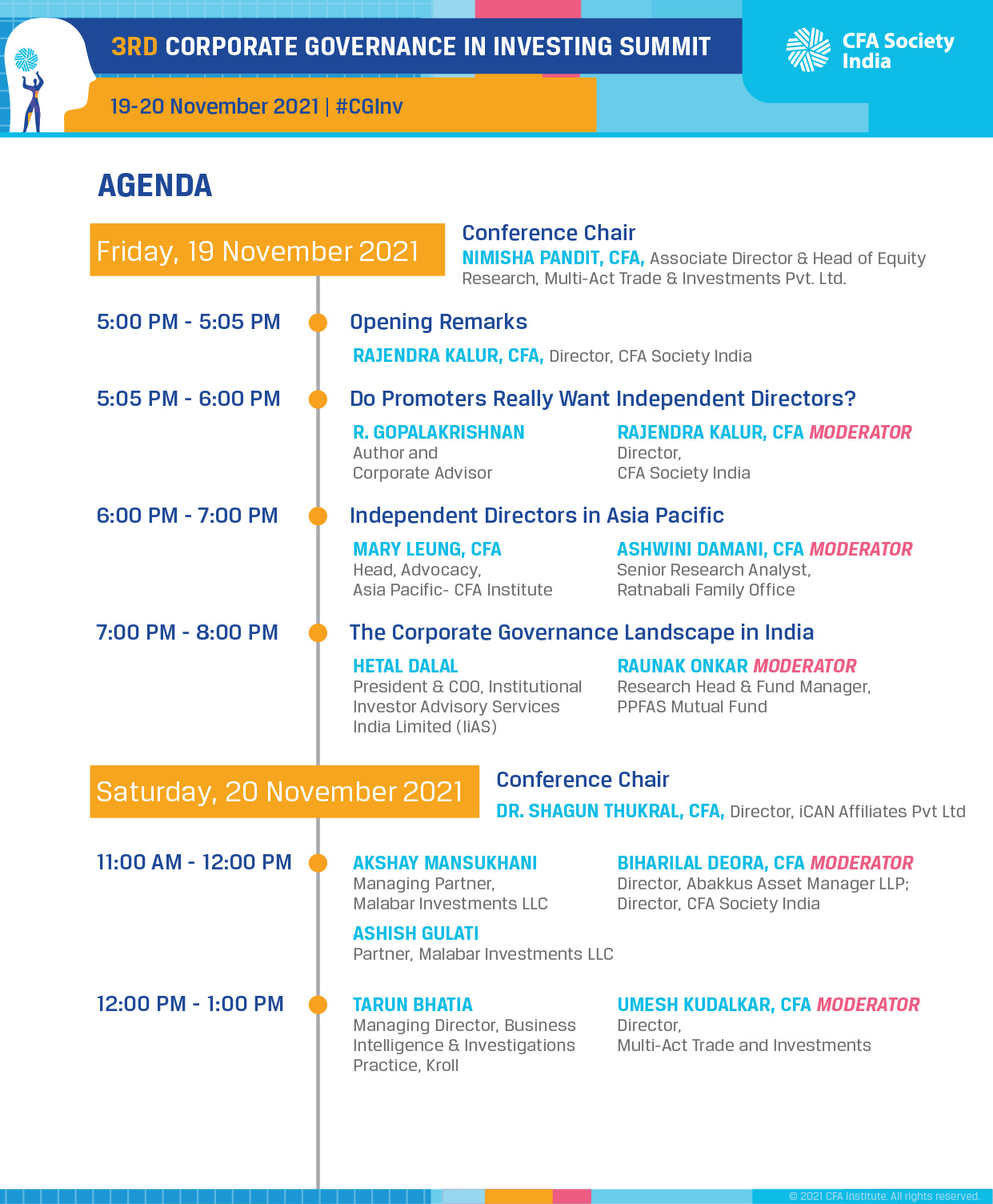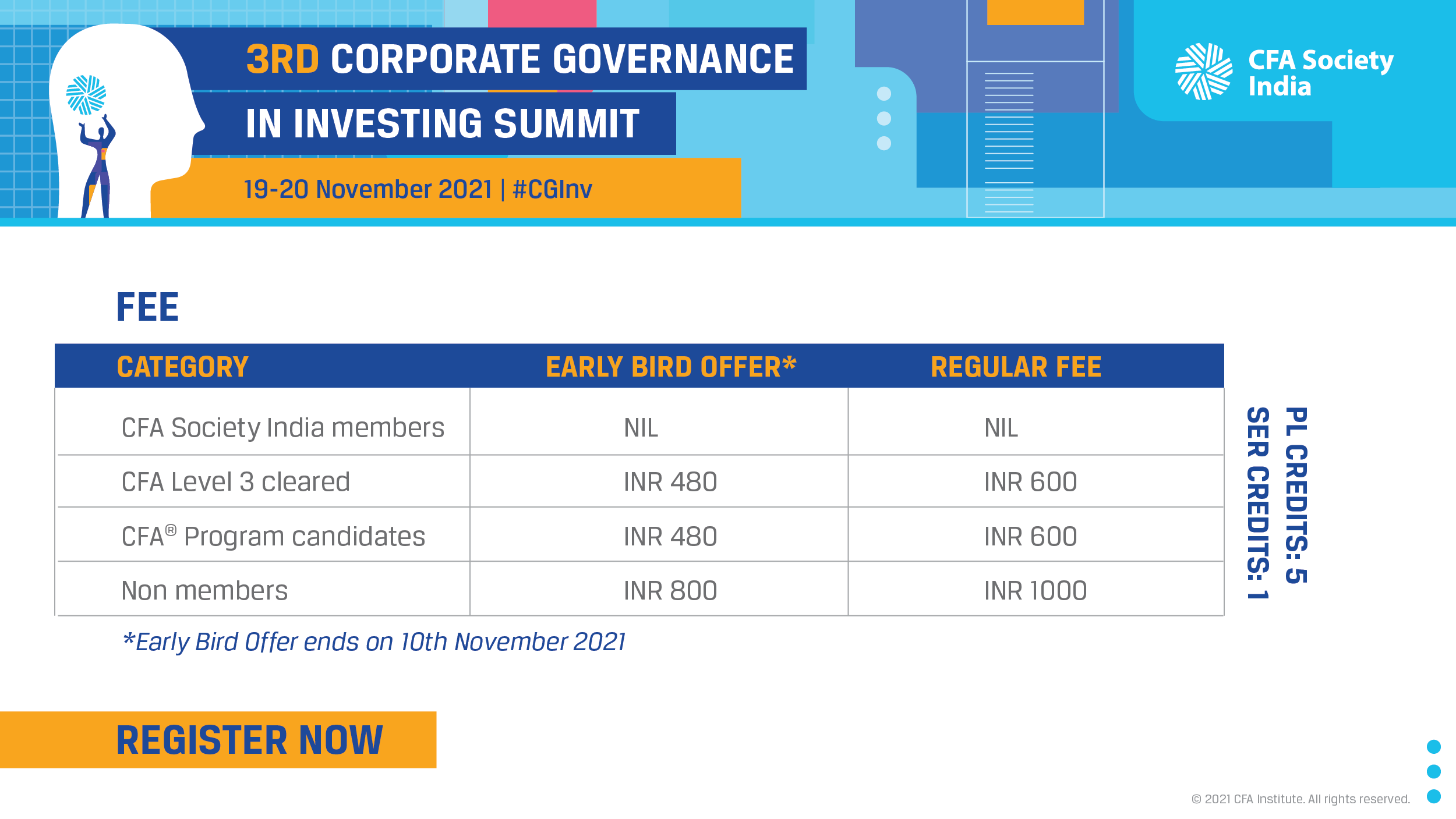 Cancellation Policy: No refunds will be issued for any cancellations received within 48 hours of program starts. Substitutions from the same company are accepted with fee adjustment, if appropriate. Sharing of registrations is not permitted.
5 PL

CFA Institute members can claim PL credit by providing their CFA Institute ID number when registering.

Global Passport Accredited Programme

Allows members of participating CFA societies to attend each other's society events at the local member price
2021-11-19 17:00
2021-11-20 19:30
Asia/Kolkata
3rd Corporate Governance in Investing summit 2021
3rd Corporate governance in investing Summit  Through the 'Corporate Governance in Investing' summit, we attempt to evaluate the state of Corporate Governance in India. Independent Directors, especially in publicly listed companies, are entrusted with protecting minority shareholders by upholding good Corporate Governance practices in companies. They play a crucial role in monitoring and guiding the
Online
Save Event to Calendar