3rd India Fixed Income summit 2021
December 17, 2021 - December 18, 2021
5.00 pm - 7.30 pm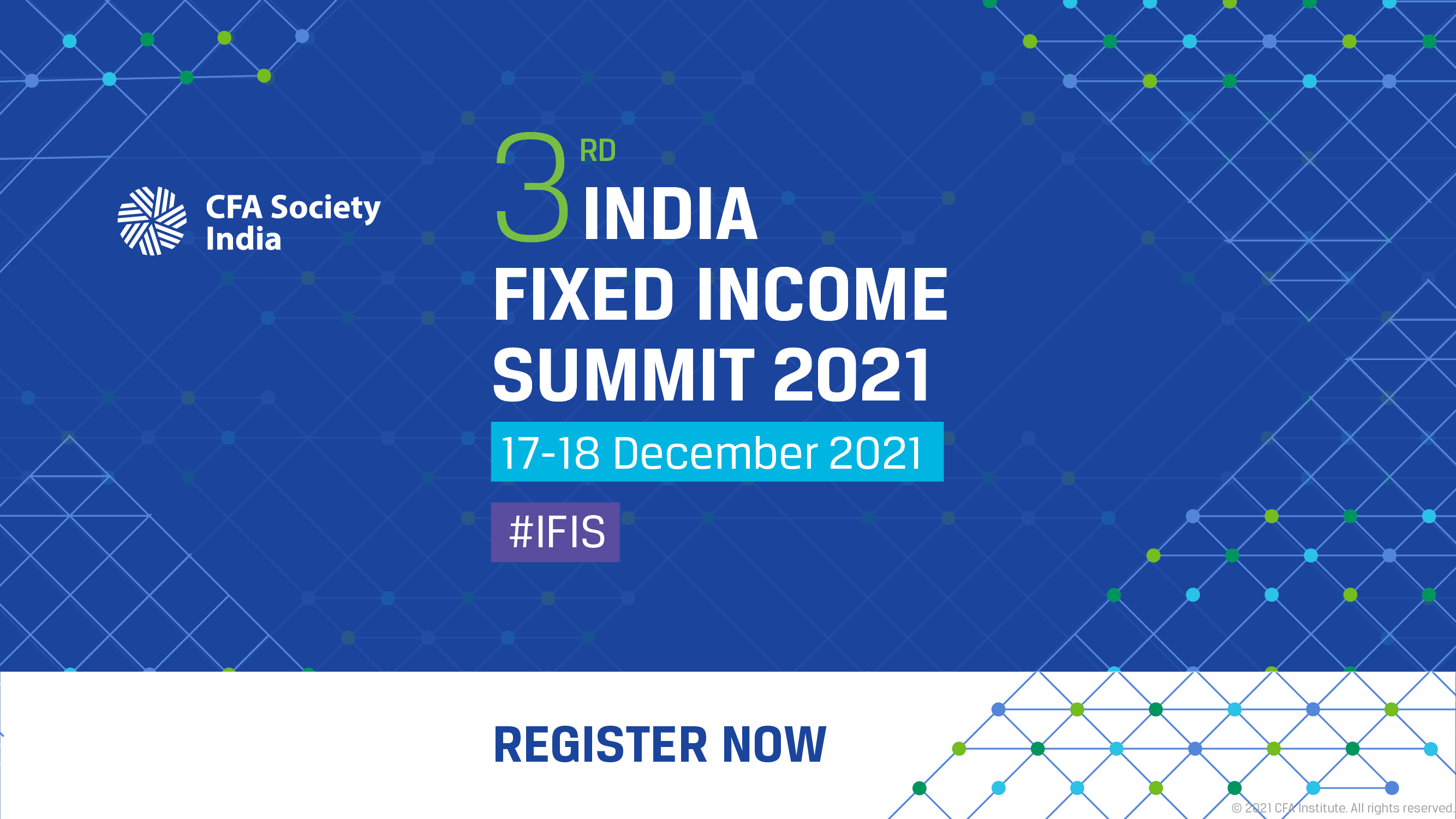 3rd India Fixed Income summit
We are delighted to announce the third edition of the India Fixed Income Summit (#IFIS2021). This year's edition of the Summit will take a deep dive into topics that have generated significant interest in the minds of investors, policymakers, researchers and analysts connected with India's fixed income markets.
The last year has seen significant developments encompassing the moderation of yields, expectations of rate hikes, democratization of structured finance, renewed efforts at market-making, opening of the government bond market, among other equally relevant topics. The fixed income markets have been anything but fixed and we have put together thoughtfully planned sessions to cover these and other topics.
We have a great list of speakers and moderators – with India and global expertise – to share data and perspective. Do join us to celebrate the action in India's dynamic fixed income market.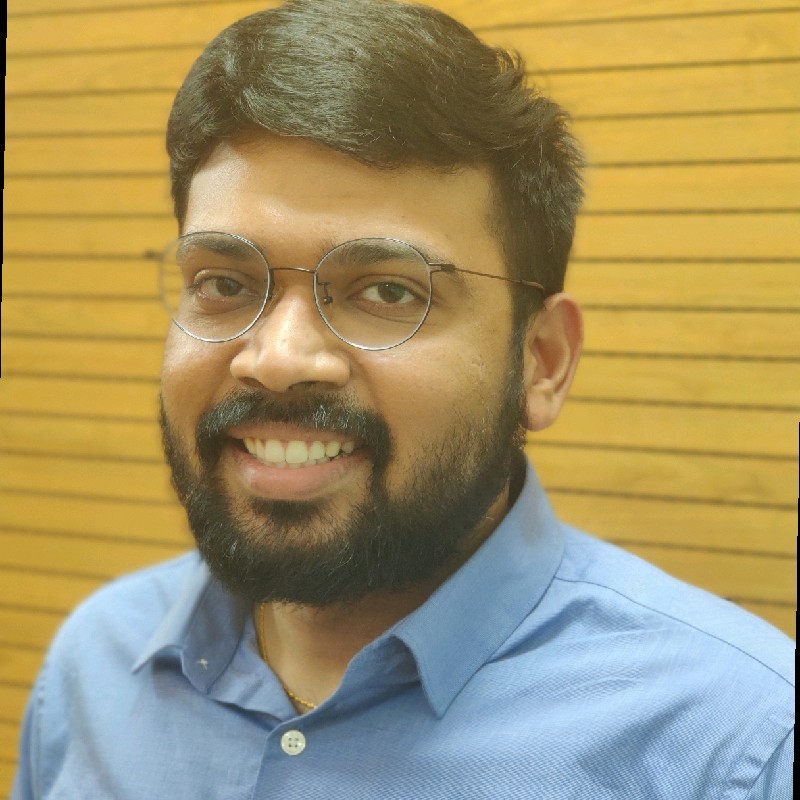 Anshul Gupta
Anshul is Co-Founder and CIO of Wint Wealth. Backed by Zerodha's Rainmatter fund, Wint is looking to democratise the debt markets in India by offering a platform where individual investors can invest in fixed income securities with ticket size as low as INR 10,000.
Anshul did his B-Tech from IIT Roorkee and was previously Head - Product Development at Northern Arc Capital where he led many innovative structures for Indian debt markets. These included structures like covered bonds, invoice backed securitisation, CLOs, Pooled loan issuances etc.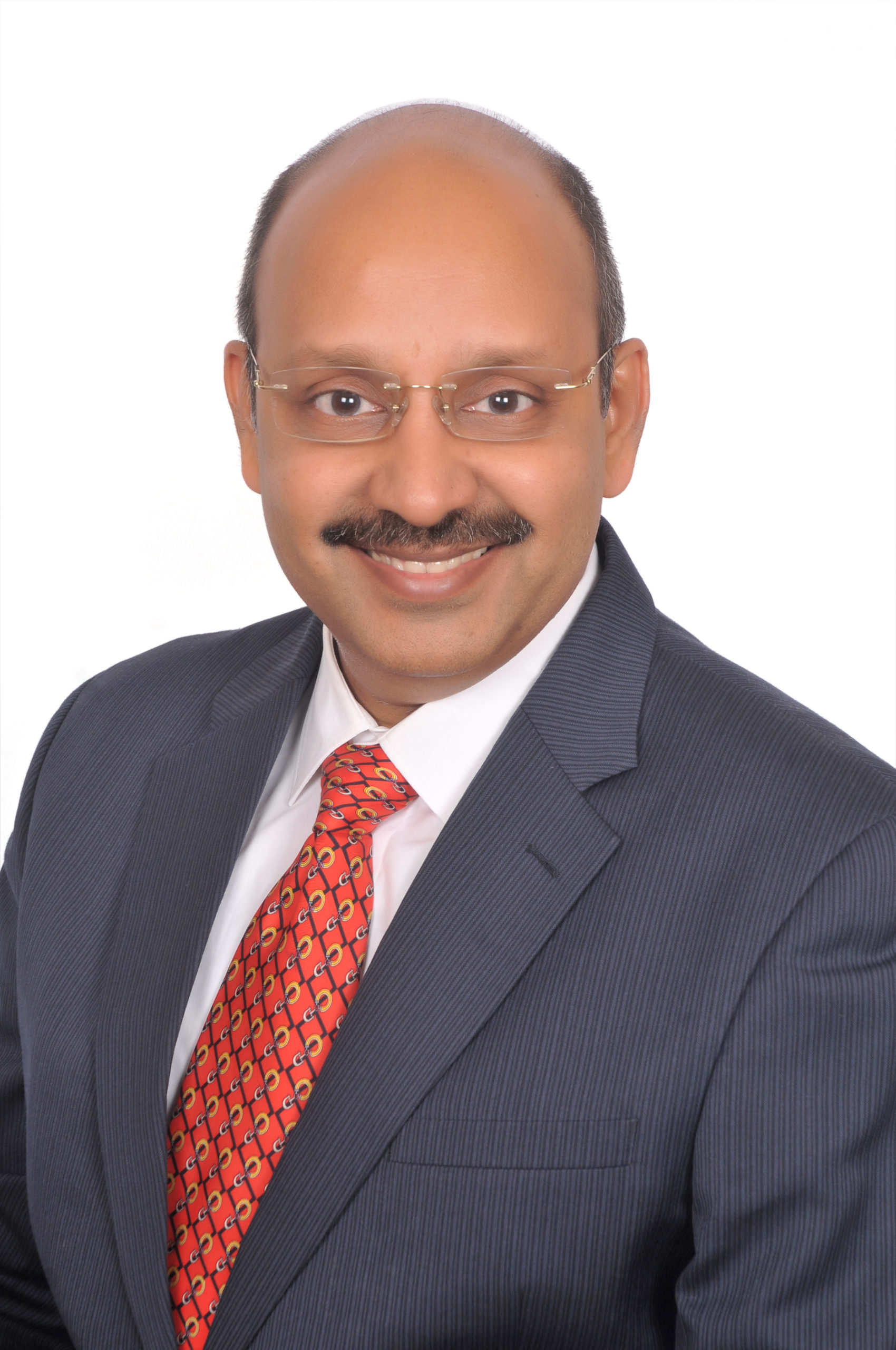 Chandru Badrinarayanan
Mr. Chandru Badrinarayanan is an alum of INSEAD business school and has an experience of over 35 years across Investments, Risk Management, Ratings, Fixed Income and Banking. In the field of Sustainability, ESG & Climate Change his experience is across the spectrum of Strategy, Investment, Consulting and Policy. He is currently Managing Partner at ECube Investment Advisors and was the India business head for MSCI and Senior Director at Crisil – an S&P company, prior to ECube.
Mr. Badrinarayanan is also a member of the technical working group on regulations, constituted by the Ministry of Finance to draft sustainable finance regulations for India and is also part of the global policy reference group of UNPRI – a global association of investors, asset managers and other stake holders focused on furthering sustainable investments across the world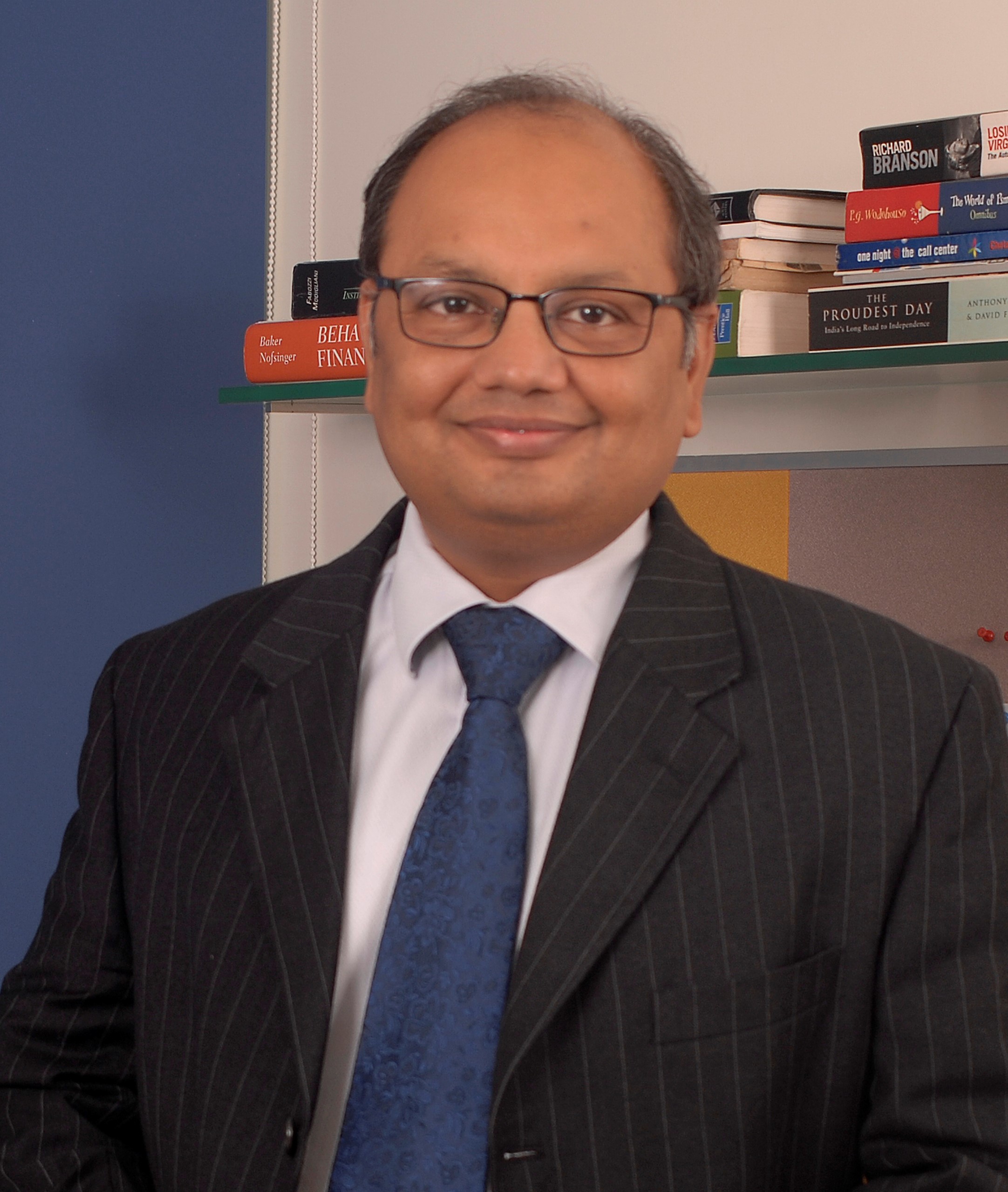 Dwijendra Srivastava, CFA
Dwijendra Srivastava, Chief Investment Officer Debt, Sundaram Mutual Fund is a CFA charter Holder. He holds a B.Tech (Textile Technology) degree from The Technological Institute of Textile and Sciences and a Post Graduate Diploma in Management from Goa Institute Of Management. He has over 20 years of experience, out of which 18 years is in financial services industry.
Maneesh Dangi
Maneesh Dangi has over 20 years of rich experience in Finance and Macro Research, with an extensive number of years in the asset management industry. In his erstwhile role as Co-Chief Investment Officer (Co-CIO) at a leading fund house in India, he spearheaded close to $25 billion in fixed income assets. Maneesh is currently an independent money manager, apart from pursuing his deep-dive research in the field of macro and multi asset investing.
Dangi is not only an award winning fund manager, but his deep understanding of macros rooted in analytical expertise makes him a sought after commentator on economy, asset classes, public policy, currency, commodities, industry and markets. In his earlier stint as CIO, he has been awarded as the best CIO by Asia Asset Management (2016, 2018), as the best fund manager by S&P owned CRISIL (2011), Outlook Group (2011, 2012, 2013), and was named the 'The most astute investor' by Asset Magazine 9 times during his 16-year stint as fund manager.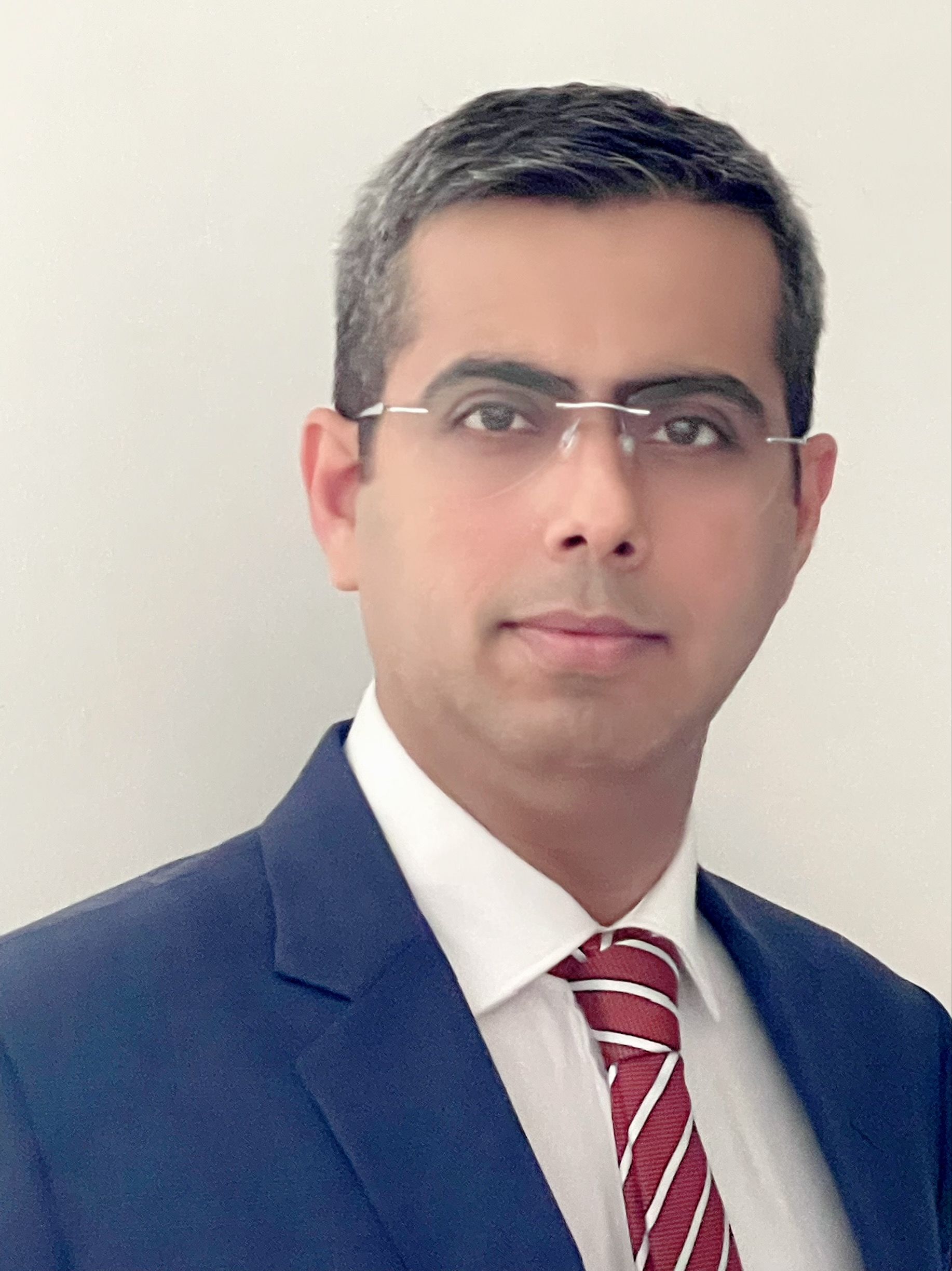 Manish Kotwani
Senior Investment Banker with focus on Debt Capital Markets. Ex: HDFC, IDFC & ICICI
Currently working on independent mandates and associated with Mavuca Capital Advisors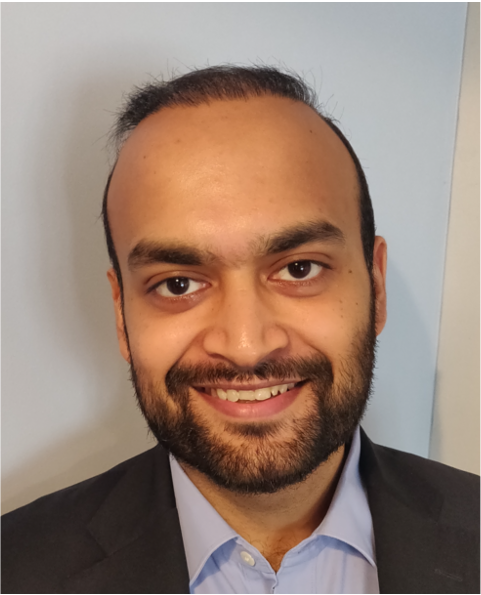 Nikhil Aggarwal
Nikhil Aggarwal is the Founder and CEO of Grip Invest. With a degree in Economics and a MBA in Finance, Nikhil started his career at HSBC and subsequently spent 6 years as part of the Investment Banking team at Morgan Stanley, advising some of India's largest companies on M&A and capital raising. In 2016, Nikhil co-founded and served as COO of Chalo, one of India's largest mobility start-ups. Nikhil also currently serves as a Consultant to the Transport Practice of The World Bank.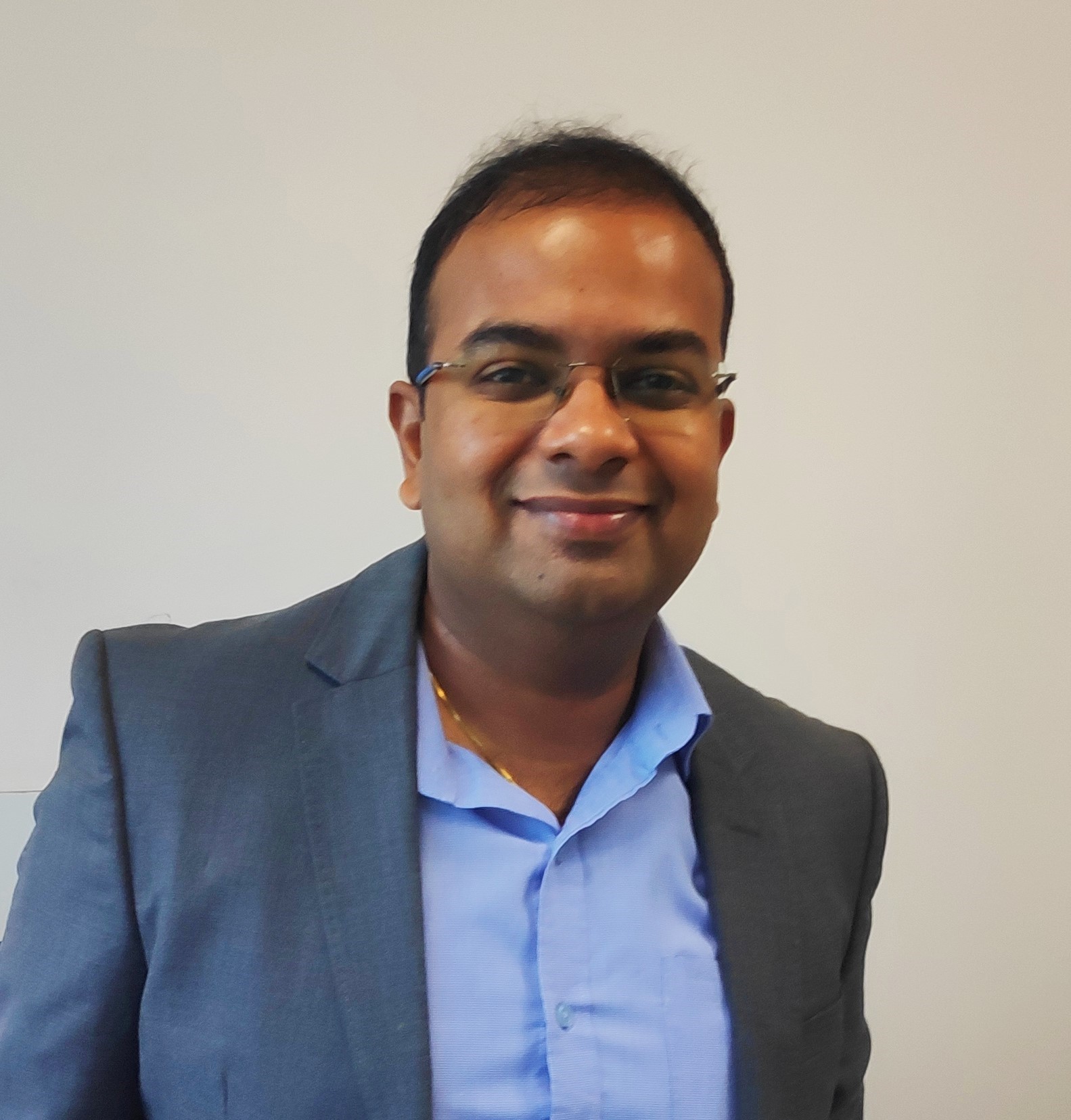 Pradeep Ramakrishnan
Pradeep Ramakrishnan is a graduate in Commerce and a qualified company secretary. He worked in the secretarial department of Madras Fertilizers Limited, Chennai during 1999-2000 and as a Company Secretary of Kothari Petrochemicals Ltd., Chennai, a Listed Company, during 2000-2002.
He joined SEBI in February 2002 at Head Office, Mumbai. Initially starting off with the Primary Market Department, he worked at the Southern Regional Office of SEBI from 2008-15, after which he commenced his second stint at the head office. He was working in the Corporation Finance Department at SEBI in-charge of issue, listing, compliance and monitoring functions from 2015-2020. He is presently handles issue and listing of corporate bonds at the Department of Debt and Hybrid Securities.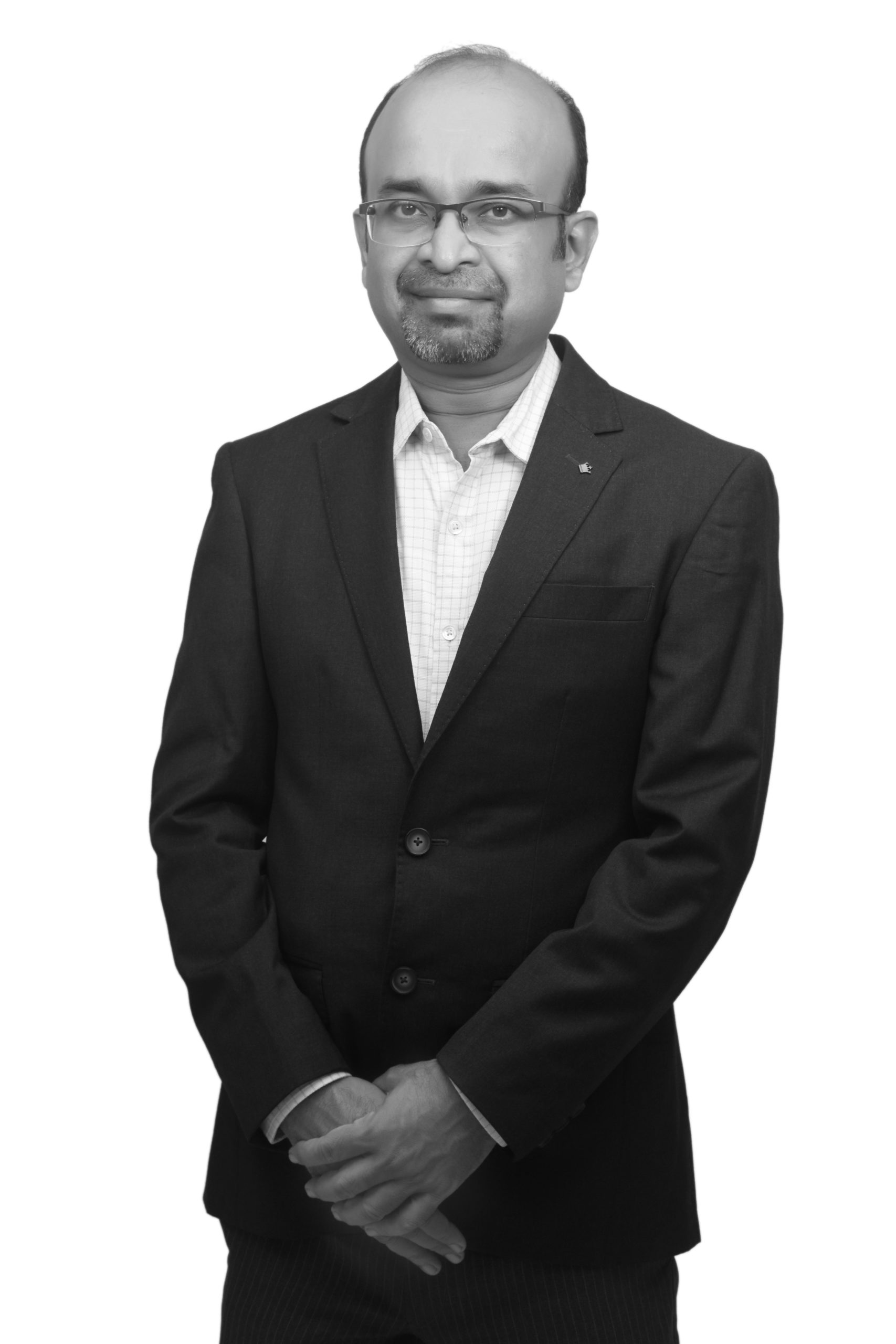 Sandeep Bhattacharya
Sandeep is responsible for coordinating Climate Bonds Initiative efforts to drive the development of​ the Indian Green ​Finance​ market as well as ​CBI's​ stakeholder engagement in the country. He also takes part in CBI's communications and media engagements in India.
Sandeep has more than 15 years of experience related to Bond Markets in India and SE Asia, where his roles has varied from credit evaluation, business development, execution and structuring of transactions. He has held management level positions in the Deutsche Bank Group, and Cagamas Berhad a subsidiary of Bank Negara Malaysia, the Malaysian Central Bank.
He has spoken in a number of conferences and workshops, including ones organized by the UNDP for regulators of a developing country and municipalities in India. He holds a MBA degree from a leading Business School In India and Bachelors degree in Physics from the University of Calcutta.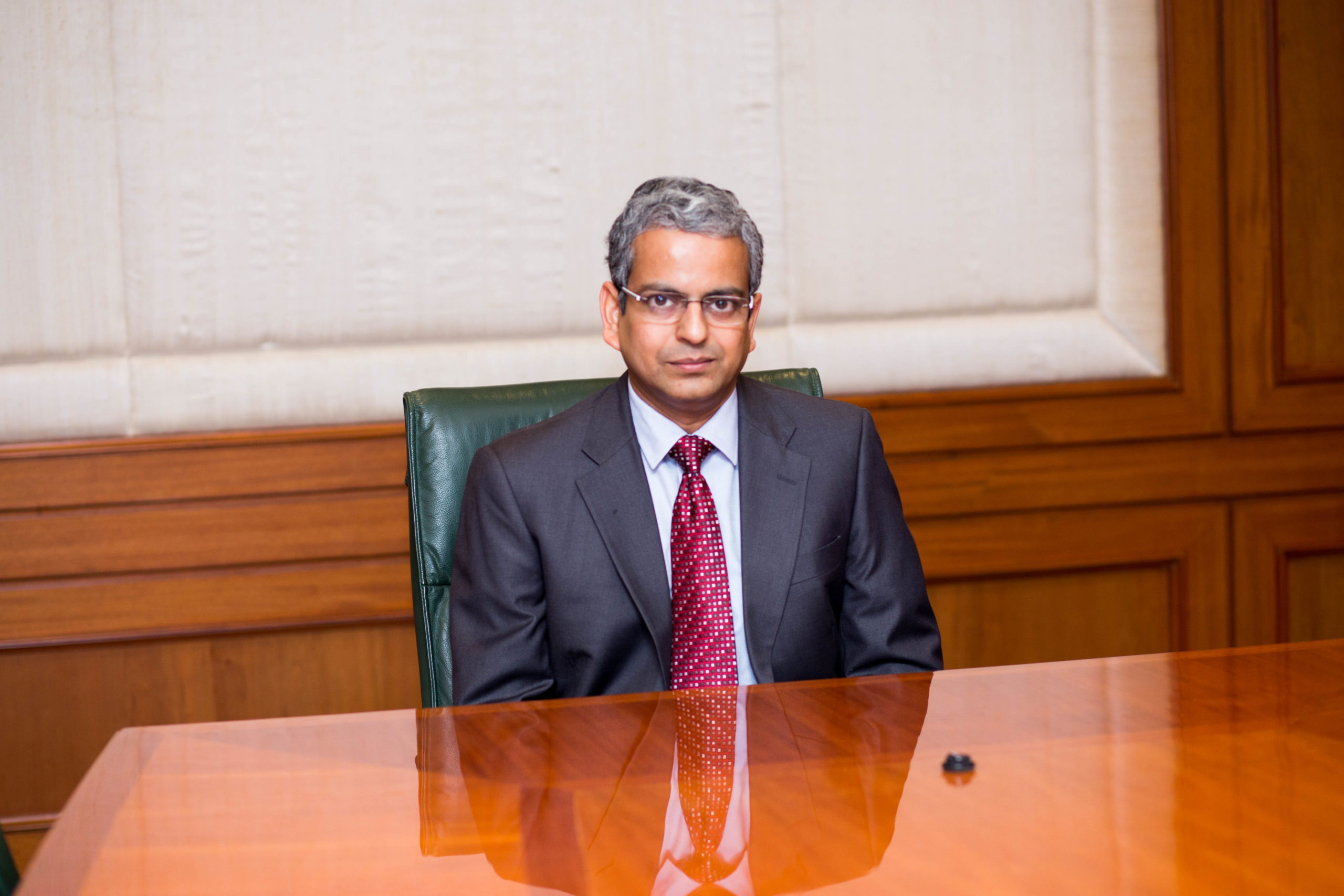 Shameek Ray
Shameek is Head - Debt Capital Markets at ICICI Securities Primary Dealership (ISec PD) - a leading Primary Dealer and market player actively trading in Government Securities, Corporate Bonds and Overnight Index Swaps and raising debt for its corporate clientele.
Shameek heads a team of Debt Investment Bankers who work with their Corporate clients, advising and executing debt raising and investing in Indian capital markets.
Shameek has 24 years of experience in fixed income markets working with domestic and international Issuers and Investors. He has a keen interest in Corporate Bond Regulations and has worked with various regulators in bringing in new instruments, regulations and in encouraging flows from long term investors into debt capital markets.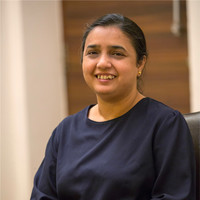 Simmi Sareen
Simmi is a chartered accountant and an MBA from London Business School with 23+ years of financial services experience. She is working on a series of interventions to champion financial inclusion and climate tech ecosystem in India.

She is a Director at Unitus Capital, where she leads the debt advisory practice and helps financial services firms, social enterprises and climate tech businesses get access to relevant, timely capital from a large network of domestic and international lenders.

As co-founder of Climake, Simmi is building a growth platform for early stage climate tech startups to access markets and innovative financing options. Climake also publishes collaborative research on gaps and opportunities in climate finance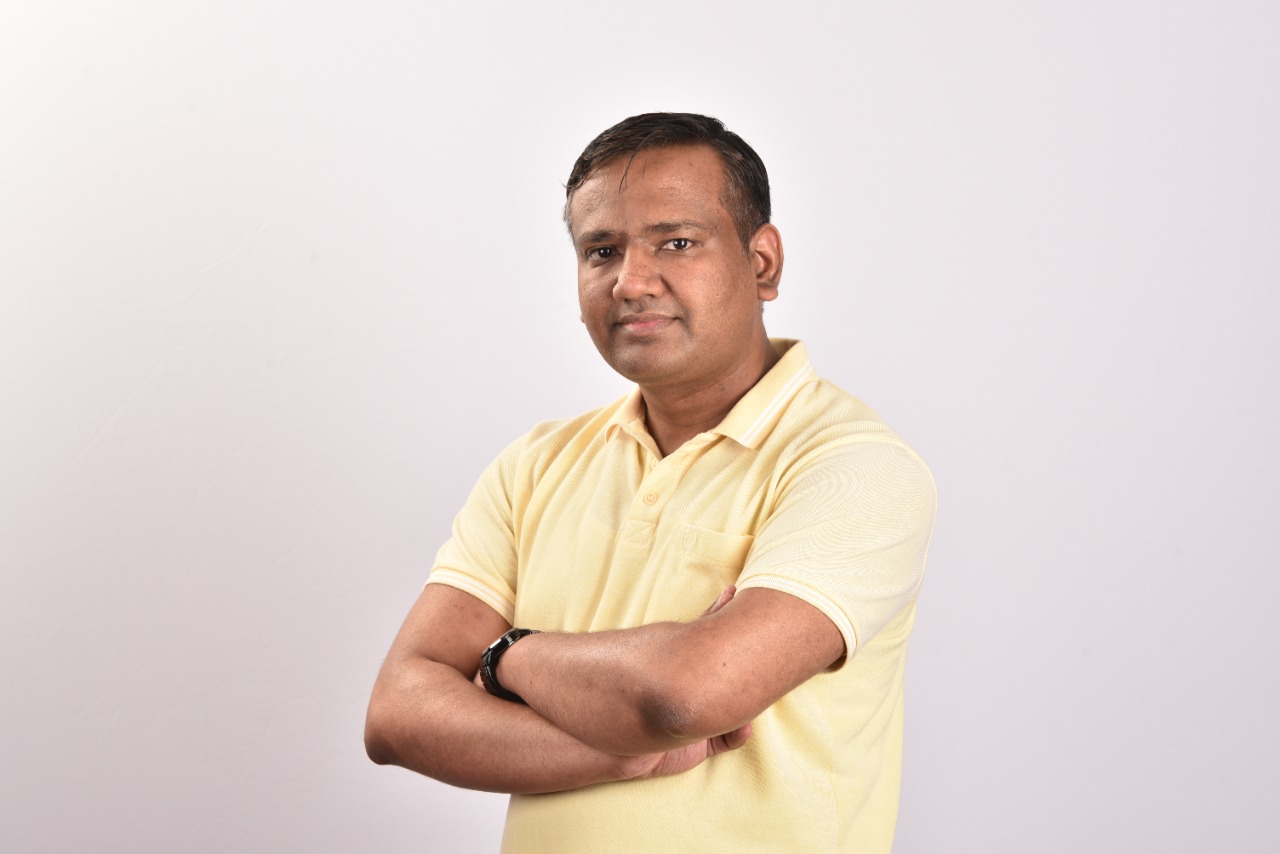 Vibhor Mittal
Vibhor Mittal is the Chief Products Officer, CredAvenue. He looks at the company's new product development, besides structuring and executing transactions across all platforms. He also heads the Wealth Business on the bond platform for CredAvenue.
He has over 15 years of experience in Structured Finance. In his previous role, he was the Group Head - Structured Finance Ratings at ICRA Limited (a Moody's Investor Service Company). He was responsible for the execution of rating assignments, maintaining client relationships, putting out research notes and thematics, and developing rating criteria and models at ICRA. Vibhor was also a member of the Rating Committee and Criteria Committee at ICRA.
Vibhor has been instrumental in structuring many landmark transactions in the domestic structured finance market spanning from multiple fixed income products, including ABS, RMBS/ CMBS, CDOs, covered bonds, pooled debt issuances, and partially credit enhanced debt.
Vibhor holds a Bachelor's degree in Electronics & Communication from Delhi College of Engineering and a Master's degree in Management from IIT Bombay.
.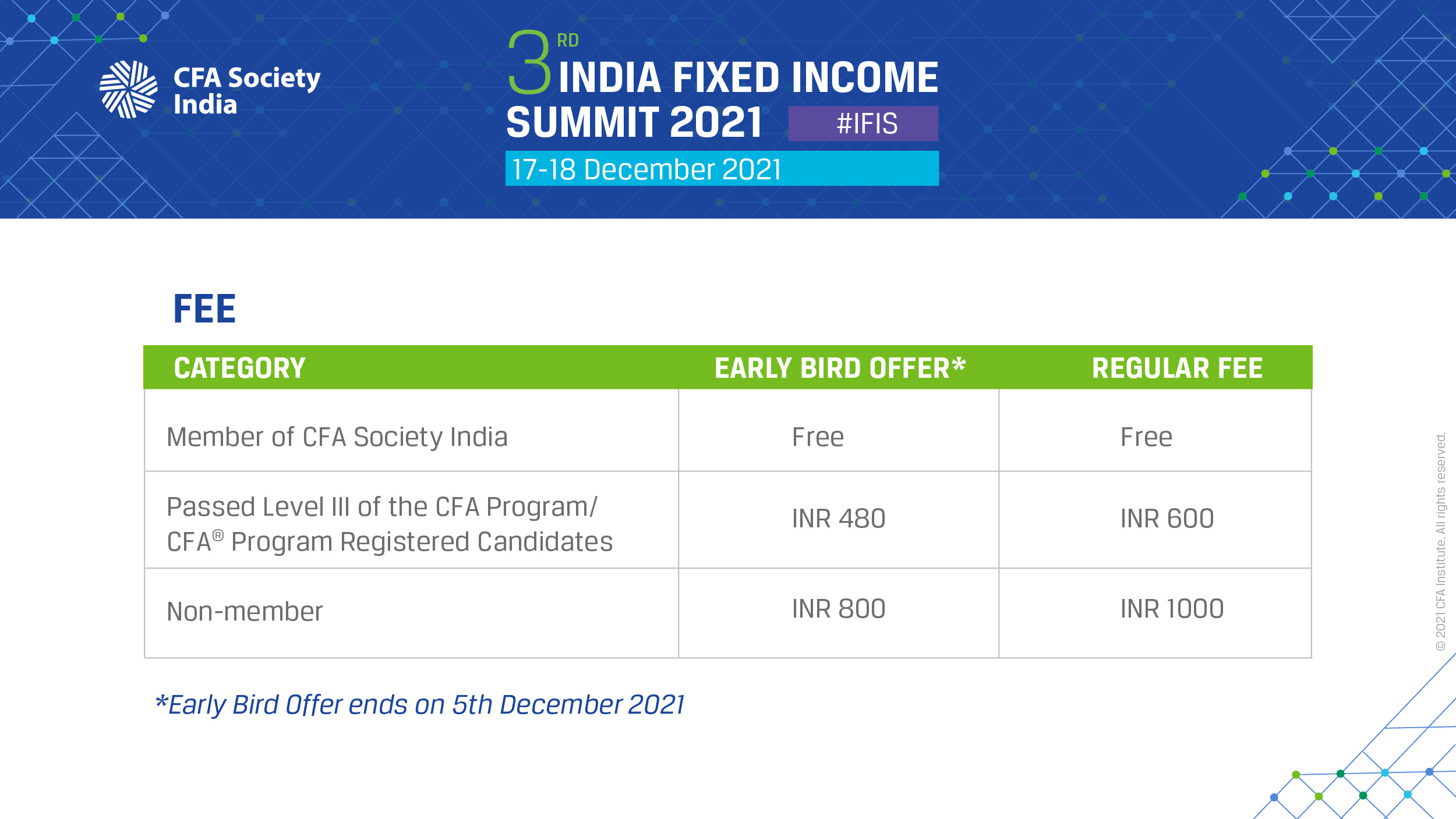 Cancellation Policy: No refunds will be issued for any cancellations received within 48 hours of program starts. Substitutions from the same company are accepted with fee adjustment, if appropriate. Sharing of registrations is not permitted.
5 PL

CFA Institute members can claim PL credit by providing their CFA Institute ID number when registering.

Global Passport Accredited Programme

Allows members of participating CFA societies to attend each other's society events at the local member price
2021-12-17 17:00
2021-12-18 19:30
Asia/Kolkata
3rd India Fixed Income summit 2021
3rd India Fixed Income summit We are delighted to announce the third edition of the India Fixed Income Summit (#IFIS2021). This year's edition of the Summit will take a deep dive into topics that have generated significant interest in the minds of investors, policymakers, researchers and analysts connected with India's fixed income markets. The last
Online
Save Event to Calendar