5th Value Investing Pioneers Summit 2021 (5pm-8pm on 23rd Oct & 10am-1pm on 24th Oct.)
October 23, 2021 - October 24, 2021
5.00 pm - 7.30 pm

5th Value Investing Pioneers Summit 2021 
We live in a world full of chaos and noise. A world of information overload and one that has an abundance of 'expiring knowledge'.
"Expiring knowledge catches more attention than it should, for two reasons. One, there's a lot of it, eager to buzz our short attention spans. Two, we chase it down, anxious to squeeze out insight before it loses relevance", says Morgan Housel.
In Indian mythology, there is a maxim – 'Hamsa Ksheera Nyaya' or 'the maxim of selective absorption'. It is about a mythical swan which has the capacity to separate milk from a mixture of milk and water and relish just the milk. We all wish we had the magical ability like that swan to ignore the noise and selectively absorb long term knowledge.
Value Investing Pioneers Summit is our endeavor to give a helping hand to those who are in pursuit of investing wisdom. Like the previous four editions, we have some of the most experienced value investors  from India and abroad, to help us cut through the clutter and focus on long term knowledge.
We invite you to join us and be part of this virtual school and learn from these pioneers as they selflessly share with us, their invaluable knowledge and learnings gained over many decades of investing.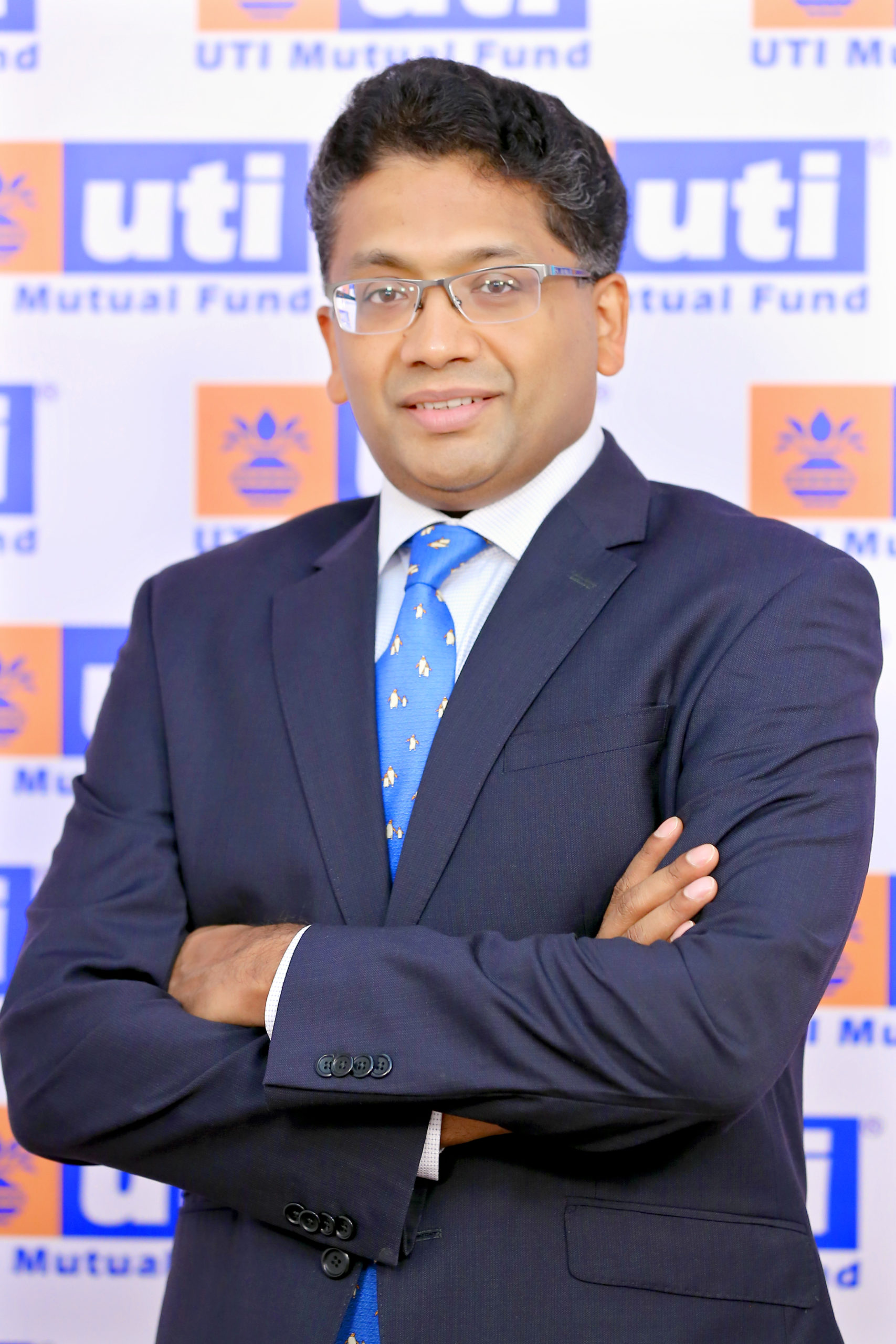 Vetri Subramaniam
Group President & Chief Investment Officer UTI Asset Management Company Ltd. Vetri Subramaniam is Group President & Chief Investment Officer at UTI Asset Management Company Ltd. He joined UTI AMC as Head of Equity in January 2017 and assumed the role of Chief Investment Officer from August 2021. UTI MF manages assets of ₹ 1,940 bn* and the total assets under management of UTI are ₹ 12,008 bn*. At UTI MF Vetri leads a team of 29 persons including analysts and fund managers. Vetri has over 29 years of work experience. Prior to joining UTI in January 2017 he was Chief Investment Officer at Invesco Asset Management Ltd. He was part of the startup team at Invesco (then Religare Asset Management) in 2008 and helped establish the firm's proprietary investment process and the team. During this period the firm established a strong track record. The firm also launched several offshore funds investing into India from Japan, Mauritius & Luxembourg. Vetri started his career at Kotak Mahindra in 1992 after passing out from IIM Bangalore with a PG Diploma in Management. His experience in equity markets & investment roles at various firms from 1994 includes Kotak Mahindra, SSKI & Motilal Oswal. He was also one of the founders of Sharekhan.com (now Sharekhan BNP Paribas) where he led the research & content team. He has also worked as an advisor to a UK Hedge fund Boyer Allan on its equity investments in India during 2003-2007. He is a frequent contributor to the media and regularly speaks on investing and markets at various forums - including the media & educational institutions.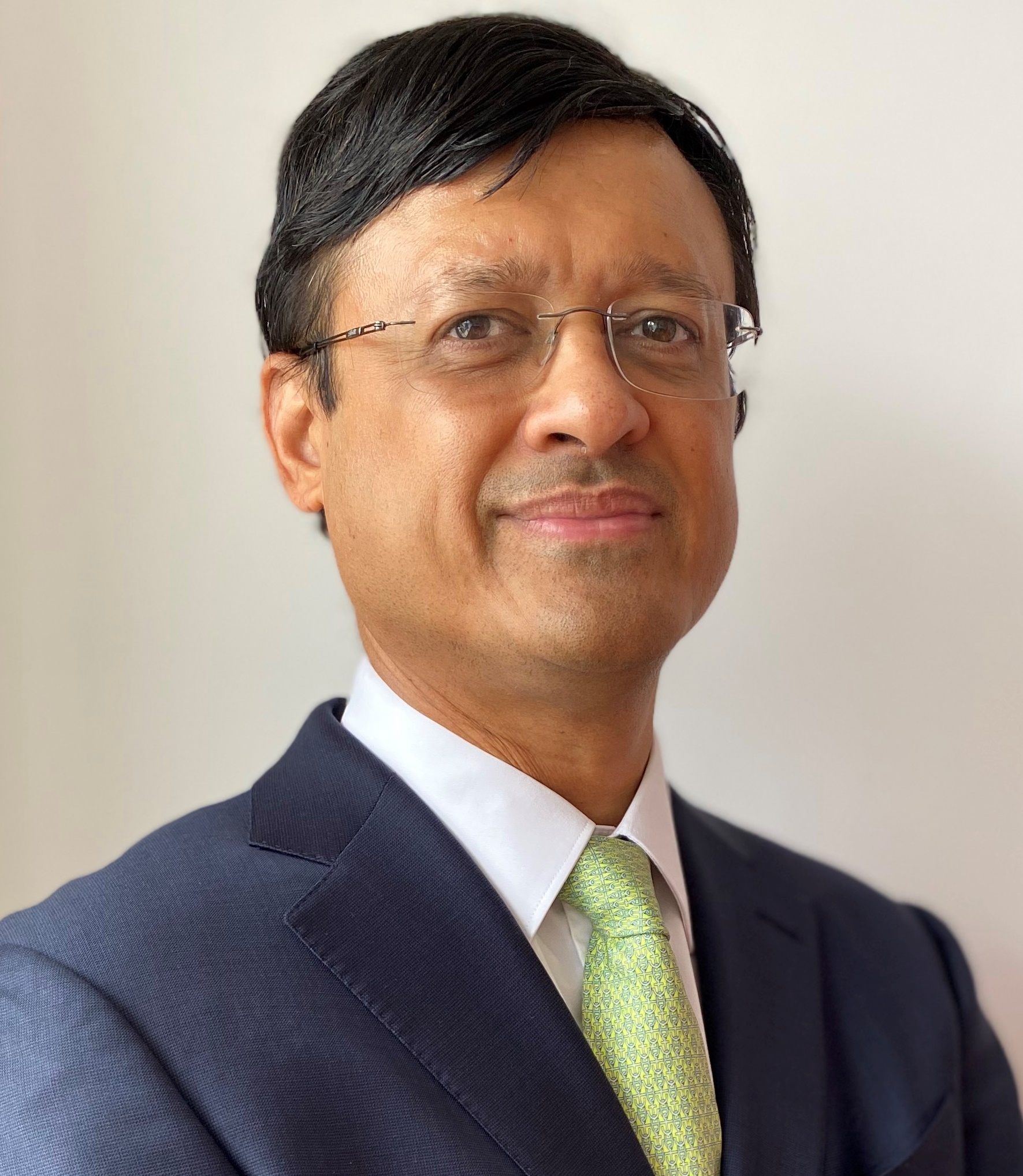 Sanjeev Prasad
Managing Director and Co-head, KIE
(Strategy)
Sanjeev is the Managing Director and Co-head, Kotak Institutional Equities, a role he has held since 2007. A highly ranked and passionate analyst, Sanjeev leads KIE's Strategy research desk - a mantle he took on in 2007 after decades of cross-sectoral research. Sanjeev has a B.Tech degree from IIT, Delhi and a management degree from IIM, Calcutta. He has been with KIE since October 1996, beginning his career in oil and gas research and topping broker polls as best sectoral analyst and best India analyst for over a decade. Consistently ranked India's leading strategy analyst by institutional investors, he has a strong global franchise in India research and is a highly regarded commentator on Indian equities in the mainstream media as well. Over the years, Sanjeev has built one of the strongest research teams among broking houses in India, respected for its intensive research, incisive analysis and independence. Sanjeev considers himself a lifelong student and analyst of capital markets, economics and policy.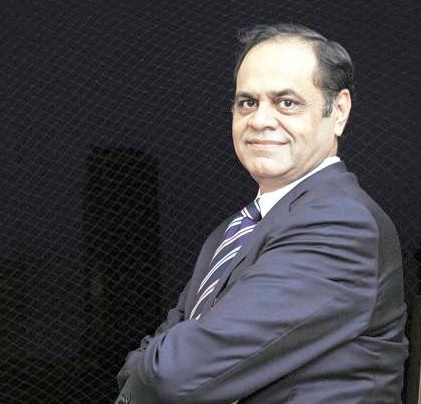 Ramesh S. Damani
Ramesh S. Damani, age 64 years, is a Member of the Bombay Stock Exchange (BSE). A graduate of H.R. College, Mumbai, he did his MBA from California State University, Northridge. He has been a broker, at the BSE, since 1989. He is currently Chairman of Avenue Supermarts Ltd. [popularly known as D-Mart]. Prior to joining Avenue Supermarts Ltd., he was and remains Managing Director of Ramesh S. Damani Finance Pvt. Ltd., who are members of the BSE. He also serves on the Boards of VIP INDUSTRIES LTD and APTECH Ltd. as an Independent Director. He has hosted a number of shows on CNBC-TV18, amongst them are Wizards of Dalal Street, Oriental & Occidental and RD 360. He is a frequent commentator of financial issues on various business channels.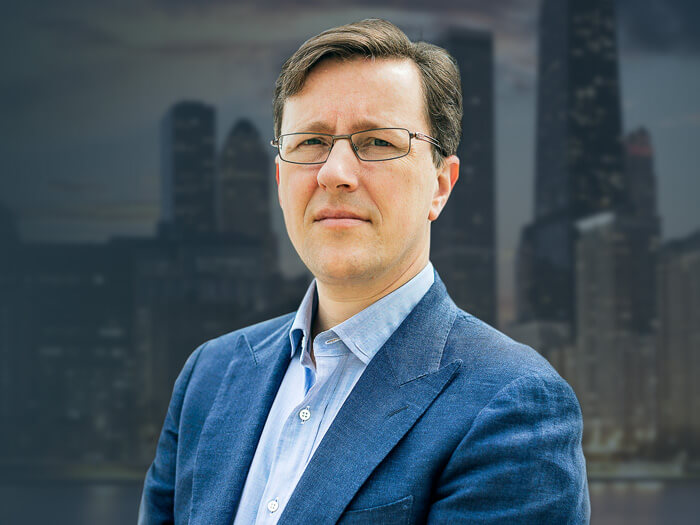 Pat Dorsey, CFA
Pat is the founder of Dorsey Asset Management. Prior to starting Dorsey Asset, Pat was Director of Research for Sanibel Captiva Trust, an independent trust company serving high net worth clients.From 2000 to 2011, Pat was Director of Equity Research for Morningstar, where he led the growth of Morningstar's equity research group from 20 to 90 analysts. Pat was instrumental in the development of Morningstar's economic moat ratings, as well as the methodology behind Morningstar's framework for analyzing competitive advantage. Pat is also the author of two books — The Five Rules for Successful Stock Investing and The Little Book that Builds Wealth. Pat holds a Master's degree in Political Science from Northwestern University and a bachelor's degree in government from Wesleyan University. He is a CFA charterholder.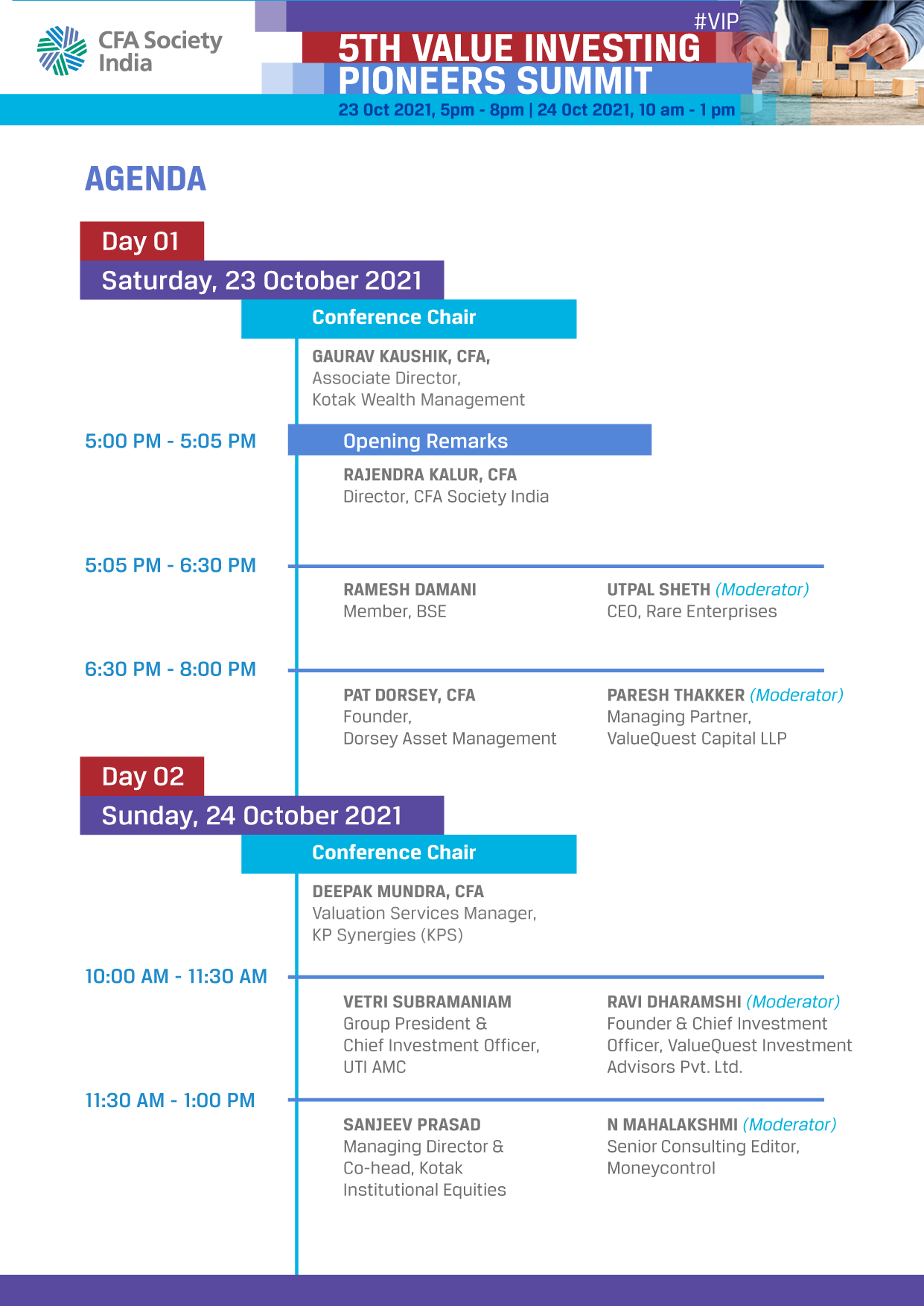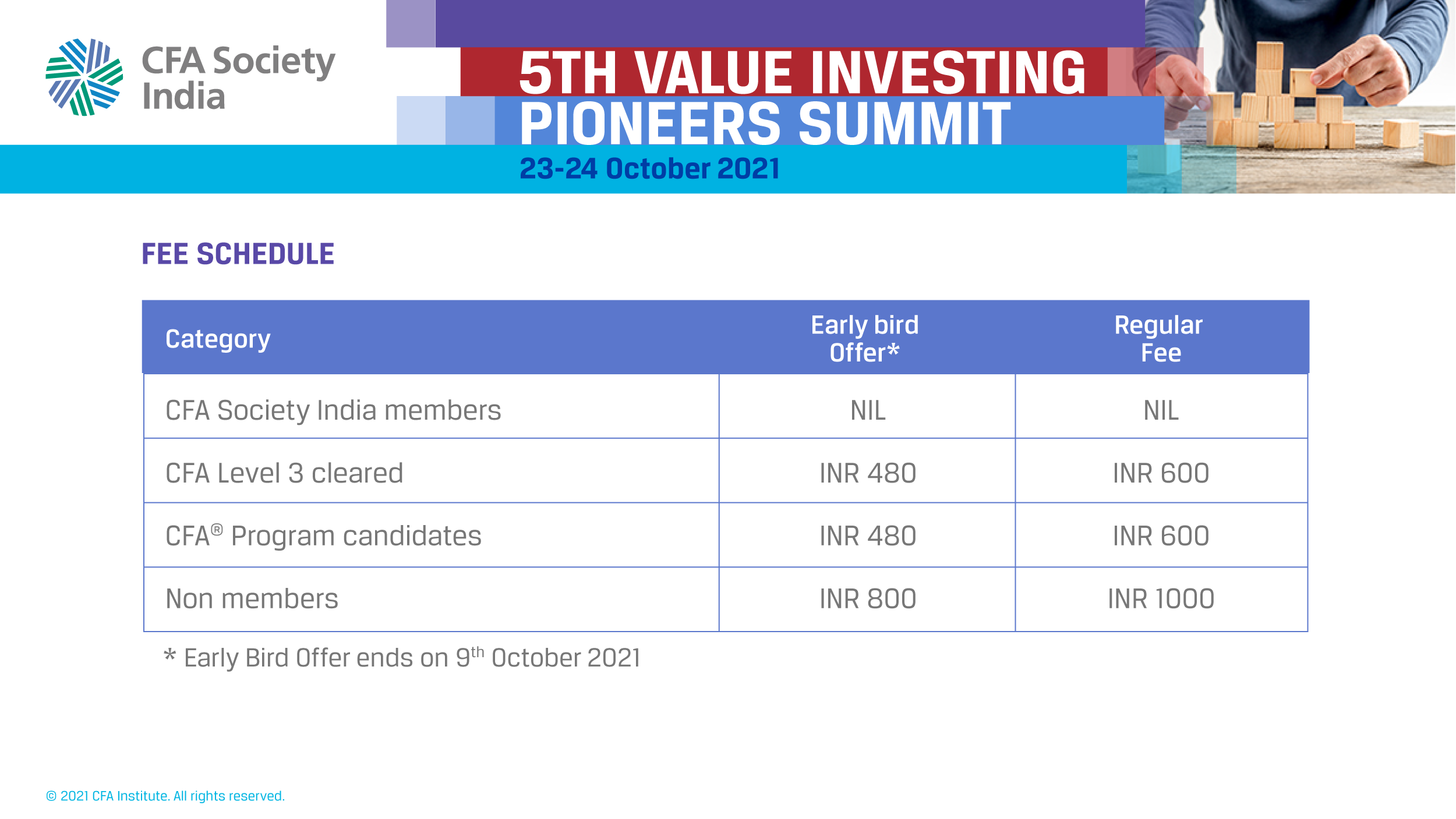 Cancellation Policy: No refunds will be issued for any cancellations received within 48 hours of program starts. Substitutions from the same company are accepted with fee adjustment, if appropriate. Sharing of registrations is not permitted.
5 PL

CFA Institute members can claim PL credit by providing their CFA Institute ID number when registering.

Global Passport Accredited Programme

Allows members of participating CFA societies to attend each other's society events at the local member price
2002-6-1 17:00
2002-2-25 19:30
Asia/Kolkata
5th Value Investing Pioneers Summit 2021 (5pm-8pm on 23rd Oct & 10am-1pm on 24th Oct.)
5th Value Investing Pioneers Summit 2021  We live in a world full of chaos and noise. A world of information overload and one that has an abundance of 'expiring knowledge'. "Expiring knowledge catches more attention than it should, for two reasons. One, there's a lot of it, eager to buzz our short attention spans. Two,
Online
Save Event to Calendar