CFA Career Day – Indore
October 1, 2022
9:00 am -6:00 pm
CFA Career Day is a great opportunity to meet the top employers from the city and chart your next career move. It's a chance to apply for current opportunities, showcase your skills and network with the leading employers. 
Don't miss it. Register now!
Details:
Date – Saturday, 1st October, 2022
Time – 9:00 to 6:00 pm 
Venue – Wow Hotel, Indore
For any queries, write to soumik@india.cfasociety.org 
Participating Employers
Swastika Investmart 
Swastika Investmart is now one of India's leading financial services companies. The compay is listed on the BSE since 1995. Swastika started its business in the leasing and finance domain, and quickly expanded equity, currency and commodities trading and investment services. 
Swastika will look to hire CFA charterholders and candidates for its investment banking function. 
Ecosystem Ventures
Ecosystem Ventures provides an ecosystem for nurturing and scaling disruptive startups. The company invests in highly driven founders who aspire to become category leaders in their respective industries. Beyond investing and fund-raising, ESV works as an extended partner of the venture to bring a wide-variety of strategy and execution skills through our ecosystem. 
Ecosystem Ventures will look to hire CFA charterholders and candidates for their investing and fund-raising functions. 
Quantile Analytics
Quantile Analytics Pvt Ltd was incorporated in April 2015 at Indore, to provide  uantitative, analytical and consulting services for the benefit of alternative investment managers based in the US. Quantile's key area of focus is to use quantitative techniques for improved investment research, analytical model development, trade execution strategies and risk management.
Quantile Analytics has partnered with one of the leading alternative investment management firms in New York, United States. The firm manages assets using primarily quantitative equity strategies.
Quantile Analytics will look to identify the right talent to support its future growth.  
WCPL Finance
WCPL Finance has a major thrust in debt & equity syndication services, business consultancy, solar & wind power consultancy and retail finance. The company has been operating for more than 18 years, and has carved out a niche in the corporate finance market. It has clients not just in India, but also internationally in Dubai, Singapore and Laos.
WCPL Finance will look to identify talent to support its growing corporate finance business.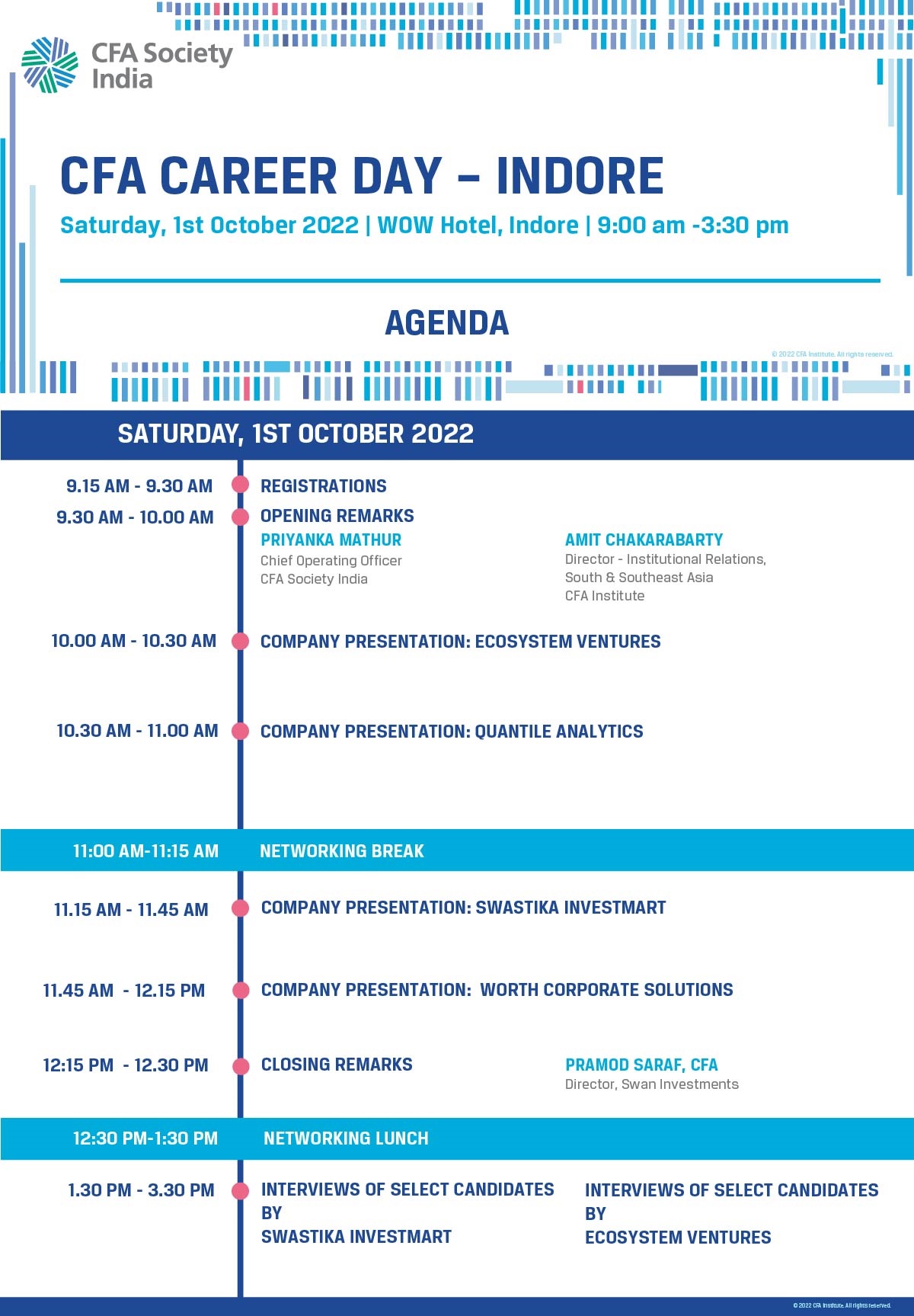 2022-10-1 09:00
2022-10-1 18:00
Asia/Kolkata
CFA Career Day – Indore
CFA Career Day is a great opportunity to meet the top employers from the city and chart your next career move. It's a chance to apply for current opportunities, showcase your skills and network with the leading employers.  Don't miss it. Register now! Details: Date – Saturday, 1st October, 2022 Time – 9:00 to
WOW Hotel, Indore
Save Event to Calendar