Charting your path to leadership roles
September 17, 2021
6:30 PM - 7:30 PM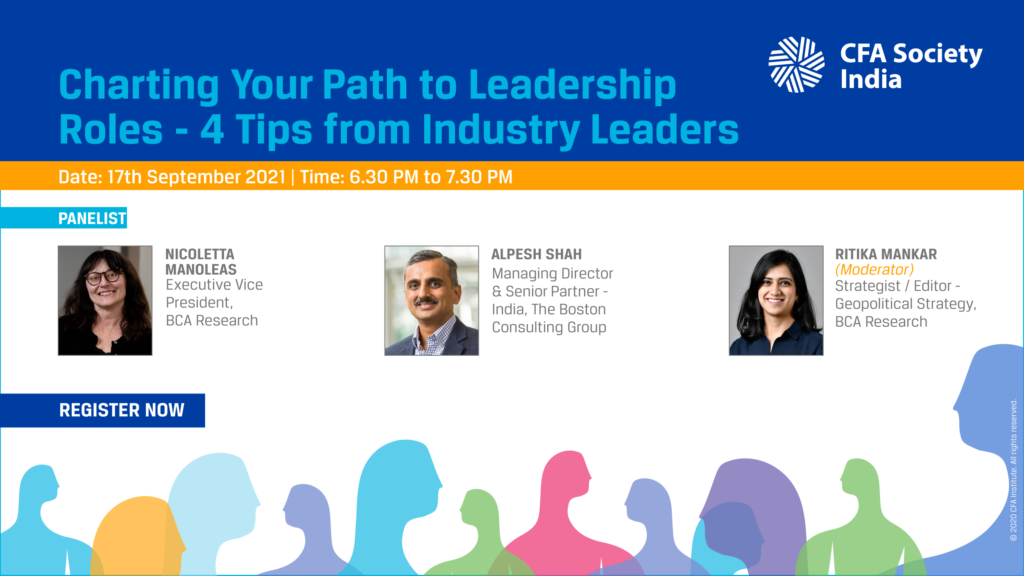 We are pleased to announce the upcoming interactive webinar with Ms. Nicoletta Manoleas- Executive Vice President, BCA Research & Mr. Alpesh Shah– Managing Partner, Senior Partner and MD, Boston Consulting Group on 'Charting your path to leadership roles'.
If you are a mid-career professional, you would have already asked yourself "what next? Where do I go from here?" As we spend more years in the industry, our options get narrower. Moving up the ladder becomes increasingly difficult, thanks to intense competition for leadership roles.  
This online event will provide insights to address this problem. It will feature a panel of corporate leaders managing some of the best companies in India and abroad. They will talk about the attributes needed for leadership roles and how you can develop them. They will also shed light their own journey – how they made it to the top and what it took them to get there.
This is a multi-faceted panel of corporate leaders, each with 25+ years of experience. Who better to learn from than those who have made it to the top. 
SPEAKERS: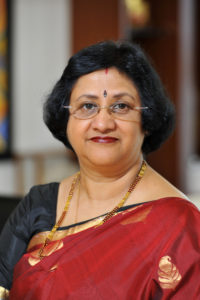 Arundhati Bhattacharya is the Chairperson and Chief Executive Officer for Salesforce, India. In her role, Arundhati oversees the growth strategy of the company and plays an integral role in defining Salesforce's relationship with the ecosystem of customers, partners and community across India. Prior to Salesforce, Arundhati Bhattacharya was the first woman chairperson at the State Bank of India (SBI), where she was credited with ushering in the digital transformation era at the company. Under her leadership, SBI went on to be voted as one of India's top 3 Best Places to work in India. With 40+ years of rich experience in India's financial sector working across varied roles and diverse national & international locations; Arundhati has also earned a string of accolades to her name, most notably — "The World's 100 Most Powerful Women" by Forbes, "Top 50 globally most powerful women in business" and "World's 50 Greatest Leaders" list by Fortune.

Nicoletta Manoleas has been with BCA Research since 1985 and is currently the Executive Vice President. Nicky began working with the research team, and as a Senior Analyst she assisted in researching and launching several new products. Nicoletta's exposure to the different facets of BCA's products helped her to take on a role in management by developing and heading up the Research Operations side of the business. Currently, reporting to the CEO, she has moved into a senior management role where she oversees the Research Operations side of the business. She also works closely with other senior management members on business initiatives.

Alpesh Shah is a Senior Partner and Managing Director in the Mumbai office of The Boston Consulting Group and leads BCG's India business. Alpesh has been advising clients in the Asia Pacific for the past 25 years.
Across the Asia Pacific, he has assisted a wide variety of banks, finance companies, insurance companies, telcos and IT services companies across a wide range of topics including segment specific strategy development, portfolio analysis, new business launch, break-out growth strategy development, pricing, improving channel effectiveness, operational efficiency enhancement, cost management and reduction, post-merger integration, business divestiture and implementation support. Alpesh is a Bachelor of Computer Engineering from the L.D. College of Engineering, Ahmedabad and holds an MBA from the Indian Institute of Management, Ahmedabad
REGISTRATION:
CFA Society India members: Free
CFA Level 3 Cleared: Free
CFA program candidates: Free
#DidYouKnow PROFESSIONAL LEARNING SESSIONS organised by CFA Society India are free for their Members, RENEW  your Membership today for the year 2021-2022 and attend these programs for free.
Cancellation Policy: No refunds will be issued for any cancellations received within 48 hours of program starts. Substitutions from the same company are accepted with fee adjustment, if appropriate. Sharing of registrations is not permitted.

Global Passport Accredited Programme Allows members of participating CFA societies to attend each other's society events at the local member price. This event is qualified for 1.0 PL credit hours for CFA Society India members.
2000-11-6 18:30
2000-11-6 19:30
Asia/Kolkata
Charting your path to leadership roles
We are pleased to announce the upcoming interactive webinar with Ms. Nicoletta Manoleas- Executive Vice President, BCA Research & Mr. Alpesh Shah– Managing Partner, Senior Partner and MD, Boston Consulting Group on 'Charting your path to leadership roles'. If you are a mid-career professional, you would have already asked yourself "what next? Where do I
Online
Save Event to Calendar