Evolve with EQ – The Leadership Excellence Series | Mumbai
November 4, 2023
3:00 pm to 5:00 pm
Refinitiv, One World Center, Tower 1C,, Senapati Bapat Marg, Prabhadevi Station Road, Mumbai
In today's rapidly evolving world, technical expertise alone is no longer sufficient for ensuring career growth. Leadership skills are essential in one's personal and professional journey. Acknowledging this fact, CFA Society India has introduced a leadership and soft skills development program for its members. This program will include a series of workshops, one online and four in-person in Mumbai.
Evolve with EQ
This session takes the participants on a journey of self-discovery of understanding their Emotional Quotient and how it impacts all aspects of their personal and professional relationships.
This is a practical day filled with exercises, games and discussions.
Duration: 2 hours
Participants: 15 – 20 max
EVENT DETAILS:
DATE: Saturday, 4th November, 2023
TIME: 3:00 p.m. to 5:00 p.m.
LOCATION: Refinitiv, One World Center, Tower 1C,, Senapati Bapat Marg, Prabhadevi Station Road, Mumbai,India
PRICE: INR 1,000; REFUNDABLE upon attendance
Note: This session is open to CFA Society India members only
Other topics to be covered in subsequent workshops are:
3 States – tailor-made program on building awareness around behaviours and communication.
Master your Time, Master your Life – is a program designed to help participants understand the importance of time management. The program uses tools and games to inculcate the importance of goal orientation, prioritization, planning and organising work.
Registration details for these workshops will be shared shortly…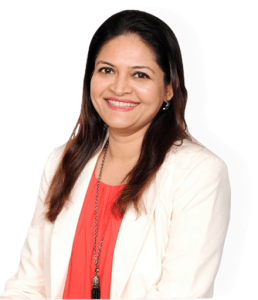 Khyati partners with people from diverse walks of life in their quest for self-awareness and development which helps them to conquer any situation whether in personal or in professional life. As a C-Suite Coach her commitment to you is complete Confidentiality, Trust and Faith, No Judgment, Freedom of expression and Pure professionalism. She has over 2 decades of experience in the financial industry (HDFC Securities, ICICI Bank, CRISIL, NSE and BSE), where she had the opportunity to manage teams as well as manage relationships with stakeholders. She has always been curious about behavioural aspects of people which have an impact on all spheres of their life whether work or relationships. Having been through the journey of learning to manage stakeholders, collaborate and lead teams, she brings valuable insights into her training programs. She has conducted workshops and coaching sessions for a large number of individuals as well as organisations such as Inventia Healthcare Ltd, Saraswat Bank, XLNC, BSE, Hungama Media, Morgan Stanley, Turner Project Management India, CFA Society India, Tata Memorial Hospital and Bizgurukul. Several of these were during COVID and hence she has experience of conducting online workshops. Through her Distinguished Fellow Coach position at BetterUp, she has had the opportunity to work with employees of Google, Travelodge (UK), BlackRock Inc, Roland Berger, Waste Management India, Inter State Studio, Accenture, Unilever, CISCO and JLL. Khyati has an experience of over 1000 hours of coaching and training. She is passionate about making a positive change in the lives of as many people as she can. To be their 'Katalist' for transformation!
2 PL

CFA Institute members can claim PL credit by providing their CFA Institute ID number when registering.
Global Passport Accredited Programme Allows members of participating CFA societies to attend each other's society events at the local member price
2023-11-4 15:00
2023-11-4 17:00
Asia/Kolkata
Evolve with EQ – The Leadership Excellence Series | Mumbai
In today's rapidly evolving world, technical expertise alone is no longer sufficient for ensuring career growth. Leadership skills are essential in one's personal and professional journey. Acknowledging this fact, CFA Society India has introduced a leadership and soft skills development program for its members. This program will include a series of workshops, one online and four
Refinitiv, One World Center, Tower 1C,, Senapati Bapat Marg, Prabhadevi Station Road, Mumbai
Save Event to Calendar