Practitioners' Insights: IBOR transition changes & challenges
May 25, 2020
5:30 PM - 6:30 PM IST
CFA Society India is pleased to host Subrahmanyam Oruganti, CFA for the upcoming webinar "Practitioners' Insights: IBOR transition changes & challenges" who will take us through the below:
After more than 40 years of the financial services industry relying upon the interbank offer rates (IBORs) as a reference rate for variable-rate financial instruments. IBORs are being replaced by Alternate reference rates (ARR) across the globe. In terms of materiality, they underpin around $ 400 trillion of financial contracts. This transition impacts several departments within the financial institution ranging from Business. Treasury including derivative traders, Finance, Operations & IT, Risk Management, Tax, Legal and Governance. There are several key transition challenges which financial institutions need to consider to ensure smooth migration to the new benchmark rate.
Subrahmanyam Oruganti, CFA, will cover all the details on the IBOR transition including, materiality, how global banks and the Indian banking systems are getting impacted. He will cover the day-to-day impact for a derivatives trader and risk management professional in detail.
ABOUT THE SPEAKER:

Subrahmanyam Oruganti (Subbu) is a Partner in Ernst & Young India. He has over 13 years of experience in financial services. Currently, he leads the Quantitative Advisory Services within EY India focussing on Risk Management quantitative solutions like Model development, validation, newer regulatory programs like CCAR/FRTB/IBOR/IFRS 9 for several banks globally including I-Banks, Asian banks and also Indian banks. Prior to EY, Subbu worked in Northern Trust leading their Model Validation team in India. Prior to his time in Northern Trust, he worked in Credit Suisse and ICICI Bank in their Market risk teams. So, he has got all round experience of working in both Indian banks , Global banks and also consulting. He has a bachelor's degree in electronics engineering from Andhra University and an MBA from NITIE, Mumbai. He also holds the Chartered Financial Analyst (CFA) , Charter in Quantitative Finance (CQF) and Financial Risk Management (FRM).
MODERATOR: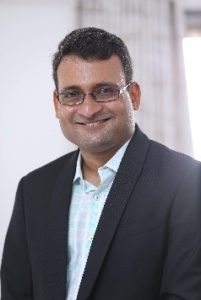 Sivananth Ramachandran, CFA is the Director of Capital Markets Policy, India at the CFA Institute. In his role, he is responsible for advocating policy positions on issues that impact Indian capital markets, including corporate governance, ESG, and financial reporting, to name a few. Siva was part of a SEBI working group that reviewed the related party transaction regulations. He is frequently quoted in media. Siva has nearly thirteen years of experience in financial services. Prior to joining the CFA Institute, Siva spent five years at Morningstar, and led their global index product development team. He also served as a spokesperson for sustainability at Morningstar India. Prior to his time at Morningstar, Siva spent nearly five years at MSCI where he co-authored research papers on small cap investing, portfolio construction, and economic exposure. Siva has an MBA from the Indian Institute of Management, Lucknow. He also holds the Chartered Financial Analyst (CFA) and Professional Risk Management (PRM) designations, and the Fundamentals of Sustainability Accounting (FSA) credential provided by Sustainability Accounting Standards Board (SASB).

REGISTRATION:
CFA Society India members: Free | CFA Level 3 Cleared: INR 100 |
CFA program candidates: INR 100 | Others: INR 150
2020-5-25 5:30 pm
2020-5-25 6:30 pm
Asia/Kolkata
Practitioners' Insights: IBOR transition changes & challenges
CFA Society India is pleased to host Subrahmanyam Oruganti, CFA for the upcoming webinar "Practitioners' Insights: IBOR transition changes & challenges" who will take us through the below: After more than 40 years of the financial services industry relying upon the interbank offer rates (IBORs) as a reference rate for variable-rate financial instruments. IBORs are being replaced by
Online
Save Event to Calendar