The Art of Investing | CFA Society India | Chennai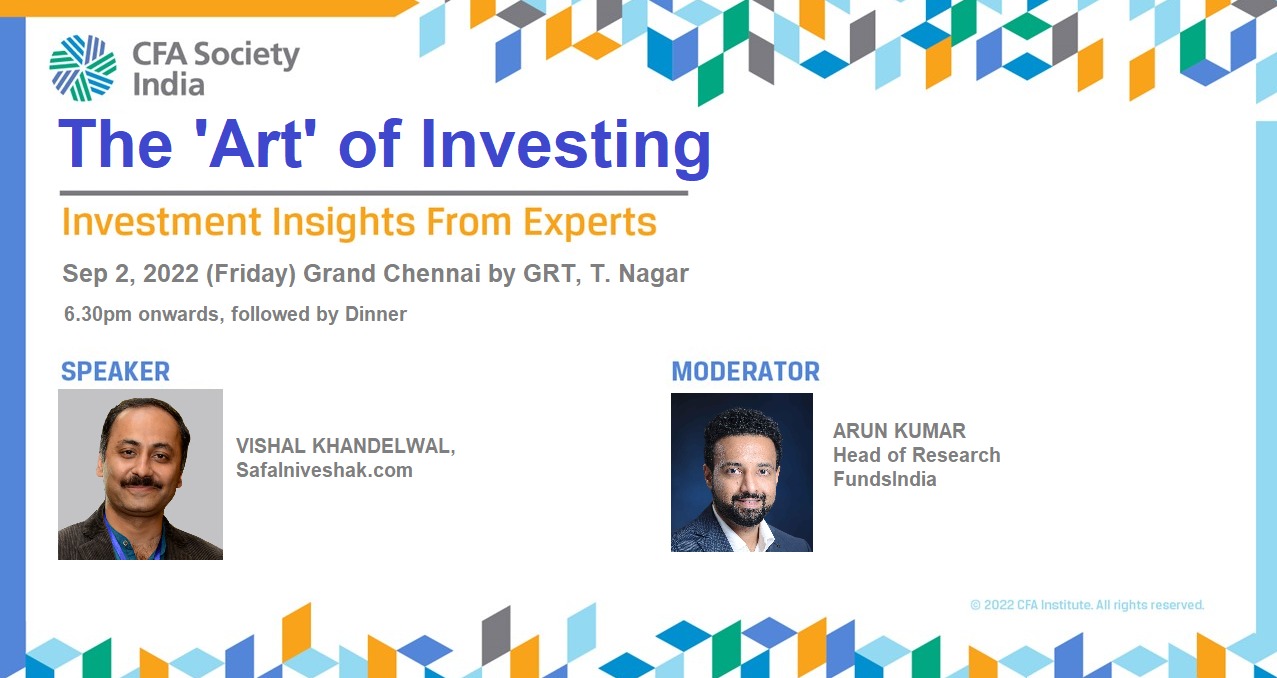 September 2, 2022
6:00 pm - 08: 30 pm IST
GRT Grand Convention Centre (Annexe), Thyagaraja Road, T Nagar, Chennai 600017
CFA Society India is pleased to invite you for a session with Vishal Khandelwal, founder of SafalNiveshak.com where he will discuss The "Art" of Investing. The session will be moderated by Arun Kumar, Head of Research, FundsIndia.com (& EightyTwentyInvestor.com)
EVENT DETAILS:
DATE: Friday, 2nd September, 2022
TIME: 6:30 p.m. to 8:30 p.m. followed by dinner (registration start at 6.00 p.m.)
VENUE: GRT Grand Convention Centre (Annexe), Thyagaraja Road, T Nagar, Chennai 600017
REGISTRATION: CFA Society India members: Free
CFA Charter Pending: INR 500 (all inclu.)
CFA Program Candidates: INR 500 (all inclu.)
Others: INR 1200 (all inclu.)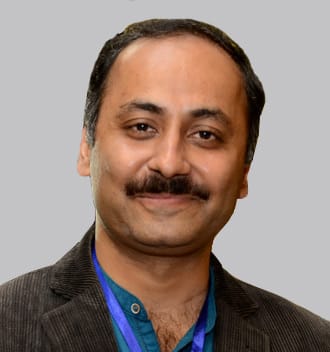 Vishal Khandelwal
Vishal Khandelwal is the founder of SafalNiveshak.com, an initiative to help people learn the art of value investing and behavioural finance to be able to make better investment decisions. He has 19+ years' experience as a stock market analyst and investor, and 11+ years as an investing coach.Safal Niveshak, which he started in 2011, is a community of 90,000+ dedicated readers, and has been ranked among the best value investing blogs worldwide. The site is actively read and followed across 100+ countries. Vishal is the author of 'The Sketchbook of Wisdom,' which is packed with timeless ideas from the wisest people who have walked this Earth. He is also the creator of 'The One Percent Show,' which is an open-ended exploration into the minds of the wisest people around to help us learn to think, invest, and live each day a little, even if as little as one percent, better. Vishal is also Adjunct Faculty (Finance) at FLAME University.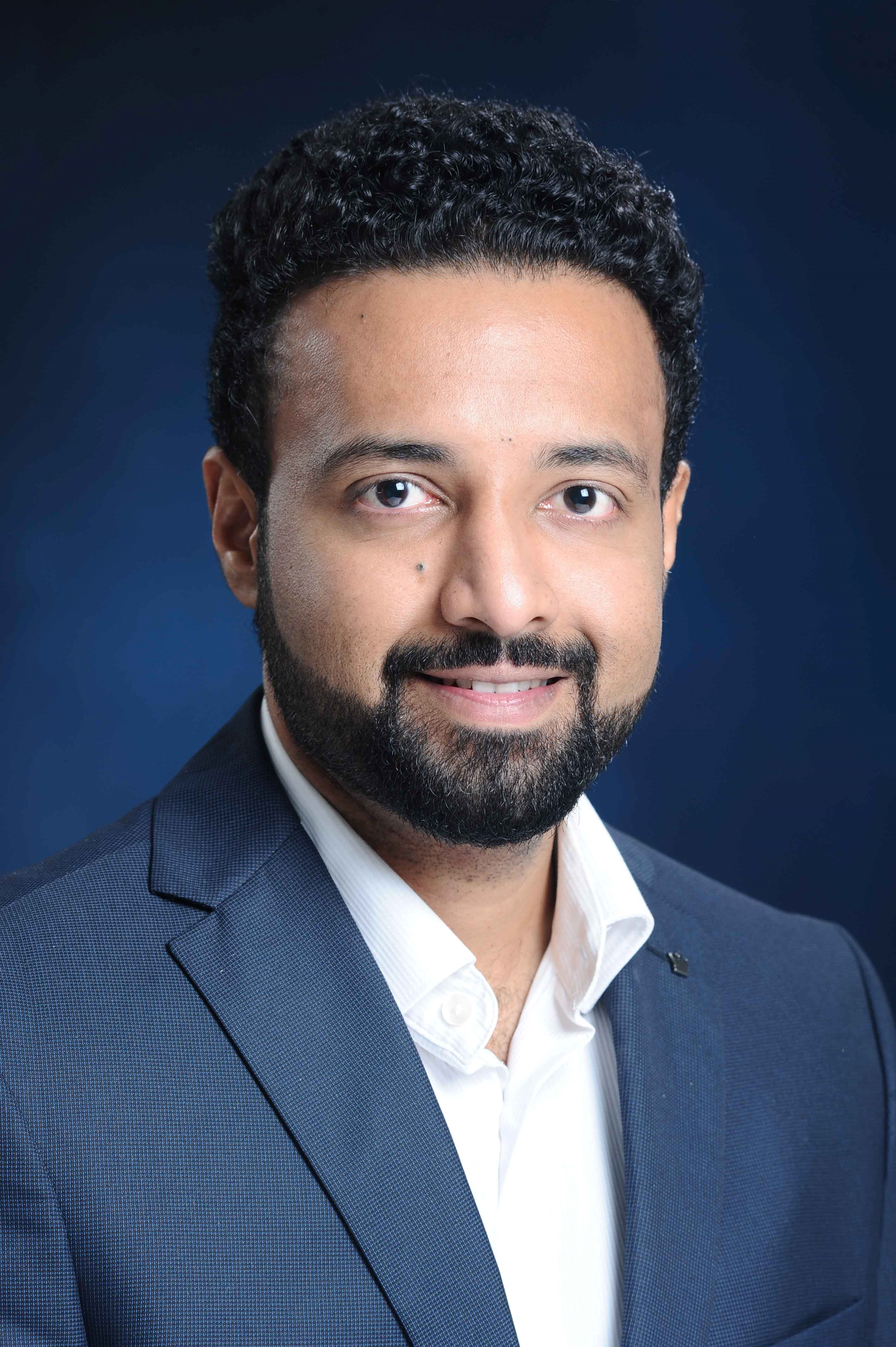 Arun Kumar
Arun Kumar, Head of Research at FundsIndia has over 11+ years of experience in the Indian wealth management industry. FundsIndia is a 13 year old digital wealth management platform based out of Chennai and manages over Rs 9,600 crs of AUM. Prior to joining FundsIndia, he has worked with IIFL Wealth Management Ltd and Wealth Advisors India Pvt Ltd. Over the years, he has built his expertise in behavioral finance, asset allocation strategies, product development and fund research. He is also a widely followed personal finance blogger with 6 lakh+ views and writes at www.eightytwentyinvestor.com.
2022-9-2 18:30
2022-9-2 20:30
Asia/Kolkata
The Art of Investing | CFA Society India | Chennai
CFA Society India is pleased to invite you for a session with Vishal Khandelwal, founder of SafalNiveshak.com where he will discuss The "Art" of Investing. The session will be moderated by Arun Kumar, Head of Research, FundsIndia.com (& EightyTwentyInvestor.com) EVENT DETAILS: DATE: Friday, 2nd September, 2022 TIME: 6:30 p.m. to 8:30 p.m. followed by dinner (registration
GRT Grand Convention Centre (Annexe), Thyagaraja Road, T Nagar, Chennai 600017
Save Event to Calendar