4th Value Investing Pioneers Summit 2020
October 31, 2020 - November 1, 2020

Hosted by CFA Society India
He who knows not, and knows not that he knows not, is a fool; shun him.
He who knows not, and knows that he knows not, is a student; teach him.
He who knows, and knows not that he knows, is asleep; wake him.
He who knows, and knows that he knows, is wise; follow him.
This Persian proverb is good advice for people in general and investors in particular. Over the years, we have endeavoured to provide a classroom where the 'wise' – whom we call the pioneers – teach the 'students'. However, one great quality of these pioneers is that they are also the students – knowing the limits of their knowledge and always eager to learn what they don't know.
We are all living through a very turbulent  and unpredictable period. As the 'Chinese curse'  (no pun intended, it has always been called Chinese) goes – 'May you live in interesting times!'
In future, when we'll look back at these days with our grandchildren, they will think of this period as "interesting times!" But for us — right now — they are testing, uncertain and nerve wracking.
We invite you all to join us in a virtual classroom to learn from the thought process and investing frameworks of some of the best investing minds. They will share with us what this testing period has taught them and what impact, if any, has it had on their investment philosophy, style and framework.
Featured Speakers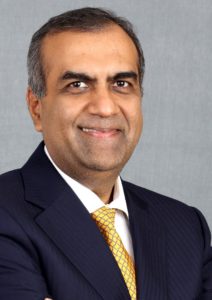 Manish Chokhani
Manish is a Chartered Accountant and MBA from the London Business School, he is one of India's most respected financial experts and investors. From 2006 to 2011, he was CEO of Enam Securities, India's leading investment bank. He led its $400 million merger in 2011 with Axis Bank to create Axis Capital Ltd., which he led as MD & CEO until the end of 2013. Under his leadership, Enam/Axis mobilized ~ 25% of all equity funds raised in India and were the house banker to several leading Indian business groups. From 2014 to 2016, he served as Chairman of TPG Growth in India and from 2017 to  2019  as  Senior  Advisor  to  TPG  Group,  one of  the  world's  largest  PE firms. He   currently   serves   as   independent   director   on   boards    that... include Zee Entertainment,  Westlife  Development  (McDonalds),  Shoppers  Stop, Auxilo Finserve Pvt Ltd, Parksons Packaging Limited among others. He also serves on the Governing Board of Flame University. He is a Board Member of Livinguard AG, a healthcare technology company based in Switzerland. Mr. Chokhani is a member of the Young Presidents' Organization. He has served as a member of SEBI's Alternative Investment Promotion Advisory Committee and also as Co-Chairman of the Capital Markets Committee at the IMC. He has been a visiting faculty member at IIM-Kozhikode and has served on the International Alumni Board and scholarship panels of the London Business School. Show More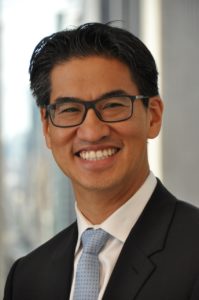 Yen Liow
Yen Liow is the Managing Partner at Aravt Global LLC. Yen directs the firm's research process and actively researches many of the investments in the portfolio. Yen was previously a Principal of Ziff Brothers Investments ("ZBI") and a Managing Director at ZBI Equities, ZBI's equity market-neutral fund in New York. Yen joined ZBI in 2001 and ran a team that oversaw ZBI Equities' investments in the media, telecom, energy and agriculture sectors. Prior to ZBI, Yen was a Consultant at Bain & Company in its San Francisco, Sydney, Singapore and Beijing offices. Yen earned a Bachelor of Laws (Hons.) and Bachelor of Commerce from the University of Melbourne in 1994 and a Masters of Business Administration (George F. Baker Scholar) from Harvard Business School in 2001.... Yen lives in Manhattan, New York with his wife and two children. Yen serves on the Finance and Audit Committee of the Trinity School (NYC), and is a Trustee of the Success Academies Charter Network Board. Yen is a former Adjunct Professor at Columbia Business School and guest lectures regularly at various universities around the country.  Show More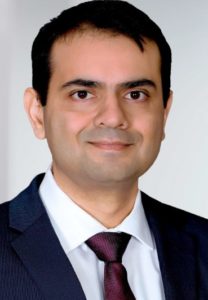 Amay Hattangadi, CFA
Amay is Managing Director at Morgan Stanley. He joined Morgan Stanley in Mumbai in 1997 and is currently based in Singapore. Amay is a lead portfolio manager for Asian equities in the Emerging Market Equities group. He has 23 years of investment experience. He has been a visiting faculty at the MBA Course at NMIMS where he led a course on Behavioral Finance. He has also written on investing and finance for the Mint publication. Amay received a B. Com from the University of Mumbai and is an Associate Member of the Institute of Chartered Accountants of India. He holds the Chartered Financial Analyst designation.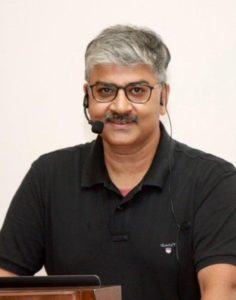 Sanjay Bakshi
Sanjay Bakshi is an Adjunct Professor at Management Development Institute, Gurgram where he teaches two popular papers on Behavioral Finance and Business Valuation and Forensic Accounting and Corporate Governance. Sanjay is also Managing Partner at ValueQuest Capital LLP, a SEBI Registered Investment Adviser which advises its onshore and offshore clients on their public market investments in India. Sanjay received a M.Sc. (Economics) from London School of Economics and Political Science and B.Com. (Hons.) from University of Delhi. He is also a Fellow member of the Institute of Chartered Accountants of India.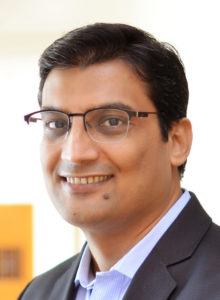 Navneet Munot, CFA
Navneet Munot, CFA joined SBI Funds Management as Chief Investment Officer in December 2008. He has over 25 years of rich experience in Financial Markets. In his role, Navneet is responsible for overseeing investments worth over USD 42 billion across various asset classes in mutual fund and segregated accounts. In his previous assignment, he was the Executive Director & Head – multi –strategy boutique with Morgan Stanley Investment Management. Prior to joining Morgan Stanley Investment Management, he has worked as Chief Investment Officer – Fixed Income and Hybrid Funds at Birla Sun Life Mutual Fund and... worked in various areas such as fixed income, equities and foreign exchange. Navneet is the chairman of Indian association of Investment Professional (India society of CFA charter holders with over 2000 members). His articles on matters related to financial markets have widely been published. Navneet is Nominee Director on the board of SBI PENSION FUNDS (P) LTD. Navneet is a postgraduate in Accountancy and Business Statistics and a qualified Chartered Accountant. He is also a Charter Holder of the CFA Institute and CAIA Institute. He has also done FRM.  Show More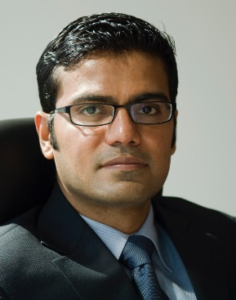 Paresh Thakker, CFA
Paresh is Managing Partner at ValueQuest Capital LLP, a SEBI Registered Investment Adviser which advises its onshore and offshore clients on their public market investments in India. ValueQuest follows a private equity style to listed equities focussing on high quality businesses with a buy and hold approach. Paresh has over 25 years of experience in the field of investment management including listed equities, minority private investments, buyout investments and fund investments. He has been involved in numerous investments across geographies and has deployed over USD 750 million. Prior to cofounding ValueQuest Capital,... Paresh was the Head of Religare Global Assset Management (RGAM). He led RGAM's investment in two globally reputed investment firms, i.e. Landmark Partners and Northgate Capital and represented RGAM on the board of both the aforesaid companies. He has also served on the Investment Committee and Advisory Board of many leading private equity firms in India.  Show More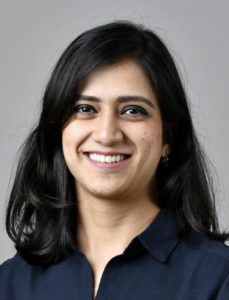 Ritika Mankar, CFA
Ritika is one of India's leading economists known best for unearthing macro themes with meaningful investment implications. She was a Director with Ambit Capital – an India-based brokerage best known for its iconoclastic research and now consults with Ambit as a Thematic Specialist. She also serves as a Director on the India CFA Society Board. Prior to working with Ambit, she has worked with a few more brokerage firms and also, has done a stint with the Indian Ministry of Finance.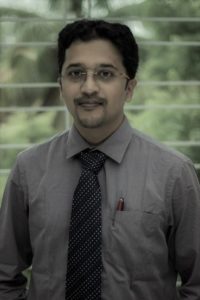 Neeraj Marathe
Neeraj is a Pune-based investor and teacher. He has been associated with the Indian capital markets since the last 18 years. He has taught subjects like Security Analysis, Portfolio Management and Behavioural Finance in various B-schools for over 12 years. He tries to practice value-based investing and is an avid reader. He is also an active participant in the Flame Investment Lab.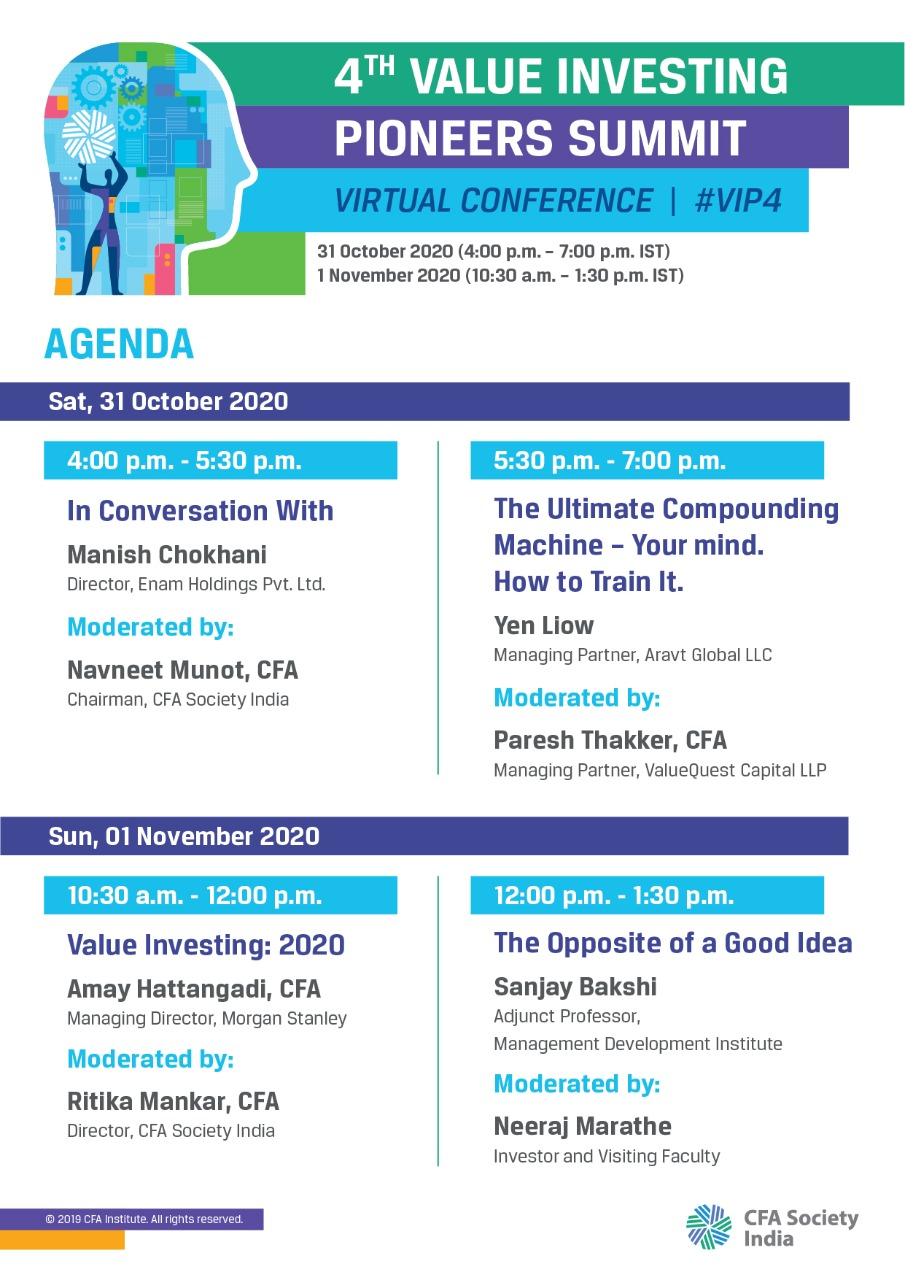 Cancellation Policy: No refunds will be issued for any cancellations received within 48 hours of program starts. Substitutions from the same company are accepted with fee adjustment, if appropriate. Sharing of registrations is not permitted.
6 PL

CFA Institute members can claim PL credit by providing their CFA Institute ID number when registering.

Global Passport Accredited Programme

Allows members of participating CFA societies to attend each other's society events at the local member price
2020-10-31
2020-11-1
Asia/Kolkata
4th Value Investing Pioneers Summit 2020
He who knows not, and knows not that he knows not, is a fool; shun him. He who knows not, and knows that he knows not, is a student; teach him. He who knows, and knows not that he knows, is asleep; wake him. He who knows, and knows that he knows, is wise; follow
Virtual Conference
Save Event to Calendar