4th Value Investing Pioneers Summit 2020
October 31 - November 1, 2020

Hosted by CFA Society India
He who knows not, and knows not that he knows not, is a fool; shun him.
He who knows not, and knows that he knows not, is a student; teach him.
He who knows, and knows not that he knows, is asleep; wake him.
He who knows, and knows that he knows, is wise; follow him.
This Persian proverb is good advice for people in general and investors in particular. Over the years, we have endeavoured to provide a classroom where the 'wise' – whom we call the pioneers – teach the 'students'. However, one great quality of these pioneers is that they are also the students – knowing the limits of their knowledge and always eager to learn what they don't know.
We are all living through a very turbulent  and unpredictable period. As the 'Chinese curse'  (no pun intended, it has always been called Chinese) goes – 'May you live in interesting times!'
In future, when we'll look back at these days with our grandchildren, they will think of this period as "interesting times!" But for us — right now — they are testing, uncertain and nerve wracking.
We invite you all to join us in a virtual classroom to learn from the thought process and investing frameworks of some of the best investing minds. They will share with us what this testing period has taught them and what impact, if any, has it had on their investment philosophy, style and framework.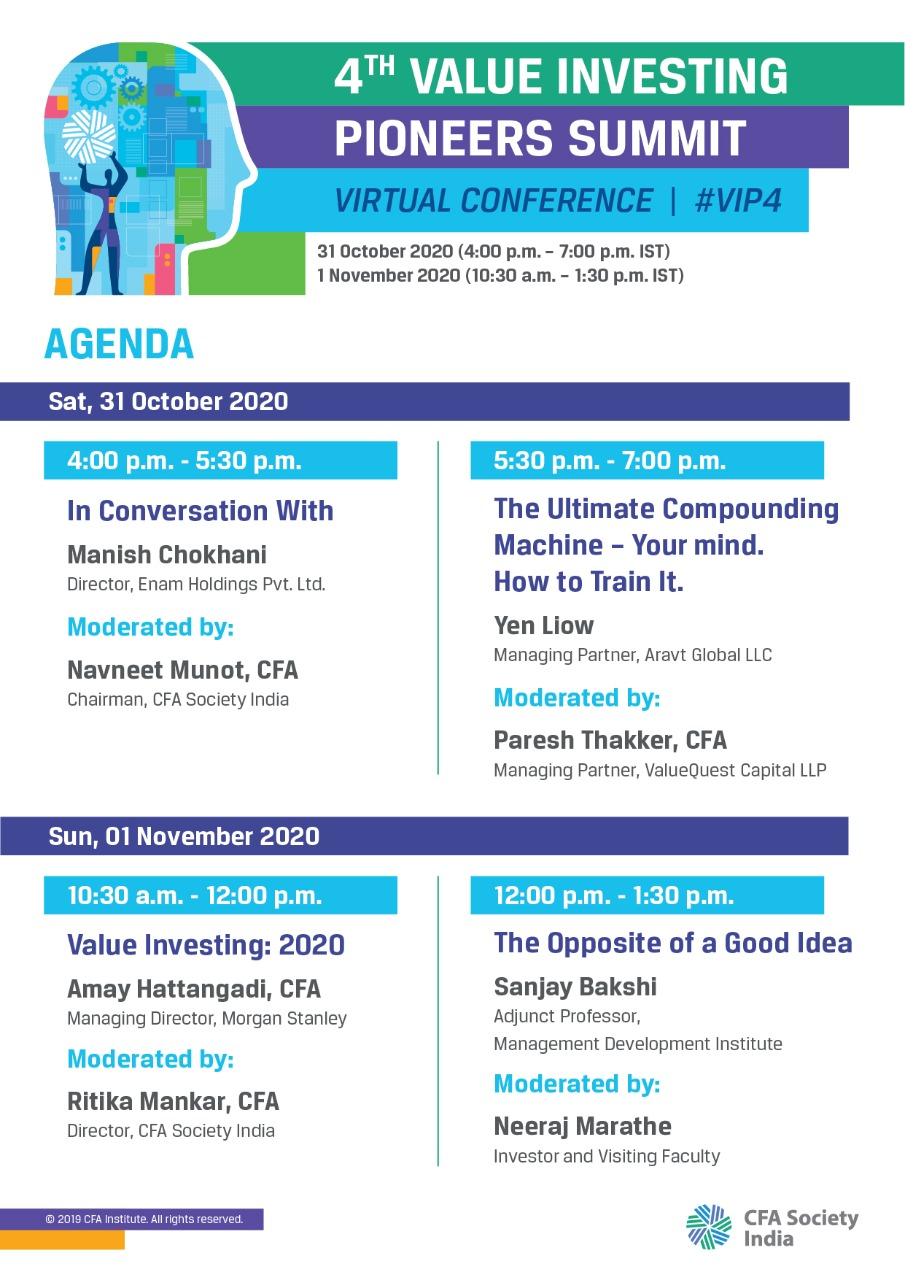 Cancellation Policy: No refunds will be issued for any cancellations received within 48 hours of program starts. Substitutions from the same company are accepted with fee adjustment, if appropriate. Sharing of registrations is not permitted.
6 PL

CFA Institute members can claim PL credit by providing their CFA Institute ID number when registering.

Global Passport Accredited Programme

Allows members of participating CFA societies to attend each other's society events at the local member price
2020-10-31
2020-11-1
Asia/Kolkata
4th Value Investing Pioneers Summit 2020
He who knows not, and knows not that he knows not, is a fool; shun him. He who knows not, and knows that he knows not, is a student; teach him. He who knows, and knows not that he knows, is asleep; wake him. He who knows, and knows that he knows, is wise; follow
Virtual Conference
Save Event to Calendar