August 22, 2020
Posted by:

CFA Society India

Category:

ExPress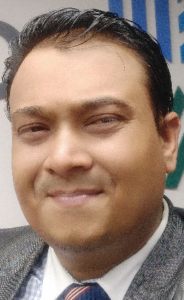 Contributed By: Jinesh Sarat Sheth, CFA

Why Vegan?
Welcome to the post Covid-19 World (I hope I can say this sooner)!  A world where people are more conscious about their lifestyle choices and collectively exhibit a higher socially responsible behaviour.
A few years back, a person was considered a vegan if he/she consumed food free from animal-based contents (such as eggs, fish, meat, honey and dairy products). However, in more recent times, the definition has become more inclusive as now even non-food products derived from animal contents are considered as non-vegan products. Through this article, let us further expand the description to also include those investors who choose to invest in vegan stocks only—the primary rationale is to encourage people to avoid causing any harm to animals in any form. Veganism is getting quite popular in the developed world, especially Europe and the US. According to the experts, the benefits from Veganism are not just from the ethical point of view, but it can significantly reduce health hazards as the vegan diet is thought to be one of the healthiest and also goes a long way in protecting the environment. Additionally, COVID-19 pandemic is most likely to accelerate the pace of people switching to vegan diets. Having understood the concept and ideology behind Veganism, let us now discuss how investments can be Vegan friendly?

Asset Manager's Focus on ESG Theme
As per the latest report published by US SIF Foundation in 2018 on sustainable, responsible and impact investing (SRI) in US, the SRI assets have increased by 38% since 2016 to reach levels of USD 12 trillion. They now account for nearly one-fourth of total AUM under professional management in the US (i.e. around USD 46.6 trillion). Interestingly, the SRI assets have grown at an unprecedented CAGR of 13.6% for the past 23 years. Vegan investments are an integral part of the ESG mandate; which comes within the SRI universe. You may check the latest AUM trends in sustainable & responsible investing here USSIF Trends

Launch of Vegan ETF
In September 2019, the first ETF to specialize in Vegan investments was launched in the United States by Beyond Advisors. The fund called The US Vegan Climate ETF (Ticker: VEGN) seeks to track the Beyond Investing US Vegan Climate Index (VEGAN). It paved the way for socially & environmentally conscious investors who can now invest in financial markets without compromising on their values. The fund has a total expense ratio of 0.6% and is driven by the philosophy of avoiding those companies whose activities directly contribute to animal suffering, destruction of the natural environment and climate change.
Click here to learn more – About Beyond Investing

Criteria to screen Vegan stocks
VEGAN Index screens large cap US companies for a number of factors as highlighted in the table below: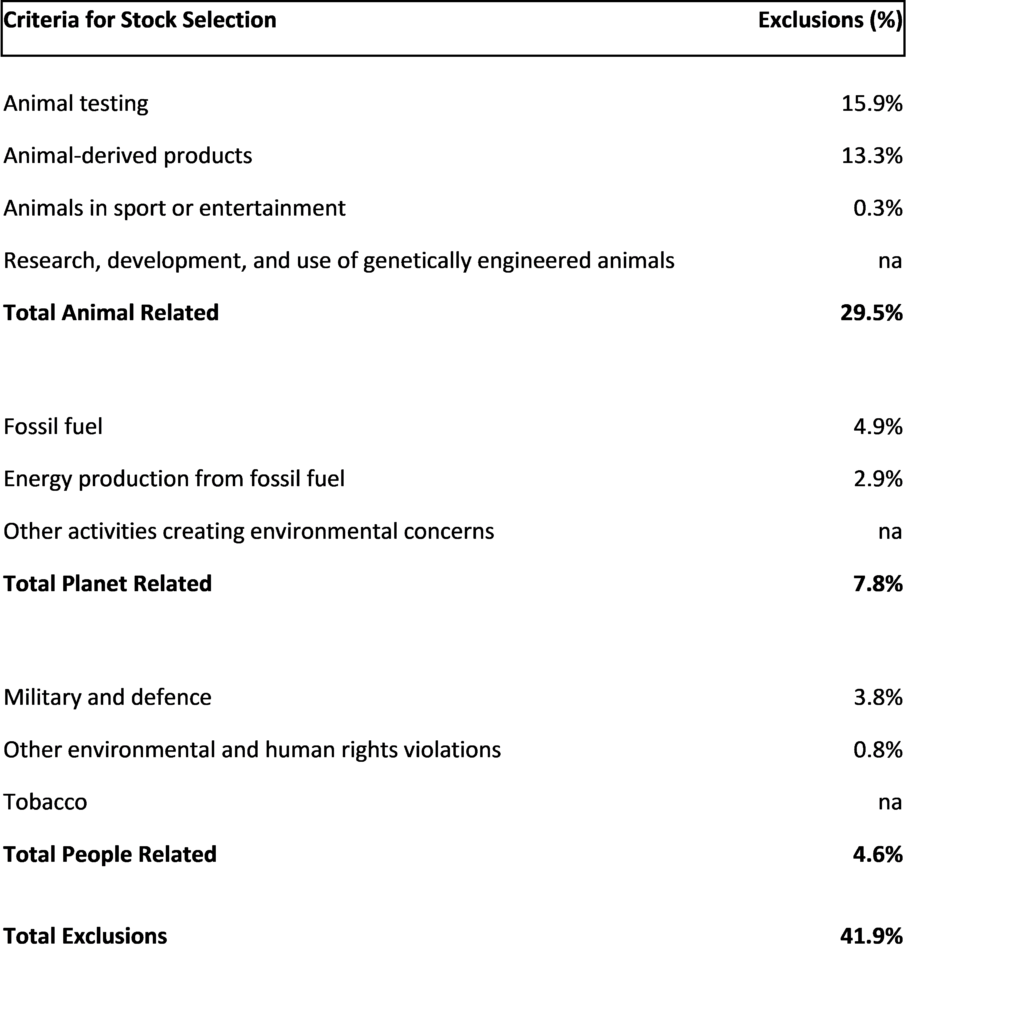 As per Business Wire, the exclusions eliminate almost 41.9% of the Market Cap of the Solactive US Large Cap index.
According to Beyond Advisors, animal agriculture is the second largest contributor to greenhouse gas emissions; hence they believe that the VEGN ETF would see interest emerging not only from the vegans but also from the environmentalists who are pretty much aware of the adversities caused by animal agriculture to environment. It is claimed that from every USD 1,000 invested in VEGN, an investor will save himself from the guilt of funding the slaughter of 13 animals every year.

Impact Assessment of VEGAN
The table below presents an impact assessment of the VEGAN as compared to the S&P500 Index; which shows significant positive impact by the vegan focused Index.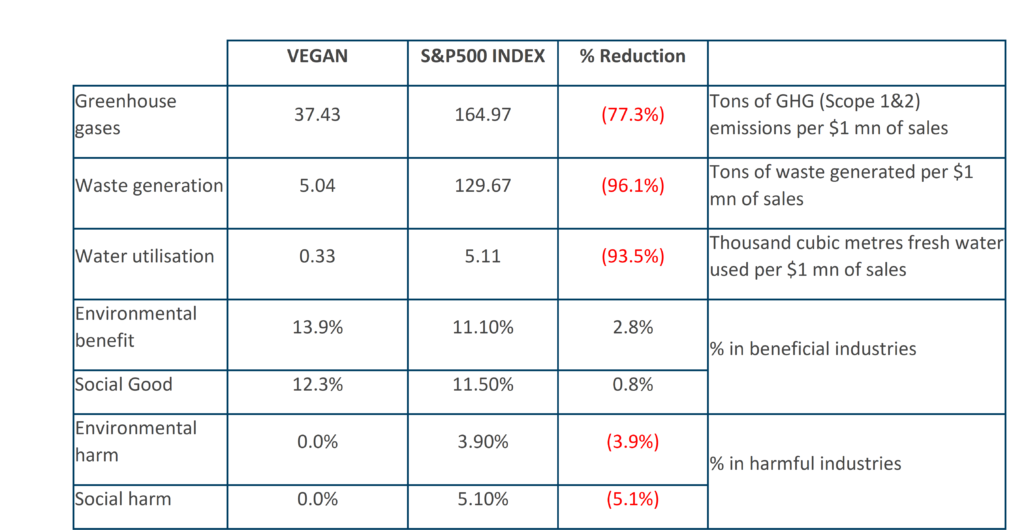 Source: 30th June 2020 Factsheet
Numerous other sources also support the positive impact of Veganism:
Vegan Society- If the world becomes vegan today, it would:
Lead to a saving of 8 million human lives by 2050
Reduce greenhouse gas emissions by 2/3rd and
Lead to savings in healthcare expenditure and avoid climate damages of nearly USD 1.5 trillion
AT Kearney Report states that Global meat market mix would change dramatically over the next 20 years. The share of consumption of conventional meat would come down from 90% to 40% by 2040
An Oxford University research done in 2018 highlighted that, "avoiding meat and dairy is the single biggest way to reduce your impact on Earth" as animal agriculture provides only 18% of calories taking up enormous 83% of the farmland.
PETA, the largest animal rights organization based out of USA has been contributing significantly towards the cause since it was founded in 1980. You may refer to PETA's database on cruelty free companies here – https://crueltyfree.peta.org/
New age plant-based companies
As the number of people turning vegans grows at an exponential rate, many companies have started engaging in  non-animal related products or specialty products that simulate meat.

The fantastic debut of Beyond Meat- Beyond Meat (Nasdaq: BYND) is a great example in this category and offers revolutionary plant based meat substitutes like Beyond Burgers tasting similar to meat. It was amongst the first such companies to get listed in May 2019 at an issue price of USD 25 per share and the stock appreciated almost 10x (Life High – USD 239) over the three months post listing. Beyond Meat received several awards from different organizations for featuring among the World's most innovative companies. BYND claims to disrupt a market that has a size of USD 270 billion in USA and USD 1.4 trillion globally, categorizing themselves as the "Future of Protein". Realizing the growing trend, many famous F&B chains have started tying up with Beyond Meat and the likes.
A comparison of the environmental impact associated with producing a ¼ pound Beyond Burger versus a ¼ pound, standard 80/20 beef burger was featured in the prospectus of the company. Key findings are as below-


Impossible Foods is here too– US Based unicorn, Impossible Foods having raised USD 1.3 billion till date, is quite active in meat replacement business. The firm is a competitor of Beyond Meat, as it also produces burgers from vegetables and is a strong contender to become the second plant-based company to be listed on the bourses.

Investing early – BYND and Impossible Foods are not the only players in this space; infact there are a bunch of companies who are eyeing to corner a piece of the market. To cater to the lifestyle choices of vegans, there would be a lot of disruption led by innovators in the coming future. For a global investor, it becomes imperative to stay updated on the emerging trends in this sector and try to tap the opportunities available at their nascent stage.

Shareholders! Raise your voice
https://www.yourstake.org/ is an online petition platform for shareholders focusing on aspects like climate change, human rights, animal abuse, health abuse; where even a small investor can raise a petition to a company to push them to change some aspect of their activities.

Vegan index in India
Historically, Indians have been at the forefront of showing kindness towards animals and the importance of Veganism. Hence, we can hope to see a similar Vegan index getting launched in India to recognize the ethical needs of Indian investors who have adopted Veganism or are influenced by the ideology of SRI/ ESG.

Conclusion – Yes! Investments can be Vegan friendly, in fact for a Vegan they must be
For vegan enthusiasts looking to explore their ideology while building investment portfolios, there are many different options available:
Investing in Vegan theme-based ETFs or other such funds (for instance- VEGN)
Picking individual stocks that have values similar to their own. One can look for plant-based companies (like Beyond Meat) or by tracking constituents of a vegan index and buying stocks directly ( Apple Inc., Facebook, Microsoft, etc. are top holdings in VEGN ETF)
Riding the vegan wave early on by keeping an eye on unlisted businesses (such as Impossible Foods) and monitoring their likely IPO date
Since veganism is deeply rooted in the culture of India, we can hope for more avenues locally for investors in the country. One of the greatest quotes by Mahatma Gandhi (Father of Nation, India) also nurtured the idea of veganism. He rightly said that,
"The greatness of a nation and its moral progress can be judged by the way its animals are treated."

Sources:
SEC Filings of US Vegan Climate ETF, https://www.veganetf.com/, http://www.beyondinvesting.com/, https://www.ussif.org/, https://www.vegan.com/, http://www.ox.ac.uk/,  https://www.vegansociety.com/, https://www.ipe.com/, https://investors.beyondmeat.com/investor-relations (Prospectus & PPT), https://www.yourstake.org/, https://www.solactive.com/, https://www.kearney.com/, https://www.peta.org/, https://impossiblefoods.com/, https://www.cnet.com/, https://www.businesswire.com/portal/site/home/ , https://www.bloomberg.com/, https://www.theguardian.com/international

About the Author
Jinesh is an Investment Director with a highly reputed family office based in Kuwait. He has ~ 11 years of experience in the Investment Management Industry spread over three countries, of which around 10 years are solely with Family offices. A qualified CA and a CFA charterholder, Jinesh is an avid writer and his work has been published in various finance journals.
For a detailed profile, please visit – https://www.linkedin.com/in/acajineshcfa/
Disclaimer: "Any views or opinions represented in this blog are personal and belong solely to the author and do not represent views of CFA Society India or those of people, institutions or organizations that the owner may or may not be associated with in professional or personal capacity, unless explicitly stated."