July 24, 2021
Posted by:

CFA Society India

Category:

ExPress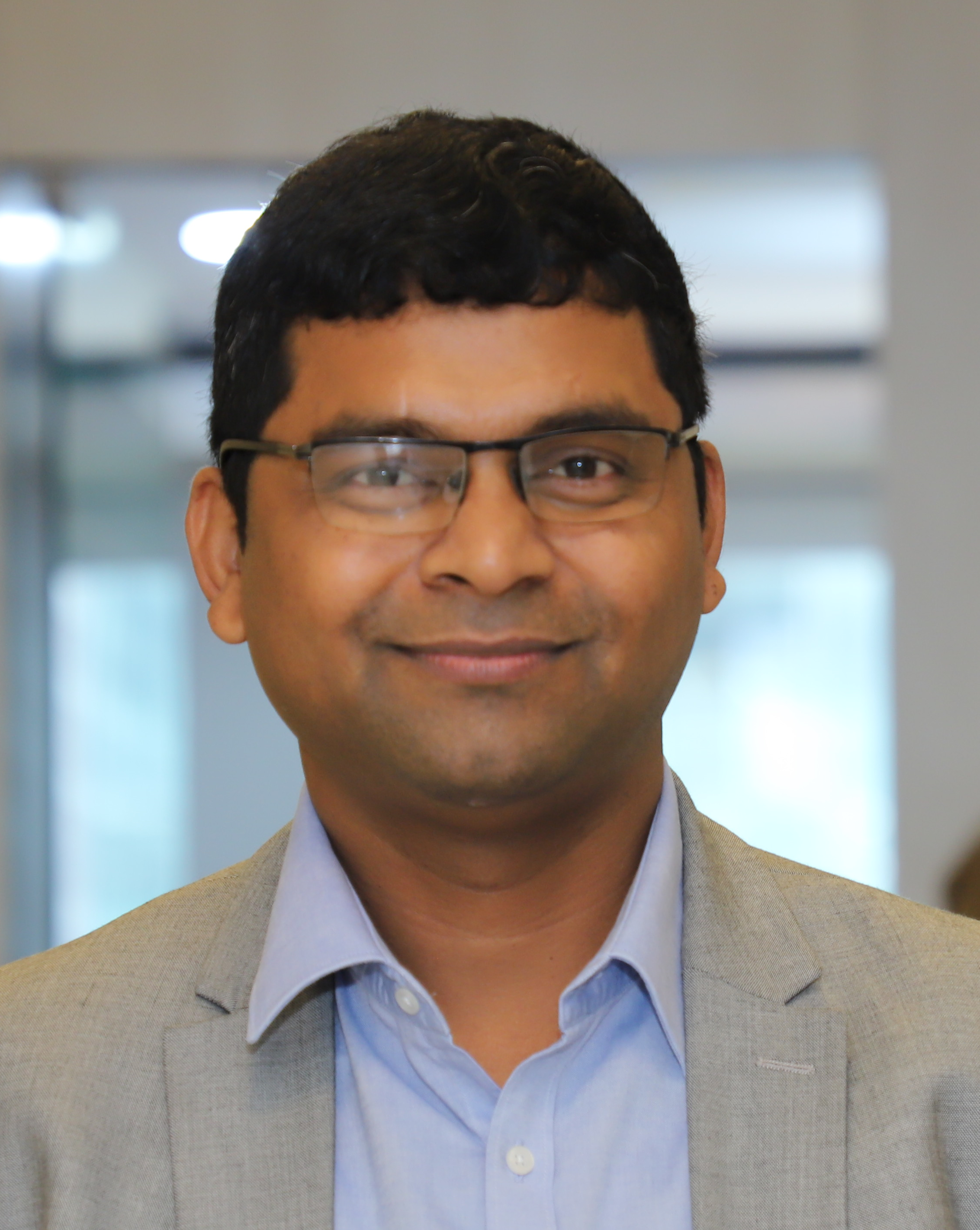 Written by
Labanya Prakash Jena, CFA
There are technical and commercial challenges to decarbonize certain industries but under intense pressure to do it quickly.
Almost all carbon-intensive industries are in the path of decarbonizing themselves with the advancement of commercially feasible technologies. However, certain industries,  called hard-to-decarbonize industries, find decarbonization challenging due to the structural characteristics of their manufacturing plants. The plants' emissions are the byproducts of chemical reactions or are related to chemical processes that require extremely high heat or fossil fuels. Since manufacturing processes often rely on fossil fuels for heavy heat of feedstock, they find it challenging to reduce industrial fossil fuel consumption.[1]
In addition, hard-to-decarbonize industries such as iron and steel power plants, cement, and chemicals are assets-heavy in nature, wherein there is a high sunk cost in existing facilities and the complexity of operations. The investment cycles in heavy industries are incredibly long (sometimes more than 30 years) – they tend to gradually change their facilities and operations over the years.
Ironically, these industries face serious regulatory and civil society pressure to reduce their carbon emission intensity as soon as possible. Companies that cannot meet the limit of carbon emission set by the regulators are forced to pay a heavy price for carbon emission. Moreover, regulators can force them to shut down some of the plants as well. These companies may also be subject to lawsuits by civil societies as they are perceived as not doing enough to reduce carbon emissions. All these will lead to erosion in return on investment in these industries.
There is a huge cost to overhaul to decarbonize, but there is uncertainty over who will be in the race.
There are some favorable technologies that are available today and some that are under development which would help decarbonize these industries. The key factors among these are energy efficiency, carbon capture, electrification, and zero-carbon hydrogen as a heat source and chemical feedstock. Some of these technologies happen to be industry-specific, for example, cement admixtures and alternative chemistries, several technological routes for zero-carbon steelmaking, and novel chemical catalysts and separation technologies.[2] However, the utilization of these technologies needs huge investment, which is complicated for these industries as they are plagued by overcapacity and unpredictable profitability. In addition to this, the need for a large investment could dampen returns, at least in the short run.
Moreover, many of these technologies are largely unproven and undemonstrated at a larger scale and are not viewed as commercially viable. At this stage, it is often extremely challenging to distinguish a company that will be capable of developing these technologies and making them feasible in a commercial context.
New players threatening incumbents
The high entry and exit cost of these industries deter new companies, which could be attributed to the capital-intensive nature of the business and a prolonged gestation period. However, such barriers may gradually disappear as a drive to gain sustainability influence these industries to overhaul manufacturing plants. A similar trend is noticed in the automotive and energy sectors – new players challenged existing automotive companies by launching efficient electric vehicles, and renewable energy companies challenged existing energy companies. There are multiple start-ups, backed by universities, venture capitalists, and philanthropists, that are on their way to manufacturing substitute products that emit substantially lower amounts of carbon than the incumbents.
Investment in Forestry – Offers diversification benefits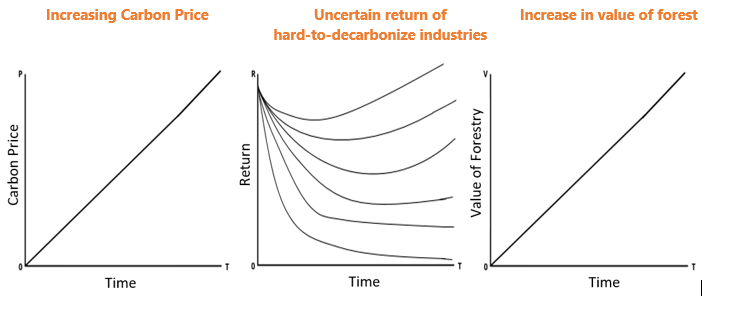 A carbon price may be implemented as a carbon tax or through a cap-and-trade system – industries must purchase credits from a market or at an auction for emissions. Both of these would hamper these industries' profitability. Carbon prices all over the world have been rising, but their impact has been low to moderate so far. Although, carbon prices may increase at an exponential rate in the future.  However, increasing carbon prices is a boon for forestry. Forests are natural carbon sinks – they pull carbon dioxide out of the atmosphere. It is also recognized that forests offer an important yet under-recognized solution to climate change.[3]
Historically, the forestry sector has not attracted many private investors due to low and uncertain returns on investment. However, increasing carbon price, strengthening carbon market structure, and developing credible project certification standards have diminished these challenges to a greater extent. Forest conservation projects can generate carbon credits in the market. The demand in the carbon market has been increasing and is expected to increase even more so as carbon-emitting sectors will buy carbon credit increasingly to claim it as an offset for carbon emission. Besides, there are unconventional and innovative schemes that allow for certain types of forestry projects to be sold as carbon offsets to heavily polluting industries.
Figure 2: European Commission Carbon Price Proposal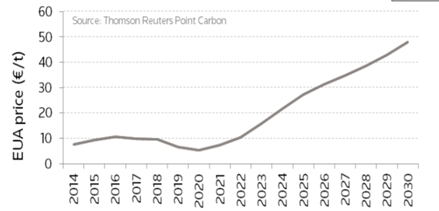 Source: Thomson Reuters Point Carbon
Timber Price: Demand supply mismatch in favor of investors
Other sources of revenue of forestry projects are the sale of wood and fiber as well as non-timber forest products such as forest foods and medical raw materials. With the world population forecasted to reach around 9.7 billion in 2050,[1] demand for wood is expected to triple, which offers an opportunity for investors to generate revenue from the sale of sustainable timber while also contributing to carbon sequestration and restoring global biodiversity.
The emerging interest in forest-related activities to mitigate climate change, including 'mass timber,' could accelerate growth in demand for timber. Mass timber offers a variety of benefits, including potential cost savings compared to concrete and steel, depending on where it is sourced from. However, the key benefit of attracting widespread attention is its potential for reducing carbon dioxide emissions from construction by sequestering carbon in buildings and avoiding emissions associated with concrete and steel production.
Disclaimer: "Any views or opinions represented in this blog are personal and belong solely to the author and do not represent views of CFA Society India or those of people, institutions or organizations that the owner may or may not be associated with in professional or personal capacity, unless explicitly stated."
—————————————————
References
[1] https://blogs.edf.org/markets/2020/07/10/why-decarbonizing-heavy-industry-is-difficult-but-also-possible/
[2] https://www.sciencedirect.com/science/article/pii/S0306261920303603
[3] https://www.ecosystemmarketplace.com/articles/50-price-carbon-will-boost-forest-carbon-sink-15-percent-study/
[4] 4WWF http://wwf.panda.org/?207367/Industry-key-to-conserving-forests-as-demand-for-woodprojected-to-triple-by-2050