September 25, 2022
Posted by:

CFA Society India

Category:

In Conversation With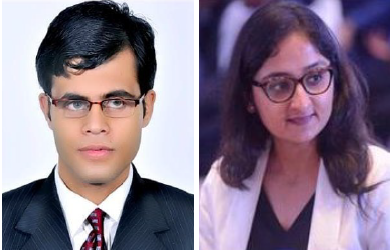 Special Guest: Ajay Minocha, CFA
(Senior Solution Adviser, Deloitte)
Interviewed By: Rajni Dhameja, CFA
(Co-Chair, Public Awareness Committee, CFA Society India)
| From the Archives – Newsletter December 2019 |
Ajay Minocha, CFA has received his CFA Charter recently. He is the first person in India with blindness to earn the CFA charter. Prior to this, Ajay has completed his PGDM from IIM Indore and is working with Deutsche Bank. Below is the inspiring conversation with Ajay:
Tell us about your journey to IIM
I am from Faridabad, I was born with only 30% of eyesight due to a degenerative eye condition. I studied in a mainstream school. My mother helped me in my studies from helping in taking notes to completing the assignment. She was completely involved in my studies till class 12. I wrote my board exams with the help of writers. Here I was at crossroads to chalk out my future plan. I happened to listen to one radio program by Score foundation "Eyeway Yeh Hai Raushni Ka Karvan" wherein I got to know a lot of successful persons with blindness, their achievements, dreams etc. This instilled a sense of motivation and confidence in me. Soon after, I took training to use assistive devices like screen reading software on computers and mobile. After the training, technology became my best friend and my life went through a complete transformation. I leveraged internet to connect with other persons with blindness who have succeeded in their careers despite their disability. After which I decided to pursue MBA.
In my quest to excel in academics during undergraduate course, I ended up straining my eyesight and became completely blind by late 2011. I switched over to reading through OCR technology and E-text and started traveling independently with a white cane and google maps. In 2013, I was selected by IIM Indore for pursuing PGDM.
The inclusive culture at IIM Indore brought out the best version of myself, I not only exceled in academics but also actively participated in extracurricular activities i.e. trekking, paragliding etc. IIM journey came to an end with a job offer from RBS to work with their Debt Capital Markets Division.
What motivated you to pursue CFA?
After I started working, I realized that while I had good broad knowledge of finance domain, I need to improve on a lot of specifics. That aspired me to complete CFA certification. My social network again came to rescue, I got to know about the accommodations i.e. accessible study material, reader/writer, extra time which made it possible for people with blindness to pursue the certification. I studied using the E-text material through my screen reading software and wrote the exam with the help of a writer. After 3 years of labor, finally the day came where I received the charter and cherished the fruit which my hard work and perseverance brought to me.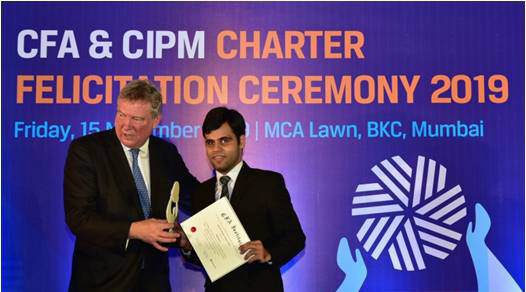 If you evaluate your journey in hindsight, what are the traits you can attribute your success to?
There have been many movements of gloom as well as extended glory in this life span. I think my self-acceptance, consistency and ability to bounce back from adverse situations kept me propelling to greater heights. Support from parents is something I do not have words to express.
What is your other interest/ hobbies?
I am a voracious reader, I keep on reading on wide variety of subjects i.e. finance, technology as well as fiction. Recently, I also realized my love for outdoor activities! I recently completed a cycling trip of Mumbai-Lonavala-Mumbai and have been training to run a marathon in January.