January 8, 2023
Posted by:

CFA Society India

Category:

In Conversation With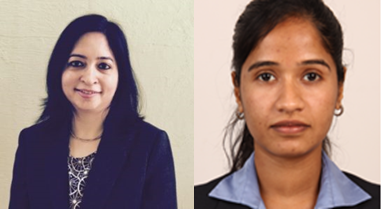 Industry Expert: Dr. Monika Chopra PhD, CFA, Chair & PGDM, B&FS Program, International Wealth Management Institute, New Delhi & Director-Elect, CFA Society India
Interviewed by: Susarla Srividhya Venkatesan, CFA, Member, Public Awareness Committee, CFA Society India
Globally, women in the financial services sector are said to hold only 21% of board seats, 19% of C-suite roles, and 5% held CEO positions. Organizations globally recognize this disparity and are initiating actions to increase women's share across leadership roles.
To support higher participation of women in finance, CFA Society India has also started a mentorship program FEMTOR that helps women members to develop their skills and take mentorship from fellow Women CFA to achieve their goals.
Dr. Monika Chopra one of the key team members of this program shared her thoughts on gender diversity as well as this mentorship program in our candid conversation with her:
Srividhya: Female talent is probably the most underrated resource globally. As career level rises, we often see a decline in female representation. How do you see gender diversity specifically in financial services?
Dr. Monika: Gender diversity is a key to bringing better thinking and innovation. Giving both males and females equal opportunities, access to resources and power will result in better harmony and output. The COVID-19 pandemic as well as the recent Ukraine war crisis have made women bear the brunt of the increasing socio-economic costs. They have been primarily responsible for caregiving at home with the sacrifice of their jobs, salaries, and economic challenges. It is therefore very important to understand the need for these female workforces and empower them to fully participate in the global economy. With only a small percentage of women representation at board and top levels, a lot is still required to be done to advance gender equity across the financial services sector.
Srividhya: CFA Society India has recently started the women's mentorship program – FEMTOR aiming to help women find firmer ground. Can you share your thoughts on this initiative?
Dr. Monika: The word FEMTOR signifies 'female mentorship'. While it is a mentorship program for and by the female members of CFA Society India, FEMTOR wants to achieve a lot more. It aspires to build a community that can a) foster practical discussions on issues that lie at the intersection of professional and personal lives; b) network with industry role models and help members to grow their sphere of influence; c) find ways for women members to stay in the profession – not just to survive, but to thrive; and d) promote career self-reliance.
The club is open to all CFA Society India women members and is designed to pair mentors and mentees to work together and achieve specific goals. We endeavour to create mentor-mentee relationships between early to mid-women charterholders and senior charterholders whereby the latter can share invaluable and unbiased career-advancing advice with the younger cohort.
Srividhya: You have been an active & senior volunteer of CFA Society India since 2016. How do you see society's evolution over the last 6 years?
Dr. Monika: Recognized by leading financial services and investment firms globally, the CFA professional community has today grown well to reach 190k+ members across 160+ markets and 150+ local societies.  We are a connected group of financial professionals dedicated to shaping the investment industry.
Srividhya: As a chairperson of the Career Services Committee, what are the different career opportunities one can pursue after completing of CFA program?
Dr. Monika: CFA qualification opens several opportunities in diverse finance fields, whether it is Equities, portfolio management, private equity, wealth management, financial training, etc. We regularly conduct career webinars (the second Thursday of every month) to help CFA candidates, charter holders, and others get a complete overview of careers in a specific industry.
CFA Institute India has recently launched a career guide that gives a broad overview of career opportunities in the finance and investment management industry. It also profiles several successful CFA charterholders, their career path, and insights into the skills that they have worked on to achieve their desired career progression. We have tried to cover CFA Charterholders from diverse roles and fields – to help the budding charterholders.
Srividhya: You are also a professor with a well-known B-School. What does your typical day look like? What motivates you the most at your workplace?
Dr. Monika: As a professor, my key responsibilities are teaching and research. Although the timings of classes are pre-decided, the work goes on 24X7. The preparation of a class may stretch too long hours, at times working at night along with tight schedules for research paper submissions and revisions. I enjoy this a lot because this is a field where one, you constantly innovate yourself (not anything else), and second you are always in the company of the new generation, learning things about the changing world, which keeps you young and active.
About Dr. Monika Chopra, CFA
Dr. Monika is a faculty at International Management Institute (IMI), New Delhi. She is also the chairperson of PGDM Banking and Financial Services (BFS) program at IMI. She teaches courses on Business Valuation, corporate Finance and Financial Analysis. During her academic career of 21 years, she has authored 21 research papers, 6 case studies and edited 3 books. As a part of her corporate interface she has conducted various workshops on 'Finance for Non Finance Executives' and various MDPs on issues like 'Valuation in Mergers and Acquisitions', 'Financial Analysis', Analyzing red flags and earnings quality for government organizations like GAIL, IGL, IPGCL, CII etc.
She is a PhD. and a CFA. She has also been a student of Prof. Damodaran and has completed business valuation and investment philosophies certifications under him. As a regular member of CFA institute, she is the director elect of the board of directors of CFA society India where she heads the women in finance initiative. She is also a part of volunteer team responsible for hosting the ethics challenge and the Investment research challenge of CFA institute.
About Susarla Srividhya Venkatesan, CFA
Srividhya is a Chartered Accountant and CFA Charterholder. She has 16 years of experience in  investment Banking. She has worked on several transactions including IPOs, QIPs, and Private Equity Placement across sectors. She currently works as a Vice President – Investment Banking with a leading domestic Investment Bank.