April 13, 2021
Posted by:

CFA Society India

Category:

In Conversation With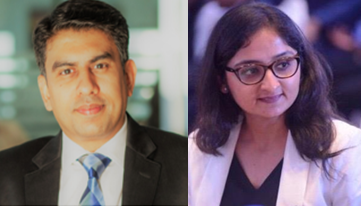 Industry Expert- Mr. Chirag Mehta
(Senior Fund Manager - Alternative Investments, Quantum Mutual Fund)
Interviewed By- Rajni Dhameja, CFA
(Co-Chair, Public Awareness Committee, CFA Society India)
Rajni: Quantum AMC is one of the early movers to set up fund in ESG space in India, please share your perspective for coming up with the idea.
Chirag: At Quantum group, we began to adopt a "Governance" factor in our investment decisions in 1996 – so this is the 25th anniversary of us incorporating Governance or what we call as the Integrity filter. Over more than two decades of our experience as asset managers, we have made our share of mistakes but overall our "integrity filter" has served us well as a risk management tool to avoid the blowouts that have been witnessed on the corporate governance landscape in India.
However, our transition to the ESG screen began in 2015. While we gave emphasis on the 'G' factor and a few 'S' factors, we felt that given the growing importance of E and S factors not only from a risk management perspective but to identify which companies are ready to overcome the emerging global challenges and thereby capitalize on the opportunities, there was a need to have a more systematic framework in place. Other areas that helped us realize the importance and increase our thrust on sustainability were: –
Client requests: Our clients started asking us to look more closely at E&S and integrate them in the research process.

Regulatory push in India: Regulators started nudging more companies to disclose on their ESG practices. Initially the Business Responsibility Report was mandated for the top 100 companies, later extended to Top 500 and now extended to the Top 1000. Recently a Stewardship Code has been introduced by SEBI.

Global developments: Environmental and Social (Climate Change, Diversity and Inclusion, Sustainable Development Goals) issues at the forefront and getting increasing media attention. Investors and public want a more holistic view of a company's impact on all forms of capital – Financial, Natural, Social and Human.
Rajni: Can you share with us the journey of Quantum AMC in ESG space?
Chirag: We have developed an in-house proprietary research on ESG, which we believe is comprehensive and robust. We have been studying ESG practices and identifying sustainable businesses and have been through learning curve and evolved a solid process of evaluating ESG aspects of companies.  This depth of our research will be a standout point in meeting the objective of the fund. We go beyond the publicly available disclosures and information through plant visits, stakeholder interactions, etc. to verify the authenticity and consistency of ESG compliance.
In a bid to achieve the triple bottom line, we believe our journey towards sustainability has indeed been rewarding. Our experience in Governance for about 25 years and the evolution of our proprietary ESG process over the last 5 years has delivered good risk adjusted returns in Quantum India ESG Equity Fund since its inception.  
Our ideology and experience of seeing well managed and responsible companies deliver better returns over the long term has translated to an outperformance in the real world. Our focus on incorporating ESG factors or material non-financial factors into evaluation of companies while investing has yielded a robust portfolio. For many, it may have seemed as a new concept a year back, but the global pandemic has made it even more important for each one of us to focus on ESG factors to ascertain a company's long term sustainability and profitability.
The performance of Quantum India ESG Equity Fund can be attributed to many factors, one being the quality of the companies in the portfolio. The fund screens over 200 metrics of a company and qualitatively assesses each to identify whether the company deserves an allocation of investors capital. Our in-house proprietary ESG process avoids the risks of being in companies with poor governance, questionable social practices or those harming the environment.
Rajni: Considering Indian markets, what should be the broad framework for ESG investing?
Chirag: Quantum's evolution into the world of ESG analysis began in 2015. Based on our experience of 25 years of evaluating "G" and recognizing "S", we have built a proprietary process to measure ESG based on materiality.
As long-term investors, we fundamentally believe in the importance of environmental, social and governance (ESG) analysis as a means to understanding both opportunities and risks.  We take a positive approach, looking for businesses that show awareness of material issues and a commitment to sustainability best practices. We study relevant companies on material ESG aspects and ascertain how prepared they are to mitigate various risks, which often not flagged off in the financial statements and capitalize on opportunities. The idea is to develop a truly granular understanding of the extent to which a company will be a good long-term steward of capital.
The evaluation process consists of a blend of quantitative and qualitative factors.
30% weight: Companies are evaluated on their levels of disclosures provided in their sustainability reports / business responsibility reports / annual reports. Companies with higher disclosures get higher scores.

70% weight: Evaluate companies on their ESG performance relative to their peers and national / global regulations on material ESG aspects. Check for any past violations / red flags of certain E&S metrics and corporate governance regulations
While screening companies, we subjectively evaluate more than 200 parameters across the Environment, Social and Governance domains.  While computing the ESG score, 50% weightage is given to the Governance aspect, and the remaining 50% divided into the Environmental and Social aspects. Governance sits at the heart of our analysis. This is because we believe that it can be a good proxy to understand the company's E and S performance. Governance shortcomings usually go hand in hand with poor performance on the social and environmental fronts. In a nutshell, we consider good corporate governance as a foundation that supports responsible business practices across diverse areas – Financial reporting, Environmental Stewardship, Social License to operate, Community relations, Employee well-being, etc.
Rajni: What is biggest why for investors to allocate their funds to ESG investing and what should they keep in mind while investing?
Chirag: The biggest why for investors is the aim to achieve the triple bottom line that ESG endeavors to achieve. Investment that is good for the planet, people and profits. Below we elaborate on reasons for why ESG is important for long term risk adjusted returns for investors:
ESG encourages a broader view and allow investors to look beyond their traditional remit 

ESG analysis aims to identify businesses which are well prepared to deal with the emerging complex risks and thus create long term shareholder value

Responsibility and profitability are not incompatible, but in fact wholly complementary. Excellent ESG standards can function as a guide to a company's overall quality of management and long-term sustainability.

Availability of research in ESG investing and appropriate benchmarks are the two critical aspects which investors would look for before ESG investing becomes mainstream:
1). The credibility and depth of ESG research – that really defines the universe
2). Sizing of the portfolio /index- Is it reflective of the goodness of ESG investing or is there a conscious effort to mirror the conventional indices to show size?
For many practitioners, ESG scoring comes down to the ability of a company to fill out ESG forms. Data compilation is vital to improve the overall quality of the underlying information. Given the incentives on green washing, do you only refer to a company's self-disclosed information or do you seek other types of inputs? A lot of providers rely too heavily on the former, which is a big problem. 
Traditional index / portfolio construction approaches typically sort a universe of stocks using companies' ESG scores, eliminating those with the worst rankings, and cap-weighting the remainder. This is due to size, but therein lies the central problem with such offerings: They tend to pick only the largest companies in the world in order to better compare to a conventional index. With traditional ESG approaches, investors need to be aware that ESG bets can be concentrated in certain stocks and duplicate existing market holdings.
Rajni: ESG is relatively new space for Indian markets in comparison to other developed markets. What are your views on preparedness of Indian markets for ESG investing?
Chirag: Sustainable investing is still at a very nascent stage in India – but we are seeing increasing adoption by companies and by investors.
The main challenge for an investor is availability of timely and comparable data. Reports are usually released after a lag of one year. Larger companies are better placed in terms of financial, human and technical resources to capture data. Most companies view ESG from a compliance ("tickbox") point of view. Tendency is to only follow the letter of the law. Few integrate ESG considerations in overall business strategy. Disclosure levels in the manufacturing sector are better than service companies, maybe due to increased scrutiny.
Having said that, we do have certain companies who strive hard to provide many disclosures material to their business activities. Many companies have gone beyond their traditional remit and have far superior E&S performance even as compared to their global counterparts.
Rajni: For ESG, to become success in India, do you see need for regulatory nudge or measures from government or other stake holders?
Chirag: Yes, there is a need for an all rounded push from regulators, government, investors and the society to enable greater disclosures and enhanced performance over time.
Regulatory push has been serious but more stringent framework needs to be fast mandated and this will have to be a continuous evolution. We are already seeing signs of that with regulators wanting to fast track the disclosure requirements. The new BRR format will also help investors in getting the much needed information for evaluating companies on their ESG performance. There is growing investor action in terms of engagement and proxy voting. There is increased demand for corporate accountability; we have seen relatively more action in form of public activism as well.
Rajni: What advice would you give to young charter holders who are keen to take up ESG investing as a career.
Chirag: Sustainable / Responsible investing with the promise of achieving the triple bottom line through an evaluation of ESG practices is here to stay. Like beauty lies in the eye of the beholder, everyone views ESG from their own lens and has a different rationale and principles to view many of its aspects. This process will continue to evolve as it becomes mainstream.
Within the three pillars of ESG, there are many different aspects to evaluate and we need to perfect this science of measurement and one who has the best know-how will lead the way forward.
Disclaimer: Mutual Fund investments are subject to market risks, read all scheme related documents carefully
About Chirag Mehta
Ranked as the 4th best Fund Manager in the world under the age of 40 by Citywire in 2017; Chirag Mehta has more than 15 years of experience in managing commodities. He also specializes in the field of alternative investment strategies. Chirag is a qualified CAIA (Chartered Alternative Investment Analyst), and has also completed his Masters in Management Studies in Finance. He currently manages five funds largely in the field of alternative investments that includes both the Quantum Gold Fund, a Multi Asset Fund of Funds and an Equity Fund of Funds and the ESG fund. He joined the Quantum group in 2006 after gaining hands on experience in the physical commodities market during internship and continued association with Kotak & Co. Ltd and working on projects for the Federation of Indian Commodities Exchanges.
About Rajni Dhameja, CFA
Rajni Dameja is a finance professional with experience of close to 15 years across fixed income, equity and derivative markets. Currently she is working with ICICI Bank Ltd., responsible for helping corporates raise funds through the debt capital market. She has been associated with fixed income markets covering origination, structuring, valuation and market risk management since the last 8 years. Prior to that she was associated with a leading stock exchange handling quantitative analytics in the equity and equity derivatives market. She is a Chartered Accountant and CFA Charter holder.