January 17, 2022
Posted by:

CFA Society India

Category:

In Conversation With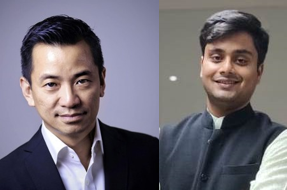 Industry Expert- Mr. Eric Sim, CFA
(Founder, Institute of Life)
Interviewed By- Tarun Gopal
(Member, Public Awareness Committee, CFA Society India)
"Your Network Is Your Net Worth!" If you've heard this quote before then you know who we're talking about. An Investment Banker, Finance Professor, Author, most followed CFA charterholder on LinkedIn, and the Founder of Institute of Life, he's a classic example of a diversified career portfolio. In this publication, we've brought an interesting conversation from our fellow charterholder and industry powerhouse Eric Sim, CFA.
Read on to our interesting conversation below:
Tarun: Doing so many diverse things and doing them perfectly takes much energy, both physically and mentally. What does your typical day look like, and what's the secret mantra that allows you to follow and keep up with your schedule?
Eric: I wake at 5:30 am on most mornings and drink a glass of warm water to get my body ready. I try not to touch my phone immediately but do tasks that are important but not urgent, e.g. writing my LinkedIn articles to share career skills.On some mornings, I don't send emails, check social media or read the news. This makes the first hour of my day magical and calm. I go outside to enjoy the silence and smell the refreshing morning air, which puts me in a reflective mood. Instead of planning a specific action, I let my mind wander. I might think about what I'd do if I had a year to live or if I lived to 100.
I go to the gym three times a week during lunch time. This breaks up my day and gives me energy in the afternoon (I don't drink coffee 😁).
My meetings are usually in the afternoon.
I try to keep my morning before 10: 30 am free so that when there is an urgent task or someone important to meet, I can fit them in.
Reduce Trivial Decision Making
I try to eliminate trivial decisions I need to make every day, try to eliminate some of them. I always wear white shirts and navy blue suits to work. This conserves my energy. I don 't need to think about which colour to choose in the morning because all the shirts in my wardrobe are exactly the same . I can select any tie I like because white shirts match all colours (except white!). While this shirt- and- tie example won 't work for women, a female friend of mine uses a similar technique. Inside her handbag, she keeps a smaller inner bag that stores stuff like cosmetics ,keys and money. Each morning, she simply transfers the inner bag from the previous day's handbag into the new handbag she wants to carry. She saves energy and rarely forgets her keys or lipstick.
Tarun: Many of your articles and interviews stress the importance of interpersonal skills. This has been pivotal in shaping your professional career and journey as well. What's your input and advice on improving one's social skills? What are the 2-3 modes which we can start following immediately?
Eric: I attribute my good fortune to the social capital I've accumulated over the years with people I know. Social capital is the good will that you gradually build up with others. It works a bit like depositing money in a bank and seeing your savings grow. Each time you're nice to someone or help them, you generate some social capital or karma.
How to accumulate social capital? You should be generous to others, treat them with respect, and assume they're going to do much better in life in the future. A small action like buying a colleague lunch adds to your social capital, as does making an extra effort to help a client solve a problem outside of your job scope.
Don't expect the same people you've helped to return all your favours, and don't expect to benefit in the near term. Have a horizon of 10, 15, or even 20 years. In the long run, many people will recognize the kindness you've shown them, and this will open doors for you that would otherwise have been closed. Without social capital, you might not even know these doors were even there.
Tarun: Your diverse experience as presented in your visual CV is a great way to look at your journey that isn't necessarily linear or what one might think. How can one use their diverse experience in achieving big goals?
Eric: Big goals usually cannot be categorised under one discipline like school exam problems can. So experience in one industry or knowledge in a single field cannot help us achieve our goal. Take for example publishing a book. It takes much more than good writing skill. We need to have some social media marketing skills too, and having a huge network helps but that need social skills.
You can think of a project or task that utilises a few of your skills set or experiences.
Tarun: Your new book "Small Actions: Leading Your Career to Big Success" is one of the bestsellers now. Congratulations on achieving this milestone! It's already on the reading list for many of us here in India. When did you first realize you wanted to be a writer, and how was your experience?
Eric: I never like writing. I failed my literature in school and was an engineer by training. I started writing when many students who attended my classes at some of the universities I taught asked about the career skills they need to increase their chance of getting their dream job.  I shared my experience on LinkedIn in Feb 2015 and am still writing on this amazing platform till today. The feedback  from students, readers and followers were encouraging but some told they wanted something for structured than my LinkedIn posts. So in 2019, I partnered with Simon Mortlock from efinancialcareer to write this book. The response of the book sales has been beyond expectation. The bookstore couldn't replenish their stocks fast enough and kept running out of stocks.
Tarun: What guidance would you like to give candidates aspiring to become CFA charterholders?
Eric: CFA certification is an excellent qualification to have. If you can add one more skills to the mix, it would be even better. For example, you can add computer programming or social media marketing to your CFA knowledge. You can be a combo specialist.
Let me illustrate this by using the combo meal at McDonald's as an analogy. This typically consists of a burger, a pack of french fries and a glass of Coke. The burger is your primary specialization, the fries are your secondary specialization, and the Coke is your interest. I've had several combos during my career.
The three main benefits of becoming a combo specialist are:
You can gradually change your specializations into new areas as you combine your core and secondary skills with your interests.
You have a competitive edge over one-dimensional specialists.
You enjoy your job more because you're incorporating your interests into your work
About Eric Sim, CFA:
Eric is the founder of Institute of Life (IOL). With 2 million followers on Linkedin, Eric Sim, CFA, PRM, is one the most followed career coaches and speakers on social media globally. Previously when he was based in Hong Kong, Mr. Sim served as a managing director at UBS Investment Bank and an Adjunct Associate Professor at Hong Kong University of Science of Technology.
About Tarun Gopal:
Tarun is a seasoned Chartered Accountant and has cleared level III of CFA program. He has around 9+ years of experience in various Finance roles across Industries like Banking, Asset Management, EdTech and has previously worked with corporates like BlackRock and Serco. He's currently working with Macquarie and handling a FinTech role, supporting their Banking and Financial Services business. He's passionate about continuous learning and has deep interest in Economics, Investments, ETFs and Financial Markets.