October 21, 2021
Posted by:

CFA Society India

Category:

In Conversation With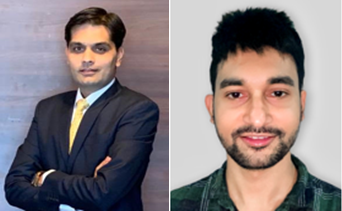 Industry Expert- Mohit Gang
(Co-Founder and CEO, MoneyFront)
Interviewed By- Vikram Jhawar, CFA
(Volunteer, Public Awareness Committee, CFA Society India)
Investment Advisory and Portfolio Management, like all other financial services, have a huge potential to benefit from FinTech and Artificial Intelligence. As private wealth grows in India and other developing nations, application of technology in this area becomes crucial. To explore how FinTech and AI can help us as investment professionals as well as individual investors, we decided to interview Mr Mohit Gang, Co-Founder of MoneyFront – An investment platform offering a suite of financial advisory services fine-tuned to the client using smart algorithms and a fully automated, paperless platform
We are happy to share our interesting conversation with him,
Vikram: MoneyFront recently completed 5 years since onboarding its 1st client. How significant has Fintech and AI been for an investment platform like MoneyFront and how has it helped differentiate it from its rivals?
Mohit: Its been a fascinating journey for us thus far. We were the first RIA (registered Investment Advisor) platform in India to offer Direct Plans of Mutual Funds in a paperless manner. Last few years have really seen this space pick up lot of steam and some exciting new entrants have also come in.  In 2016, being a first mover, it helped us a lot. Complete digital onboarding was a new thing in the industry then. We also pioneered an algorithmic way of scheme selection which was totally devoid of human intervention.
Over this 5year journey with the rich experience of handling wealth clients digitally, we gathered a lot of learnings. Those learnings clubbed with our technology prowess is now enabling us to power a lot of wealth platforms through an array of B2B services which we provide. We now provide data analytics, reporting tools and white-labelled solutions to all tiers of wealth managers from large private wealth setups to small IFAs in Tier 2 & Tier 3 towns.
Vikram : How does India compare to global markets when it comes to technology in financial evolution? Do you think we have enough avenues and opportunities in the area? What more could be done to have a global edge over already sophisticated markets?
Mohit: Out of total 64 Unicorns in India, 15 are Fintech Unicorns. India got its first fintech Unicorn in the year 2015 and then 3 more happened in 2018. But the majority of these 15 names have come only in 2020 & 2021. Clearly spelling out that the Indian fintech space has finally come of age.  I would say, when compared globally, we were quite behind the curve 2years back – both in terms of product innovation and private funding. But last two years have completely revolutionised the industry on all fronts. We now can boast of cutting edge work across all frontiers of Fintech space from payments to lending to insurtech to wealth.
To be able to compete on global standards, India will need a lot of tech talent in times to come. Even though we produce about 1.5 million new engineers every year, there is serious scarcity of good tech resources today. Additionally, data security and safeguards norms will have to be upgraded. Last, regulatory clarity and flexibility on many fronts is an imperative need of the hour to compete with global tech players. Hopefully, as market expands – financial regulators should ease off norms which curb agility and execution.
Vikram: In a recent interview, you highlighted the need for an investor to invest not just in domestic markets but also global markets like the US. Do you think FinTech and AI technologies could help in any way to achieve such diversification? How does MoneyFront facilitate the same using various technologies?
Mohit: Definitely, it's a global village now and investors want to have the best of all worlds. Day is not far when most of the tech platforms in the country will offer access to multiple foreign markets. Trading in global funds, ETFs and fractional shares is all possible today but still not democratised to the level of last investor. At Moneyfront, currently we offer a host of global funds via the Mutual fund route to our investors and very soon we will also provide direct access to certain markets for our investors.
Vikram: How do you see FinTech industry evolving in the next 5-10 years, domestically and globally? Does it weigh in on Investment Management platforms like MoneyFront? How does it impact or transform the financial services industry as a whole?
Mohit: Financial industry in general and banking in particular is at the cusp of massive disruption. Next one decade will witness each and every function of a bank being broken into a unique space and individually being disrupted. Most of the fintechs will finally be absorbed by large banks who are always hungry for process improvements.
For us at Moneyfront, it's a constant tussle to be relevant and ahead on this disruption curve. As long as we are able to solve real world problems with technology – am sure we will have our space under the Sun. But, yes we will have to be mindful to quickly adopt newer product frontiers like International trading, fractional real estate, private investments, crypto trading etc. to be relevant in the marketplace. Plus we will also have to be agile about the new tech frontiers like AI-ML driven robo-advisory, blockchain driven backend processes etc.
Vikram: Cryptocurrency has been a hot topic in last few years. Recently, China's central bank banned crypto trading, while India is yet to embrace it as an asset class with RBI expressing concerns on its impact on financial stability. Any thoughts on crypto-currencies and crypto-trading as offerings of the FinTech revolution?
Mohit: "No force on Earth can stop an idea whose time has come", said Victor Hugo. I firmly believe, that time for block-chain based crypto assets has come. Whether it will be bitcoins or central bank backed digital currencies – only time will tell. I am personally quite bullish on the whole crypto revolution as I genuinely believe in the concept and technology. However, I am still not biting into it for lack of regulatory clarity. Guess, for the larger public to embrace it and for us to be able to offer it – we would first prefer clarity from RBI and government around this. It could be suicidal to offer this to clients under the extant regulatory ambiguity.
Vikram: Given the age of fast-paced technology and immense competition that we find ourselves in, what would be your advice to budding entrepreneurs and CFA candidates looking to make an impact in the FinTech industry?
Mohit: Fintech space though is a huge market with abundant unexplored areas but it's a fiercely competitive landscape. One has to be cognizant that one is up against the big banks with deep pockets and global fintechs on a daily basis. Plus the ever-shifting technology stack doesn't make things easier. You have to be constantly on your toes, keep innovating, keep solving real world problems. Never be shy of attempting the unchartered territories. Fintech game, more often than not is played on the margins and one has to be willing to give it all at times.
Vikram: Finally, your thoughts and suggestions on how experienced investment professionals can adapt to the changing times and continue to excel in their roles?
Mohit: Investment professionals have to keep themselves abreast on three counts:
1). New products coming in the market like P2P lending, crypto currencies, NFTs etc.
2). How new technologies are reshaping investing behaviours and preferences?
3). What new-age platforms are relevant for investors and how can these ease their investing journeys?
Investment professionals will have to be updated on all three above, to keep their clients ahead on this fast-changing frontier. They will have to be able to differentiate and negotiate through the multiple choices available today, along with ensuring that clients' needs and goals are kept at the forefront of it all without compromising on digital safety of their assets.
About Mohit Gang
Hailing from Jodhpur, Mohit Gang is an investment expert and holds a management degree with dual specialization in Marketing and Finance from MDI, Gurgaon. He is currently the Co-Founder & CEO of MoneyFront. His work timeline sparkles with soaring deliveries at leading banks – HSBC and Citibank. Mohit led and managed a portfolio of about $2 Bn in assets driving a network of over 240 Relationship Managers at HSBC. While at Citibank, he took ownership of an annual target of $ 9 million revenues handling multiple assets like Mutual Funds, PMS, Alternates, Bonds etc. He is often called on leading news channels like Zee, CNBC etc. for his expert opinions and insights on mutual funds and investments.
About Vikram Jhawar, CFA
Vikram Jhawar currently works in Risk Management at Morgan Stanley and has 8 years of industry experience working across Risk, Portfolio Analytics and Change Management domains. Within Risk management, he specialises in Counterparty Risk. He holds an Integrated Masters from BITS Pilani and is a CFA Charterholder since 2017. In his spare time, he likes to cook, explore nature on his bicycle & spend time with his dogs.