April 18, 2022
Posted by:

CFA Society India

Category:

In Conversation With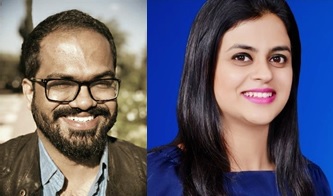 Industry Expert: Shravan Shankar, Co-founder, Climake
Interviewed by: Ayushi Gupta, CFA, Volunteer, CFA Society India

CFA Society India had the pleasure to interview Shravan Shankar, founder of Climake for its ESG special newsletter edition. Our expert shared his views on transforming ESG, evolving industries, new technologies, investment opportunities owing to climate change and entrepreneurship experience.
Read on to the alluring conversation below:
Ayushi: Do you think there is a need for transforming ESG in a post COVID world? What has changed that should compel us to 'transform ESG'?
Shravan: Yes, definitely. The main problem with ESG is that it is more focused on having a structure for Environmental, Societal, and Governance priorities – to guide investors – than being outcomes related. We need to look at how ESG is employed, rather than being only used in investing context – to shift away from inputs of having policies, structures, and activities, to being measured on performance of what companies achieve.
If we take other frameworks such as the SDGs (Sustainable Development Goals), they have clear targets with metrics and performance parameters. For example, net-zero is a success clearly defined by a company's ability to reach the target of zero carbon emissions across their value chain. ESG on the other hand does not push companies to improve their outcomes and performances. It rewards companies by having inputs of strategies, policies, structures, which frankly, are not a guarantee of success to happen. You find that the focus is mainly on S and G parts as they are easier to setup structures. The E part, arguably the most important one, is neglected because setting up structures is not equal to achieving performance.
Also, capital that should be rewarding good E & S performance is not happening and  research shows that climate performance in ESG indexes is not actually that much better than larger non-ESG indexes.
What has really changed with COVID is the experience that external social factors can grind the world to a halt. The impact of external drivers which are usually social (think civil unrest, pandemics, health crises) and environmental (natural disasters, climate change impacts, etc.) and how they affect business has been very clear.
Ayushi: Climate change is going to alter the dynamics of various industries. Could you elaborate on the industries that will evolve as climate action gains momentum?
Shravan: Climate change may affect all industries, as energy is a universal need. Moving away from fossil-fuel to forms of energy that do not generate GHG emissions, has implications for energy intensive ones such as steel to relatively lower energy demand ones such as consumer electronics.
Energy is a supply-side form of climate action and is quite mature today. The nascent area is decentralized renewable energy – such as off-grid power – which is in the realm of demand-side climate action. This is seeing a pick-up. Mobility and transport is one of the largest sunrise sectors here due to the impact it can have on individuals and businesses – it is going to be the first consumer-focused sector to witness strong climate action, although we expect its initial adoption to be driven by B2B plays to build demand and high utilization which is needed to grow the sector.
Agriculture and agri-tech is the next big sector. It is also going to be the first sector with adoption of climate adaptation solutions – to protect against the effects of climate change, such as extreme weather.
By 2030, others sectors that will see carbon mitigation efforts will be cooling, waste management and circularity (which is about mitigation and adaptation), supply chain sectors such as battery storage, green hydrogen, and decarbonization. One area we are not seeing enough focus is around cities, buildings, urban infrastructure, etc. that relates to adaptation to climate change, specifically how we live and adapt towards a changing climate.
Ayushi: Climate change is not only a risk but also a huge investment opportunity in various industries. Where are the investment opportunities and what would be the size of the opportunities?
Shravan: In our report, The State of Climate Finance, published in February 2022,  we estimated that by 2030, there is going to be at least USD 1.01 trillion in climate finance by 2030 as opportunity areas based on India's intended commitments and policies. We see the opportunity areas as follows:
Resilient cities: USD 190 billion
Renewable energy: USD 200 billion
Generation efficiency: USD 100 billion
Demand efficiency: USD 60 billion
Electric transportation: USD 180 billion
Sustainable Food: USD 280 billion.
However, we need more, especially in the adaptation space. We expect that this would be a need of 200 to 300 billion, but there is not enough focus around policies, to make this an opportunity.
Ayushi: New Technologies will play a big role in the transition to a net-zero economy. Do you think India could be a hub for technological breakthroughs for negative-carbon technologies?
Shravan: Yes, and we are seeing it in certain key sectors. In electric mobility it is picking up, leveraging our traditional strength as being a global supply chain for the automobile sector. Green hydrogen is another, which has potential impacts in the steel, fertiliser, and mobility industries.
One key factor of technological breakthroughs is that solutions from developed western countries are not directly translatable to a lot of emerging technologies, due to environmental factors, less robust infrastructure, and cost. India is emerging as a leader in solutions related to more emerging economy solutions in areas around decentralized renewable energy – which can include cooling, farm-based tech, and other applications, which has a huge market opportunity, in the Global South, in mobility, especially 2 and 3 wheelers, in waste management, to name a few.
Ayushi: India is going to deploy new technologies not only for climate mitigation and adaptation as well. Which are technology segments we may a lot of action for venture capitalists and private equity in India?
Shravan: Climate mitigation is going to be the main focus. By 2030, activity and opportunity are going to be around renewable energy, electric mobility, food and agriculture. Others include energy efficiency and smart grid transformation, waste and circular economy, 3 key supply chain sectors: batteries and storage, green hydrogen, and decarbonization.
Agriculture will be the first sector that sees adaptation focus at a large scale to manage the on-farm effects of climate change, in managing droughts, floors, temperature changes, etc.
We are also going to see an innovation in the financing instruments that fund climate mitigation and adaptation. Besides equity, debt and green bonds, there are 2 climate focused financing instruments:
Voluntary carbon markets revenue from carbon credits, in diverse forms is seeing interest. For example, carbon credits for carbon sequestered in the soil, to benefit farmers.
Fractional ownership of assets, where the high cost of funding or acquiring the physical climate technology assets is tackled.
Ayushi: At Climake you are building the early-stage ecosystem for climate start-ups to scale. What are the barriers entrepreneurs are facing for climate start-ups in India?
Shravan: The biggest barriers we see are in access to customer markets and access to finance.
Climate startups usually have hardware-based, asset heavy solutions. We work with a network of venture funds and startups to align on mutual expectations, contexts, and need.
In debt-based financing, we work to support startups and lenders to align funding needs and expectations. We are piloting new structures as well – to make asset financing cheaper and more accessible for emerging climate sectors. Returns have so far been positive, and we are looking at scaling this asset finance fund to support more.
Access to new customer markets is difficult because the climate solution is a cleaner replacement to something that is already in place. Due to replacement costs, there are long sales cycles, time to market, pilot and adopt. There is lack of sales and marketing knowledge in founder teams to engage with the business customer. We are working on more direct engagements, towards long-term commitments for startups to connect with large buyers by designing programs and structures that incentivize companies while also showing how the solution fits.
Our Circular Impact Market Accelerator, for startups working on plastic / electronic waste and pollution, helps shift larger companies towards circular economy products and practices.
About Shravan:
Shravan is a co-founder of Climake, a growth platform for early stage climate tech startups in India to access markets and innovative financing options. He has over 13 years of experience working in sustainable development with organisations across Asia and Europe, and in developing national policies in India and Sri Lanka. He is also a co-founder of AtWorks, an impact entrepreneurship ecosystem builder that has worked with over 400 startups, that was recognised as a circular economy solution for India by the Ellen Macarthur Foundation. Shravan has also been recognized with a National Award on Smart City Solutions by the Government of India.
About Ayushi:
Ayushi Gupta has over 9 years of experience in Infrastructure consulting and project finance. She is working with Tata cleantech Capital Ltd. and involved in project finance for clean sectors such has solar, wind, hybrid solar and wind , EV etc. She has previously worked with Crisil infrastructure advisory, IDBI Bank and Yes Bank. She has experience of working with public & private clients and Multilateral agencies such as The World Bank, Asian Development Bank, International Finance Corporation, African Development Bank etc. She has global experience of working in more than 5 countries involving feasibility study, transaction advisory in multi-sector in public private partnership infrastructure space.