January 18, 2022
Posted by:

CFA Society India

Category:

In Conversation With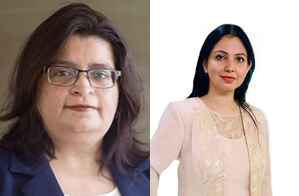 Industry Expert- Ms. Jayna Gandhi, CFA
(Senior Volunteer, CFA Society India)
Interviewed By- Ms. Shivani Chopra, CFA
(Co-Chair, Public Awareness Committee, CFA Society India)
Shivani: Congratulations on being elected as a Director of CFA Society India! Talking about diversity in the workplace first, what are your views on women on corporate boards?
Jayna: I strongly believe that corporate boards need more women. If you look at the available women pool who can be inducted into corporate boards are not only very well educated and intelligent but have very sound industry experience. While there are names we all know, the fact is that there are examples all around us. Women have a fine balance and sound judgment in how they manage situations and people, these qualities can prove to be a very valuable assets for corporate boards.
Also, one of the very important role and responsibility of corporate board is accountability towards shareholders and increasing their wealth by generating sufficient return on their investment. This, in my opinion, is where women have a proven track record of sound financial management; and this can prove to be a very valuable skill that corporate boards can leverage upon.  We have examples of women in various fields who have time and again proven their quick decision-making abilities and leadership skills. So, women not just add diversity to the board but also have knowledge, education, qualification and technical as well as soft skills which are required for the effective discharge of duties when appointed in corporate boards.
Shivani: As a long-time volunteer of CFA Society India, can you tell us about your experience so far?
Jayna: I feel blessed and privileged to be associated with the CFA society of India. By being volunteer not only do you improve your investment and financial knowledge but it gives you the opportunity to be a good team player, develop your management, organisational and leadership skills. You can experience the great joy of giving back and imparting knowledge to the next generation of investment professionals through mentoring opportunities and career development programs that the Society organises for the young charter holders and Level III pass outs.  Above all, volunteering has given me invaluable networking opportunities. Personally, I have made very good friends here and have got tremendous help from fellow volunteers.
Shivani: How do you view treasury management with regards to scope, growth and job prospects?
Jayna: Treasury management is very broad in scope and required for all type of organisations whether they are trusts, not for profit organisations, corporates, partnership organisations, banks, insurance companies etc. Treasury management is all about your mental attitude and philosophy financial affairs of the organisation that you are entrusted responsibility of.
The skill is in yow you manage it, while in compliances with the organisational norms, philosophies, risk apatite and business models. It requires expert level of understanding about various asset classes such as fixed income, currency, equity etc.  Apart from technical skills, administrative, people management and leadership skills are required as your grow in your career.
Treasury management is ever present since ancient times and will always have a place and will keep growing. Increasingly, the role of a treasurer is becoming strategic in every organisational set up. As regards job prospects are good and you can find various type of roles at all levels –  depending on the organisational structure and requirement – from back office, compliance and regulatory, accounting, front office trading, investing, portfolio management, middle office operations, risk management, MIS and trade support.
Shivani: How can CFA candidates and aspiring treasury professionals take advantage of the opportunities you highlighted?
Jayna: As a first step, candidates should develop a very sound understanding about various asset classes, have accounting knowledge and regulatory insight with an aim to manage the finance department of a good corporate. In the early part of the career, they should be ready to gain experience in other roles besides front office roles.
Shivani: What guidance would you like to give to candidates aspiring to become CFA charter holders?
Jayna: The universe of investment, capital market and finance needs trustworthy people. There are many who are of superior technical skill but the key differentiating factors will be their honesty and integrity. So, if you want to make your mark here and chalk out a meaningful career path, then there is no substitute to hard work and no compromise on integrity.

About Jayna Gandhi, CFA
Jayna is Co – Founder and Director of Quantmac Capital Solutions Pvt. Ltd. Prior to this, she was "Head-Treasury" with the National Stock Exchange of India Limited. Jayna has experience spanning over two decades in the field of treasury & investment management. She has managed $1 billion portfolio of fixed income treasury, mutual fund and equity ETF of NSE and its group Companies including Provident Fund and Investor Protection Fund Trust. Since 2010, Jayna is a lead volunteer with CFA Institute and CFA Society of India. In the year 2015, at all India level Jayna was privileged to be a brand endorser in the Global Brand Campaign of the CFA Institute.
Disclaimer: All Director appointments are subject to the requisite regulatory approvals filed with respective authorities.
About Shivani Chopra, CFA
Shivani has more than 12 years of experience across private equity, investment management, corporate finance and training and has worked with corporates like Genpact and Copal Partners. A CFA Charterholder and Masters in Economics, she is presently a trainer for various finance related courses.