October 16, 2020
Posted by:

CFA Society India

Category:

In Conversation With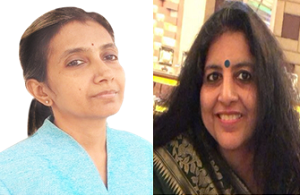 Industry Expert- Meera Siva, CFA
(Director, CFA Society India)
Interviewed By- Monika Duggal, CFA
(Member, Public Awareness Committee- CFA Society India)
At CFA Society India, we are truly delighted to have a second woman Director on board, Ms. Meera Siva. We recently had the opportunity to speak with Meera, who is a well-regarded professional with a wealth of practical hands-on experience in entrepreneurship, consulting, journalism, volunteering, et al. Read on below for this interesting conversation:
Monika: Congratulations on your appointment as the Director of CFA Society India! Talking about diversity in the workplace first, why do you think the corporate boards need more women?
Meera: There is sufficient data that shows that diversity in Board brings results and it is borne out in the company's outperformance in various studies. It just works and that makes sense intuitively also – broader perspectives and experience adds value and that leads to better decisions. It is important to understand what is the unique strength one brings to the Board and for each of us to be true to that – to get the best results over the long-term. It may be easy to be like the others in the group, but that will be a great lost opportunity.
Monika: You are a great example of someone who chose a multidimensional career path. How have different perspectives in your professional journey helped you?
Meera: I absolutely admire folks who have long careers because the tacit knowledge they have is amazing. They are such storehouses of information and connections and deep insights. But I am not that person! I think we change and my career sort of changed with it to suit the 'avatar' I took – an engineer wanting to build new tech; a financial journalist – looking for stories behind the stories; early stage investments – finding and nurturing next big things. Careers of the future may well be serial ones.
Monika: As a long-time volunteer of CFA Society India representing Chennai Chapter, can you tell us about your experience so far?
Meera: It will not be an exaggeration to say that one of the best decisions I took was to volunteer for the Chennai chapter of CFA Society India. It was a commitment, especially given the many responsibilities I had. But it has been the most enriching experience. We were a very small chapter, barely doing events as it was very early days and from there it has grown slowly to a vibrant one with a lot of wonderful volunteers and so many excellent sessions including the Fixed Income Summit.
Monika: What guidance would you give to CFA program aspirants preparing for a career in the investment management industry?
Meera: The CFA program is not just a set of exams to write to pass (though that is a daunting task in itself). It is a great learning journey. And no matter what career you take up, the framework and learning from the program would be a great guiding light to launch into the financial industry and scaling new heights. I would suggest making full use of the network CFA Society India provides and all the knowledge resources that CFA Institute and other local societies provide.
About Meera Siva, CFA
Meera is an independent consultant and co-founder of RaNa Investment Advisors. She currently works as Lead, Innovation and Entrepreneurship at the Terwilliger Center for Innovation in Shelter, Habitat for Humanity International. She brings with her 16 years of engineering design experience in the US, over 10 patents to her name and 9 years of financial analysis experience spanning US PE, India listed equities, India early stage funding and personal finance. She is a columnist at The Hindu Business Line. She is a CFA Charter holder and has a MS in Computer Engineering.
About Monika Duggal, CFA
Monika, with varied experience of over two decades, is a seasoned finance professional with extensive and diversified experience in various functions of finance and accounting. A CA and CFA Charterholder, currently she works as Finance and Accounts Professor and trainer for finance and accounting courses.