April 6, 2021
Posted by:

CFA Society India

Category:

In Conversation With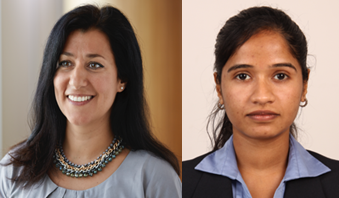 Industry Expert- Shami Nissan
(Head of Responsible Investment, Actis)
Interviewed By- Susarla Srividhya Venkatesan, CFA
(Member, Public Awareness Committee, CFA Society India)
ESG has been gaining prominence worldwide, as funds incorporate Environmental, Social and Governance (ESG) themes into their mandate and focus on companies that fall in the purview of socially responsible investments/ESG sectors. To get a deeper insight into ESG and understand how it impacts investment decisions, we reached out to an industry expert and our guest, Ms. Shami Nissan, Head of Responsible Investment at Actis.
Shami leads Actis' approach to Responsible and Impact Investment and works closely with investment colleagues and company management to assess and manage ESG issues, helping to build world-class businesses and to deliver societal benefits.
We are pleased to share our engaging conversation with her:
Srividhya: There is an increasing global awareness towards ESG, with several companies following ESG practices and both public and private funds integrating ESG factors into their investment process. What according to you, are the key pillars of the ESG framework?
Shami Nissan: ESG needs to be fully integrated into the investment decision-making framework, from screening through to diligence, ownership and finally exit.  It is important that analysis of ESG issues (risks and opportunities) is performed by experts with relevant competence, and that inputs are included in Investment Committee (IC) papers. ESG professionals should be part of IC meetings so material issues can be discussed and understood.
More broadly, it's important for deal teams to become as educated as possible on ESG issues pertaining to their sectors/geographies so it is important to offer ongoing learning / teach-ins on this subject, for example, as part of inductions and onboarding for new joiners, but also on a regular basis for all deal professionals.
Finally, organisations who are committed to responsible investing should ensure there is a link to performance and reward so that investment professionals are correctly incentivised.
Srividhya: Despite the rising interest in ESG, a significant share of this momentum is driven by the Developed Markets. How do you see its adoption in Emerging Markets over the coming years, specifically in countries which are marred by weak legal framework or poor labour law enforcements? What would be the key drivers for these markets? 
Shami Nissan: Many investors are very focused on ESG issues in the context of Emerging Markets. There are heightened risks in emerging markets for various reasons (including legal and regulatory frameworks which may be weaker, and enforcement which is more patchy) and more challenges regarding safety, indigenous peoples, securing community consent, biodiversity issues.  
There are also significant opportunities to make contributions to sustainability challenges and create positive development impacts. Investors are increasingly recognising the criticality of considering ESG issues in an emerging market context to make better investment decisions, and also to ensure their portfolio companies are better governed, more resilient with reduced risk profiles, and higher quality businesses.
Srividhya: How are ESG and Responsible Investments inter-linked?
Shami Nissan: Part of a Responsible Investment approach obligates the investor to take into account material Environmental, Social and Governance issues. That is the inter-relationship. RI is the investment approach / philosophy, and the ESG are the issues that need to therefore be assessed and incorporated into the investment decision-making process.
Srividhya: Actis has been highly focused on Responsible Investments and been rated A+ (the highest rating score) for the fourth year in a row in the UN Principles for Responsible Investment independent assessment. Which of the companies in the Actis' Portfolio would you rank as one of the leading examples of Socially Responsible Company and why?
Shami Nissan:  Many of our companies are sustainability leaders in their own right and our website includes details of highlights of their performance.
One example is the Atlas dynamic approach to addressing gender equalities through female empowerment. They have created entrepreneurial opportunities with nearby communities and positions of leadership within their corporate value chain. They have upskilled at least 870 women into qualified positions and aim to increase their target of female representation in their construction workforce between 10-15%. You can read further about their approach with vocation programmes and training on the Actis Macro Form: The Street view publication- https://www.act.is/media/3457/ac-0163-012010-macro-forum-dec-2020.pdf
Another example would be from Lekela Power and their first utility-scale wind energy project in Senegal- Parc Eolien Taiba N'Diaye (PETN), where the effects of increasing clean electricity production have seen a ripple effect towards a stronger unity between government and community support. It has provided power for over 2 million people in the country with a 15% increase in Senegal's electrical generation capacity. (https://lekela.com/projects/senegal-taiba-ndiaye/) Furthermore, Lekela has committed to its annual published sustainability reports (https://lekela.com/esg/) that demonstrates their continuous focus and commitment to understand the community environmental and social impacts within their operating fields.
Ankur Trehan at Actis delves into the 'Big Basket' initiative that provides fresh food delivery that has innovatively transformed the community in India, linking local farmers by boosting agricultural productivity along with the use of technology. Ankur's article is found on the website: https://www.act.is/media/3457/ac-0163-012010-macro-forum-dec-2020.pdf
Across the Actis portfolio companies, the results up to date in 2020 has supported over 120,175 jobs with $14 million spent in community investment programmes. Our energy funds have generated enough energy to power 116 million people.
Srividhya: You lead Actis' approach to Responsible Investment and have been part of this initiative for about two decades, including your previous association with PwC's Sustainability and Climate Change team and the United Nations Development Program in Central America. For the CFA Charter holders and young aspirants, can you throw some light on your journey and your thoughts on how Responsible Investing can help companies deliver profit with a purpose?
Shami Nissan:  My journey started with my first degree in Biological Sciences, and MSc in Environmental Technology. I then worked with the UN Development Program in Latin America, focusing on social and community development projects. This combined experience provided me with fantastic understanding of environmental and social issues, and the emerging markets context. 
I spent 10 years working at PwC as a consultant in the Sustainability and CC team, where much of my work focused on the financial services sector, and that was my jumping off point to joining a PE firm. 
The world is very different now and there are far more opportunities to join firms in RI/ESG/sustainability roles and it is a very rapidly growing area. There is strong interest from investment professionals looking to enter this space laterally, and the interest from Millennials / Generation Z is very high to consider this as a career choice. 
About Shami Nissan
Shami leads Actis' approach to Responsible and Impact Investment, working closely with investment colleagues and company management to assess and manage ESG issues, helping to build world-class businesses and to deliver societal benefits. Before joining Actis in 2014 she was as a senior consultant at PwC's Sustainability and Climate Change team for ten years. Prior to this, Shami led the London business of Innovest Strategic Value Advisors, providing sustainability research and analytics to institutional investors and asset managers. Shami has also worked with the United Nations Development Programme in Central America. Shami holds an MSc Environmental Technology, with Distinction, from Imperial College London and a BSc Biological Sciences from University of Durham.
About Susarla Srividhya Venkatesan, CFA
Srividhya is a Chartered Accountant and CFA Charterholder. She has more than a decades' experience in Investment Banking. She has worked on several transactions including IPOs, QIPs and Private Equity Placement across sectors. She is the Co-Founder and Associate Director of Scube Financial Services LLP, a new age Investment Banking cum Financial Advisory Firm, based out of Mumbai.