July 23, 2022
Posted by:

CFA Society India

Category:

In Conversation With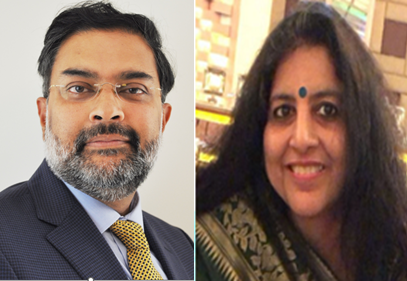 Industry Expert- Ravi A. Gautham, CFA
(Senior Vice President and Head of Northern Trust Asset Management in India)
Interviewed By- Monika Duggal, CFA
(Member, Public Awareness Committee- CFA Society India)
Monika: Working as an investment professional and backed by engineering/quantitative background from one of India's most reputed institutions, BITS Pilani, what motivated you to pursue your career in finance and how CFA program helped you in advancing your career? Can you share the story behind your journey into financial services industry.
Ravi: My father is a financial professional (CA, ICWA) and I suppose that may have played a part in me embracing Economics and later Finance as part of my MBA in America. At Pilani ,everyone is from a science background and the first two years are core courses with a heavy math and engineering bent. You didn't have a choice really but to be quantitatively focused and eventually I gravitated towards quantitative Economics with by first job as an investment performance and risk analyst at Northern Trust in Chicago. I however believe that in many ways, it's not optimal for society that so many science /engineering graduates eventually end up in banking/finance/investments when they can be doing more tangible things. That's not to say the financial world is not important but clearly there is a misallocation taking place.
I suppose I was one of the many that simply took this previously well-trodden path to banking/finance back in the mid-nineties as roles beckoned.
The CFA Charter is a great designation to have and it helps get you started on and then advances your career. I took it up within a year of starting by first job and finished level three in 1999. Back then it was only known in certain investment cliques and wasn't as prominent as it is today. When I took level three, there were maybe thirty other candidates in the classroom in Chicago that day.
The single biggest thing I believe is that the CFA charter and brand makes you more credible as a professional. The process itself is arduous and time consuming with three difficult exams and simply making it through that journey conveys a sense of one's intellect, determination and grit – all great qualities that smart employers cherish. The CFA charter for certain roles can almost be table stakes i.e. you may not be considered if you didn't possess it. You could be spending the rest of your career trying to justify why you didn't have it.
Monika: As a Senior Vice President and Head of Northern Trust Asset Management, what are the most exciting and challenging parts of the role?
Ravi: My role in India is more of a general manager on a day to day basis than it is an investment/finance focused job, although I do roll up my sleeves and relish that as time permits. As someone on the Executive management team and board of the India company, there is always something to be thinking about, worrying about and addressing, as an employer of 7000+ staff. It's exciting because every day brings new types of situations and challenges and there are many areas and domains to cover. I do however make sure I'm don't get too far away from intellectual challenges when it comes to the field of investments or any quantitative/analytical challenges that require attention. There is always so much to critically analyze and propose innovative solutions for!
Monika: How CFA program has helped you in building successful investment solutions for your clients?
Ravi: As part of our business our firm globally manages approximately $1.5 Trillion for institutional and wealthy clients, so devising high touch investment solutions that address very specific and bespoke situations are what we routinely do. A thorough grounding in investments and the breadth and depth of the CFA curriculum exposes one to a plethora of instruments, asset classes, strategies and allows one to think through holistic investment solutions that satisfy a particular need. Again, the CFA charter confers credibility and a sense of trust and competence, all foundations for building a strong franchise.  But that is not enough. Staying abreast of market events the latest instruments, techniques and innovations as well as understanding the benefits and pitfalls of the newer product offerings and practices is key to delivering successful outcomes. All the while staying close to the fundamentals of valuations, risk and reward.
Monika: Can you share your views about the scope, growth and job prospects in Wealth Management industry? How does CFA curriculum helps you to build strong prospects in the industry?
Ravi: In India today, there are enormous opportunities that are projected to be in the Wealth space. The traditional institutional/retail asset management space and AMC employers catering to this area are limited. The asset management business is not people intensive so unfortunately that is a reality CFA aspirants have to understand. Firms are small in size but the business is very scalable.
Wealth management in India however has very high potential with a large addressable opportunity set. With the economy growing significantly over the past decade and a capital markets/investing culture taking hold, beyond traditional gold and real estate asset classes, there is a real opportunity in this space. The country is going to need a very large number of financial/ wealth advisors and professionals to cater to the need in the coming years. This where the energy should now be focused – in growing and fostering that industry. CFA charter holders, the society and institute are uniquely positioned to help. The brand recognition and quality the charter confers and affords, as well upcoming plans to deliver a CFA Wealth Management certificate to interested individuals, will all go a long way in tapping into this upcoming wealth management opportunity.
About Ravi A. Gautham, CFA
Ravi A. Gautham, CFA is a Senior Vice President and Head of Northern Trust Asset Management in India as well as serves on the Executive Management Team and Board of Northern Trust's India subsidiary – Northern Operating Services Pvt. Ltd. Prior to his role in India, Ravi spent 17 years in Chicago in a variety of leadership roles in other Northern Trust businesses, most recently as Senior Vice President and Director of Risk Management, at Northern Trust Global Advisors in Chicago. In that capacity Ravi was responsible for the oversight of investment risk management activities and its integration into the portfolio management process, across multiple assets classes. Additionally, as a member of the Global Investment Solutions team, he was responsible for formulating and evaluating custom investment solutions and hedging strategies around the management of pension assets and liabilities for large corporate plan sponsors. He has written articles on, published papers and spoken on investment risk and portfolio management issues at several conferences and panels worldwide. Ravi serves as an Executive committee member of AMCHAM – The American Chamber of Commerce in India, an association of the largest American companies operating in India. He is also a board member of the CFA Society of India and Chairs the Research and Advocacy committee of the board.
About Monika Duggal, CFA
Monika, with varied experience of over two decades, is a seasoned finance professional with extensive and diversified experience in various functions of finance and accounting. A CA and CFA Charterholder, currently she works as Finance and Accounts Professor and trainer for finance and accounting courses.