January 10, 2023
Posted by:

CFA Society India

Category:

In Conversation With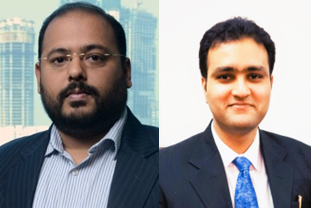 Industry Expert: Sandeep Gupta, CFA, CIPM, Co-founder and CBO of BHIVE Alts & Director -Elect, CFA Society India

Interviewed by: Parvez Abbas, CFA, Member, Public Awareness Committee, CFA Society India
Parvez: Congratulations on your appointment as the Director-elect. How has been your volunteering journey with CFA Society India?
Sandeep: I am immensely grateful to the CFA community for the trust evinced and the opportunity to volunteer as a Director for CFA Society India. Being a volunteer is a very important part of the overall value I derive from my CFA Charter. To be fair, I was also not really proactive and cued into the events, so I was not attending any. Then I remember that there was a volunteer day organised in Bangalore in 2017 where Arati Porwal from the institute & Kishore Bagri from Society informed us about the various committees.
I was always interested in the continuing education space and hence initially enlisted as a volunteer for the CFA Institute Research Challenge. The committee evinced faith in me and I was assigned to organize this for South Zone for the next 4 years (till Covid hit and the event moved online). Additionally, I was fortunate to support the annual Financial Talent Summits in Bangalore. It is really fulfilling to interact with budding finance professionals and be a small part of their career development journey.
With the support from the Board, Institute, and co-volunteers from Bangalore, we also conceptualised and executed the Annual Fintech Event which has now seen 5 editions with marquee speakers. The network and comradery built while volunteering for these events are priceless. 
Parvez: You have diverse experience. Tell us more about your professional journey. How has the CFA program helped in shaping your career?
Sandeep: I pursued and completed my CFA program rather late in my career. I already had a Post-Graduation in Management from IIM Ahmedabad and was heading an important vertical reporting to the Board and Promoters of a multi-billion-dollar conglomerate.
From a corporate career perspective, it was a great addition to my credentials. More importantly, it helped build knowledge and networks in the investment industry which enabled me to plunge confidently into my entrepreneurial ventures. These were more aligned with the financial services and investment industry. I set up a successful fintech (after a few initial failures) which is growing rapidly. Now I am pursuing the set-up and growth of my own SEBI CAT 2 Alternative Investment Fund. The CFA credentials, knowledge, and networks are very beneficial in these endeavors.
Parvez: You are passionate about upcoming technology. What are your views on Web 3.0 and its correlation with the finance industry?
Sandeep: Web 3.0 is the latest iteration of the internet and will have a huge impact on all industries including the finance industry. Web 3.0 is characterized by its reliance on decentralised technologies such as blockchain, distributed ledgers, and smart contracts without the need for intermediaries. Web3 technology offers more secure and efficient ways to conduct financial transactions. Also, Web3 allows users to get control of their data back with them. Being a foundational technology like the internet, it may take time to become ubiquitous. However, in my humble opinion, its advent is unstoppable. For finance professionals of the future, knowledge of Web 3.0 is essential in order to stay competitive.
Parvez: Fintech is acting as a disruptor. What is your opinion on the scope, growth and job prospects in the fintech industry?
Sandeep: Technology is permeating every aspect of our life and work. Fintech, or financial technology, is the successful application of tech in finance which is creating massive disruptions. The scope of the industry is broad, encompassing a variety of financial services that range from banking, payments, lending, trading, insurance etc. Technologies like blockchain, AI, ML, 5G, P2P, RPA/RPT, data analytics et al. are being used to create new and more efficient ways of providing financial services. Fintech companies are able to offer faster, cheaper, and more efficient services than traditional financial services companies, and may not be bound by the same regulations, taxes, and fees. With the right skills and experience, individuals can find a fulfilling and successful career in the world of fintech.
Parvez: What is your advice to candidates aspiring to become CFA charterholders?
Sandeep: The CFA designation is a highly respected credential that is seen as a symbol of professional excellence. It is a sign that a professional has the intelligence, commitment, and perseverance to complete the rigorous CFA program. Further, it also imparts knowledge and skills which give charterholders more expertise and confidence when dealing with jobs requiring financial acumen. Finally, it opens doors to access a powerful global network of finance professionals.
One piece of advice that I would like to give to aspiring CFA charterholders (irrespective of which level they are at) is to proactively work towards harnessing the most out of the opportunities provided. It's important to remember that clearing the multiple levels or having a CFA designation is only a first step. The more you give, the more you get. Volunteering is a great way to build your network and gain more exposure to the finance community. Even just participating in CFA-related activities in your city can help you gain visibility and knowledge and build valuable relationships.
About Sandeep Gupta, CFA, CIPM
Sandeep Gupta, CFA is an active volunteer with CFA Society India. He is also the managing trustee of a trust providing subsidized education and community support to the underprivileged. Sandeep is the Co-founder and CBO of BHIVE Alts, a Fintech platform democratizing investments in Commercial Office infrastructure for start-ups. He has recently set up his own SEBI Registered CAT II Alternative Investment Fund to enable access to sophisticated global capital for Indian Ventures.
Sandeep is a Charterholder from the CFA Institute USA with a Post-Graduation in Management from IIM, Ahmedabad. He is a Certified Investment Performance Measurement professional. Sandeep has over two decades of Real Estate/ Infrastructure transactions and investment experience. He has worked for marquee corporates like Magicbricks, Britannia (Wadia Group), New Chennai Township, GMR Airports, Cinepolis, ISB, and India Tourism Development Co. Sandeep is a technology enthusiast and conducts sessions on Fintech, Blockchain, Web3 & Decentralization for various institutions of higher education.
About Parvez Abbas, CFA
Parvez Abbas is working as an Assistant Director in the Lending Services division at Acuity Knowledge Partners. He has more than 14 years of experience spanning across investment research, credit solutions and structured products. He has served clients including global banks and asset managers providing assistance in securitization, credit risk management and portfolio analytics. In the past, Parvez has worked for Cians Analytics, Genpact and American Express. He is an MBA finance and a CFA charterholder.