October 3, 2022
Posted by:

CFA Society India

Category:

In Conversation With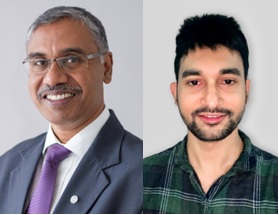 Industry Expert: Vidhu Shekhar, CFA, Industry Veteran and Former Country Head, CFA Institute India
Interviewed by: Vikram Jhawar, CFA, Volunteer, Public Awareness Committee, CFA Society India

Vikram: You have had a long and varied professional journey going from Technology to Finance to Academia. What have been your key learnings and experiences over the past few decades?
Vidhu: When I started my career as a software engineer, my job was to understand the requirements of my clients and to build systems that stood the test of time. The experience that I gained in this process helped me later on as I took on leadership roles. When I worked as the head of new product development at the National Stock Exchange, I had to understand the market ecosystem and build exchange platforms that served a wide variety of stakeholders. Later, as the Country Head of CFA Institute, I had the opportunity to promote best practices in the industry. In all these roles, the common thread was the need to work with people with different needs and priorities in order to achieve meaningful outcomes that served the interests of all. As I now transition into an academic role, my intention is to use the same skills to build better connections between the investment industry, the research community, and regulators to improve the way our industry and profession works.
Vikram: CFA Institute recently completed 75 years since inception. You served as the country head of CFA Institute, India for several years. How was your experience leading the institute's efforts and what are your views on the future of CFA Institute and the CFA program?
Vidhu: I had been a volunteer with CFA Society India for several years when I got the opportunity to take on the role of the Institute's first Country Head in India. As a volunteer, I had the good fortune to work with fellow volunteers as the CFA community grow from a handful of members to become one of the top ten societies worldwide. When I became a staff member, I saw it as a continuation of that work, albeit in a full-time capacity with greater responsibility and accountability. During my time at CFA Institute, India emerged as the second largest candidate market globally.
This growth is partly because of demographics but is also a recognition of the quality of the CFA Program and the contributions being made by our members to the investment profession. We have a bright future in India, and I expect the candidate and member communities to continue to grow in size and relevance. We now have the critical mass and the capability to make a real difference, not just to people in the investment profession, but also to society at large. Over the last few years, the CFA designation has become de rigueur for new entrants to the industry, and as these young people grow into senior positions the impact and influence of CFA Society India will also grow. 
Vikram: Financial industry has been evolving like most other industries. The world of investments has found new efficiencies with the advent of technology. AI and ML are the new buzz words. How do you see the path forward? Any key themes that could dominate the markets over the next few years?
Vidhu: Over the last few years, India has emerged as a hub for innovation – every large global investment firm has teams in India that are implementing cutting edge solutions across the value chain. AI and ML offer powerful tools for changing every aspect of the investment decision making process, but it also requires teams that can combine finance and technology. India is uniquely positioned to be a leader in the use of advanced technology including AI and ML for creating new approaches in investment management. This also augurs well for the domestic investment industry, as the same talent pool drives innovations in the local market.
Vikram: CFA Institute has several committees to cater to different efforts on CFA program curriculum, other programs like CIPM and the ESG certificate, GIPS standards, Conferences and events, Raising public awareness etc. Volunteers play a key role in leading these efforts to fruition. Would you have any message and direction for the volunteer members?
Vidhu: CFA Society India is one of the most vibrant societies globally. We have a high quality and committed volunteer pool who put in significant time and effort into society activities. We are also lucky to have a strong staff team as well as senior volunteers who continuously mentor and support new volunteers. One major learning for me was that effective volunteering requires effective teamwork – whenever we were able to build and sustain a high performing team, we delivered consistent results. What you do as a volunteer can be very different from what you do at the workplace, but volunteering requires the same discipline and commitment to excellence that we expect at the workplace. The only reward volunteers get is the satisfaction of a job well done so it is important to make sure that efforts of individual volunteers do not go waste.
Vikram: Young professionals looking to make it big in the investment industry could really benefit from the advice of an industry veteran like you. What would you like to say to the next generation of investment leaders?
Vidhu: I think the most useful advice I can give is not to think of your current job in isolation but as part of a career that will last several decades. Each job has the potential to teach you something different, and you don't know when and how a skill or insight that you picked up will help you later. Regardless of your specific role, make sure you know what is happening across the value chain, and be prepared to reinvent yourself over and over again.
About Vidhu
Vidhu Shekhar, CFA, CIPM, former country head of CFA Institute in India. He was responsible for advancing the mission of CFA Institute and supporting CFA charterholders in India. Also, Mr. Shekhar is a seasoned financial and investment professional with over 30 years of industry experience in India and abroad. Previously, he was vice president, New Products and Business Excellence, National Stock Exchange (NSE) of India, overseeing new product initiatives in debt and equity markets. He also contributed to the development of Indian financial markets through his participation in the work of various committees, including the Dr. Patil Committee on Corporate Bonds and Securitisation, the Raghuram Rajan Committee on Financial Sector Reforms, and the most recent being Primary Market Advisory Committee (PMAC) at SEBI. Prior to that, Mr. Shekhar served as senior vice president at IDBI Capital Markets and managing director at E*Trade Systems India Limited. Mr. Shekhar completed his postgraduate diploma in management from the Indian Institute of Management Ahmedabad in 1987 and holds a bachelor's degree in physics (Honours) from the University of Delhi.
About Vikram
Vikram Jhawar, CFA currently works in Risk Management at Morgan Stanley and has 9 years of industry experience working across Risk, Portfolio Analytics and Change Management domains. Within Risk management, he specialises in Counterparty Risk. He holds an Integrated Masters from BITS Pilani and is a CFA Charterholder since 2017. In his spare time, he likes to cook, explore nature on his bicycle & spend time with his dogs.