December 30, 2022
Posted by:

CFA Society India

Category:

ExPress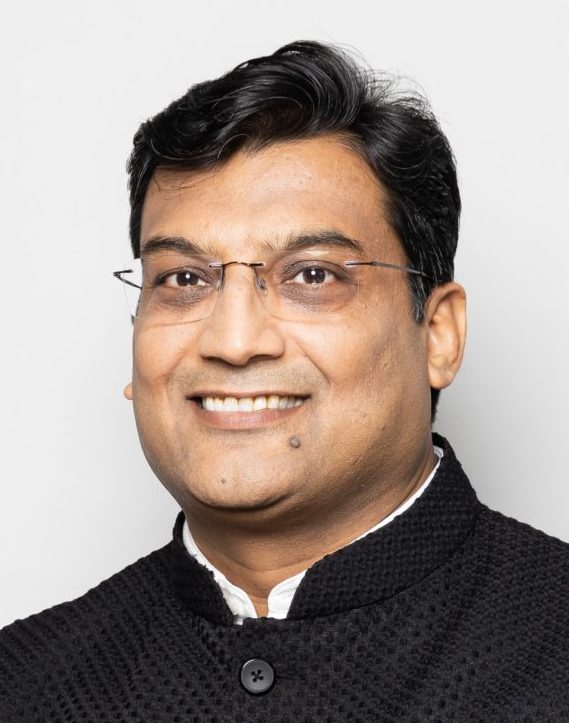 Written by
Navneet Munot, CFA
MD and CEO, HDFC Asset Management Company Limited
Like every year, there were several contenders.
I thought of Vinice Mabansag, the baby from Manila, the symbolic 8th billion human born this year. Our race has doubled in the last 50 years while the wildlife population has nearly halved in this same period! As we expand, let's not encroach on others' habitats. Historic biodiversity deal at COP15 summit gives hope.
Heatwaves in Europe, floods in Pakistan and Arctic Snow blast wreaked havoc. Fiona or Ian, hurricane by any name, brings pain. IPCC's assessment about irreversible impacts of climate change is concerning. Sharm-el-Sheikh aside, my hope stems from Breakthroughs like Fusion energy. These scientists are true Dr. Strange discovering Marvels. Regulators are right on ESG: enough greenwashing, leverage institutional lever to level up, not label up.
Gorbachev, the Russian reformer who wrestled for a peaceful end to the Cold War, rests in Peace now. Glasnost and Perestroika altered history and political geography.
I thought of Volodymyr Vs. Vladimir. Volodymyr for his Maverick Top Gun leadership against Vladimir's power and political ambition. Zelensky's walk towards NATO Inn annoyed Putin. If Georgia and Crimea were trailers, the blitzkrieg in Ukraine is a horror movie. Zelensky's zeal and Ukranian's grit have forced Russians to partially retreat. But Ukraine is ravaged beyond imagination.
NATO better take note: Banning banks, freezing funds, ousting oligarchs, Nobel to nobles, cutting currency conversions or capping crude prices – none can tailspin Putin. The Russian roulette has a nuclear bullet. Unless Russians do an RRR against the Kremlin, an eye-for-an-eye may not work against Brahmastra-armed Putin.
Zelensky is a new-age gladiator, but the world awaits a master mediator. We must preserve the peace our generation has been blessed with. Teachings of Thich Nhat Hanh, messenger of peace should help.
Not just Rushdie's body, the spirit of free speech also got stabbed. The boat of womens rights in America waded into regressive waters with the row over Roe vs Wade. A turn of the globe away, the Indian Supreme Court delivered supremely progressive judgments for women.
Rest in Power, Mahsa. The world joined Iranian women protesting the death of Mahsa Amini by morality police.
Ela Bhat was an epitome of SEWA, social justice and equality. It's motivating to see Madam Murmu marching as Mahamahim Rashtrapati.
Midterms were middling for republicans, tattering for Trump. Tax returns can reverse Trump's hope of returning. What a 'Drishyam'!' The Inflation Reduction Act could bring green growth.
Mario, the Euro saviour, couldn't finish his Italian plan. A Ferrari of the Far-right dragged Draghi down. Macron penned another victory against Le Pen. Europe is in an enormous churn. Dealing with Pandemic, Putin and Prices has been tough. Over-dependence on Russian energy and US defence are under question marks. Radical reforms happen out of compulsion, not conviction. Rich Germans stocking wood for winter could bring that moment of reckoning. Wood for thought: A self-funded Marshall plan to re-energize, cure Climate-change, secure self-defence and a new future for the continent.
Britain bid bye to its beloved QE. Cabbage-full of comical comments were Revolving around Downing Street. Truss-t in the Gilt-edge got damaged. Sage advice to Rishi: you have aspirations to fill, but don't try a magic pill.
Bullet shots on Abe San clot the heart of Japan. Traders will forever remember this December as BoJ jolted the market. What a Coup, Kuroda San.
Capitol's political might is on a descent but the US greenback was on an ascent. Few LatAM currencies were exceptions as they were ahead in hiking rates.
Simmering Inflation was my strongest contender last year. Powells 'transitioned' into Pauls as Volcker's rule book from the 1980s got dusted off. The NICE (Non-Inflationary, Continuing Expansion) era has turned into RITE (Rising Inflation, Tight Employment).
The battle on inflation is won with the headline heading lower. The war on it has just begun. The surge is part cyclical and part structural. It's a new world, weaponization is no longer limited to planes and ships but extends to Dollar, Gas, rare-earth metals, grains and chips. We are entering a period of 'Globalisation of localisation' as everyone secures supply chains and counters Carbonisation. As investments kick in, expect commodities to average higher. Labour markets are realigning, smell the coffee from Starbucks baristas striking on the streets. Demand calibration gives a breather, but supply augmentation is the ultimate need. Since the GFC, central banks have pumped trillions. Wall Street, these market saviours won't oblige on every cry. They will do 'Whatever it takes' to anchor inflationary expectations while supporting real investments for Main Street. They will 'keep at it'.
I thought of bonds. Money markets will remain on a high as rates left ground-zero and attained escape velocity. Cash turns into a nice earning boy in every family of portfolio. Good for banks too.
The decks on the Nasdaq's desks were blinking dark red with traders whining – Ring-a ring-o Rosie's, A pocketful of losses, this issue, that issue, they all fall down! Traders in all other (asset) Classes singing the same.
Investors shift focus to buzzing cash flows from fuzzing spreadsheet rows. The great rotation is underway. Investors realise the hard way: Bid-up Now, Pain Later. Prioritise Earnings (PE) and Value Cash (VC). Celebrate earning, not burning. Real profits, not reel projections.
Investors lost their shorts in crypto. FTX – a Sham where a Bankman Fried investors. Cryptocurrencies' cryptic world created crazy crises like Subprime. The biggest lesson of history is – we never learn from history. Jake Freeman's 100 million jackpot on 'Bed bath and beyond' is beyond me. So is Gamification and Gamblification of financial markets.
Zuckerberg's Verses got Meta rebuke from investors. Microsoft wants 'Blitzscaling' in gaming with Activision. Disney Studio flashes back to Bob Iger. Twitter got a firing Musket. Elon's tantrums are yet to 'Sink in'. Amidst noise around deglobalization, WTO clinched a landmark deal.
Globally, 'the Great termination' joins 'the Great resignation'. Leaders gotta fight moonlight. Don't lose sight, the 'future of work' is still in search of new Sunlight. It's the 50th anniversary of 'Nixon in China' and the fall of the Great Wall of scepticism. China exported Cheaper goods, Copious savings, Costlier air (atmosphere) and Covid while piling up prosperity and power for itself. New walls of mistrust erupting everywhere. Xi, the Kingpin is the most paramount leader in recent history. Lockdowns locked spirits leading to unprecedented protests against authoritarian aggression. Now with full opening up, the virus is spreading at a BulletFast pace. Hope BF.7 spares us. We have had enough.
Jiang Zemin, master strategist and closet capitalist, died. Pelosy's visit to Taipei annoyed China. Its military exercises scared me. We know, the most important passages of history are often written by the smallest of nations. The first world war was triggered by a small Serbia.
Farmgate-tainted Ramaphosa should heed Mandela's advice: 'Great peacemakers are all people of integrity, honesty and humility'. Leftist Lula is back as Brazilians bowl out Bolsonaro. Dynasty dominates the Philippine's democracy. Anwar Ibrahim, Malaysia's Asian crisis savior and ultimate survivor becomes PM. Israel moves extreme-right with Netanyahu. Chile, hitherto the poster boy, gave chills to investors. Zambia, Ghana and SriLanka defaulted. India should build a RamSethu to counter Chinese sharks.
Morocco rocked, 'this time for Africa' (semi)-Finally. Cameroon to Croatia, Saudi Arabia to Tunisia, Japan to Korea, FIFA in Qatar confirmed- 'the world is flat'. ArgenTINA's Leo is the ultimate TINA (There Is No Alternative) of football. Messi, what a Messimerizing act!
Federer, the legendary lion of the lawn roars in fan's hearts. I salute Serena, the tigress. Nadal finished 22 with 22. Aussies 'vaxxed out' Djokovic's grand plan. Seb Vettel squared out from 'racing around in circles'. Kohli is back in Viraat form. Indian women struck Gold in Nations cup. Shane and Symonds left us.
Birju, the Kathak Maharaj, Lata, the Maharani of melodies, Pt. Shivkumar, the Maestro live on. Raju and KK, Yaad Ayenge voh Pal. Bappi Da always Glittered.
Rahul Bajaj was 'Buland Bharat ki Buland Tasweer'. Pallonji and Cyrus were the master Mistrys construction champions) of India. India lost a friend in Sheikh Khalifa. Rakesh 'the rocking bull' was unmatched.
In a turbulent world, India is an 'oasis of hope'. World needs a new growth engine that's Democratically sound, Demographically fit and Digitally savvy. Determined to move with the speed and stability of Vande Bharat. This train is unstoppable. The commendable aspect of India's model is being on the right SIDE (Sustainable, Inclusive, Democratic and Equitable). G20 leadership gives an opportunity to share the Amrut (nectar) of our ancient wisdom.
Sourcing cheaper Russian oil or seeking an invaluable UNSC seat, protecting Indian students in Ukraine or soldiers in Siachen, inking Free Trade Agreements or inviting investments, diplomacy is at its most delicate. Luckily Jaishankar is so articulate. Jai Ho.
UPYogi regained the Upper Position(UP) again. AAP gets Maan in Punjab but little Samman in Gujarat. Modi keeps GujRaaj. Kharge needs a Congress Jodo Yantra (tool). Maharashtra has a new Sena-pati. Nitish Kumar changed sides. Again. RBI unwinds easy money. It pioneers CBDC. Shakti of reserves helped shield the rupee. Let's refill the chest at the earliest. Credit growing faster in banking street, depositors are in for a treat.
HDFC group merger would create a unified growth machine. 'Home' grown, World scale. Elon Musk and Adani's market cap moved in opposite directions at an electrifying speed. ISRO launched 36 satellites for OneWeb. IPO gains can't be assured but LIC's listing was a big leap.
In a chaotic world with crazy volatility, Indian markets showed solidity. Risk premiums compressed. FPIs changed form after realisation: SIPs don't dry. India gained BRICS of weight in the EM index. Portfolios overweight on India feel like Kesariya Tera… India stack was a strong contender. UPI is a Unique Proposition of India offering Ultimate Power to Individuals hitherto underserved. Power of tech. 5G adds wings.
In the heat of headlines on War and Inflation, one could miss the soft sound of an incoming revolution. A revolution with profound impact on education, governance, commerce and the business of our daily life. 2022 saw the release of chatGPT and Dall·E 2 by OpenAI, evolved versions of Artificial Intelligence (AI) models. chatGPT can write songs, essays, jokes, research papers, codes beyond answering factual questions. Dall·E 2 can generate paintings and portraits based on prompts. Unripe and toyish, if one were to focus on the 'here and now'. But a glimpse of the future is rarely had by focusing on the here and now. The first electric bulb seemed to the British Parliament Committee as "unworthy of attention of practical men"!
Why do I think chatGPT and Dall·E 2 are such a big deal when Deep Blue, a computer, beat the legendary Kasparov at chess decades back? Creativity and ease of access separates the armada of existing, rules-based software and these toys.
Will education remain the same when a generative AI textbox churn out a lucid research note after scanning all human knowledge in a jiffy? What happens to "knowledge-work" that memorizes, beautifies and vends information?
Creativity built the wheel, plough, paper, motor and computer. Nonlinear, generative algos can sprout ideas that conventional, linear logic couldn't. Human creativity invented agrochemicals to multiply food production. Can machine creativity combined with CRISPR invent superfoods that thrive in barren lands? Of course, pitfalls and mischief lurk behind technology and good intentions. Need to cooperate globally for ethical regulation. Surely.
When artificial power of cranes and machines augmented human muscles, we built skyscrapers, spacecraft and stepped on the Moon. When Generative AI augments the human brain, the next step could be super-intelligent Avatar land. We can't even visualize that magical Pandora.
Shaunak in Mundaka Upanishad seeks ParaVidya: कस्मिन्नु भगवो विज्ञाते सर्वमिदं विज्ञातं भवतीति – "What is that by the knowing of which all becomes known?". The question reflects our deep inquisitive nature. AI may not help in attaining and experiencing ParaVidya, the knowledge of eternal, the ultimate reality. But will get us closer to everything else. "Rise of Generative AI" is my person of the year. Standing ovation.
Wish you a very happy 2023.
*The article was originally published at https://www.linkedin.com/posts/hdfc-mutual-fund_person-of-the-year-2022-an-article-by-navneet-activity-7014217241642569728-X3rZ?utm_source=share&utm_medium=member_android
Disclaimer: "Any views or opinions represented in this blog are personal and belong solely to the author and do not represent views of CFA Society India or those of people, institutions or organizations that the owner may or may not be associated with in professional or personal capacity, unless explicitly stated."