March 30, 2023
Posted by:

CFA Society India

Category:

Events
Contributed By: Sushruth Sunder, CFA, Volunteer, CFA Society India
The Chennai chapter of CFA Society India invited Dr. V Anantha Nageswaran, Chief Economic Adviser to the Government of India, to share his views on the topic 'Preparing the Indian economy for Amrit Kaal amidst Global uncertainties'
Laced with anecdotes, facts and opinions, the CEA's presentation was divided into four parts:
Global outlook

Domestic outlook: Strong macro fundamentals

Why growth will be better this decade?

Challenges going ahead and the way forward

Global outlook
Globally, advanced economies continue to battle very high inflation. In the US, average CPI inflation has breached 40-year high levels, forcing the US Fed to increase interest rates at a record pace.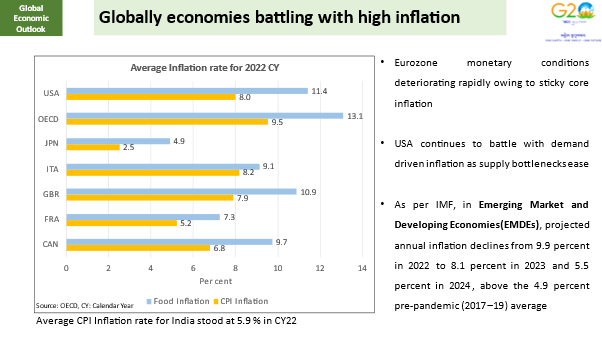 Interest rates have been on the rise across the world in the face of soaring inflation. Given the situation, the Indian economy has remained largely resilient, despite a 250 bps rise in repo since Q1 2022. In the US, interest rates have increased by 450 bps in the same period.

The "Global Uncertainty Economic Index" has been trending upwards over the last few years, and policymakers will have to contend with higher levels of uncertainty in the future. Hence, he emphasized the importance of keeping a higher 'margin of safety'.
As an interesting aside, Nageswaran shared his thoughts on the banking issues. He speculated that a fiasco could lead the Fed to slowing its pace of interest rate hikes, which might come as good news for emerging markets. While India and a few emerging markets have weathered the rate cycle better than anticipated, continuing strength in the US economy and a reversion to 50 bps rate rises in the US was always going to be bad news for India.
Domestic outlook: Strong macro fundamentals
India's growth in real GDP is expected to be 6.5% (our economic survey estimates) this fiscal, but with some downside risks. IMF estimates India's trend growth at 6%.

The CEA painted a robust picture of the Indian economy, noting that India's merchandise and services exports are growing, and remain at all-time highs. While Current Account Deficit was a major worry till a few months back, in the backdrop of higher oil prices, that is less of a concern now. With the new export numbers, CAD is now estimated at a manageable 2.5%, noted the CEA.
Private capex continues to show good revival. There has been a pickup in in corporate investments in H1 FY23, rising above FY20/pre-COVID levels.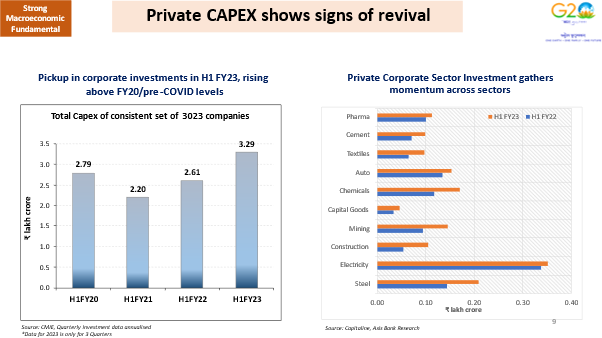 Government expenses have significantly shifted towards capex, which is now 22% of budgetary allocation, compared to 12% till a few years back.

Direct tax collections have been much higher than the previous years, estimated to reach Rs 5.9 lakh crore in FY23. GST collections have remained above the Rs 1.5 lakh crore threshold in the last few months, indicating the robustness of the economy.
Why growth will be better this decade?
Simplification of regulatory frameworks through Insolvency and Bankruptcy Code (IBC), RERA, National Single Window System among others have led to improved investor sentiment, ease of doing business and better governance.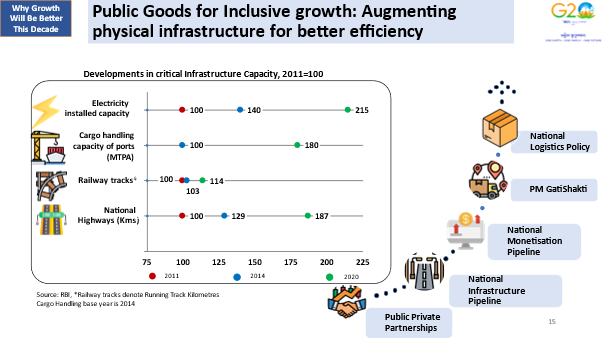 Enablers of formalisation such as Aadhaar, E-Shram Portal, SVANIdhi, Udyam portal and GSTN, FASTag have had commendable outcomes. These reforms should lead to better and holistic economic growth in this decade.

Domestic conditions remain conducive for an investment cycle recovery. The public debt to GDP ratio (including debt of states) is around 84%, barely higher than 81% in 2005. Among major economies, only 3 countries, including Germany did better. As long as nominal GDP is growing more than cost of capital, debt should be sustainable.
Banks now have much cleaner Balance Sheets. This has led to good credit growth to MSMEs. Almost half of the total resources raised by non-financial enterprises in April-Jan, FY23 was from banks. Last year, this share was at 26 per cent, indicating the massive growth seen on this front.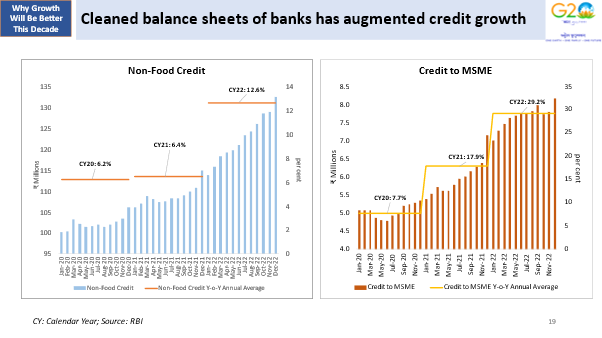 The most effective way to combat climate change is to let nations grow first.
He also shared a whole new perspective on the adage 'Vasudhaiva Kutambakam' in the context of climate change. He noted that while the saying calls for 'Global Harmony' of people, it is also inclusive of the environment at large. Hence, Indian values preach that one must treat the entire Globe as a single family, in its truest sense.
Challenges going ahead and the way forward
Global growth is forecasted to slow from 3.4% in 2022 to 2.9% in 2023 as per IMF's World Economic Outlook, Jan 2023. A slower growth in economic output coupled with increased uncertainty may further dampen trade growth.
Entrenched inflation may prolong the tightening cycle, and therefore, borrowing costs may stay 'higher for longer'. Impact of El-Nino could impact the food production and pricing dynamics, noted the speaker.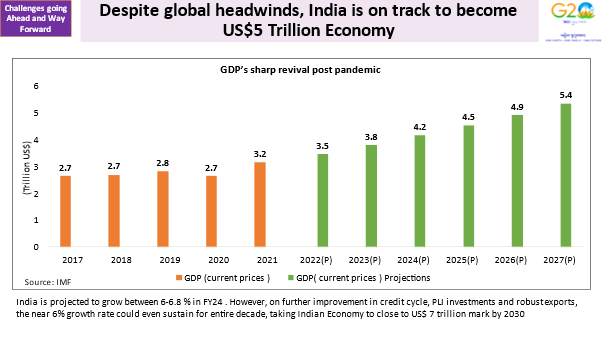 Despite the global headwinds, India is on track to become a $5 trillion economy. According to the CEA's estimates, Indian economy is likely to surpass this mark in 2027.