June 23, 2021
Posted by:

CFA Society India

Category:

Careers, ExPress
CFA Society India had organized a research note writing competition as part of its 'Women in Finance' initiative this year. The competition gave women charterholders and candidates a chance to showcase their research to the wider investment community, get recognized and further their careers. The entries were judged by two eminent professionals: Shireen Bhan – Managing Editor of CNBC TV18 and Farida Khambatta, one of the world's leading emerging markets investor.
This series will showcase the three entries of the competition, starting with research note of Aastha Agnihotri, the second runner up.
India: What's in the bag for next 5 years?
India, is a first choice when investors think of emerging market economies. It has seen significant number of reforms in the last decade and is paving way for even better economy in the coming 5 years. We have seen material changes in taxation, business environment and how investors see Indian exposure in their portfolios. The unanticipated Covid-19 pandemic has forced countries to come up with innovative ways to boost their hard struck economies. India too adopted the "new normal" and have tried best to give its already sinking economy the thrust it requires. Modi Government in its second term has initiated programs and brought bills to help certain sectors, which can change the face of Indian economy and how different types of investors can benefit from it. Few of the key sectors expected to grow remarkably in coming 5 years are as follows:
Agriculture – Banking on an old age horse
India has agriculture as its primary sector and employs a notable number of labor force. In the latest data published by Economic Survey 2021, share of agriculture and allied sectors in India's GDP has risen to 19.9% for the fiscal year 2020-21 from 17.8% in 2019-201. Gross Value Added (GVA) by agriculture and allied sectors saw growth of 4% y-o-y in FY201 and has a positive forecast for the FY21. A large population in India are vegetarians and concepts of veganism is also emerging among the youth which is increasing demand for natural and organic farm produce. Government has introduced multiple initiatives like PMFBY, PMKYS, and Electronic National Agriculture Market which creates a unified national market for agricultural commodities by networking existing APMCs to facilitate farmers, traders and buyers with online trading in commodities. The new farm bill and proposed agriculture cess, will further shoot up influx of investments. Total agricultural export from India grew at a CAGR of 2.27% during FY16-20 to reach US$ 35.09 billion in FY20 and is aimed to achieve US$ 60 billion by 20221 to better tap the global markets. Agriculture due to its vast nature has both private and public players in various segments including Vegetables-Diary to Consumer Food, though share of organized sector is on the rise. Indian startups are now focusing on organic and sustainable farming practices those are viable for long term which suits many ESG focused investors.
1. https://www.ibef.org/industry/agriculture-india.aspx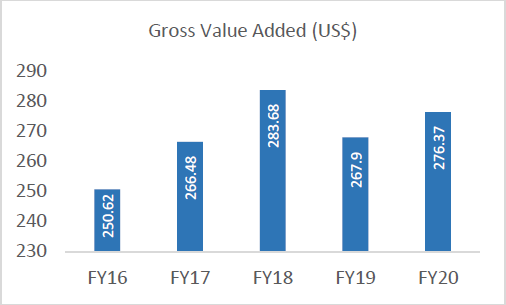 Source: IBEF Presentation- Agriculture Nov 2020
Yes to Education
India is second largest market for E-learning after the U.S. When pandemic hit the world, schools, colleges and universities had to shift to online medium of education giving greater leeway to already present online courses and trainings. This segment is expected to reach US$ 3.5 billion by end of 2021 with more than 9.5 million users2. New National Education Policy being introduced in July 2020 which has major reforms including opportunities for Foreign Universities, we can see a new face of education in the country. India is emerging as hub of most valued Ed-Tech startups with key players like Byju's, Vedantu and Unacademy tapping demography of around 500 million in the age limit of 5-24yrs which are in learning phase. The increased importance for masters/Ph.D. due to escalated demand of highly skilled and qualified workforce has boosted the Education sector. Traditional Education System has already started losing its importance as both students and educators embrace what Ed-Tech startups offer- convenience, personalization and agility. With 200+ startups, its gaining traction as well as customer base. Allowance of 100% FDI in the education sector saw US$1.19 billion invested across 36 deals between January-August 2020 by VCs, projecting faith and high returns in the sector2. Being home to premium institutions like IIT, IIMs, and millions of children still in need of education, India is land of vast investment opportunities in education sector.
2. https://www.ibef.org/industry/education-sector-india.aspx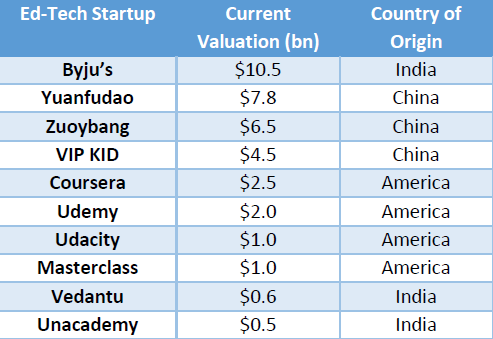 Source: Finshots Infographics, July 2020
Time to go Electric
Air pollution is one of the primary concerns around the globe and fuel vehicles are the major contributor to it. We are witnessing rapid shift towards Electric Vehicles as an environment friendly substitute of fuel vehicles. India's electric vehicle (EV) market is estimated to be a Rs. 50,000 crore (US$ 7.09 billion) opportunity by 2025, with two- and three-wheelers expected to drive higher electrification of the vehicles3. EV sales, excluding E-rickshaws, in India witnessed a growth of 20% and reached 1.56 lakh units in FY20 driven by two wheelers3. India has significant cost advantages. An auto firm saves 10-25% on operations vis-à-vis Europe and Latin America3. Investment flow into EV start-ups in 2019 (till end of November) increased nearly 170% to reach US$ 397 million3. The automobile industry is supported by various factors such as availability of skilled labor at low cost, robust R&D centers, and low-cost steel production. The electricity manufacturers, power grid companies and distributors are also key stakeholders in the ecosystem to be benefited. Volatile pricing of Petrol/ Diesel and huge emissions is discouraging people to own fuel vehicles. The new Vehicle Scrappage Policy is a positive push to eventually shift to E-vehicles. Low per/km cost of E-vehicles may drive India to be leader in shared mobility by 20303. Rise in middle class income and young population can shift the focus to E-vehicles and give promising returns as its going to impact the Indian economy in near future.
3. https://www.ibef.org/industry/india-automobiles.aspx
4. The future of electric vehicles in India (livemint.com)
Future of currency is Digital
Cryptocurrency is one of the recent domain of finance that has gained huge traction in the last few years. Investors across globe have started considering it a great investment given its popularity and a competition to the fiat currencies already present. Still there is a significant percentage of investors/ financial experts that refrain investing in it, due to high volatility and no centralized body regulating it. When it comes to India, there are about 8 million investors, who own cryptocurrencies worth over $1billion5. With the new proposed bill in the coming Parliament Session of 2021, India can come up with its own version of Digital currency. It's still very early to predict the course of Cryptocurrencies in India, but the world has already began a shift to a new paradigm in favor of Cryptocurrencies. Few prominent Fortune 500 Companies are now accepting Bitcoins and other cryptos' as medium of exchange, whereas simultaneously investing in it too. India being a developing country will eventually have to bring in reforms to make itself more competitive in the global markets and attract foreign investors. Introduction of new Indian digital currency might attract already present investors as a substitute to global cryptos' present and we can see a new way of investing and transaction in the next 5 years.
5. How Govt's Crypto Ban Will Impact Investors in India (cxotoday.com)
Conclusion:
India is an economy with high potential in various sectors. After the pandemic and new reforms potential for Agriculture, Education, E-vehicles and Cryptocurrency far exceed any other contributing sector and can shift the country to a new paradigm in the next 5 years.
About the Author:
Aastha is an analyst at Acuity Knowledge Partners working in Fund marketing services. She is a CFA level 3 and FRM part 2 candidate. She holds the NCC Certificate A and has been associated with various NGO's to provide for the poor and homeless. Being an avid reader, she wants to try her hand at writing.
LinkedIn Profile: https://www.linkedin.com/in/aastha-agnihotri-b37a8b173/
Disclaimer: "Any views or opinions represented in this blog are personal and belong solely to the author and do not represent views of CFA Society India or those of people, institutions or organizations that the owner may or may not be associated with in professional or personal capacity, unless explicitly stated."