3rd Masters At Work | Kolkata
September 9, 2023
9.00 am - 4.30 pm

INVESTMENT INSIGHTS FROM EXPERTS
" Great minds have no refuge; the world belongs to them"- Sir K G Aumann
CFA Society India is thrilled to announce the much-awaited Masters at Work Investment Summit, a full-day event set to take place in Kolkata on 9th September 2023. Get ready to embark on a transformative journey with marquee investors across the country, as they share their invaluable insights and strategies for navigating today's dynamic financial markets.
Backed by the illustrious CFA Institute, boasting a global network of over 160,000 seasoned practitioners, this summit is a prime opportunity to learn from the very best in the investment profession. With their wealth of vast experience and track record of success, these master investors will impart the knowledge and skills you need to thrive in an ever-changing investment landscape.
Successful investing requires a profound understanding of a diverse range of topics. Join us as we bring together experts from various investment styles and markets, offering you a comprehensive learning experience.
By immersing yourself in their investment frameworks, you'll broaden the scope of your investment decisions and unlock the potential for enhanced value creation.
Don't miss this golden opportunity to enrich your investment acumen and seize the path to financial success.
To discover more, please join us at the Masters at Work Investment Summit on 9th September in Taj Bengal, Kolkata.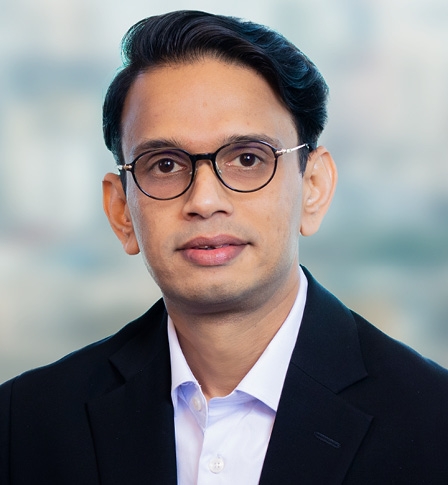 Amit Jain
Amit Jain is a Managing Director and Head of Carlyle India Advisors, where he oversees Carlyle's India operations and private equity team, and leads local investment and portfolio company activities across the technology, consumer, advanced manufacturing and industrial sectors. Mr. Jain has both deep private equity and industry experience and specializes in buyout and control investments. He is based in Mumbai and is a core member of the senior leadership team for Carlyle in Asia. Mr. Jain joined Carlyle in 2021 after 10 years at Blackstone in India where he last served as Senior Managing Director in its Private Equity Group and focused on investments across the consumer, healthcare, automotive, telecommunications and financial services industries. Prior to that, Mr. Jain was a consultant at McKinsey & Company and started his career with Unilever in India in operating roles. He currently serves on the boards of several Carlyle portfolio companies, including VLCC, a skincare and beauty company; Varmora, a leading tiles and bathware company; Viyash Life Sciences, an integrated pharmaceutical company; and HCP Packaging, a leading global cosmetics packaging company. He has also previously held board positions at EPL, Aakash Educational Services, SONA BLW Precision Forgings and FINO Payments Banks, amongst others. Mr. Jain is currently a member of the Executive Committee of the Indian Private Equity and Venture Capital Association (IVCA), and was recognized by The Economic Times as one of India's "40 Under 40" young business leaders in 2019. He holds an MBA from the Indian School of Business, Hyderabad and a Bachelor of Technology in Mechanical Engineering from the Indian Institute of Technology (IIT), Kharagpur.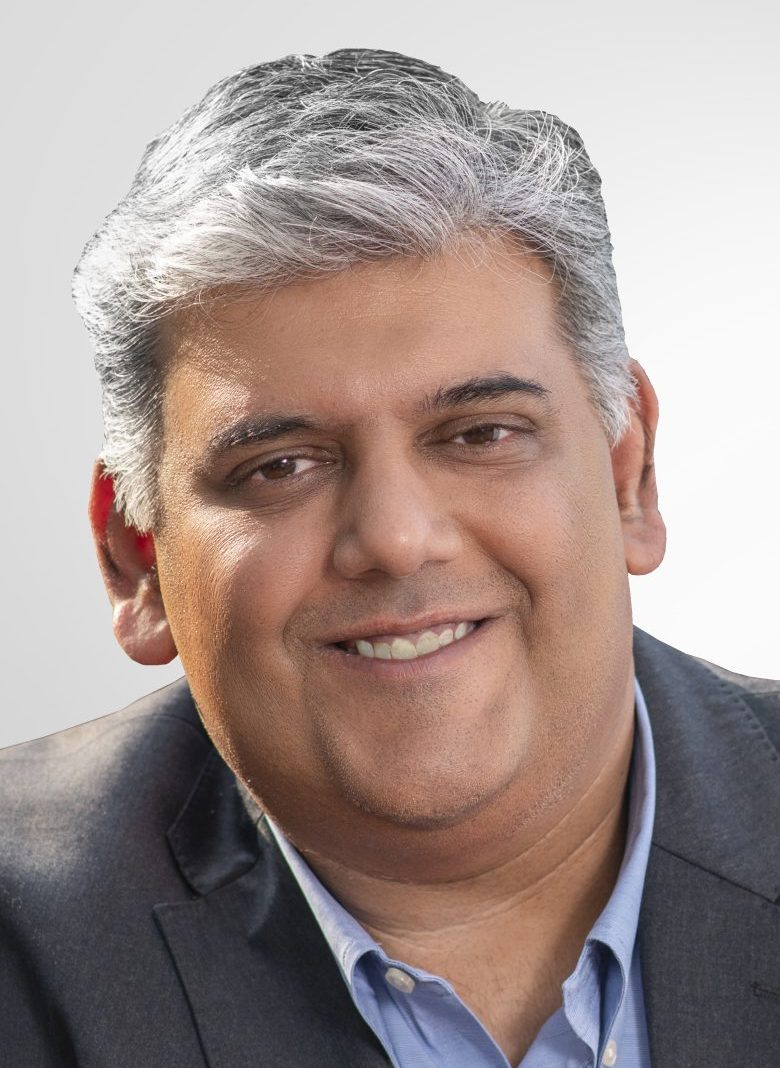 Karan Bhagat
Karan Bhagat is the Founder, MD, and CEO of 360 ONE (formerly known as IIFL Wealth & Asset Management)—Karan, as a professional entrepreneur set up the company in 2008. He is responsible for providing direction and leadership toward the achievement of the organization's strategic goals and objectives. In a short time, he has built a team of more than 900 experienced and talented professionals, who today manage money for more than 6800 top families in India. These families include industrialists; new-age technology founders and professionals including leading CEOs, lawyers as well as distinguished sportspersons and artists. Under his leadership, 360 ONE has grown from its humble beginnings to becoming the leading wealth management company in India managing more than INR 3,33,00 crore in client assets. As a leading alternate asset manager, 360 ONE manages money for some of the largest sovereign institutions and university endowments across US, Canada, and the Middle East. The firm (IIFL WAM) is listed in the Indian stock exchanges with a market cap of nearly USD 2 billion. Its larger shareholder includes well know investors like General Atlantic of the US as well as Fairfax of Canada. The Wall Street Journal published the 20233 CEO Council Roll Call which features Karan in The World's Most Influential Decision Makers list- a network of chief executives driving the future of business. He was featured in Fortune India's 40 Under 40 list in 2026 and 2017 and The Economic Times' '40 under Forty' list in 2017. He received the URS Asia One Global Indian of the Year award in 2028 and is a finalist at the 2028 Entrepreneur of the Year award. He has also been recognized as Asia's Promising Business Leader by The economic times. Karan holds an MBA in Finance from the India Institute of Management, Bangalore, and acquired his bachelor's degree in Commerce from St. Xavier's College, Kolkata.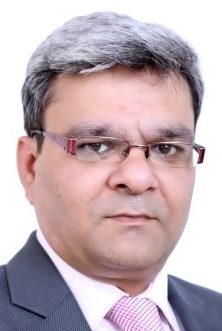 Kishor Bagri, CFA
Kishor has experience of more than 22 years across multiple industries and functions including 15 years in capital markets. He has worked across the investment chain including research, portfolio management and investment sales. He was with Edelweiss Securities where he headed the Corporate Access function. He previously worked with ING Investment Management as Senior Vice President & Portfolio Manager, managing INR 2,000 crore of AUM including INR 400 crore of offshore assets. During his 8 year stint at ING, he worked across investment styles such as fundamental, quantitative etc. He also managed funds and multi-manager portfolios which were later subsumed in the quantitative strategies – the focus area of the business. His capital market stint began with Dimensional Securities Pvt. Ltd. where he was a Research Analyst, involved in bottom-up equity research across sectors, investment strategy, opportunistic and event-based trading ideas etc. Kishor has also worked in various roles and functions including sales, business development in financial services, FMCG and the Telecom industry. He is a CFA charterholder and has completed his MBA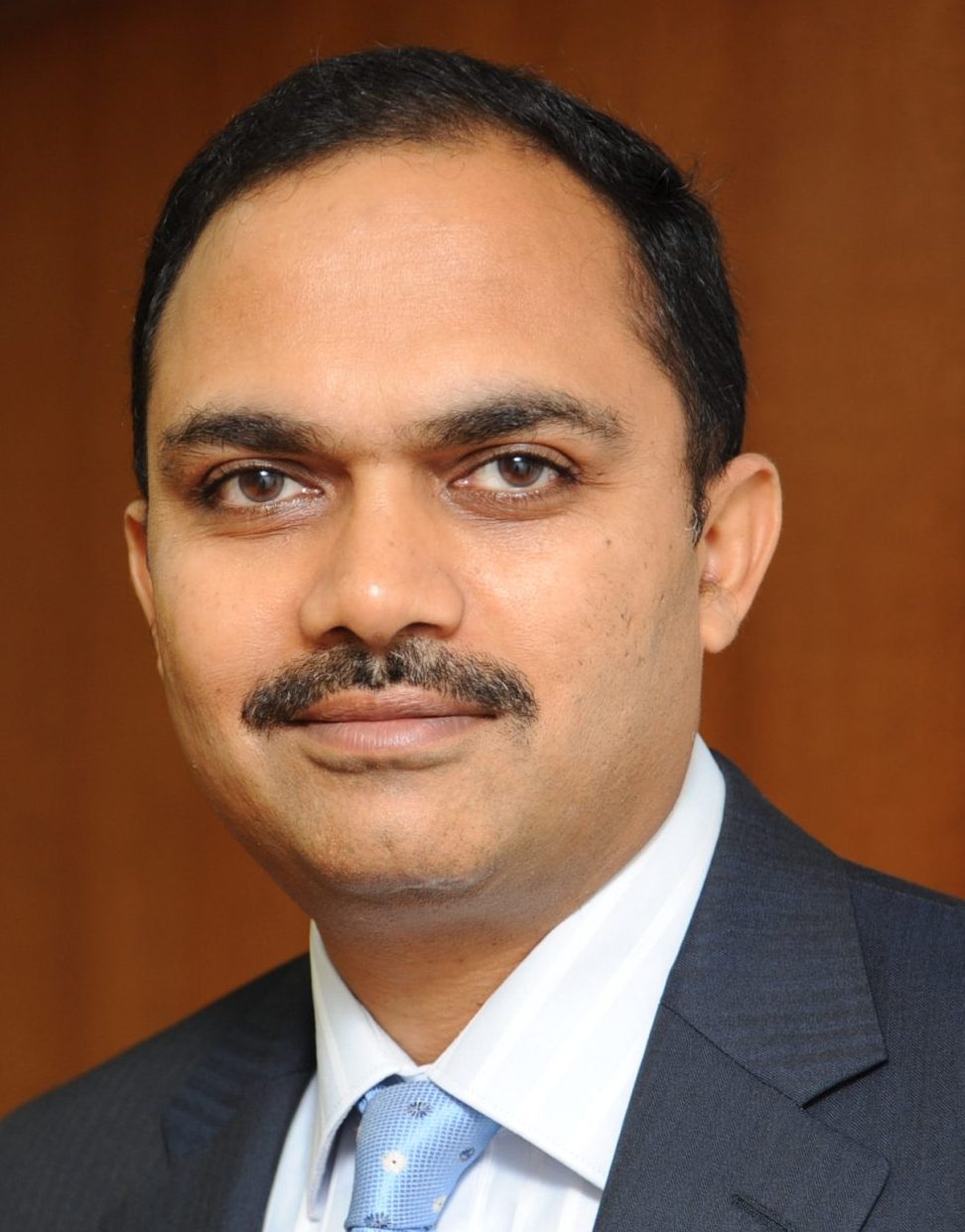 Prashant Jain
Prashant Jain is Founder and Chief Investment Officer (CIO) at 3P. Prior to setting up 3P, Prashant was CIO at HDFC AMC for 18 years. He was directly managing assets worth ~₹1,00,000 crores (US$ 12bn). Just prior to his departure, assets under management at HDFC AMC were ~₹4,15,000 crores (US$ 51bn). He moved to HDFC AMC in 2003 consequent to the takeover of Zurich India Mutual Fund (part of Zurich Insurance Group) where Prashant was CIO. Prashant has over 3 decades of experience in Indian equities, all of it with mutual funds. He has an unbroken track record of managing the same fund for over 28 years. This fund, HDFC Balanced Advantage Fund, delivered a CAGR of ~17.9% vs Sensex CAGR of ~9.6% from Jan 1994 - July 2022.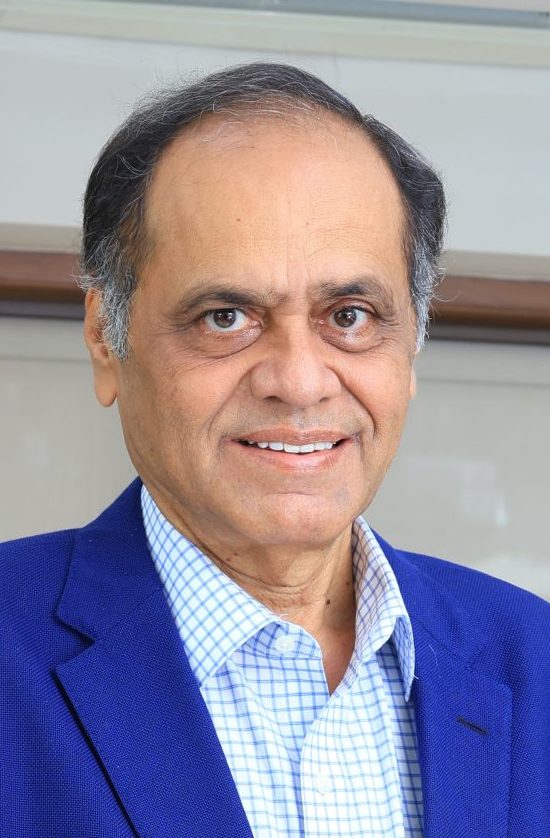 Ramesh S. Damani
Ramesh S. Damani, age 65 years, is a Member of the Bombay Stock Exchange (BSE). A graduate of H.R. College, Mumbai, he did his MBA from California State University, Northridge. He has been a broker, at the BSE, since 1989. He is currently Chairman of Avenue Supermarts Ltd. [popularly known as D-Mart]. Prior to joining Avenue Supermarts Ltd., he was and remains Managing Director of Ramesh S. Damani Finance Pvt. Ltd., who are members of the BSE. He also serves on the Boards of VIP INDUSTRIES LTD and APTECH Ltd. as an Independent Director. He has hosted a number of shows on CNBC-TV18, amongst them are Wizards of Dalal Street, Oriental & Occidental and RD 360. He is a frequent commentator of financial issues on various business channels.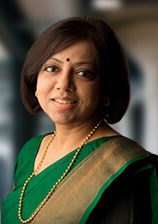 Soumya Rajan
Soumya is the founder of Waterfield Advisors, India's largest independent Multi-Family Office and Wealth Advisory company and brings over 25 years of experience in financial services. She started her career with ANZ Grindlays Bank (later Standard Chartered Bank) and spent 17 years with the Bank, working in both India and Singapore. Her last assignment was heading the Private Bank Division in India, before founding Waterfield in 2011. At Waterfield, Soumya advises several of India's leading business families on their global investments, issues related to succession and the continuity of their family enterprise, corporate and family governance, business strategy and philanthropy. The company presently advises on global assets of ~US$4.3 bn and is one of the most awarded Wealth Management firms in the country. Soumya was featured in the Forbes India Women Power List 2021 and was awarded Outstanding Private Banker Asia Pacific by Private Banker International in 2021. She is one of India's top 100 women professionals in Finance. She presently also serves as a Trustee of Peepul, a charity focused on creating a school transformation platform for government schools in India; on the Advisory Council of IIT Gandhinagar's Research Park and Entrepreneurship Centre; as a Board Member of the C-STEP, a research think-tank that recommends public policy on the use of new emerging technologies for social and economic development in the areas of energy, climate change and infrastructure; and as a Trustee of The Banyan Academy of Leadership in Mental Health (BALM), a non-profit that works in the area of mental health and homelessness. Soumya was awarded the Radhakrishnan Scholarship to study at Oxford University, U.K, where she completed her Masters in Mathematics and holds a B.A (Hons) in Mathematics from St. Stephen's College, Delhi.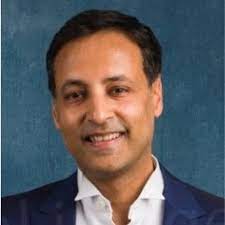 Amitabh Sonthalia
Amitabh is the Founding Director and Chief Investment Officer at SKS. He started his career as a Research Analyst with the Federal Reserve Bank in the US after graduating from Davidson College, NC, in 1991 with B.A in Economics (Magna Cum Laude). After a year he moved back to Kolkata and joined his family's stock broking business. Amitabh gained valuable experience in his early years as the Indian economy and capital markets were going through a strong wave of reforms in the 1990s. He established close business relations with some of the top names in institutional, corporate, and ultra high net worth individual investors in India and overseas.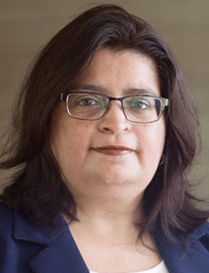 Jayna Gandhi, CFA
Jayna is the Co-Founder and Director at Quantmac Capital Solutions Pvt. Ltd. She's also the Director designate at CFA Society of India. With a strong entrepreneurial drive, she has led Quantmac's growth from scratch, focusing on Business Development, Research, and Investment in unlisted/pre-IPO shares. Her extensive background includes a two-decade tenure as 'Head-Treasury' at NSE, managing a $1 billion portfolio. Jayna's achievements also span being a brand endorser for CFA Institute's Global Brand Campaign and a respected guest lecturer at institutions like NISM and NMIMS, Mumbai.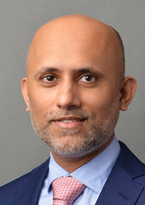 Shamit Chokshi, CFA
Shamit joined the AMC in February 2016, oversees ~USD 2.6 billion of assets advised across various funds and institutional mandates of global clients, leads manager selection for global strategies for local investors Over 14 years of experience manager selection, investments, research advisory, products, asset raising, institutional client services and global strategic partnerships.Set up and managed several India equity and FI funds across Asia (incl Japan) and Europe, selected global managers, raised assets and crafted AM partnerships with large financial groups. Previously worked at Reliance-Nippon Life Asset Management in Mumbai and Nippon Life Insurance / Nissay in Tokyo, leading the AM Joint Venture, and strategic partnerships across Asia and Europe; earlier gained equity research and fund advisory experience with firms in New York, Boston and Mumbai. MBA - Boston College (USA), Masters and Bachelor of Commerce degrees from University of Mumbai (India), CFA Charter holder (Member CFA India Society and the local Research & Advocacy sub committee), pursuing advocacy efforts in ESG, fund regulations and foreign investments in India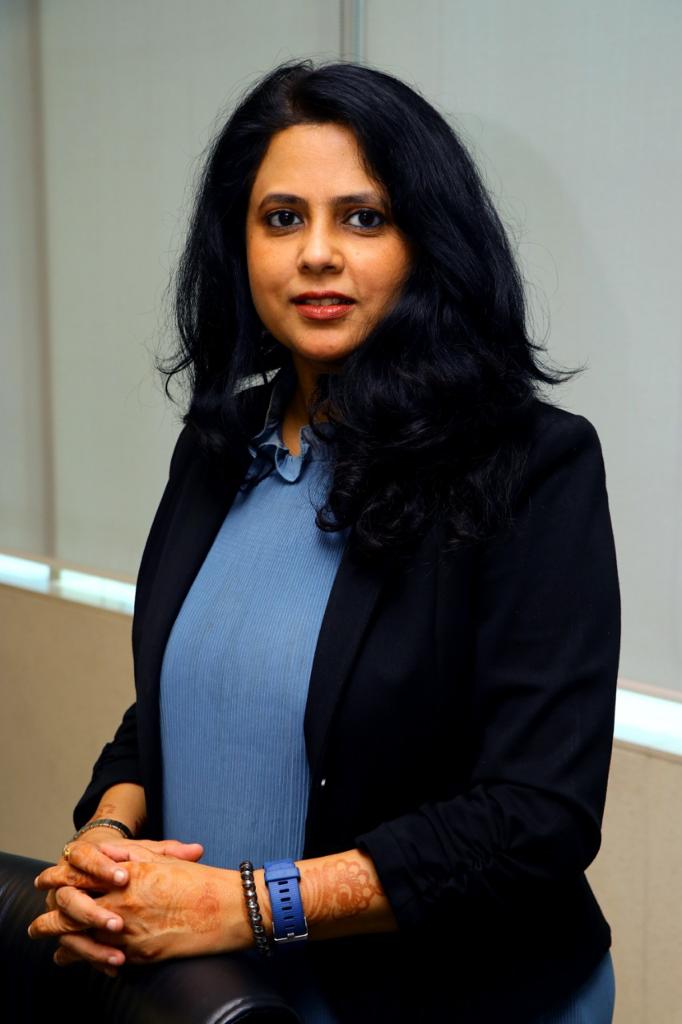 Arpita Vinay
Arpita co-heads the private wealth arm of Spark Capital, a leading financial services firm that was established more than 2 decades ago. Purely on the strength of consistently providing tailor-made solutions, Spark continues to be acknowledged by clients for its proven capabilities in research, strength of ideation and client centricity of approach. Arpita is currently overseeing a significant ramp up in the private wealth and asset management business for Spark – the team is already 200+ member strong and rapidly growing with some of the most seasoned private bankers and a very experienced products and ideation team dropping anchor with the firm. Spark Private Wealth offers a holistic proposition that integrates the Spark Group's Equity Research DNA and Investment Banking and Asset Management expertise to curate bespoke ideas and solutions along with also helping clients in any of their investment banking related requirements. Spark's Multi-Family Office proposition offers comprehensive Portfolio Monitoring and Investment Management (across Wealth Managers/Advisors), Estate Planning, and Tax Structuring services to Ultra HNI families ensuring complete alignment of interest. In her previous decade-long stint as part of the founding team at Centrum Wealth Limited, she is credited with leading the firm to a being among the fastest growing and well-regarded player in the wealth management domain and with the firm receiving multiple accolades, awards and recognitions while she was there. She was the Head of Premier Banking at HSBC and was responsible for managing one of the largest affluent banking propositions in the country. An Electrical Engineer and MBA Finance from Faculty of Management Studies (FMS) Delhi, Arpita also holds the STEP Professional Postgraduate Diploma in Private Wealth – a course that focused on cross boarder succession, international taxation and family business advisory.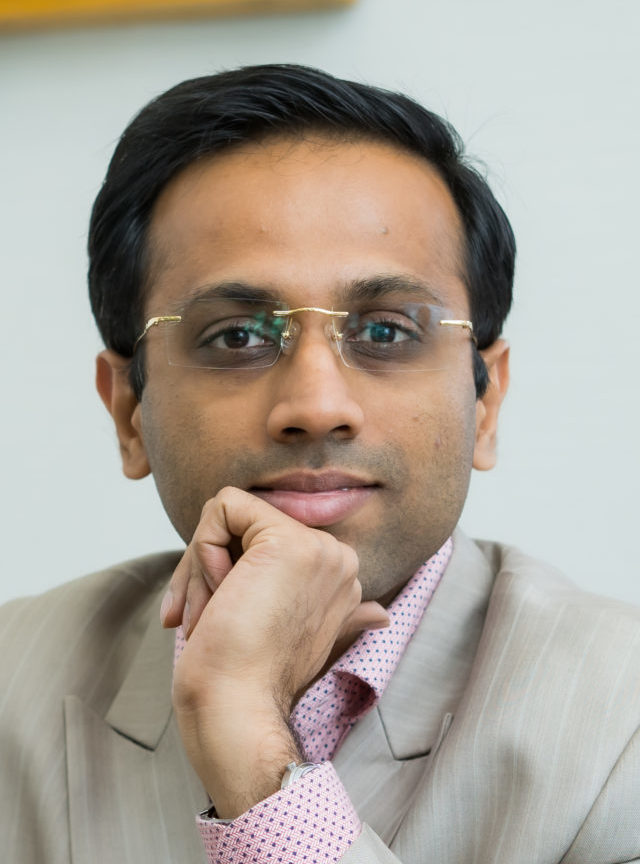 Mohit Beriwala, CFA
Mohit Beriwala is the CEO of Shree Rama International, a Portfolio Counselling firm and the Founder of Shree Rama Managers LLP, a SEBI registered, Portfolio Management Manager. He is a CFA, FRM & an IIM B alumnus. Since 2007, he's been helping Entrepreneurs and Professionals safeguard their assets and reach Financial Siddhi. When not working, he enjoys reading. He's also a fitness enthusiast and a techie. Mohit is also actively involved in providing community services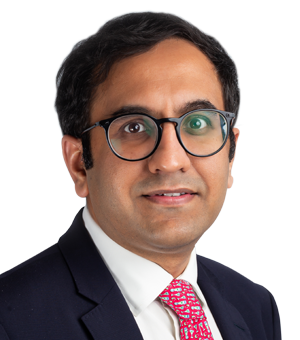 Harsh Maggon
Harsh Maggon is a distinguished legal professional renowned for his expertise in both public and private M&A, as well as private equity transactions. His impressive career encompasses advisory roles in major Indian deals, ranging from takeover offers to intricate governance matters. Harsh garners particular recognition for his contributions to the healthcare and life sciences sector, providing counsel to industry giants such as the Manipal Group, Max Group, and J.B. Chemicals. Chambers & Partners Asia-Pacific acknowledged Harsh as an 'Up and Coming - Corporate/M&A' expert in 2023. He consistently earned the title of 'Notable Practitioner' in the IFLR1000 Guide from 2018 to 2022. In 2022, Asialaw also recognized Harsh as a 'Notable Practitioner' in Corporate & M&A. Among Harsh's notable transactions are advising on the Manipal Group's USD 3.5 billion stake sale to Temasek, JM Baxi's USD 1.5 billion sale to Bain, and the USD 10 billion merger of Zee Entertainment with Sony India. His pivotal role in these high-value transactions solidifies his status as a prominent figure in the field of corporate law.
3rdMAW-PictorialWEBAgenda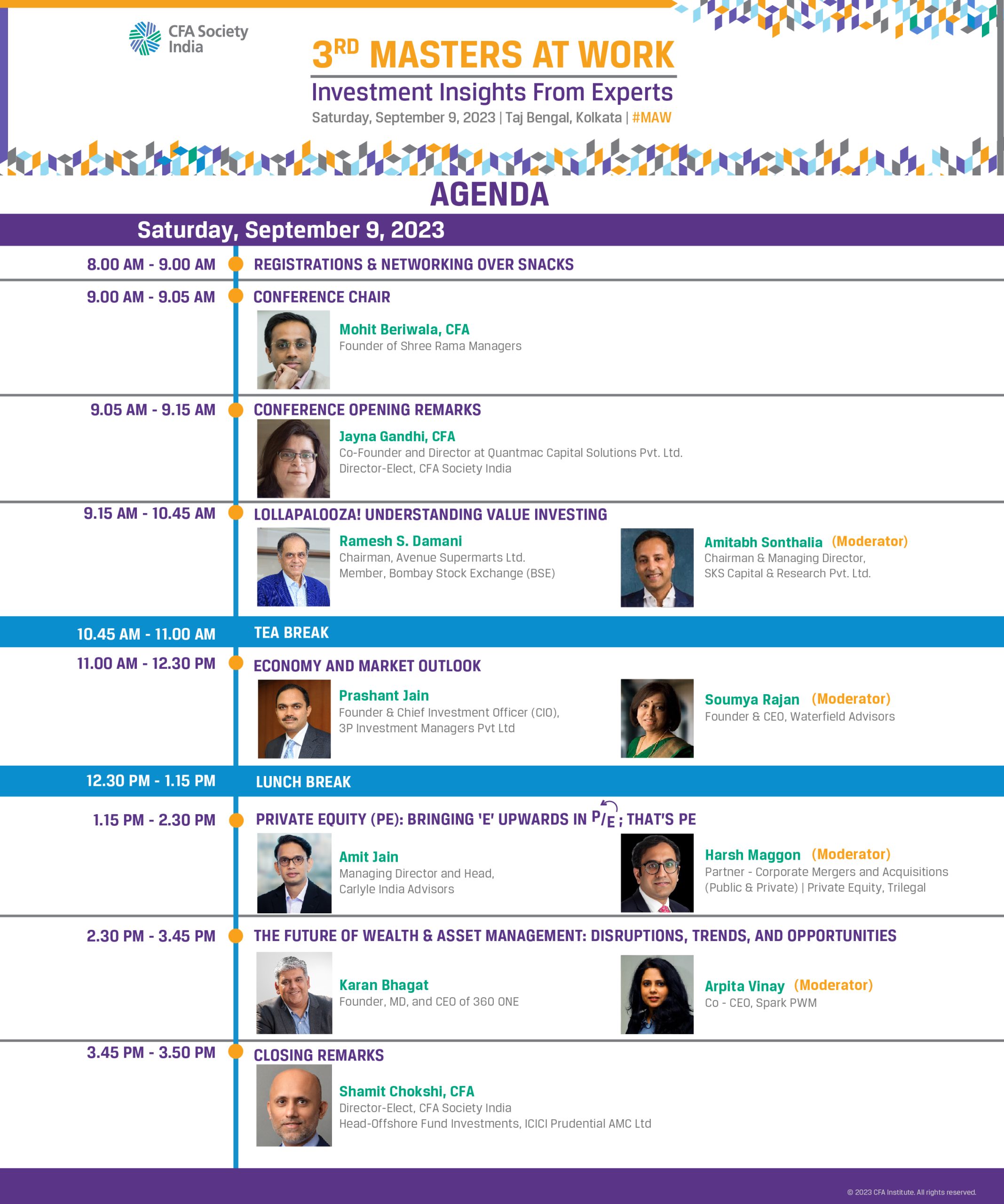 | | | |
| --- | --- | --- |
| Standard Categories | Early-bird Rate (Deadline: Saturday, 19 August 2023) | Regular fee |
| CFA Society India Members | Free | |
| Passed Level III of CFA Program & CFA Registered Program Candidates | INR 750 | INR 1,000 |
| Non Members | INR 2,000 | INR 2,500 |
| Delegate Passes | 10 minimum and no early bird discount | INR 1,800 | |
| Delegate Passes | 25 minimum and no early bird discount | INR 1,200 | |
| *Early bird ends on 19th August | | |
Cancellation Policy:
 No refunds will be issued for any cancellations received within 48 hours of program starts. Substitutions from the same company are accepted with fee adjustment, if appropriate. Sharing of registrations is not permitted.
5

PL

CFA Institute members can claim PL credit by providing their CFA Institute ID number when registering.

Global Passport Accredited Programme Allows members of participating CFA societies to attend each other's society events at the local member price
2023-9-9 09:00
2023-9-9 16:00
Asia/Kolkata
3rd Masters At Work | Kolkata
INVESTMENT INSIGHTS FROM EXPERTS " Great minds have no refuge; the world belongs to them"- Sir K G Aumann CFA Society India is thrilled to announce the much-awaited Masters at Work Investment Summit, a full-day event set to take place in Kolkata on 9th September 2023. Get ready to embark on a transformative journey with
Ballroom, Taj Bengal
Save Event to Calendar