India Sustainable Investment Leadership Summit 2023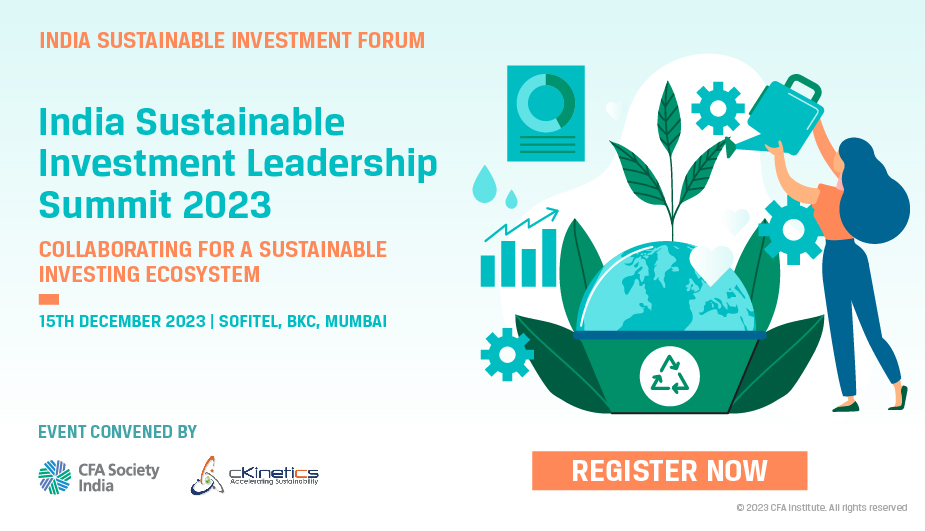 December 15, 2023
9.00 am - 6.30 pm
Grand Salon, Sofitel, Mumbai

The India Sustainable Investment Forum ("India SIF") supported by CFA Society India and cKinetics, along with other forum partners, are hosting the first edition of the India Sustainable Investment Leadership Summit 2023 at Sofitel, BKC, Mumbai, India on 15th December 2023.
The India SIF is currently setup as a voluntary collective and is in the process of being established as a global membership network, with the intent of promoting sustainability in India through the financial markets. It aims to bring together sustainability leaders from the investment management industry, corporates, market regulators, government, multilateral bodies, and policy makers to promote a more sustainable investing ecosystem in India.
The India Sustainable Investment Leadership Summit 2023, a must attend event for the sustainable investing community, will bring together leading investors, investment managers, industry leaders and policy makers in sustainable finance across India and beyond to discuss key thematic topics in sustainable investing and its impact in India.
The full day conference will focus on multiple sustainable investing topics, ranging from understanding the need for ESG data and taxonomy, enhancing the reliability of the ESG data, discussing the role of ESG regulations and policy in promoting sustainable investing to understanding the challenges of transitioning to a sustainable future in the Indian context. The event will also consist of two breakout sessions for registered participants, focused on climate risk integration and understanding the sustainable investment market in India.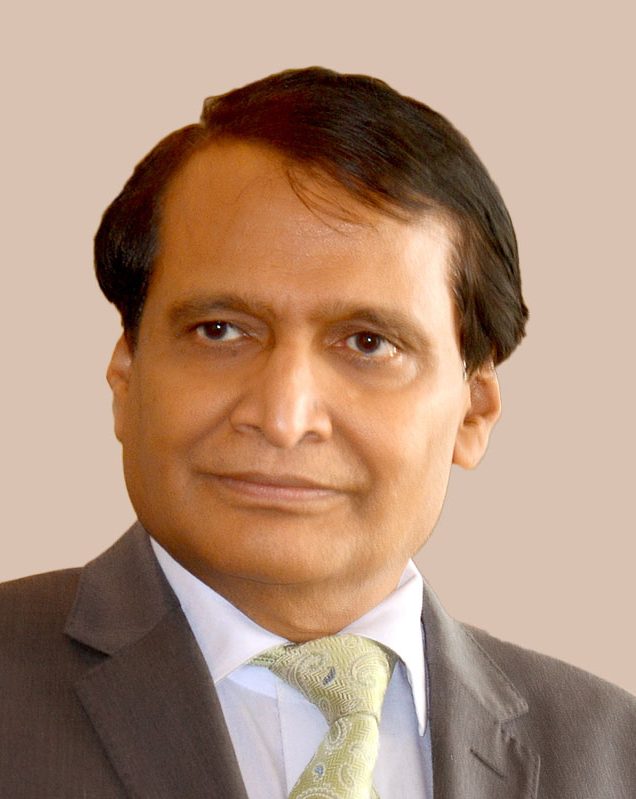 Suresh Prabhu
Suresh Prabhu is a prominent Indian politician and the Chancellor of Rishihood University. He has held key ministerial positions, including Minister of Civil Aviation, Railways, Commerce & Industry in the First Modi ministry. Prabhu is a Chartered Accountant and a member of the Institute of Chartered Accountants of India (ICAI). His political journey began in 1996 when he became a Member of Parliament for the Rajapur Lok Sabha constituency in Maharashtra, representing the Shiv Sena. In 2014, he switched to the BJP. Since June 2016, he has been a Rajya Sabha member representing Andhra Pradesh and Haryana. Apart from his political roles, Prabhu is a founding Chancellor of Rishihood University and a visiting professor at the London School of Economics. He also chairs the National Cooperative Policy. Suresh Prabhu has a diverse educational background, holding a Bachelor's degree in Commerce with Honors, a Bachelor in Law degree, and a Chartered Accountant qualification. He has excelled in various government and semi-government positions, focusing on environmental conservation, power sector reforms, river interlinking, and more. His tenure as Union Railway Minister brought several transformative changes to the Indian railways, including the introduction of the UDAN scheme and various passenger-friendly initiatives. In his role as Union Commerce & Industry Minister, Prabhu promoted domestic manufacturing, trade promotion, and investment attraction, with a focus on boosting the country's economy. Suresh Prabhu has been a dynamic force in Indian politics and has received numerous awards and recognitions for his performance and accessibility. He has also published works on socio-economic issues and is actively involved in social work and various organizations.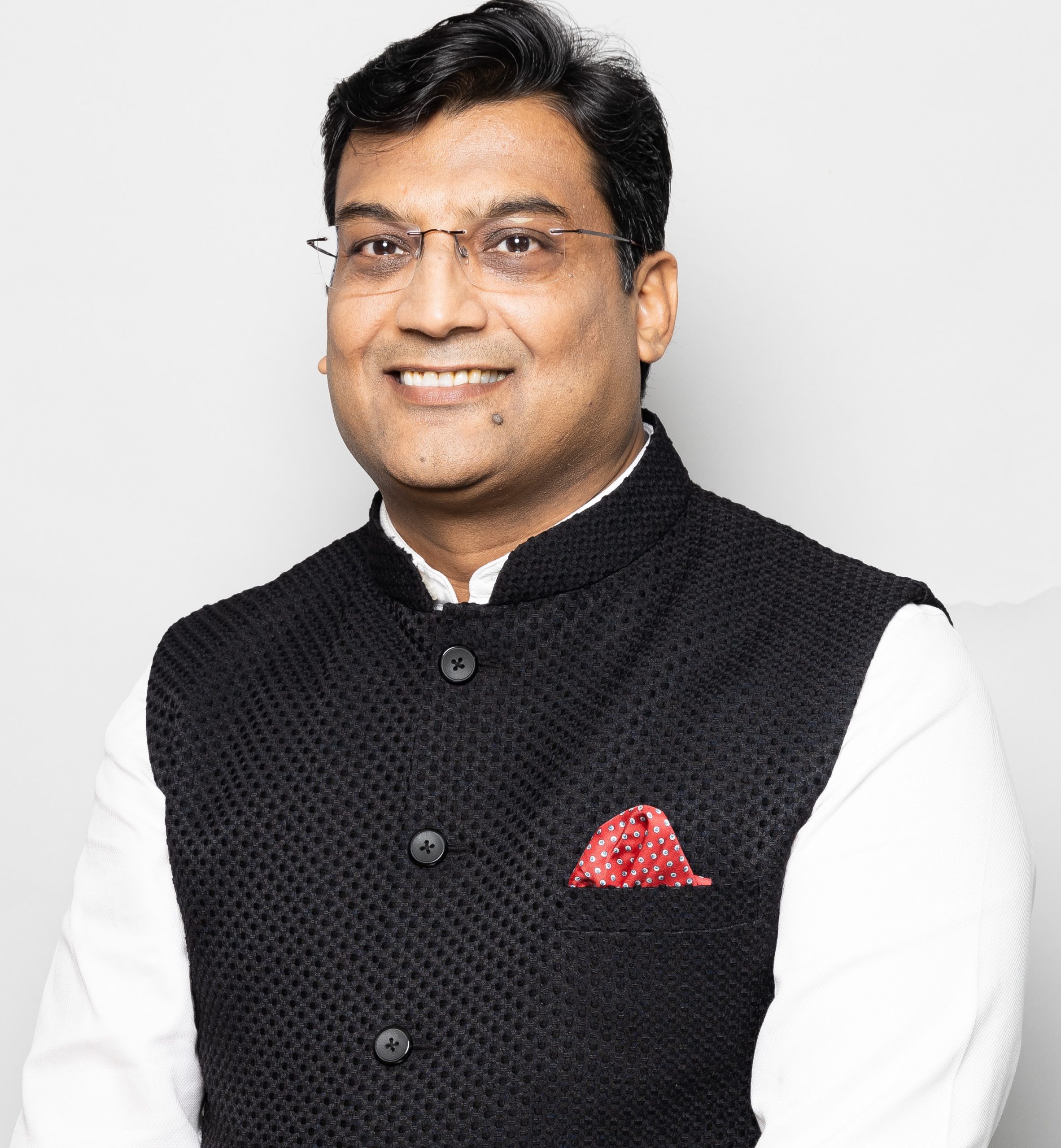 Navneet Munot, CFA
Navneet Munot is the MD & CEO of HDFC Asset Management Company Limited (HDFC AMC). He joined the firm in February 2021. HDFC AMC manages over Rs.5 lakh crore across Equity and Fixed Income Mutual Funds for over 75 lakh investors across the country. Navneet is also the Chairman of the Association of Mutual Funds in India (AMFI). A veteran of financial markets, Navneet hosts 3 decades of rich experience in the industry. Prior to joining HDFC AMC, he was the Executive director and Chief Investment officer of SBI Funds management Private Limited and was responsible for overseeing AUM over USD 150 billion across mutual funds and segregated accounts. Navneet was also a Director on the board of SBI Pension Funds (P) Limited. In prior assignments, he was the Executive Director & Head – multi-strategy boutique with Morgan Stanley Investment Management and Chief Investment Officer – Fixed Income and Hybrid Funds at Birla Sun Life Mutual Fund. Navneet has a master's degree in Accountancy and Business Statistics and a qualified Chartered Accountant. He is a Charter Holder of the CFA Institute and CAIA Institute. He has also done Financial Risk Management (FRM).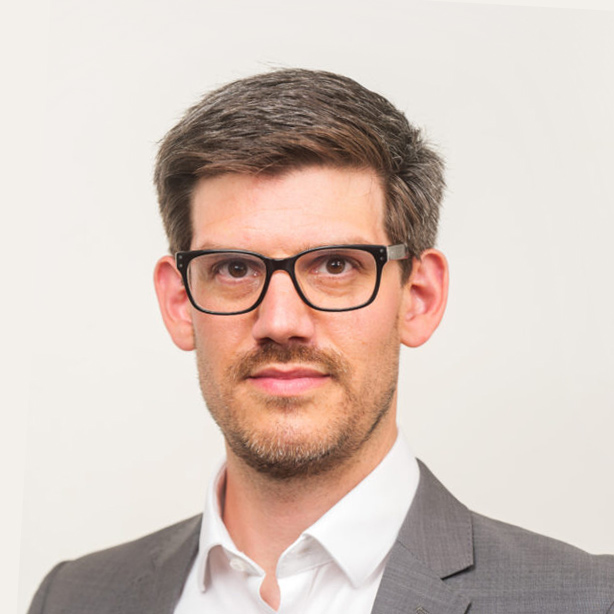 James Alexander
James Alexander joined UKSIF as Chief Executive in October 2020, with a strong vision and mandate to further enhance the organisation's key role in promoting and expanding sustainable investment and finance in the UK. James has a background in international climate finance and infrastructure finance as well as many years' experience in leadership roles in membership organisations. Most recently, James supported global megacities to overcome the substantial barriers to financing climate action as Director of the City Finance Programme at the C40 Cities Climate Leadership Group and Head of the C40 Cities Finance Facility – a project preparation facility he developed, now supporting cities across the world to structure nearly a billion dollars of sustainable infrastructure transactions. James has worked on international climate finance issues at the UN level and supported cities across the world to invest their pensions and reserves more sustainably. James is Treasurer of Eurosif, the European Sustainable Investment Forum, a member of the Green Technical Advisory Group (GTAG) providing advice to the UK Government on implementing a UK green taxonomy and a member of the Disclosures and Labels Advisory Group (DLAG) providing advice to the FCA on the UK's SDR and fund labelling regime.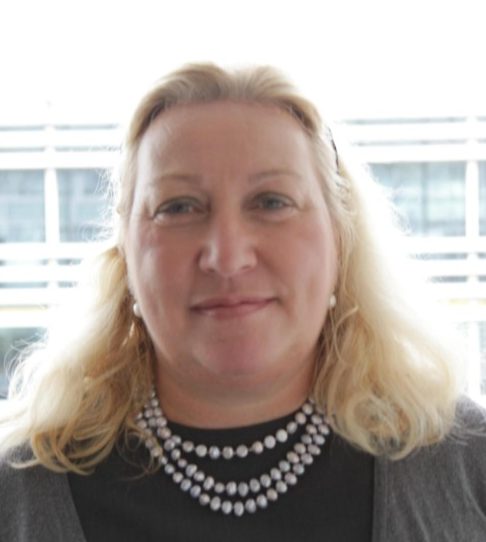 Josina Kamerling
Josina Kamerling is head of regulatory outreach for CFA Institute for the Europe, Middle East, and Africa (EMEA) region and is based in the Brussels office. She is responsible for supporting CFA Institute's EMEA policy development, advancing the impact of advocacy efforts, and promoting capital market integrity and investor protection issues.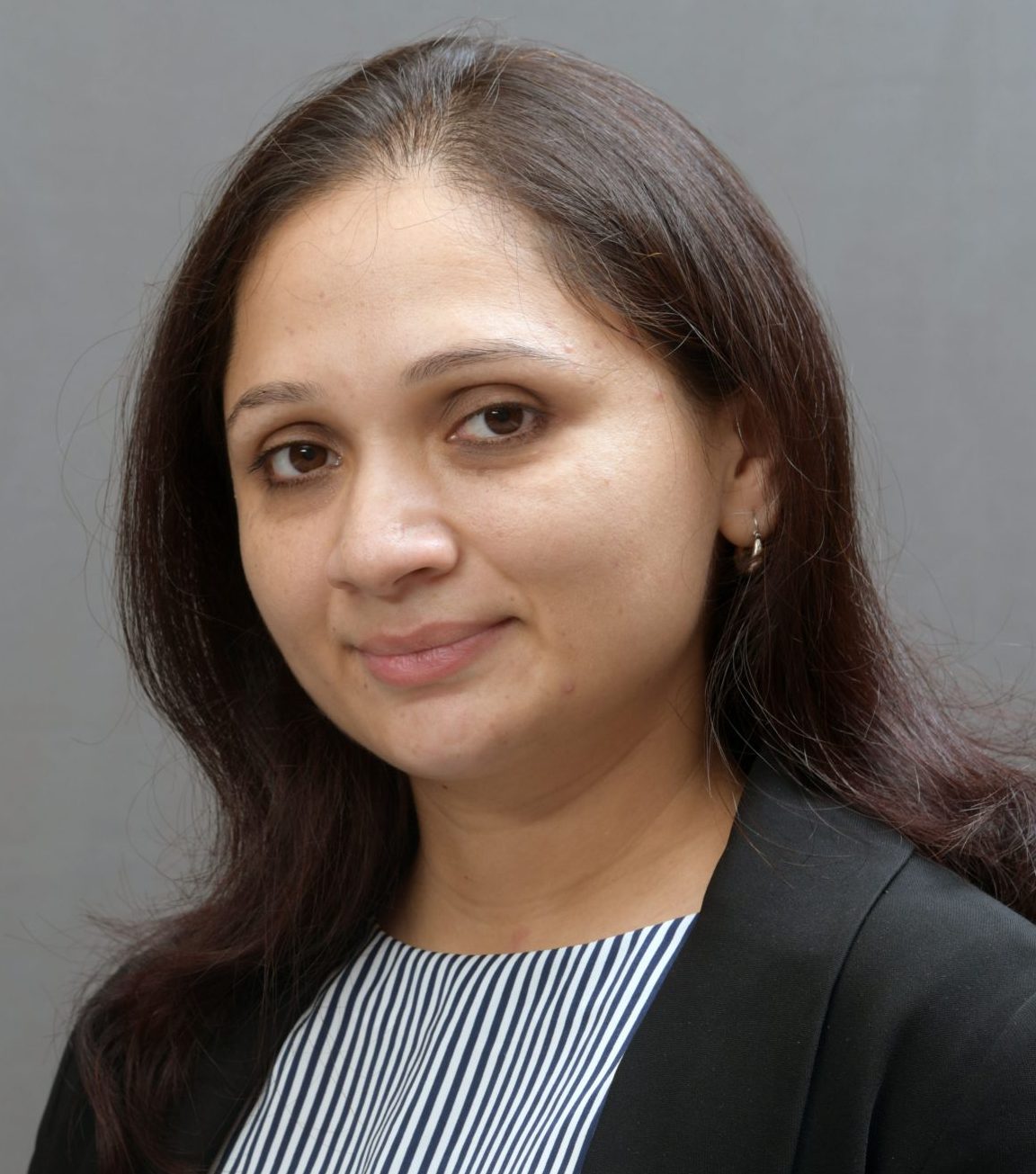 Rama Patel
Rama Patel is a Chartered Accountant and holds a bachelor's in commerce, complemented by certification in Sustainability and Climate Risk from the Global Association of Risk Professionals (GARP). With 19 years of versatile experience, Rama has excelled in corporate finance, credit risk, and ESG analysis roles. During their tenure at CRISIL Ratings, Rama played integral roles in managing rating assignments for diverse corporate and financial sector entities. Their contributions were pivotal in developing rating criteria, particularly emphasizing ESG risk assessment integration. Proficient in data analysis, Rama assessed rating actions and credit quality outlooks. In recent years, Rama focused on understanding sustainability and ESG domains, including regulatory aspects, and actively participated in external ESG/sustainability committees, notably the SEBI constituted committee. Rama Patel's career embodies a commitment to merging financial expertise with sustainability, emphasizing responsible business practices. This expertise underscores Rama's drive to ensure comprehensive corporate evaluations considering ESG factors.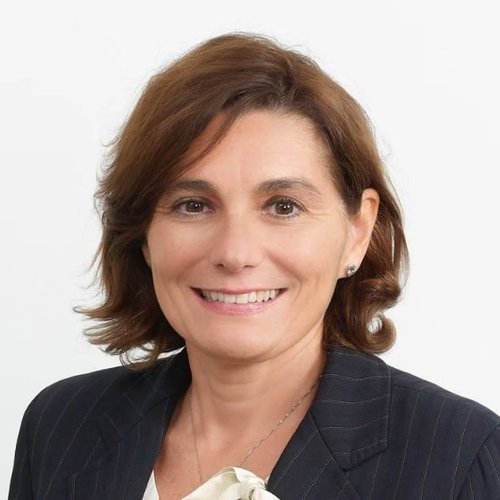 Maria Lombardo
Maria heads the Global ESG Advisory team Sustainable Finance at Standard Chartered Bank, supporting the bank clients in their sustainability and transition strategies. Maria spent more than 25 years in investment banking as Managing Director, heading emerging market equities sales at Lazard, UBS, Sberbank and Unicredit. She moved into sustainability in 2016 when she joined the non-profit CDP as head of their financial investor members. She then headed the ESG Client strategies and climate change strategies at Invesco Global Asset Management in EMEA, leading the growth of sustainability investment solutions and the set-up of the global asset manager's climate strategy. Authors of ESG thought leadership whitepapers, mentor, and contributor to industry initiatives in sustainable financing. Maria holds a CFA ESG, a diploma at Cambridge University Sustainability Leadership Institute, along with a CEMS Master and a bachelor's degree in financial intermediaries at Bocconi University. Maria is a member of the CFA UK Climate and Investing committee, she is a mentor of the acceleration program at the Cambridge Institute of Sustainability Leadership. Maria is in the ESG advisory board of the ESG Group A-team advisory group. Maria is also a faculty member of Risk.net learning.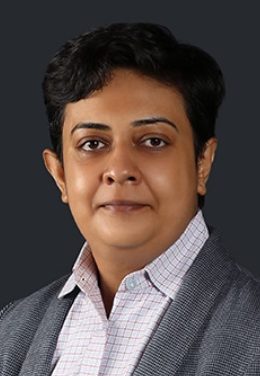 Anuja Tiwari
With more than 13 years of experience, Anuja Tiwari specialises in Infrastructure, Energy and Project Finance. She is well-versed in advising clients on their entry and exit level transaction structuring, pre-dispute strategy, projects arbitration, regulatory matters, negotiations and project financing. Anuja has assisted her clients on matters relating to renewable and conventional energy, ESG, oil and gas, battery storage and e-mobility, aviation, airports, roads, ports, railways and metros, healthcare, mining, hospitality, water and waste management, smart cities and urban street lighting.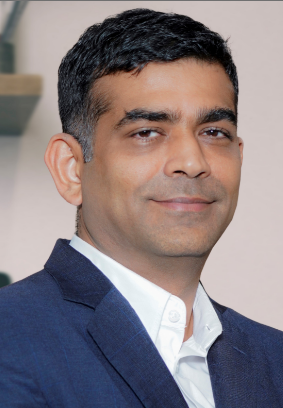 Srini Viswanathan
After completing his MBA from Tuck School of Business, Srini started his career at UBS Investment Bank for industrial and renewable energy clients. With stints in technology services and investment banking, he found his calling in the world of sustainability back in 2009 and after an energizing career in this space, he took on the challenge to restructure the Vibrant Energy platform in late 2016 and helped develop a vision for Vibrant Energy to play a pivotal role in mitigating climate change by empowering businesses with clean energy solutions. He has over 20 years of leadership experience with large renewable energy companies.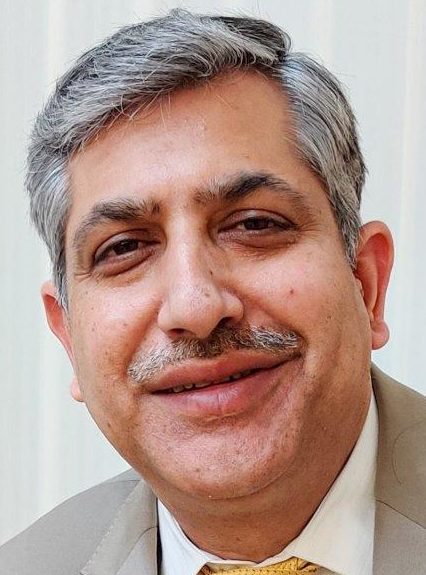 Upendra Bhatt
Upendra Bhatt is the CEO of cKinetics, a specialist sustainability advisory and investment firm. He has over 25 years of experience focused on policy, regulation, and investment aspects of Climate financing in emerging economies besides the design and implementation rollout of financial instruments and facilities to drive investment into the climate positive /low carbon sectors. Upendra led the team which developed the first India specific Green Taxonomy and subsequently anchored the formation of the market collective, Green Finance Leadership Collaborative. In the past, he has successfully helped establish investor led working groups such as India Initiative on DRE Financing etc. He has also served on India's Ministry of Finance Task Force on Sustainable Finance and contributed as a sub-committee member working on developing a 'Regulatory Framework for Sustainable Finance'. He has also been a Member of the Working group set up by NIIF, India's sovereign fund, to further the Green finance uptake. Upendra has been a recent past Chair of Alliance for Energy Efficient Economy (AEEE). In addition, he has conceptualized cKers Finance, a Sustainability financier and serves as a board member /advisor to several start-ups in the Climate tech space.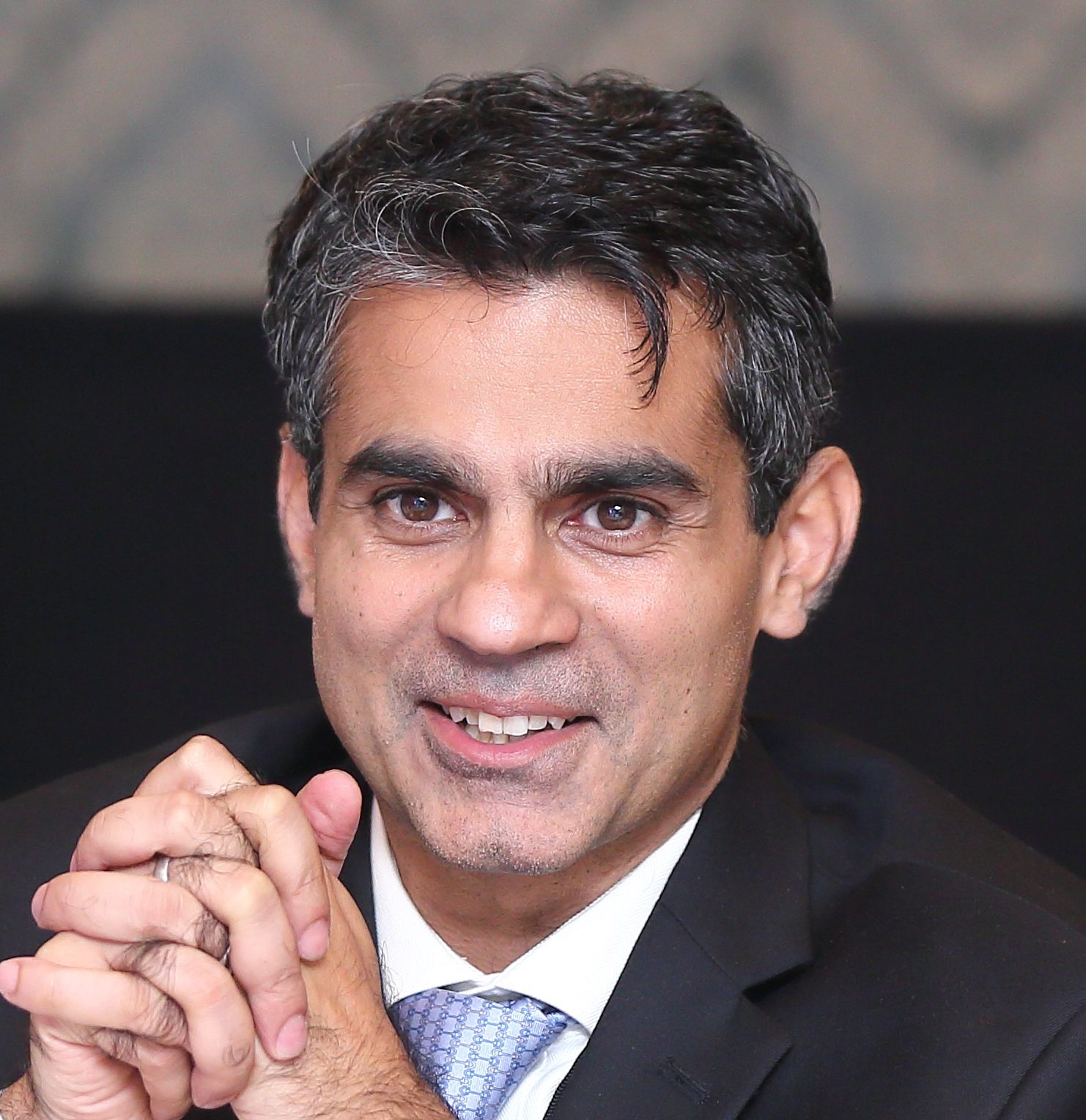 Pawan Mehra
Pawan Mehra is a Managing Director at cKinetics and works at the intersection of capital and new market development. Pawan works actively in the realm of Sustainable Finance, using a data driven approach to quantify and manage ESG risk. He is a frequent contributor to the Financial Times and Forbes. He has co-authored Cracking the Conundrum and Drops Before the Rain: two seminal pieces that helped developed the Sustainable and Responsible Investing markets in India. In the past he has served on the guidelines drafting committee for Responsible Banking in India, has been on the advisory board of the Impact Investing Policy Collaborative, and was on the founding board of the Global Impact Investing Network. Pawan has a Bachelors Degree in Engineering from Delhi College of Engineering and a Master of Business Administration from the Indian Institute of Management, Ahmedabad. He has also spent time at the University of Chicago's Graduate School of Business in their International Management program. Pawan enjoys long-distance running and meeting real-world heroes. His most precious moments are spent re-learning the finer truths of life from his children.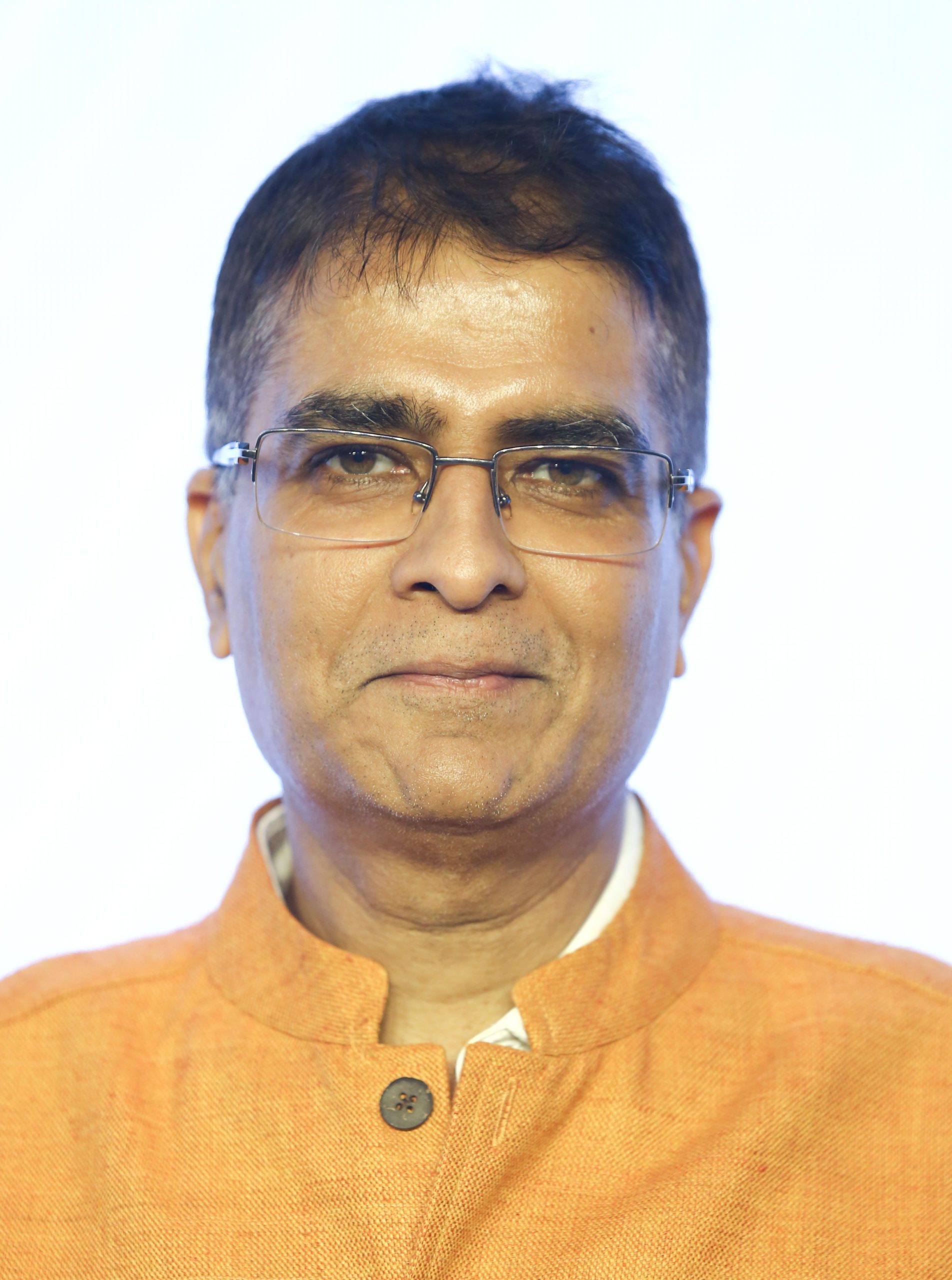 Rajendra Kalur, CFA
Rajendra is an Independent Consultant-cum-Financial educator and has over 25 years of experience in the financial services domain comprising asset management, investment banking, wealth management and insurance. Rajendra has worked across the value chain and has expertise in nurturing nascent businesses and transforming business models. Till recently he was the Founder, Director and CEO of TrustPlutus, a boutique Wealth Management firm which he founded along with Utpal Sheth, Senior Partner of RARE Enterprises. Prior to joining TrustPlutus, Rajendra worked with RBS N.V., ABN AMRO N.V., Wealth Advisors India Pvt. Ltd., ICICI Prudential AMC, DSP Merrill Lynch and General Insurance Corporation of India in various capacities. Rajendra is MBA from Cranfield School of Management, UK, and holds a Post Graduate Diploma in Marketing from Chartered Institute of Marketing, UK. Rajendra is also a Certified Financial Planner from FPSB, India. Rajendra is a public speaker and writer. Rajendra is also a long-distance runner and cyclist.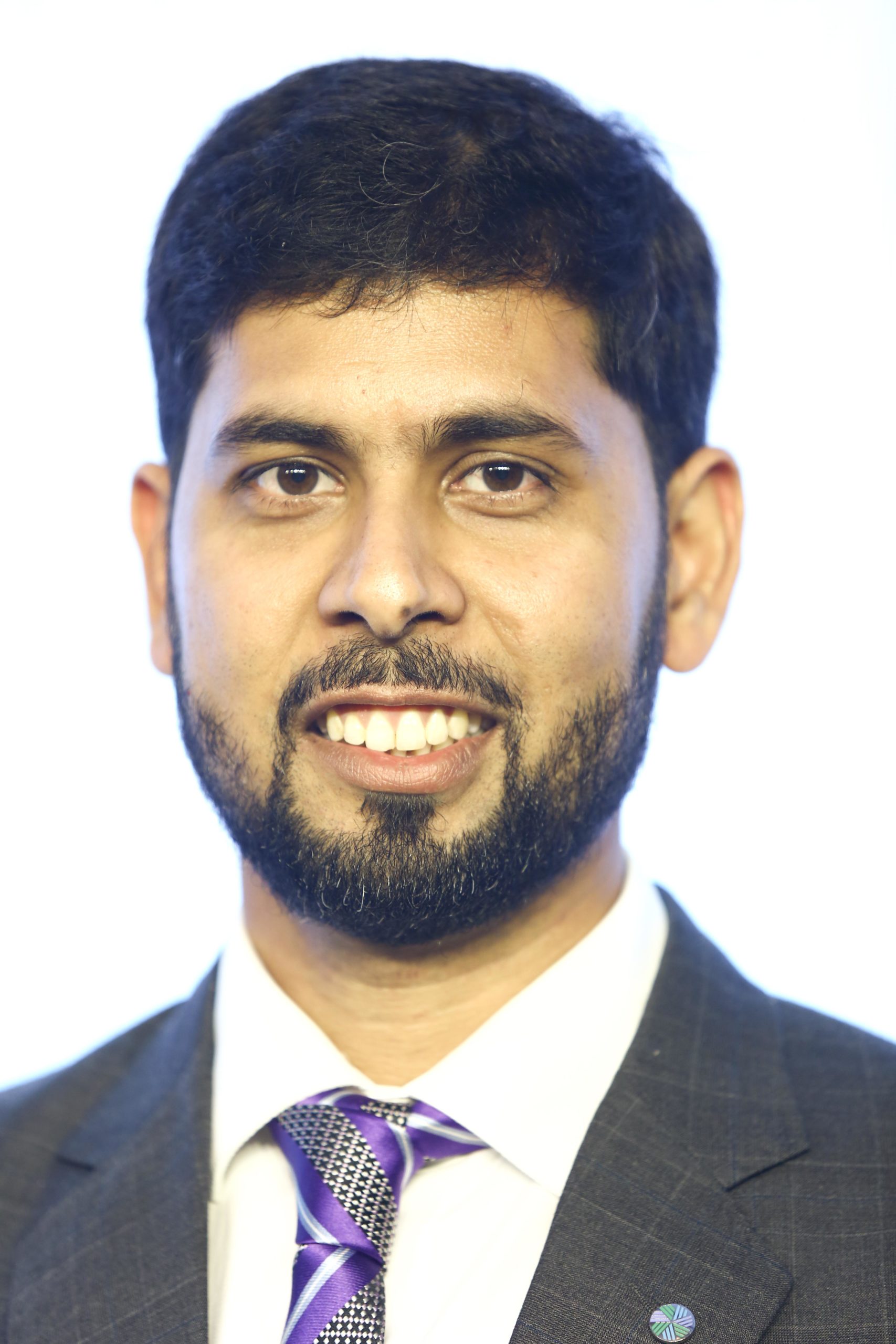 Abhishek Loonker, CFA
Abhishek currently works as a Director – Investments at Ascent Capital, a private equity firm. He has over 15 years of experience spanning private equity, corporate strategy and treasury. Previously, Abhishek worked as a Project Manager with Jain Group. Abhishek is a CFA charterholder, a gold medalist MBA from MATS School of Business and has also completed an Executive Education program in Corporate Restructuring and M&A from Harvard Business School. He has also been feted with '40 under 40' in the Alternative Investment industry by AIWMI & IAAIF in January 2018. He is also a Board Observer at BigBasket.com and Laqshya Media.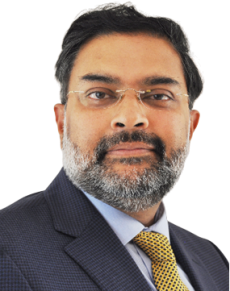 Ravi A. Gautham, CFA
Ravi A. Gautham, CFA is the Senior Vice President and Head of Northern Trust Asset Management (NTAM) in India. He serves on the Executive Management Team and the Boards of Northern Trust's two India subsidiaries. He is a CFA charter holder and a member of the CFA Society Chicago. In addition to being on the board of the CFA Society of India, Ravi chairs the Research and Advocacy Committee. Ravi holds a MSc. (Hons.) In Economics and Management Studies from the Birla Institute of Technology & Science, Pilani, India and an MBA in Finance from the University of Ohio, Toledo. Ravi has written articles, published papers and spoken on Investment risk and portfolio management issues at several investment conferences and panels worldwide. Ravi is an active volunteer and member of the Corporate Social Responsibility (CSR) committee of the board of Northern Trust India, where he has worked on solving key social, human, economic and sustainability issues.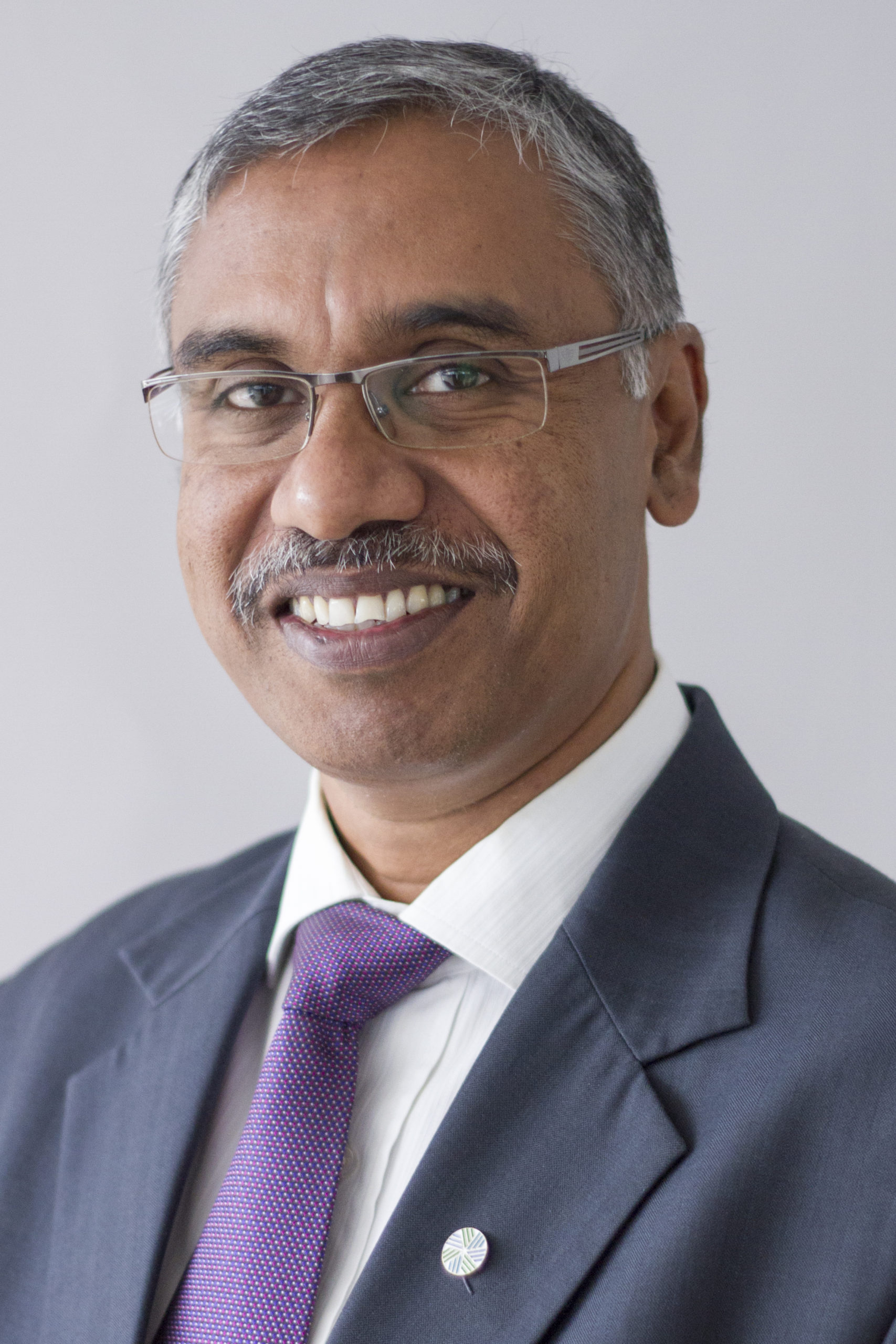 Vidhu Shekhar, CFA, CIPM
Vidhu Shekhar is a member of the Research and Advocacy Committee of CFA Society India. Previously, he was the Senior Country Head, India for CFA Institute. Mr. Shekhar had a career spanning more than three decades in India and abroad, including the National Stock Exchange of India, IDBI Capital Markets, and as Managing Director of E*Trade Systems (India) Pvt. Ltd. He is a CFA charter holder and a founding member of CFA Society India. He was also the Vice President and a member of the Board of CFA Society India for several years. Mr. Shekhar has an MBA from the Indian Institute of Management, Ahmedabad, and a degree in Physics from Delhi University. He has contributed extensively to policy advocacy and research throughout his career and has been a member of several industry and regulatory committees during his career. He is currently a visiting professor at several business schools and teaches courses related to corporate governance, sustainability, and ethics.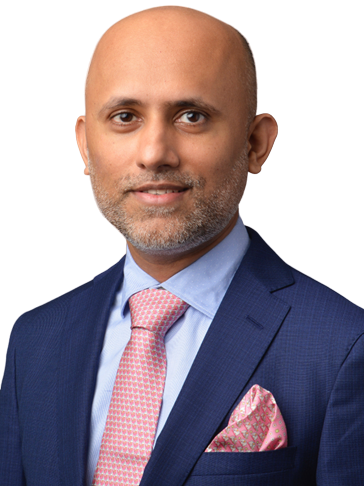 Shamit Chokshi, CFA
Shamit is currently Director on the Board of the Indian Association of Investment Professionals (CFA India Society). He is the Chairperson for the Professional Learning Committee at the Society. Shamit brings with him ~16 years of rich and diverse industry experience across a range of functions including portfolio advisory and research, manager selection, investments, product development, asset raising, institutional clients and global strategic partnerships. Prior to joining ICICI Prudential, Shamit was associated with Reliance-Nippon Life Asset Management and Nippon Life Insurance group where he led offshore India investing, set up the international funds franchise for the joint venture and advised Indian equities and fixed income funds domiciled across Asia and UK. Shamit pursued a Masters of Business Administration (Finance and Strategy) from the Carroll Graduate School of Management at Boston College, USA. He also holds a Masters of Commerce (Sydenham College, Banking & Finance) and Bachelor of Commerce (H.R. College, Accounting) degrees from the University of Mumbai, India. He has extensively travelled and lived in several countries, interacts regularly with the global institutional investor community and nurtures a passion to enjoy different cultures.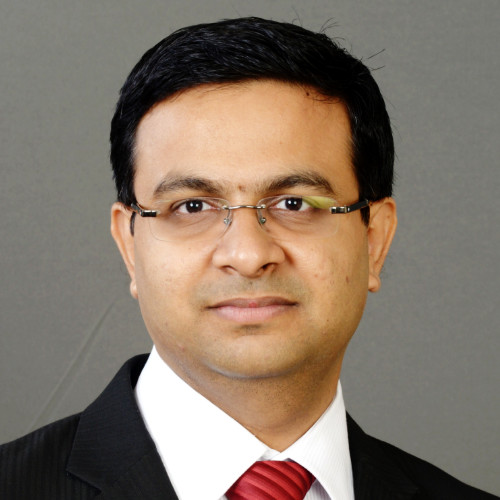 Akhilesh Tilotia
Akhilesh is a keen observer of the economic, political, and social landscape of India. He brings a unique perspective to his commentary viewing the world variously through the lens of a Government officer, a thematic analyst, an investment banker, a strategist, and a financial advisor. These multiple world-views have shaped him to emerge as a dot-joiner who can piece together widely disparate issues into a coherent picture. He works with the National Investment and Infrastructure Fund (NIIF) as Head of Research and Chief of Staff to the CEO. In his previous roles, he has led Strategy and New Initiatives for Axis Bank, and worked with the Kotak group, The Boston Consulting Group, and was a co-founder of PARK Financial Advisors. His best selling book, The Making of India – GameChanging Transitions, made a case for converting the gaps in public services and economic fulfillment into opportunities for the private sector. His second book, Through the Looking Glass, views the India story from the perspectives of the various arms of Government which he observed closely in his three-year stint in New Delhi with a Union Minister. An MBA from IIM Ahmedabad, he is a prolific columnist and commentator in the business media. He is passionate about astronomy, mythology, and chasing curiosities. You can follow him on @atilotia on Twitter.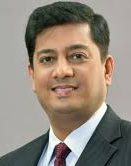 Harsha Upadhyaya
Mr. Harsha Upadhyaya is a Bachelor of Engineering (Mechanical) from National Institute of Technology, Suratkal '93, Post Graduate Management (Finance) from Indian Institute of Management, Lucknow '96 and Chartered Financial Analyst from the CFA Institute. He has 26 years of rich experience spread over Equity Research & Fund Management. His prior stints have been with companies such as DSP BlackRock Investment Managers, Prabhudas Lilladher Pvt. Ltd, SG Asia Securities, Reliance Group and UTI Asset Management Co. Ltd.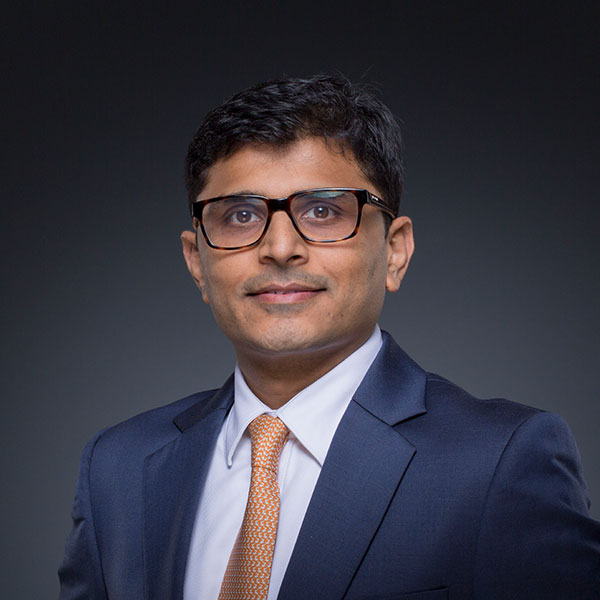 Jay Kothari
Jay Kothari, Vice President & Product Strategist -Jay has been with DSP Mutual Funds since May 2005, and has been with the Investment function since January 2011. Jay joined the firm as a member of the Sales team (Banking) in May 2005. Prior to joining DSPIM, Jay worked for Standard Chartered Bank for a year in the Priority Banking division. Jay completed his Bachelor of Management Studies (Finance & International Finance) from Mumbai University, followed by an MBA in Finance from Mumbai University. Jay is currently the Dedicated Fund Manager for overseas investments for the following schemes of DSP Mutual Fund.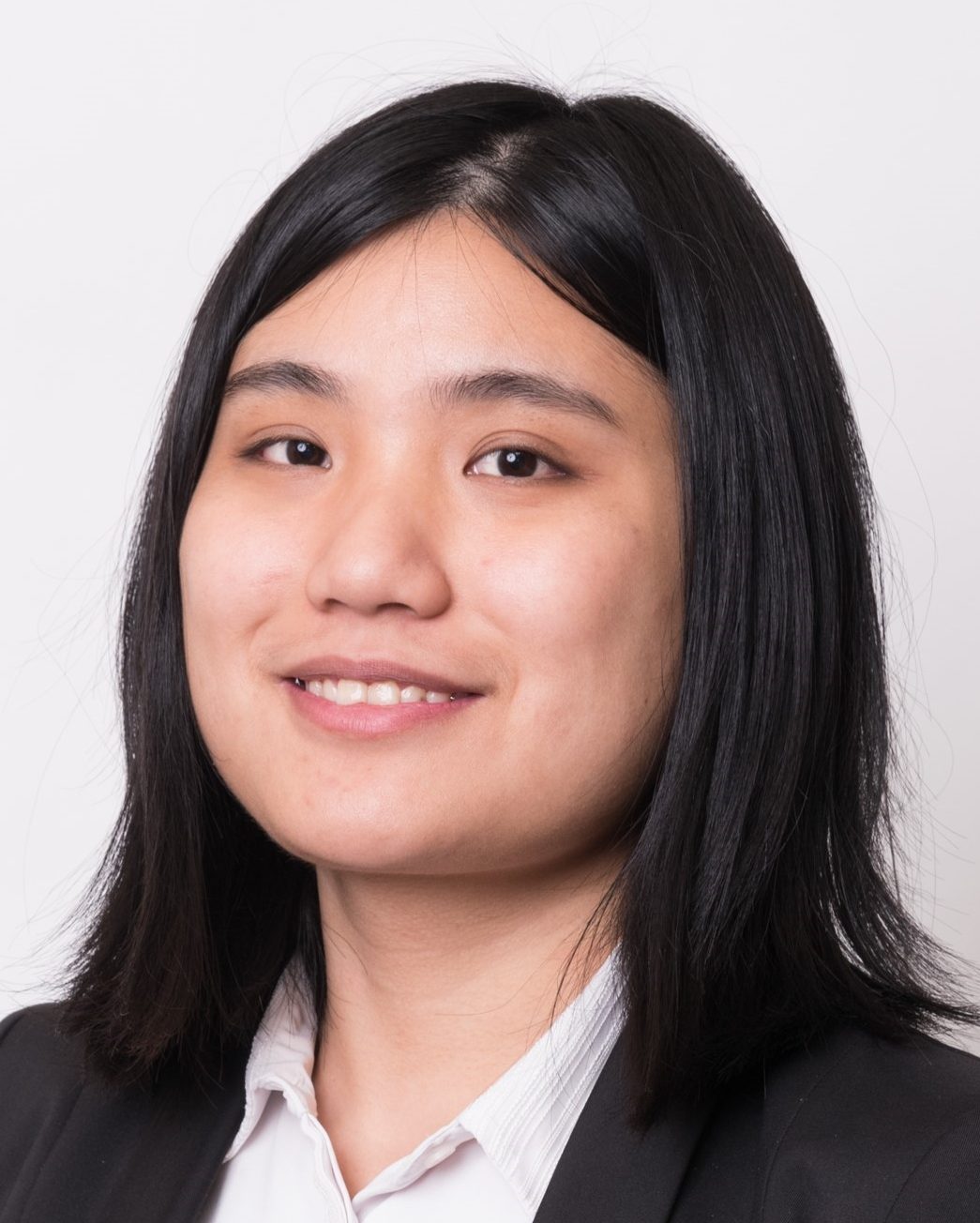 Nana Li
Nana Li is the Head of Sustainability & Stewardship, Asia-Pacific, Impax Asset Management, Hong Kong. Nana joined Impax in 2022 and is responsible for leading Impax's sustainability, stewardship and policy advocacies in Asia-Pacific. Nana researches, prioritizes and organizes ESG engagements with Impax's investee companies and regulators, manages external sustainability and ESG-related inquiries, and assists in the ongoing development of the Impax proprietary ESG-analysis and methodologies. Prior to joining Impax, Nana worked as the Research and Project Director at the Asian Corporate Governance Association (ACGA). At ACGA, Nana published five significant reports relating to corporate governance research in Asia. Whilst there, she also presented to the Shanghai and Shenzhen Stock Exchanges and the Shenzhen Asset Management Association. Since 2018, Nana has been the Chair of ACGA's China working group, a role she continues to fill today. Upon joining Impax, Nana remains a Specialist Consultant to ACGA. Nana has spoken at international conferences hosted by a number of financial institutions and international organisations including the OECD, EMIA, GRI, CLSA, HSBC, Deutsche Bank, Morgan Stanley, Macquarie, ACGA, ICGN, IEEFA, PRI, RI Japan, Forbes, AmCham Shanghai, BritCham Shanghai and the CFA Institute. Nana also sits on the Financial Capital Committee of the International Corporate Governance Network, the ESG Committee of the Women in Finance Asia and the Caixin China ESG30 Forum. Nana has an MBA from the University of Chicago (Honors), a Master of Finance from the University of Hong Kong (Dean's List), and a Bachelor of Commerce from the University of New South Wales (Distinction). She is a CFA charterholder and has finished the HKICPA Qualification Program.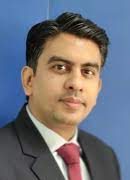 Chirag Mehta
Chirag Mehta has been elevated to the position of Chief Investment Officer of Quantum Asset Management Company with effect from April 01, 2022. Chirag has been serving as Senior Manager, Alternative Investments. He joined Quantum in 2006 and has more than 18 years of cumulative experience in managing commodities and specializing in the field of alternative investment strategies. He has been the fund manager of Quantum Gold Savings Fund, Quantum Equity Fund of Funds, Quantum Multi Asset Fund of Funds, and Quantum India ESG Equity Fund. Chirag has been formerly ranked as the 4th best Fund Manager in the world under the age of 40 by Citywire in 2017. He is a qualified CAIA (Chartered Alternative Investment Analyst) and has also completed his Master's in Management Studies in Finance.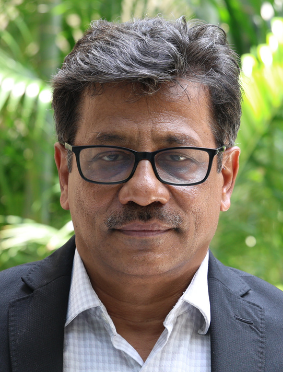 Dhruba Purkayastha
Dhruba Purkayastha is CPI's India Director, where he leads and guides the Delhi team in developing innovative finance and policy solutions in support of the renewable energy and green growth plans of the Government of India. Dhruba is also the Director of US-India Clean Energy Finance (USICEF), for which CPI serves as the Program Manager. Dhruba comes with over 25 years of experience and his expertise lies in management consulting, investment banking, credit rating and international development financing in Asian countries. In addition to his role at CPI, he is a guest faculty at leading business schools in India. Dhruba also advices a wide range of government and public sector institutions banks and financial institutions, multilateral institutions, regulators in areas of policy and institutional development.Dhruba joined CPI from International Finance Corporation (IFC) where he served as the Program Manager for Investment Climate Advisory. Prior to IFC, he worked with The World Bank as a Senior Specialist, in the South Asia Finance and Private Sector unit in lending operations for infrastructure financing and clean energy financing, public-private partnerships, SME finance, banking, and capital market reforms, private sector development – improving investment climate and competitiveness. He has also worked with ICRA Limited as a Group Head for Infrastructure and Government Consulting practices.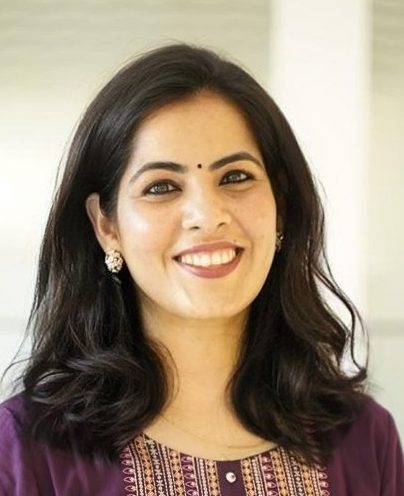 Priyanka Dhingra
Priyanka is an ESG professional with 12+ years of experience in sustainable finance, environment, climate change and related fields. She is currently handling ESG integration and stewardship initiatives at SBI Funds Management Limited, across all asset classes and represents the AMC on all global and domestic ESG related forums. She has also been a member of the SEBI and AMFI ESG Committees. She has previously worked on ESG ratings and AI tools to automate ESG analysis at MSCI, on environmental and climate change policy frameworks, outreach and knowledge creation at FICCI, on environmental impact assessments at Ramky Enviro Engineers and has also taught environmental studies to University Graduates in Delhi and Mumbai. She is a postgraduate in Environmental Studies from TERI School of Advanced Studies, New Delhi, and a sustainability enthusiast who contributes to various sustainable finance and ESG related institutional publications. She has completed the CFA Institute's certificate course in ESG Investing.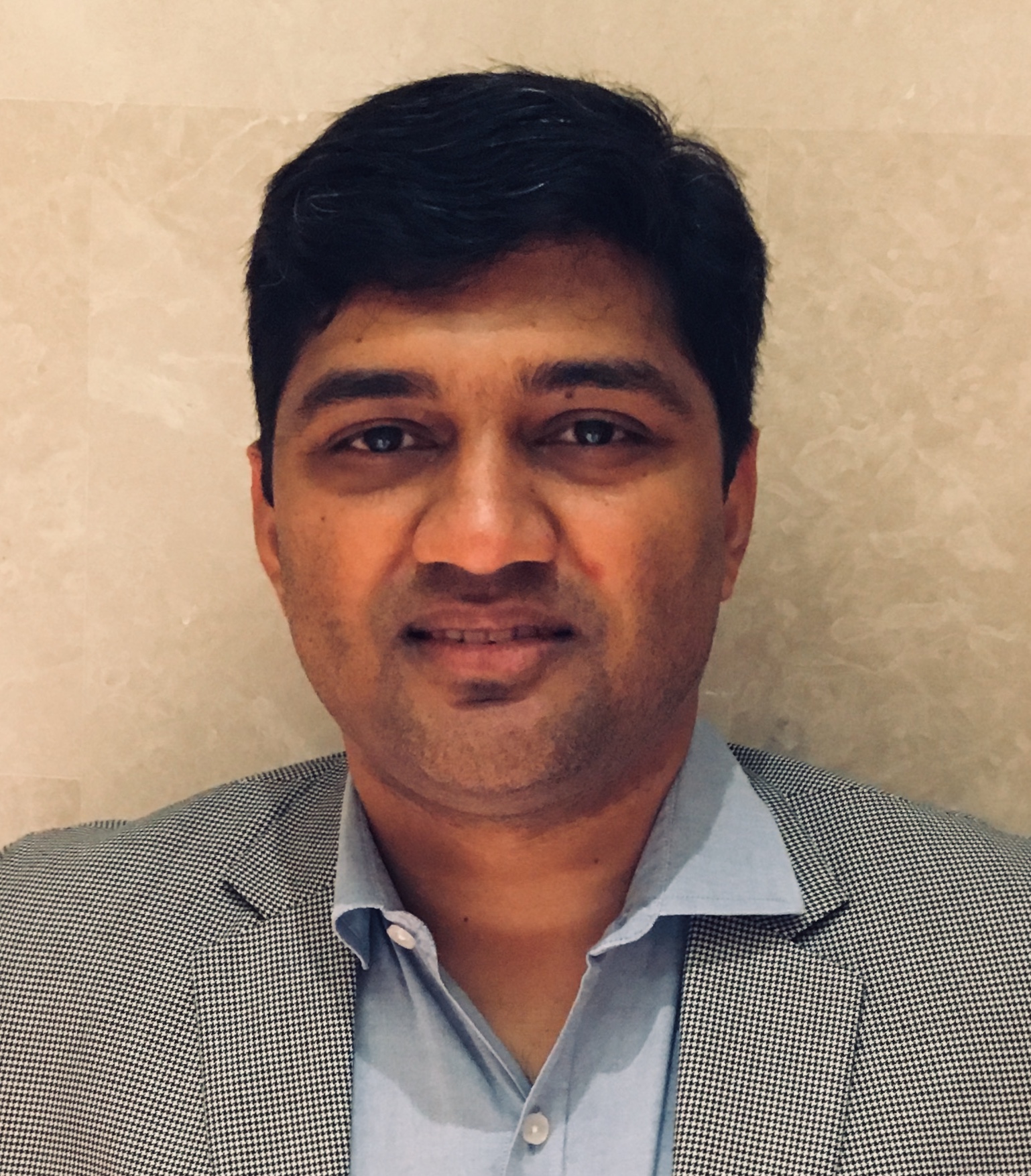 Mohan Kumar Prabhu, CFA
Mohan Kumar Prabhu, CFA, currently serves as the Director, Investment Consulting at Aon Consulting India and heads their Investment Consulting Strategic Client Delivery Solutions business responsible for delivering digital client solutions and reporting capabilities for the wealth solutions verticals of Aon globally. As part of this role, he also leads a team of ESG product specialists and technology professionals, responsible for creating market leading ESG analytics and reporting solutions for Aon's clients. He is also the Business Lead for Aon's offshore investment manager research and portfolio analytics team, wherein he is responsible for business strategy and growth, client engagement and new transitions, people management, technology engagement and overall day-to-day operational service delivery of the business. He has over 18 years' experience in the financial services space with expertise in investment consulting, ESG, investment banking, corporate finance, equity research, corporate governance research and offshore delivery management. Prior to Aon India, he has worked with InGovern Research Services, Bank of America Merrill Mynch and WNS Global Services in various financial services roles. Mohan holds an MBA in Finance from Welingkar Institute of Management, India and an undergraduate degree in Mechanical Engineering from Manipal Institute of Technology, India. He is also a CFA charter holder and FRM charter holder and is an active volunteer member for the CFA Society of India. He sits on CFA Society's Research and Advocacy committee for its ESG and GIPS advocacy initiatives and co-chairs the CFA Society's ESG Working Group. He is also a Certified Ethics Trainer with CFA Institute India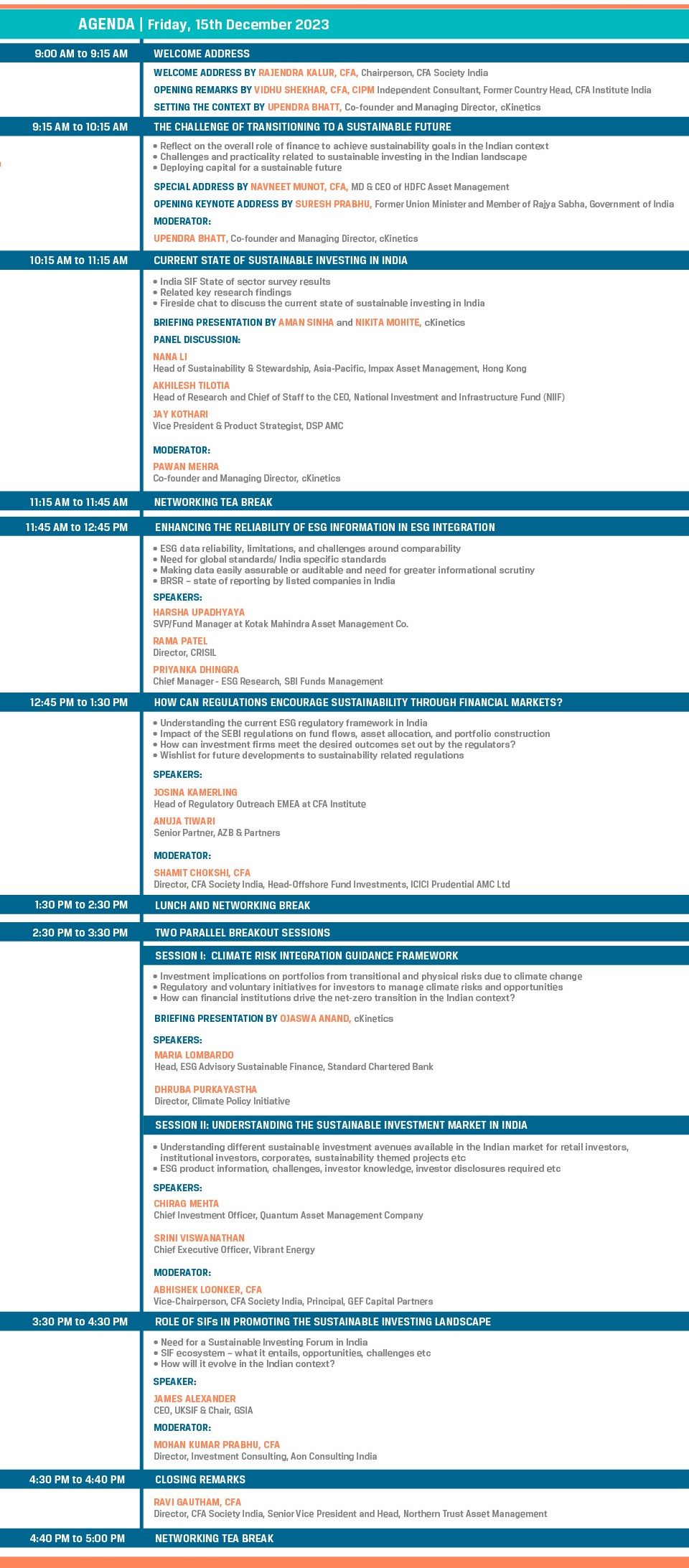 Cancellation Policy: No refunds will be issued for any cancellations received within 48 hours of program starts. Substitutions from the same company are accepted with fee adjustment, if appropriate. Sharing of registrations is not permitted.
| | | |
| --- | --- | --- |
| Category | Regular Fee | Early bird on 25 November 2023 |
| Industry Professionals | INR 4500 | INR 3000 |
| CFA Society India Member's Discount | INR 1000 | |
| CFA Registered Program Candidates Discount | INR 1000 | |
| Bulk Delegate Passes (5 registrations or more) | | |
| Bulk Delegate Passes (10 registrations or more) | | |
5 PL

CFA Institute members can claim PL credit by providing their CFA Institute ID number when registering.

Global Passport Accredited Programme Allows members of participating CFA societies to attend each other's society events at the local member price
2023-12-15 09:00
2023-12-15 09:00
Asia/Kolkata
India Sustainable Investment Leadership Summit 2023
The India Sustainable Investment Forum ("India SIF") supported by CFA Society India and cKinetics, along with other forum partners, are hosting the first edition of the India Sustainable Investment Leadership Summit 2023 at Sofitel, BKC, Mumbai, India on 15th December 2023. The India SIF is currently setup as a voluntary collective and is in the
Grand Salon, Sofitel, Mumbai
Save Event to Calendar