November 28, 2022
Posted by:

CFA Society India

Category:

BLOG, Events
Speaker - Vallabh Bhanshali, Co- Founder & Chairman, ENAM Group
Moderator - Mr. Navneet Munot, CFA, MD & CEO, HDFC Asset Management Company Limited
Contributed By - Ajay Minocha, CFA, Member, Public Awareness Committee
"Deal with everybody as you want them to deal with you."
"There is a difference between fame and reputation. Fame you have to handle, but reputation is something others will defend."
These were among the many golden words of wisdom by Mr. Vallabh Bhanshali during his chat with Mr. Navneet Munot at the 6th Value Investing Pioneers Summit organized by CFA Society India.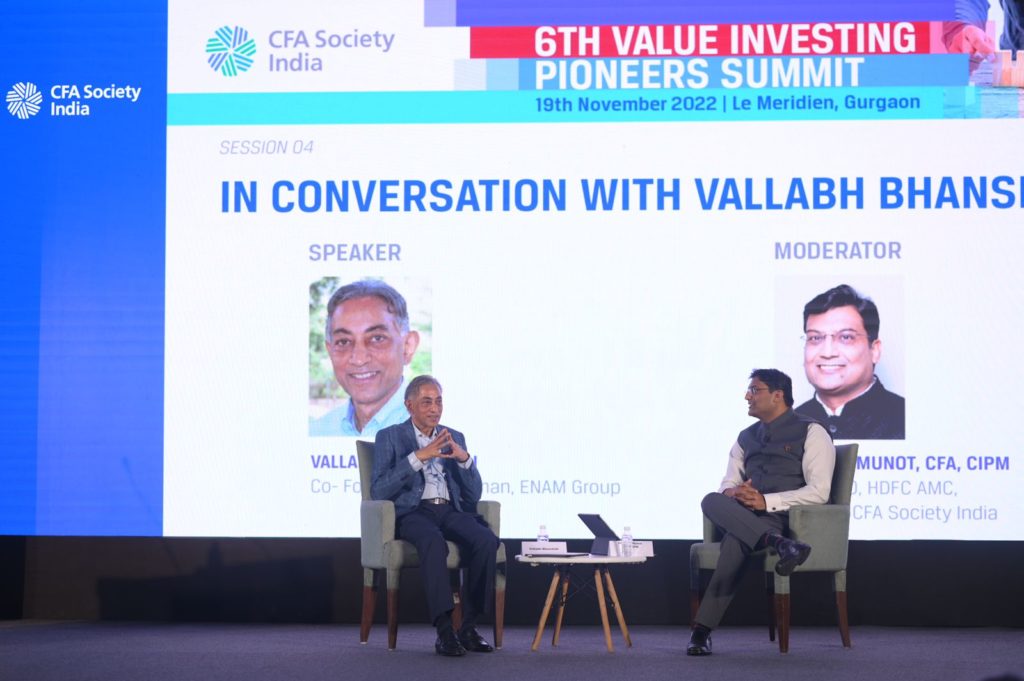 Mr. Vallabh Bhanshali is a well-known thought leader, mentor, and visionary investor businessman of India. He is the Co-founder of ENAM Securities, the reputed Investment Banking and Investment Group, which in 2010, merged its celebrated advisory business with Axis Bank. Since then, he has devoted his life mainly to the social, national, and spiritual fields. 
The conversation started with Mr. Vallabh reflecting on his life journey, followed by a detailed discussion on the evolution of financial markets/ governance standards in India, his thoughts on growth with greatness, the importance of meditation/ Vipassana in one's life, and concluded after a small meditation exercise.
The following excerpts from the illuminating conversation left the entire audience awe-inspired.
Reflections of life's journey
The one thought that keeps coming back to me is, "How fortunate I am!" Tears come easily whenever I reflect on my fulfilling life journey. Although born in an economically middle-class family but one with values of the highest order. Right from my early-age schooling in a Hindi-medium government school to this day, one feeling that has been with me is "I am inferior to none," and I continue to strive for greatness the same way. Reading Bhagwat Gita early in my life (before my teens) was transformational. It felt like an energy explosion had happened. It gave me a valuable perspective on life, "Yoga Karma Sukaushalam." One should always continue to perform his natural duties. I continued reading around 50 books a year while pursuing CA and a Law degree together. My life has been full of wonderful people sharing their affection with me, from my family to my colleagues to clients.
Becoming an Investment Banker
Triggered by conflicting emotions and health issues, I left my CA practice one fine day, thinking, "It doesn't matter what I am going to do next, but I am not going to do this." We happened to be at the right time and place in the Indian stock market, and my desire to do good for others attracted me to the stock market. With my brother's encouragement, ENAM was born. I put my heart into building Investment Banking business, and we have been lucky, helped by countless little things.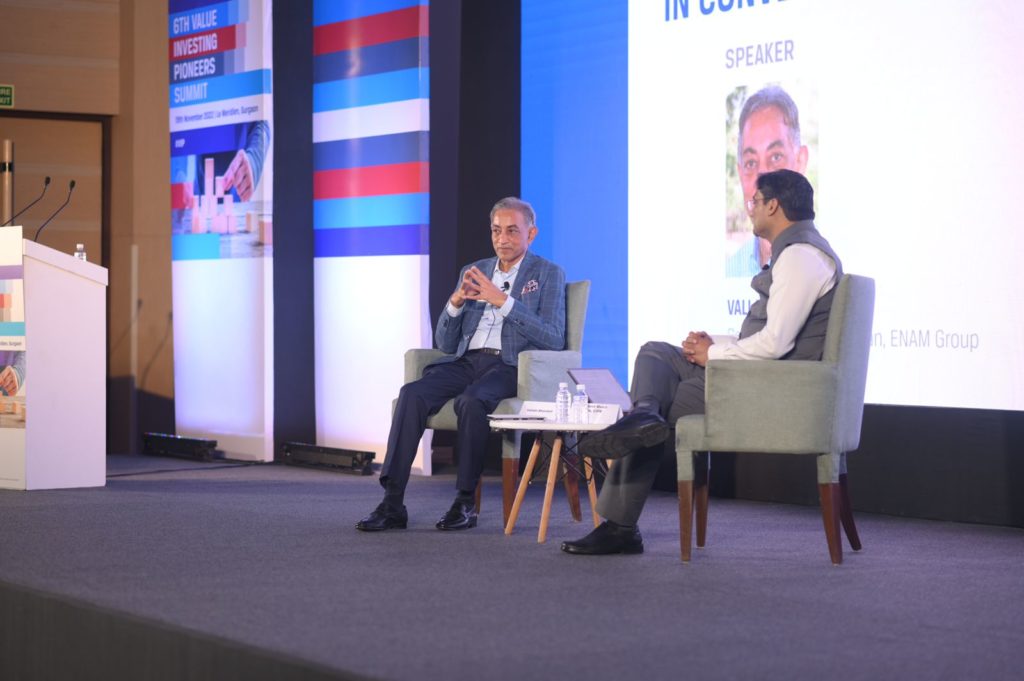 The Era of Grab, Greed, Growth, and Greatness
We can divide the development of India from the '70s till date as (I) Grab era of '70s & '80s, (II) Greed era of '90s, (III) Growth era of 2000s, and now possibly moving towards (IV) Greatness with a group of great people in business and polity with values and vision driving the change. For instance, if Mr. Dhirubhai Ambani demonstrated the power of markets, Mr. Narayana Murthy took it to a higher level. Mr. Murthy pioneered the development of responsible capitalism and transparent financial reporting practices in India. Similarly, on the polity side, the contributions of Mr. Narasimha Rao and Mr. Atal Bihari Vajpayee are noteworthy. They brought bold reforms during the early '90s and responded well to situations like nuclear disasters and the Asian crisis.
Changing India 
I am extremely bullish on India! A lot of Indians look down on India. We probably need to look at India's change. The businesses like Tatas, Reliance, and Infosys supported the growth era. One institution built by crises was the Reserve Bank of India, now one of the best Central Banks in the world! If UPI is a disruption, CBDC can be an even bigger revolution. We have had real freedom for only 30 years. So, whatever we as a country have managed to achieve despite many internal and external challenges is nothing less than extraordinary. Real India is Rural India! It is driving the change and is part of the change.
Greatness vs. Dominance
Growth gives you an opportunity of two kinds – one of dominance and the other of greatness. While Britain dominated, the US can be considered Great – a nation that was open to ideas. Also, small European countries like Switzerland, Sweden, and Norway can be examples of greatness, especially during the Greece crisis. 
Greatness has no competition, while dominance has a lot of competition.
Great business houses do not want to dominate and have built themselves with values they deeply believe in. For instance, business houses like Tatas, Birlas, and Ambanis didn't compete with each other but addressed pertinent problems India faced.
If we aspire to be as rich as the US, we will probably end up destroying the environment; responsible growth is very important. Recent government initiatives and technological innovations, i.e., Aadhaar, Jan-Dhan, Ayushman Bharat, and UPI technology, have democratized how India, especially the rural population, access various facilities. Capitalizing on our citizens' aspirations and skillset, we have a really great chance to be a great country in the coming decades.