January 23, 2021
Posted by:

CFA Society India

Category:

BLOG, Careers, Events
Speaker: Biswarup Mohapatra, CFA, Vice President & Head - Equity Prop Desk, Mirae Asset Capital Markets (India) Pvt. Ltd.
Moderator: Biharilal Deora, CFA, Director, Abakkus Asset Manager LLP
Contributed By: Sidhant Daga
OVERVIEW OF PROPRIETARY DESK INVESTMENT
Proprietary desk investment involves management of firm's own money funded from the balance sheet. It  doesn't involve management of client's money. The most important factor to be taken care of in a prop desk is risk management( via various methods like placing stop loss limits, having trading limits etc.) The major players who work as a prop desk are banks/investment banks, brokers, corporates, foreign investors and other financial institutions.
The main objective of prop desk is to generate absolute risk adjusted returns via trading/investing in different asset classes like equity, fixed income , currency and commodities. A prop desk operates in both the cash and derivatives market segments.
The prop desk activities are completely kept separate from client activities.
PROPRIETARY DESK IN INDIA
There is rising interest for opening up prop desk in India because of the following factors :-
Opportunity to gain from the India Growth Story ( Nifty's CAGR over last 15 years is around 13%)

Returns from equity markets in India is more tax efficient ( STCG tax – 15% and LTCG tax – 10%)

Players who have generated returns for their clients are interested to reap benefits for themselves
It is difficult  to gauge the total size of investments by prop desks in India as the information is unpublished and the investment amount also keeps fluctuating based on the market scenario.
The amount of investment by an individual prop desk varies from less than Rs 100 crores on the lower side to a few thousand crores on the upper side.
DIFFERENCE BETWEEN ASSET MANAGEMENT COMPANIES AND PROP DESK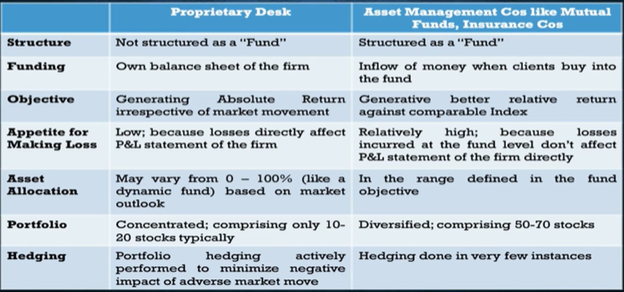 DIFFERENCE BETWEEN FAMILY OFFICE AND PROP DESK
Family office caters to investment needs of Ultra High Net Worth Individuals and their family. It also includes taking care of estate planning, tax planning and philanthropy needs , whereas, Prop desk is aimed solely at generating  absolute risk adjusted returns.
INVESTMENT STRATEGIES AT A PROP DESK
The strategies that are deployed are broadly classified into two types – directional strategies (Eg. Fundamental analysis) and non-directional  strategies (Eg. Arbitrage Strategies)
The various strategies deployed are as follows –
Fundamental Analysis –  It involves taking investment decisions based on fundamental outlook like sales growth, sector outlook, valuation metrics, profitability metrics. In such kind of a strategy generally a portfolio of 10-12 stocks is build with an investment time horizon of few weeks to one year. Generally Long Cash positons under this strategy is hedged by shorting Index Futures.
Technical Analysis – It involves taking buy/sell decisions based on chart analysis, analysis of various technical parameters like momentum indicators, moving averages etc.  The investment time horizon in such a strategy is generally few days to a few weeks.
Arbitrage Opportunities- It involves  capturing opportunities (by long short approach) arising out of corporate actions, merger & acquisitions, options mispricing.
ORGANISATION STRUCTURE AT A PROP DESK
Prop desks have a small structure with around 2-4 traders and 1-2 analysts in a typical set up , and it has a flat hierarchy with everyone reporting to head of the desk. The prop traders under the head of the desk are responsible for generating profits with the support of various analytics provided by analysts. Head of the desk is responsible for overall profit/loss  generated by the desk.
CAREER OPPORTUNITIES AT A PROP DESK
Analysts and traders are required at each prop desk for various asset classes.
RESEARCH ANALYST – the role is to do fundamental analysis and financial modelling and to recommend stock ideas to traders. The work experience required is ~ 3-5 years in buy/sell side.The fixed compensation that can be expected is ~ 15-20 l.p.a with variable compenation based on profit generated by the desk.
TRADER– The role is to generate profits on funds allocated via trading based on technical analysis, option strategies etc. The work experience required is around 2-3 years of managing a portfolio. The fixed compensation that can be expected is ~ 25-35 l.p.a with variable compenation based on profit generated by the trader.
POTENTIAL CAREER PATH AT A PROP DESK
The potential career path at a prop desk is entering as a research analyst, turning into a prop trader and then getting promoted to a head of the desk by showing consistent profitable performance.
Successful Traders also generally move onto other prop desks, buy side firms or even go on to create their own trading firm to manage their own wealth or client's money.
COMPETENCIES REQUIRED FOR SELECTION AT A PROP DESK
The hiring usually takes place from another prop desk, brokerage house or buy side firms. The qualifications required to work in a prop desk is CFA/MBA/CA with a min. work experience of 3-5 years working as a research analyst at a sell/ buy side firm. The prop desks also hire interns from MBA colleges to work under Research Analysts.
Though CFA isn't a mandatory qualification to get through a prop desk but its preferred , because the CFA curriculum has direct application in the work of prop traders/Research Analysts.
These days knowledge of quantitative finance and algorithm programming is also looked for.
TIPS FOR PREPARING FOR INTERVIEW AT A PROP DESK
One should have good grip at fundamental and technical analysis, good understanding of domestic and global macro economic factors, good asset allocation skills.

Emotional discipline is the most important factor as candidates are judged on their risk taking capacity, emotional stability, risk management skills.
TRAITS TO BECOME SUCCESSFUL AT A PROP DESK
Have proper risk management

Maintain emotional discipline

Stay away from Greed and Over Confidence

Follow theme based investing

Have proper conviction in stocks chosen via bottom up analysis
Link to webinar – https://www.cfainstitute.org/en/research/multimedia/2019/career-insights-proprietary-desk