March 18, 2023
Posted by:

CFA Society India

Category:

Events
Contributed by: Swetha Rakhecha, CFA, Member, Public Awareness Committee
4th of March 2023 was a Saturday like any other in the city of dreams, the financial capital of India: Mumbai. But by 4PM, the historic MCA Club was abuzz with anticipation of what was going to be a historic evening organised by the CFA Society India. With a power packed line-up of events: Entreprenher workshop by Rajesh Sehgal, a powerful keynote address by Rakhee Lalvani, awards ceremony, panel discussion by industry stalwarts, and the launch of a must read report Mind the Gender Gap, by CFA Institute and CFA Society India. The energy of the room was palpable with everyone actively discussing the topic raised as the evening concluded.
Entreprenher – a workshop on Entrepreneurship for women members
by Rajesh Sehgal, CFA, Founder and Managing Partner – Equanimity Ventures

While we cannot start a VC fund or a startup in 2 hours, Rajesh Sehgal broke down the journey of a start up. From idea to growth, in 6 steps: Identify a problem, which is the starting point > Research, which provides problem insight> Leading to a solution, the minimum viable product> Product integration, for initial beta testing> TAM/Product market fit to achieve Runway/Organic Growth> Scale where Improvement and Funnel Optimization happens. The staying message being that India is the land of ideas and the key is in execution and we need to find the right team for this. He shared his personal journey with members along with wisdom to survive for the current times: best time to build a tech business is now, as you build frugal.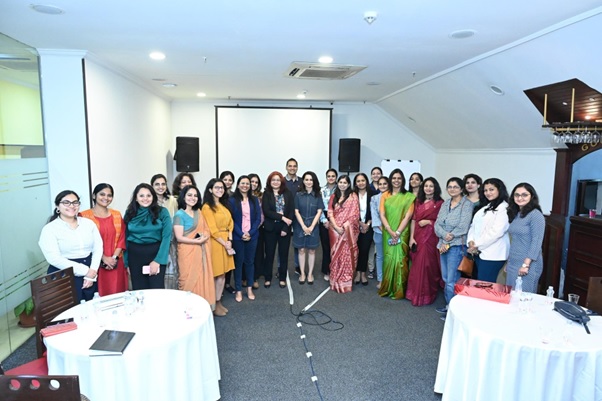 Keynote Address
by Rakhee Lalvani, Founder, RLA and Consultant,  Indian Hotels
Advocating for a cause has two parts: first a clear message and second a call to action and the keynote speech by Rakhee Lalwani was emphatic on both parts. The next 45 minutes of the evening hearing her talk was inspiring, engaging and enriching. She reminded the audience that D&I should be at the heart of the company's policies and not just as a compliance matter to have a woman on the board. The 2023 theme of the International Women's Day is #EmbraceEquity and Rakhee made a powerful distinction: Diversity is inviting you to a party, inclusion is pulling you in to dance at the party! Always ask yourself in your way of life and at your job, are we pulling in people to dance with us or simply inviting them to the party?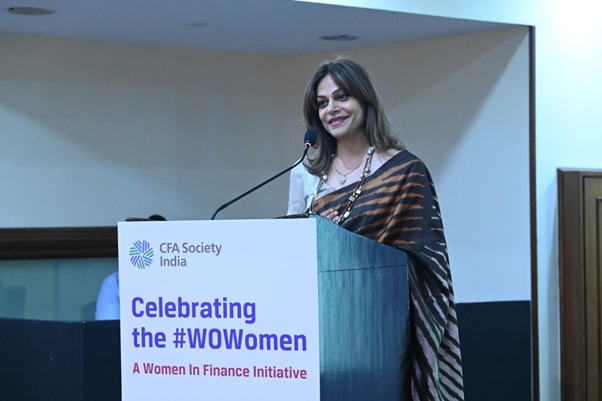 Awards and Felicitation Ceremony
3rd Essay Writing Competition and 1st batch of FEMTOR Program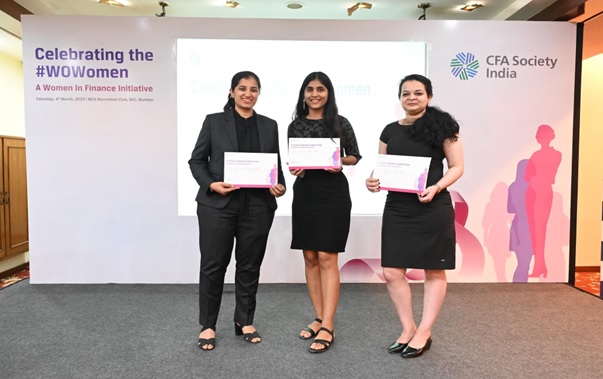 Winners of the 3rd Essay writing competition, the winning essays will be published in the upcoming newsletter.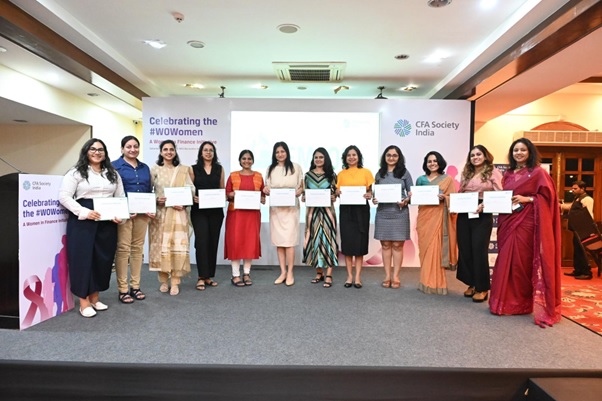 Mentors and mentees of the inaugural FEMTOR program 

CFA Society launched the FEMTOR – The Mentorship Club in October of 2022, with the inaugural edition concluding at the WoWomen event. It is a volunteer driven program to support women members. The vision is to build a community, a network, where early to mid-career women members can learn from senior charter holders. This is achieved by creating mentor and mentee pairs who then actively meet for mentoring sessions. The selection process is rigorous to ensure program adherence, more information can be found here.
Aspire to Inspire
Panelists:
Aditi Mukherjee, Executive Vice President and Head HR, NCDEX
Arati Porwal, Country Head, India, CFA Institute
Mrin Agarwal, Founder & Director, Finsafe
Poonam Tandon, CIO, IndiaFirst Life Insurance Company Ltd
Moderator:
Dr. Shagun Thukral, CFA,  Adjunct Faculty – SCMHRD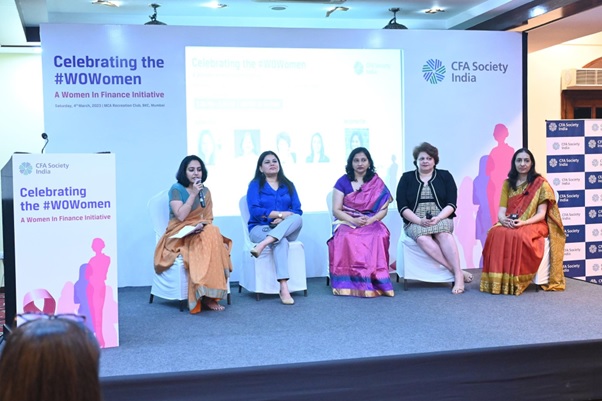 Industry stalwarts came together to discuss the recent diversity led changes in the industry which are encouraging women and building more diversity along with sharing their wisdom with the attendees. In all, it was an empowering forum for attendees, focusing on improving skill sets with creating a vision for excellence. Mrin Agarwal of Finsafe, shared a motivating anecdote from her career, "If you love your job, you will ensure everything around it will get managed. Though Citi had a 6 months Maternity leave, came back after 2 months to take on a challenging role". The country head, India, CFA Institute, Arati Porwal encouraged women professionals to stay authentic to themselves. Building on the strength of EQ is exceptionally important, which AI and ML cannot emulate either. Play up on your strengths instead of trying to copy someone. To young ambitious women, the advice was to focus on technical skills, take on challenging roles and seek sponsorship and mentor actively.
Report Launch On Gender Pay Gap, By the CFA Institute and CFA Society India, based on new BRSR Disclosures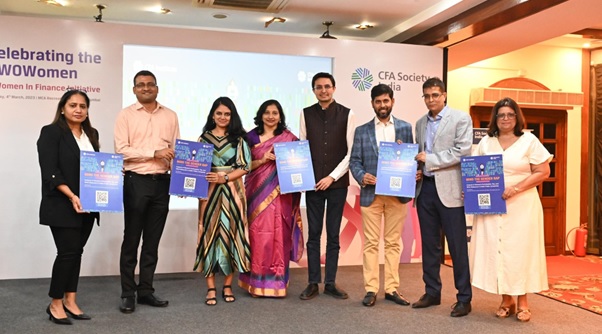 A timely report on the gender-pay parity and female labour force participation in India. I would encourage everyone to read the excerpt and  full report and its recommendations.