January 11, 2022
Posted by:

CFA Society India

Category:

BLOG, Events
Article by
Shivani Chopra, CFA,
Co-Chair, Public Awareness Committee, CFA Society India

Markets are rarely ever in equilibrium and profits are reaped only when there are huge imbalances identified by astute investors. Still, while these have been a one-off event, the effect of the pandemic and the various geopolitical events have created a very unique era of disequilibrium we all live in.
For example, while the market relies on the balance between supply and demand, the pandemic-induced lockdowns have caused large-scale mobility issues and unprecedented disruptions to long-established supply chains. This creates a counter to the normally self-balancing market forces – creating and amplifying disequilibrium.
And these issues may be here to stay with us for some time now. Given that, how do asset managers cope with this era of disequilibria? How should they prepare for uncertainty, growth conundrum, and many other challenges we face? And these are the key questions addressed at the 12th edition of the India Investment Conference (IIC).
The mission of IIC is to help delegates improve their understanding of critical issues that will shape investment decision-making in the coming years. The conference, hosted by the CFA Society India, jointly with the CFA Institute, has brought in luminaries like Howard Marks, Prof. Aswath Damodaran, Sir Howard Davis, and Morgan Housel, to name a few, and diverse perspectives from established thought leaders to gain a clearer understanding of complex issues.
Indeed, over time, IIC has become a must-attend event for investment management professionals!
The 11th edition of the marquee conference, held in January 2021, explored the theme "Confronting Disruption". The Session by Mr. Michael J. Mauboussin (Head of Consilient Research, Counterpoint Global) shed light on "Drivers of Disruption" with a particular focus on the process of innovation in businesses and the evolution of valuation techniques. Mr. Chris Mayer (Co-founder, Woodlock House Family Capital) gave an interesting perspective around rigid labels of value vs growth and further opined that there are companies in every sector that beat the industry stereotype.
The most awaited session of the event, was by Mr. Howard Marks, CFA (Co-Chairman, Oaktree Capital Management), titled "Something of value". He talked on the role of central banks, inflation, and bitcoin. In the session on' The View from Washington', Mr. David M. Rubenstein (Co-Founder, The Carlyle Group) shared his viewpoints on the global economy and stressed the need to address risks emanating from climate change. Mr. Hiro Mizuno (Japanese financial executive), in his session 'United Nations Special Envoy on Innovative Finance and Sustainable Investments', pointed out that our attitude to ESG will determine how society will perceive our industry.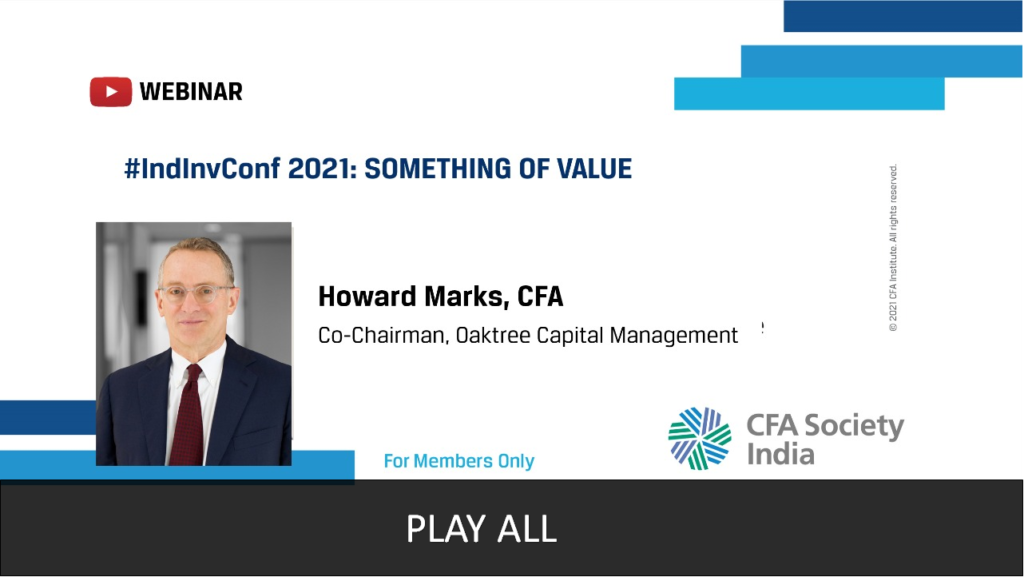 Addressing the "Era of Disequilibrium"
Policymakers and business leaders have successfully managed most of the "downside" from the pandemic; Still, there are large  supply shocks in the system such as for electronic chips. Factors such as global policy tightening, inflationary pressures, and the emergence of Omicron have battered the market which has whipsawed and is often in a state of disequilibria.
The forthcoming 12th edition of the India Investment Conference in January 2022 will discuss these critical themes by many globally respected voices across diverse investment styles and markets, including:
  Lauren Templeton, Founder & President, Templeton and Phillips Capital Management, LLC

  Xu Sitao, Chief Economist and Partner, Deloitte, China

  William Green, Author- Wiser, Happier: How the World's Greatest Investors Win in Markets and Life

  Hector Gomez Ang, Regional Director, South Asia, IFC

  Sunil Singhania, CFA, Founder, Abakkus Asset Manager LLP

  Durgesh Shah, Director, Corporate Database

  Neelkanth Mishra, Managing Director, Credit Suisse
This two-day event will feature a duo of informative, not-to-be-missed sessions per day. The conference will flag off with an interesting session on "Investing the Templeton Way in a post-Covid world". John Templeton pioneered global investing, but his practice of bargain hunting and contrarian methods propelled his excess returns. In this discussion, Lauren Templeton will examine the timeless principles that guided decades of market-beating returns. The second session, "The Traits, Strategies, Habits, and Principles of Winning Investors," will be addressed by author William Green. He will uncover some of the key lessons he's learned while interviewing investment legends like Charlie Munger, Mohnish Pabrai, Howard Marks, and Peter Lynch.
Day 2 will start with a much-needed discussion on "Impact Investing in a Turbulent Market". More than $2.3 trillion was invested for impact in 2020 amid the turbulence caused by Covid-19. International Finance Corporation (IFC) has six decades of experience as an impact investor. IFC's Hector Gomez will expound upon the crucial lessons from which other investors can benefit. Next, a talk on "China in the Post Covid Era: Global & Regional Implications" will have Xu Sitao respond to crucial questions about the future growth trajectory of China and economic & geopolitical implications for India.
Join us on 21 and 22 January 2022 to combine your perspectives with expert insights, hear opinions and widen our thoughts with your participation. Sessions will be moderated by Sunil Singhania, Durgesh Shah, and Neelkanth Mishra.
And wait, the learning isn't over yet! For the first time, there will be exclusive networking sessions with the speakers. Day 1 and 2 will cap off with networking opportunities with William Green and Xu Sitao, respectively. There is also a "watch on-demand" option which will allow access to recorded sessions for up to one month. Lastly, the registration also gives exclusive access to an upcoming portfolio management workshop.
Register now – listen to some of the most prominent thought leaders of our times and gain investment insights for the uncertain future.
Click here to register and find out more about the conference : https://tinyurl.com/ss59pkfs