January 10, 2023
Posted by:

CFA Society India

Category:

Updates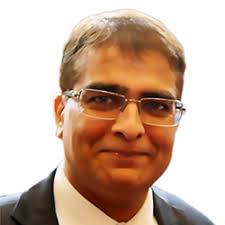 Rajendra Kalur, CFA
Chairperson
CFA Society India
If I am asked as to what could be an apt leit-motif for the year, I will describe it as "Re-connect, Re-engage & Re-build".  This is not to say that the years during lockdown were lost years. They were definitely not and in some ways these two years actually helped us discover some strengths that were hidden. The foremost that comes to mind is our desire to continue contributing to the society activities and not stopping. The second one is our ability to leverage technology and deliver continual, unhindered, value oriented services to members and the third was our constant endeavour to seek feedback, improve our offerings and innovate. However, emerging from the shadows of the dreaded virus enabled us to do something that we were deprived in these couple of years, that's our thirst to meet each other, converse and discuss in a convivial atmosphere.
Fittingly enough, the first set of activities were around connecting and engaging with each other through networking activities. Chapters came up with their own suggestions and these ranged from cricket to bowling. What stood out was a combination of enthusiasm and relief.
However, it didn't seem likely at first.
Post February onwards, things on the ground decisively turned for the better and physical events started getting planned.
The year began on an ominous note as the 3rd wave of the pandemic hit the country with a virulent force. This put paid to any hopes we had of a physical launch of our curtain raiser India Investment Conference. Nevertheless, our never say die bunch of volunteers & staff quickly regrouped to put up a splendid virtual event marked by a superb line up of speakers. Members & non-members joined in to hear the experts speak on "Investing in an era of disequilibrium". The celebrated list of speakers included amongst others Xu Sitao, Jane Templeton, William Green and Hector Gomez Ang. This was followed by a workshop titled "Private Equity Approach to Small Cap investing" conducted by Sandeep Daga. The marquee conferences held in the year included the Wealth Management Conference in Mumbai, Fixed Income Summit at Chennai, Masters at Work at Kolkata, Fintech Conference in Bengaluru and the Value Investors' Pioneers Summit in Delhi. Each of these events were planned carefully so that the participants get knowledge which is relevant, practical and implementable. Speaker sessions resumed their physical form in the chapters and greatly supported the continual learning requirements of members.
Mumbai organized a Financial Talent Summit (FTS) as the first ever physical event in two years with encouraging response from candidates and prospective employers. The FTS events were also held in Indore, Bengaluru & Pune with employers and candidates meeting face to face. The career services committee continued to collaborate with CFA Institute in delivering the monthly career and practitioners webinar series on the virtual platform.
The highlight of the year was the launch of the second edition of the Career Guide. This Career Guide 2022 was a culmination of several weeks of efforts put in by volunteers and charterholder practitioners. The launch was timed for CFA Institute President, Marg Franklin's visit to India. The guide was well received and the online edition generated record number of downloads in a short span of time.
The Women In Finance team continued with the Women's day celebration activity along with a research note challenge for women charterholders and candidates. The idea of such an initiative is to champion the cause of Diversity, Equity & Inclusion as well as encourage more women candidates to pursue a career in financial services. Yet another bold initiative taken up by the Women in Finance team is provide mentoring support to women charterholders and candidates. Called Femtor, it recognizes the unique support requirements that women require to build their career given the constraints of our societal structure. While this year's Femtor is a pilot project, it has promise to develop into something that can help bring transformational impact in women candidates & charterholders' careers in the times to come.
The Public Awareness Committee (PAC) clocked some notable achievements this year including attracting record number of followers on Linkedin, Instagram, Twitter and YouTube. One key initiative taken up by the committee is to encourage members to develop & hone the writing skills. Members and volunteers are encouraged to write on relevant topics and given access to reputed media houses for getting the content produced. This is apart from the various other channels that exist for members to express their ideas including the quarterly newsletter.
A notable achievement this year was the launch of a dedicated app for delivering services to our members. Members can now access the various events and benefits through their mobile: a first of its kind across the societies across the world. Yet another demonstration of CFA Society India's ability to leverage technology and provide a superior experience to the members.
A constant follow up and communication of membership benefits helped attract more newer members and retain a larger base of existing members. Members are also encouraged to sign up for volunteering across committees. Volunteer workshops and orientation sessions ensure that there is a constant pipeline of volunteers across committees.
The Research, Advocacy and Standards committee continues its work in raising financial standards as well as creating awareness around issues like ESG, Sustainability, Ethics and financial literacy. It is currently in the process of establishing a forum built around sustainability and once established promises to be a leading voice of sustainability in the country. The quarterly newsletter, India Insights, now in its 2nd year continues to provide articles on advocacy, thought leadership, ESG & regulation.
Ethics training continues to be imparted to institutes and corporates in an endeavour to strengthen the ethical framework of the financial services industry.
The society is keenly engaged in promoting the adoption of GIPS and standards of professional conduct. In recent times we have seen HDFC Asset Management adopting the Asset Manager Code of conduct.
We also had the privilege of attending the APAC leg of the Society Leadership Conference, the first in nearly 3 years. The message from the conference is clearly to evolve and stay relevant. In order to achieve this the Institute has identified 3 distinct ways to become even stronger in the future: launch regular products to stay relevant, make the CFA Curriculum more practitioners oriented and streamline the society operating model and bucket societies based on activities, strength and potential. The interesting thing to note is the increased attention being paid to China and India with increasing sign ups from candidates. Of course, the key highlight for us as a society is winning the Impact & Innovation award for APAC Region and our former Chairperson, Navneet Munot being awarded as Volunteer of the year.
Of course we have challenges too. We recognize that in order to stay relevant in an ocean of constant drift, we need to not only constantly upgrade our membership value but also shape the organization ready for the future. In view of this the Board has proposed to set up an advisory council to help support and further strengthen it.
All this wouldn't have been possible without the volunteers, staff and Board who worked together to ensure however stormy the seas are, the ship remains outwardly calm and stable. This reminds me of a quote "those who do, do; those who volunteer, do more. (author unknown)