October 20, 2020
Posted by:

CFA Society India

Category:

Updates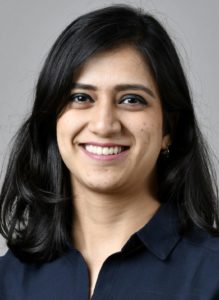 Ritika Mankar, CFA
(Director, CFA Society India)
Small Changes, Big Impact!
We hope this newsletter finds you safe, finds you well and finds you surrounded by some great new habits. As the pandemic's character changes from involving 'radical uncertainty' to a phenomenon that we are learning to deal with; we hope you have been able to incorporate some new routines to your pre-pandemic lifestyles. This habit could mean as little as a change affecting 30minutes of your day. This new habit may be difficult to quantify but ends-up improving the quality of your professional life in ways and means that truly matter.
For instance a Fitbit study shows we are likely to be sleeping better during the lockdown. Fitbit says the improvement is driven by just a few minutes of extra sleep per day and importantly is accompanied in some cases by increases in Deep Sleep too. Then, several colleagues have reported being able to read through one non-fiction book a week, as they are able to seamlessly allocate the time spent on commuting to quality reading.
We at CFA Society India, under the leadership of our Chairman Navneet Munot, put in all the care and effort to ensure that we could add to some of these habits you may have formed over the past few months. (In fact, several of my colleagues on the CFA Society Board are powered by some truly inspiring habits and have the ability to be unusually efficient. For instance, it is completely possible that they are able to do two Zoom calls at the same time, and yet are saying the most insightful things on each of these calls!)
Whilst the internet was often exploding with a farrago of webinars, we as a Society tried to stay focused on providing high quality content to our members. The filtration was easy to execute as we stayed focused on our Mission, which is to help our members to further their Professional development.
We hosted our 5th India Wealth Management conference, for the first time – digitally. We converted this seeming disadvantage into an advantage by providing access to a truly global pool of speakers and experts.
Several of us have now developed the habit of maintaining a distinct notebook for jotting down non-mundane, high impact ideas we may come across. Here are three key takeaways I jotted down in my diary after listening in on CFA Society's 5th India Wealth Management conference:
Michele Wucker, Founder, Gray Rhino & Company highlighted the concept of a 'Gray Rhino'. A Gray Rhino is as a big scary thing, coming at you. Often a Gray Rhino may be charging at you, but from a large distance which ironically leads you to ignore this material development. Perhaps we all will be on a stronger footing, if we can actively identify the Gray Rhinos in our professional life and address these head on.
Rob Arnott, Founder, Research Affiliates brought to the fore the dilemma created by current stock market valuations with a simple example. Toyota sells 30x more cars than Tesla whose valuation is 2x the valuation of Toyota today! Then Tesla is valued at $400k/car ever produced by it as against $20k/car for Toyota!
Amitabh Chaudhary, MD & CEO, Axis Bank highlighted that the top performers in India's Wealth Management sector had a fewer number of relationships as compared to competition and had more number of accounts per family. This made clear that building trust and maintaining the highest standard of ethics is perhaps the most important variable in the wealth management industry.
Thanks to some really innovative thinking and work put in by the CFA Society India Staff and CFA Society India volunteers, this digital event was a resounding success with 600 plus attendees being able to make it to this event.
Then on the Career Insights front, we have successfully conducted more than 15 webinars till date. These webinars can help some of our members who maintain a habit of having a high degree of awareness with respect to career options. The series has covered diverse areas such as Structured Finance, Private Equity, Research & Analytics, Portfolio Management, Treasuries, Academia, etc.
Speaking of making small changes that can have a big impact in terms of quality, in this quarter the CFA Society Board brought on-board Meera Siva, CFA. She is an independent consultant and co-founder of RaNa Investment Advisors. She also works as Lead, Innovation and Entrepreneurship at the Terwilliger Center for Innovation in Shelter, Habitat for Humanity International. She's a one-woman army and a powerhouse of intelligence and energy – I am told. We take this opportunity to welcome her on the Board of CFA Society India!
P.S: In case you missed out on any of the events held over the last quarter, feel free to hop across to our brand new website at https://cfasocietyindia.org/ i.e. a one-stop-shop that provides an overview of all things relating to CFA Society India!