April 8, 2023
Posted by:

CFA Society India

Category:

Updates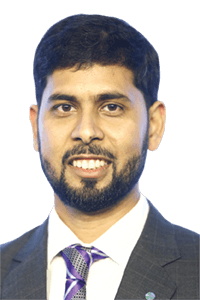 Abhishek Loonker, CFA
Vice Chairperson
CFA Society India
Dear Members,
Time just flies. Looks like we just welcomed 2023 and we are already done with the first quarter. So much has happened in the last three months. We saw a roller coaster ride across asset classes with multiple banks across the western world on the brink of collapse. The interest rate hike cycle, which completed its first anniversary in March, has started showing its impact and causing pain. The world saw multiple natural calamities again reminding us of "Climate Change". We, humans, have caused lot of change on climate over the last few centuries and Mother Nature has started causing a lot of change on our lives through "Climate Change" related events across the globe. In these fast rapidly changing times, the most certain thing is "Uncertainty".

In these uncertain times, at the CFA India Society, we started 2023 on a high note. After two virtual editions, our flagship annual conference "India Investment Conference" was back in its physical avatar and was a great success. We had a great line up of speakers including Russel Nappier, Vitaliy Katsenelson, Wouter Sterkenboom, Ananth Narayan amongst others.

The Professional Learning committee continues to organise numerous events every quarter and help our members and other industry participants to update and upgrade their knowledge quotient. Society organised 12 such events other than the flagship conference this quarter. Some of the marquee speakers included Rupal Bhansali, Sanjay Bakshi, Kevin T. Carte and Govind Parikh amongst others.

The Public Awareness committee are always on their toes to achieve newer heights. Our social media presence continues to make new highs across different mediums, and seen as a leader across the societies globally. CFA Society India has 53K+ followers on LinkedIn, 16.9K on Twitter, 40.3K+ followers on YouTube, 10,178 followers on Facebook & 8.9k followers on Instagram. We crossed 40K followers mark on YT in this quarter, another feather in our cap.

Our Career Services committee continues to achieve new milestones every quarter. During the quarter, we organised three webinars on climate finance, wealthtech and real estate investing. There were special recruitment drives in Bengaluru, Mumbai, and Kolkata across various Companies. The society also organised Member-Employer meetups which involves Informal meetups with senior members to understand how we can support them in talent acquisition and in their own careers. Further, we are also leveraging the app to deliver career services – adding features to identify talent; enable career-related conversations and networking.

The Society also celebrated "International Women's Day" in March 2023. At the event, we felicitated mentors and mentees of the ongoing Femtor program. The Society in collaboration with CFA Institute released "Mind the Gender Gap" report. Our volunteers who focus on "Women in finance" initiative also organised annual essay writing competition which received 26 submissions. We also organised workshop on entrepreneurship for women members during the quarter.

The Research, Advocacy and Standards committee continues its work in raising financial standards. We conducted ESG workshop and joined hands with C-Kinetics to establish a forum on "Sustainability". This forum promises to be a leading voice of sustainability in the coming times in our country. The quarterly newsletter, India Insights, now in its 2nd year, continues to provide articles on advocacy, thought leadership, ESG & regulation. We continue to organise Ethics training and the same was done twice in the month of February. During the quarter, the committee also submitted various research paper including response to  SEBI Consultation Paper on standardised approach to valuation of investment portfolio of AIF, comments on Regulatory Framework for Index Providers, response to Comment Paper on AIF Dematerialisation, response to Comment Paper on AIF Direct Plan, response to Comment Paper on AIF Investment Manager qualification, response to Consultation Paper on Strengthening Corporate Governance at Listed Entities by empowering shareholders- Amendments to the SEBI (LODR) Regulations, 2015, response to Consultation Paper on Streamlining Disclosures by Listed Entities and Strengthening Compliance with SEBI (Listing Obligations and Disclosure Requirements) Regulations, 2015 and response to Exposure Draft of the  CFA Institute Code of Ethics and Standards of Professional Conduct.

The IRC committee successfully concluded the 16th season of CFA Institute research challenge in India on 26th Feb 2023. This edition saw participation from 238 students from 48 universities. Three teams will represent India in global rounds – Indian Institute of foreign trade, New Delhi, S.P. Jain institute of management, Mumbai and Indian Institute of Management, Bangalore,

All the volunteers are always on their toes to contribute across the committees. A big thank you to all of them for putting this hard work. Further, I would urge all the members to take advantage of all the activities done by Society and keep themselves abreast using the Mobile App. In today's digital world, we have made sure that we use technology efficiently and have provided all the relevant info on the app. Members can get information about all the marquee events using conference module. One can initiate and discuss ideas with fellow members on Discussion forum. I had earlier mentioned about Career related features. I would strongly encourage all of you to be in constantly touch with the Society and its activities using the app.

The year has 9 more months, and we have a lot in the offing. Difficult to predict, but for sure interesting times ahead across Geopolitics, digital world and its business models, Climate Change and the path to Net Zero. In these uncertain and fast changing times, we promise to provide all possible opportunities for our members to learn, network, contribute and make a difference to the society.