CFA Career Day-Pune
December 9, 2022
9:00 am -6:00 pm
SCMHRD, Hinjewadi, Pune - 411057
CFA Career Day is a great opportunity to meet the top employers from the city and chart your next career move. It's a chance to apply for current opportunities, showcase your skills and network with the leading employers. 
Don't miss it. Register now!
Details:
Date – Friday, 9th December, 2022
Time – 9:00 am onwards
Venue – SCMHRD, Hinjewadi, Pune – 411057
For any queries, write to soumik@india.cfasociety.org 
Participating Employers
Crisil
CRISIL is India's foremost provider of ratings, data, research, analytics, and solutions. The company is majority-owned by S&P Global Inc., a leading provider of transparent and independent ratings, benchmarks, analytics and data to the capital and commodity markets worldwide. CRISIL Global Research & Risk Solutions (GR&RS) is the largest and top-ranked provider of high-end research and analytics services to the world's leading commercial and investment banks, insurance companies, corporations, consulting firms, private equity players and asset management firms. CRISIL GR&RS operates from research centers in Argentina, China, India, and Poland, providing research support across several time zones and in multiple languages to global organizations. It has deep expertise in the areas of equity research, fixed income research (covering global economies, 150 global sectors and over 3000 global companies), valuations, pricing complex derivatives, structured finance, risk management, actuarial analysis, and business intelligence.
CRISIL will be hiring for equity research roles.
SG Analytics
Established in 2007, SG Analytics, a global insights and analytics firm is a leading provider of data-centric research and contextual analytics services to its clients, including Fortune 500 companies, across BFSI, Technology, Media & Entertainment and Healthcare sectors. A GDPR and ISO/IEC 27001: 2013 compliant firm, SG Analytics has a team of over 1100 employees, and has presence across the U.S.A, the U.K, Switzerland, Canada, and India.
Acuity Knowledge Partners
Acuity Knowledge Partners is a leading provider of high-value research, analytics and business intelligence to the financial services sector. The company serves a wide array of clients ranging from asset & private wealth managers, investment banks, commercial banks, private equity & venture capital firms, brokerages & trading firms, consulting companies and more.
SS&C Technologies
SS&C Technologies Holdings (NASDAQ: SSNC) is the world's largest hedge fund and private equity administrator, as well as the largest mutual fund transfer agency. SS&C combines end-to-end expertise across financial services operations with software and solutions to serve customers in the financial services and healthcare industries. SS&C owns and operates the full technology stack across securities accounting, front-to-back-office operations, performance and risk analytics, regulatory reporting, and healthcare information processes. Founded in 1986 and headquartered in Windsor, Connecticut, the company is home to 24,000+ employees across 100+ office locations in 40 countries globally.
Multi-Act Trade and Investments
Multi-Act Trade & Investments (Multi-Act) is an India based investment advisory and portfolio management service provider for Family Offices, UHNWI's, HNWI's, Investment Managers, Wealth Managers and Brokers. Founded in 1997, Multi-Act has more than 20 years of experience in wealth protection and wealth creation. The company operates in the domains of investment research, investment advisory, portfolio management and private equity.
RCK Analytics
RCK Analytics provides world-class custom equity research, investment research, PE/VE research support, Investment Banking support, analytics, and assurance services to global clients. The company works with financial and investment companies, private equity, asset management and hedge funds, investment banks and broking houses, market research firms, consulting firms, and various sector corporates.
The environment at RCK Analytics encourages not only the best performance, hard work, and commitment but also fun and work-life balance. The company promotes an open, transparent, and performance-based culture in our organization. It provides regular training and feedback to people to ensure consistent performance, skill-set enhancement, and systematic growth.
Glory Prime Wealth
Glory Prime Wealth is engaged in financial planning for clients across various investment products – Mutual funds, PMS, Insurance, Fixed Deposits, etc and various insurance products – Life, Health, General insurance.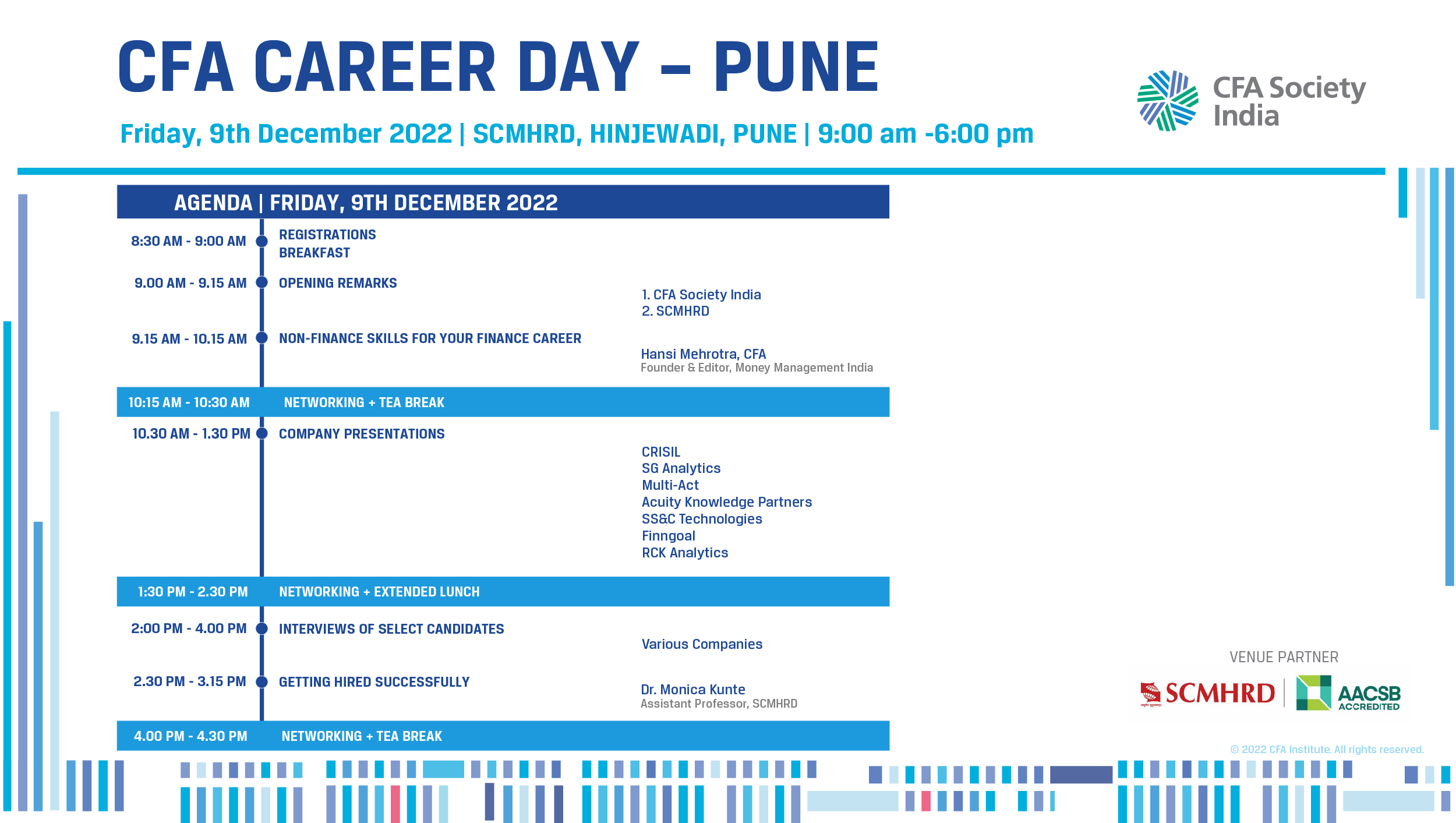 Crisil
SG Analytics
Multi-Act Trade and Investments
RCK Analytics
Glory Prime Wealth
Acuity Knowledge Partners
2022-12-9 09:00
2022-12-9 17:00
Asia/Kolkata
CFA Career Day-Pune
CFA Career Day is a great opportunity to meet the top employers from the city and chart your next career move. It's a chance to apply for current opportunities, showcase your skills and network with the leading employers.  Don't miss it. Register now! Details: Date – Friday, 9th December, 2022 Time – 9:00 am
SCMHRD, Hinjewadi, Pune - 411057
Save Event to Calendar